Tent Floor Mat and Campsite Flooring Ideas
By Kif Richmann Created: September, 2017 - Modified: April, 2023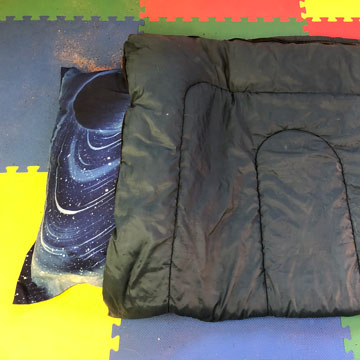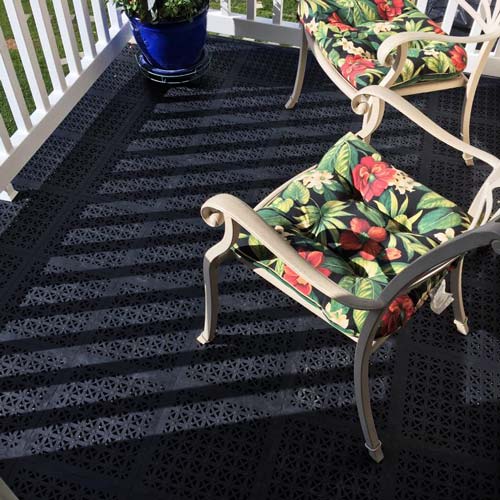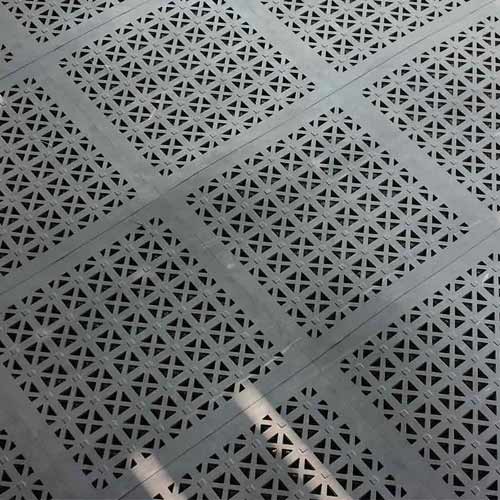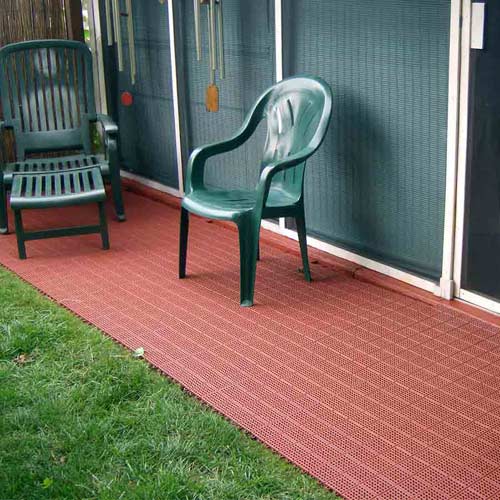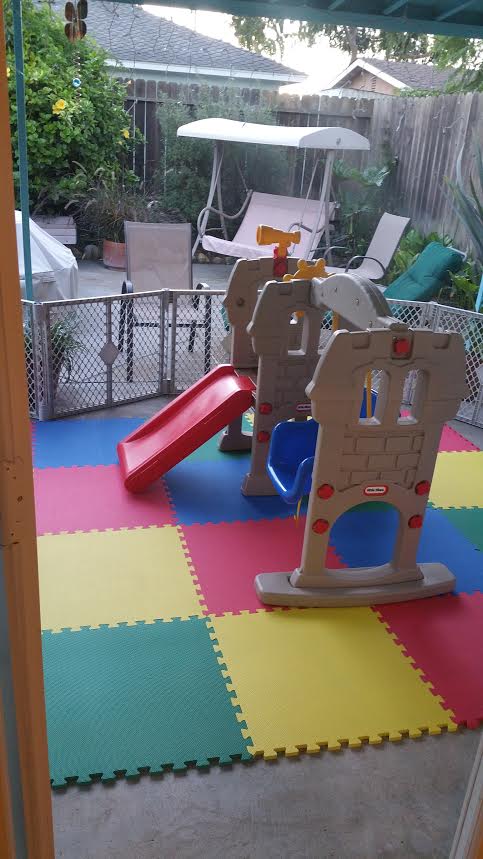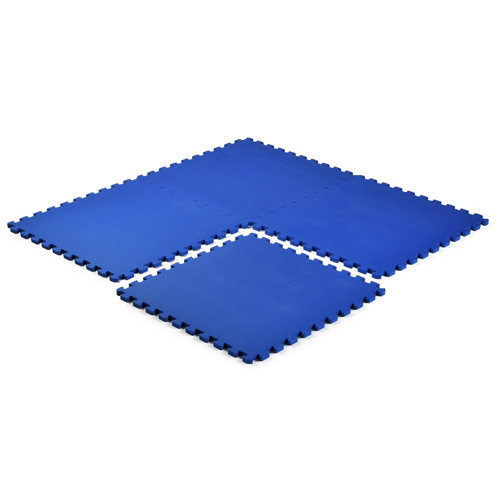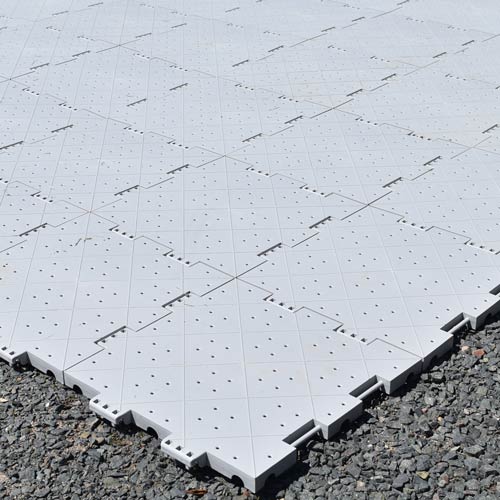 If you love camping, you likely appreciated the thrill of rustic living, at least on the short term!
You enjoy roughing it with your family and friends and, for at least one night, you enjoy unplugging from the busy world and absorbing the sights and sounds of nature.
What to Look for in Tiles for Outdoor Campsite Flooring
There are many factors that make a great outdoor mat, and understanding the right characteristics will help you choose the perfect mat for your RV travels.
First of all, the mat needs to be durable. You'll be placing the
mats over rocks and uneven surfaces
, so the mats need to be able to hold up against constant impacts from shoes and hiking boots.
The mats should also be UV-treated. Because you'll be keeping the mats outdoors, they will be exposed to constant sunlight, which can wear away virtually any material. With UV-treated mats, your flooring tiles will last much better. If you plan on using the mats outdoors for any period of time, make sure they are UV treated or naturally UV resistant.
Finally, the mats should be perforated. Perforated mats are ideal for use outside of a camper because they allow rainwater to trickle underneath. Pools of water on the surface can create a slippery, unsafe area, so make sure the tiles are perforated for greater slip resistance. Perforation can also be beneficial if you are placing the mats over the grass for a short period, as it is less likely to kill the turf underneath.
Tent Floor Mat and Camping Flooring Ideas
While camping is a wonderful family activity, we all know if can get a little uncomfortable, especially when it comes to sleeping. Most sleeping bags, while cozy, don't give the padding and cushioning you need. If you have a root or a rock under the thin canvas of your tent, it can keep you up all night.
One of the best camping tent flooring ideas is to use
soft puzzle mats
as tent floor padding. When used as tent floor mat, these mats enhance your outdoor experience and make you more excited to head for the woods!
Many camping supplies are marketed directly to campers. Light-weight kitchenware, electric lanterns, and fold-out chairs are all made to enhance the camping experience. Every camper and every group will have different needs, and depending on the location and the people, you may need more or less items to get through the trip.
One item that isn't made specifically for campers, yet makes a wonderful camping accessory, is
puzzle camping floor mats
. Many campsites are covered in gravel or rocks, and some have hard grounds that are very difficult to sleep over. Tent floor foam mats, however, give a soft flooring that will help you get a comfortable sleep.
As camping tent flooring goes, foam mats are an excellent choice for families. They provide a safe, comfortable surface for kids and adults to sleep on, and they also provide cushioning for bare feet over rocks and gravel. Simply put, they make a great camping trip even better!
What to Look for in Tent Floor Padding
When searching for tent floor mats, make sure you are equipped with the right information so you can make a confident decision. In most cases, you can find cheap tent flooring, but that doesn't mean you should be careless with your money.
First of all, look for a product that is soft and cushiony.
The overall goal is to give you a soft space to sleep over, so this should be the first priority. In most cases, you will find that foam camping floor mats deliver the best cushioning and padding, so look for a foam puzzle tile for the best comfort.
You should also look for connecting edges.
In most cases, a puzzle edge will give you the best hold while providing a soft surface even at the edges. If you purchase mats that don't have a connecting edge, they will move and shift inside your tent, which can lead to bare spots. Make sure there is some sort of connecting edge for the best results.
Premium Tent Floor Mats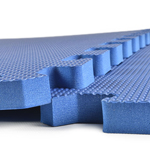 For added comfort and cushioning, choose these
5/8-inch premium foam tiles.
They lock together with a gap-free puzzle connection, yet are fast and easy to lay out and disassemble. Best of all, they are available in 15 different colors, so you can choose the tiles that perfectly match your tent. No matter which you choose, you'll have affordable comfort for your tent floor pads.
This tent flooring, which is originally intended for kids' playrooms, is the perfect addition to your camping equipment. The tent floor covering can even be laid out in the back of your truck or van to provide a makeshift sleeping area for your outdoor expeditions.
Padded Interlocking Carpet Tiles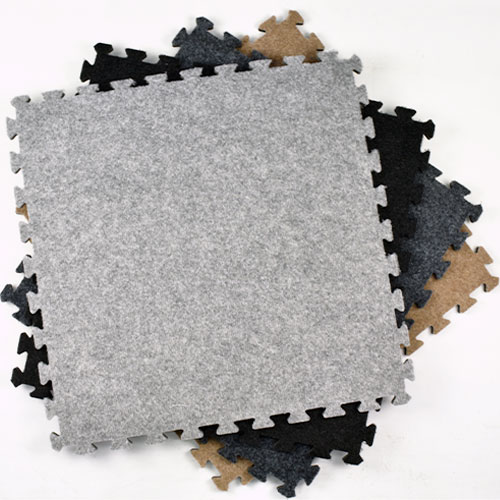 When it comes to a warm and soft camping tent flooring, the
Royal Interlocking Carpet Tiles
are a smart choice. The top surface features a soft carpet top with a foam base similar to interlocking foam tiles. This is a great option for
colder weather camping
.
To connect the interlocking carpet tiles, all you have to do is push the puzzle edges together with slight pressure. They lock together with ease and hold firm all through the night, and disassembly is just as easy. You can set up your tent and tent flooring fast, then pack up and move on when you're ready.
Outdoor Campsite Flooring Ideas
If you use a camper or trailer for your outdoor adventures, you can enhance your campsite with perforated tile. When you stay at a campsite for an extended period, it helps to have outdoor mats that you can lay on the ground, giving you a comfortable walking surface that is free of rocks, dirt and mud.
If it rains when you go camping, the area outside your RV can become a muddy mess, but with perforated tile used as portable ''patio'' flooring, you can maintain a clean area with less mess and less hassle. You may have to wash them off when you're done camping, but that's certainly easier than constantly cleaning mud from inside your camper!
Camper Deck Flooring and Raised Tiles For Under Tent
With a durable PVC plastic construction and a perforated top, these camping floor tiles can create a walkway or portable campsite patio area for your camper. Simply lay them out on the ground and connect the tiles with interlocking connections and you have a safe, slip-resistant surface that will hold up against foot traffic, rain, sun, and dirt. These
flexible outdoor tiles
will even conform to uneven ground when necessary and make a great surface for under your tent to keep it off of wet ground. Should you receive rain overnight, you can sleep in peace knowing that the water will flow under this raised campsite flooring.
Campsite Flooring for Patios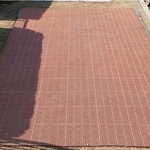 Water-proof, slip-resistant, and UV-treated, this is the perfect tile for camping trips and outdoor adventures. It can be set up outside your camper to provide a more comfortable walking surface, and cleaning will require little more than a hose and a drying towel. It's one of the most effective
campsite patio surfaces
for outdoor use, and it can enhance the safety and comfort of your campground.
Each
patio tile
covers just under a square foot and weighs about one pound, so the tiles are easy to install and store. With tab 'n loop connectors, they hold firmly together yet can be disassembled quickly. With the perforated top, these tile make for a top-quality camp site!
Your Source for World-Class Flooring!
Greatmats has your flooring needs covered. Contact us today and let us know what you need.
We'll make sure you have the right surface products for your home, shop, barn or campground!