What Kind Of Floor Can You Install Over Garage Concrete?
By Paige Cerulli Created: February, 2023 - Modified: October, 2023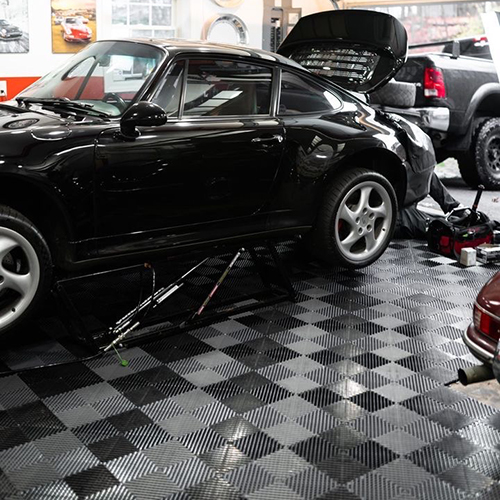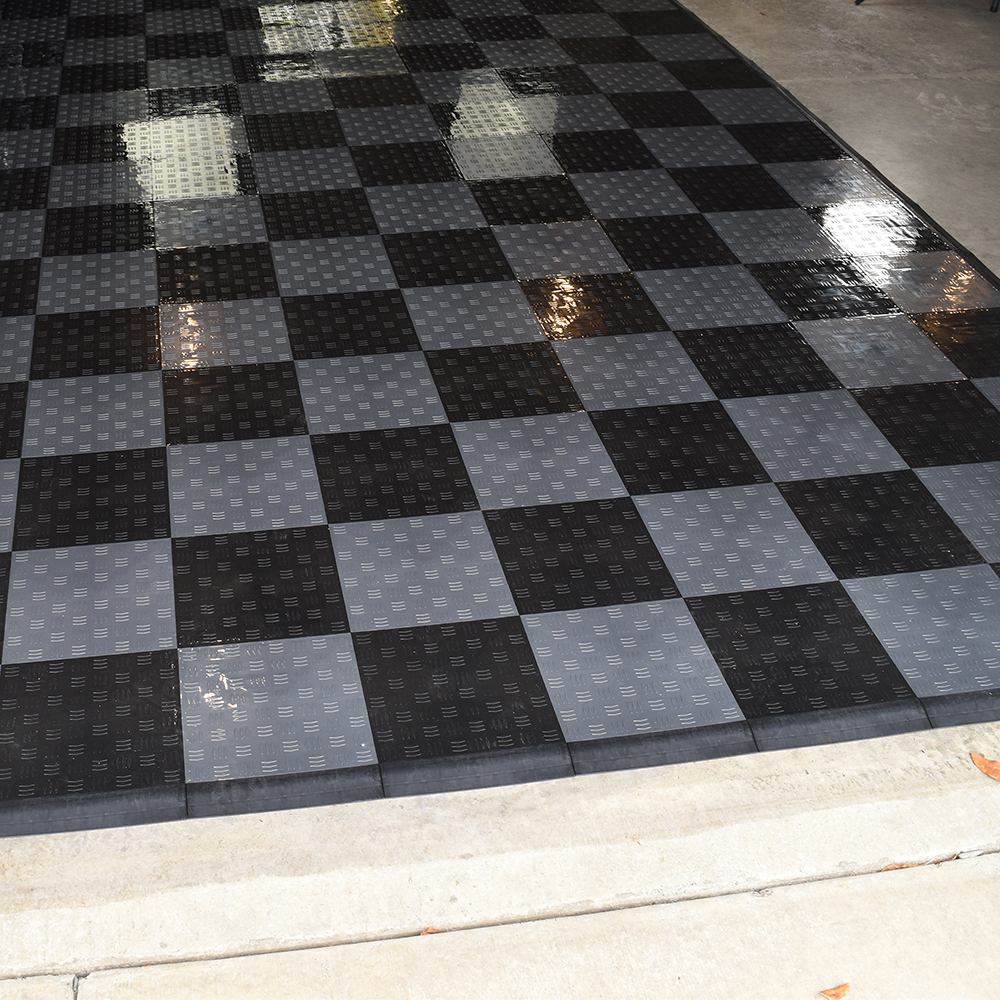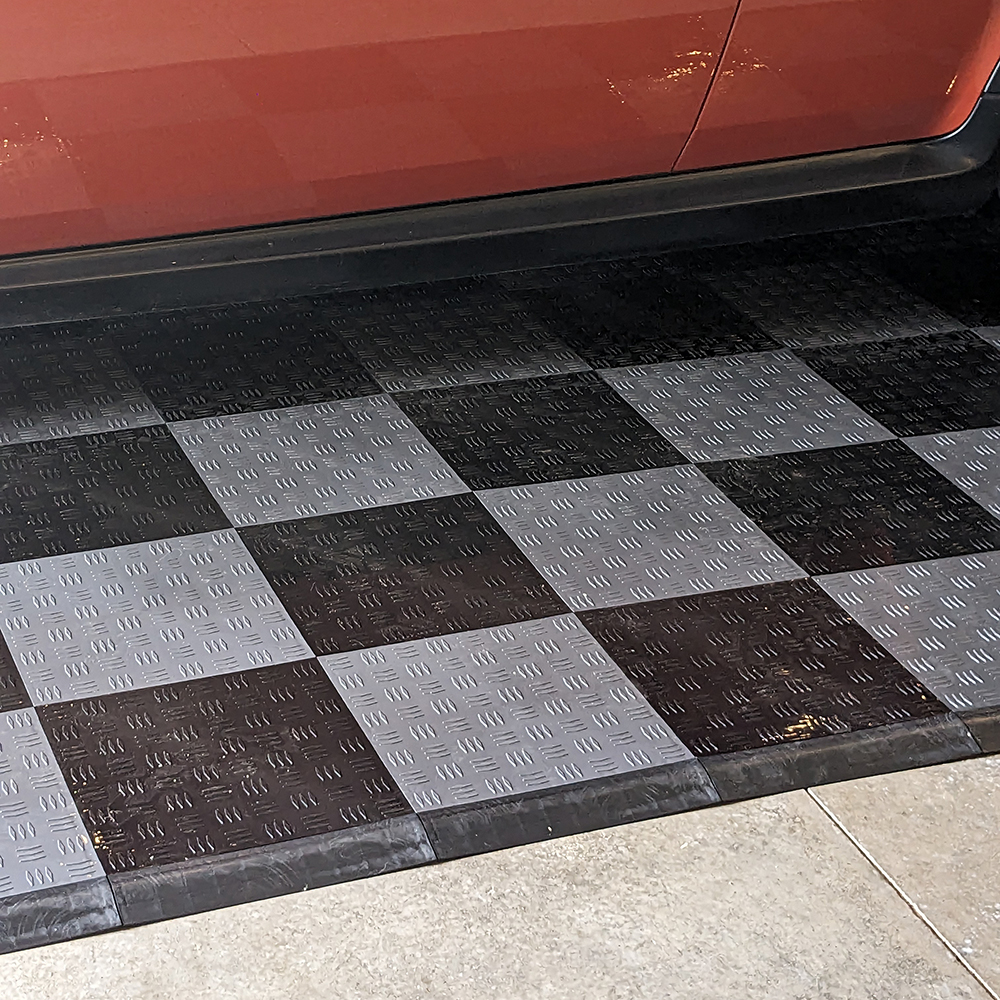 An old, tired garage floor can detract from the space, but installing a new floor doesn't have to be a complicated process that involves demolishing your old floor. Instead, there are plenty of ways to install a new garage floor over concrete, so you can make the most of that space again.
Flooring That Can Be Installed Over Concrete In A Garage
If you want to install a new floor over concrete or asphalt, you will have plenty of options. The best product for your needs will depend on whether you're converting the garage into a workshop, a gym, a man cave, or another type of space.
What Do You Want To Create?
Attractive Floor for Vehicles
Workshop
Home Gym
Man Cave
Other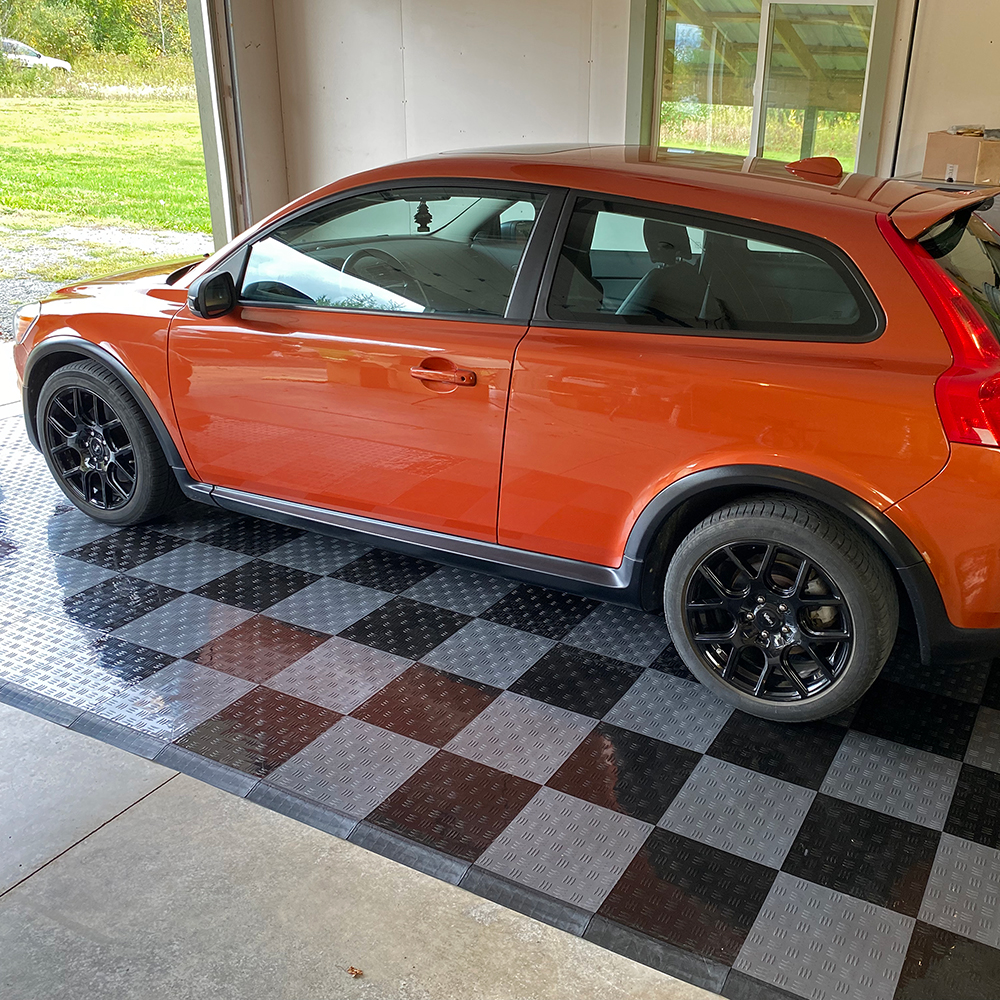 Both mats and tiles can be installed over a hard, flat surface like concrete. Many of these products and kits can also be installed over imperfect surfaces, including old, worn, and uneven floors.
By covering your existing garage floor with a flooring product, you can save on the cost of an expensive renovation. With most of these products, you can perform the installation by yourself, and will also often have the option of removing the flooring again if you need to.
These products add versatility to your garage, and they can be an excellent choice if you're working on a tight budget. Read on to explore several ideas that are available at Greatmats.
Popular Options for Garage Flooring
Raised Interlocking Tiles - Garage Floor Tile Diamond
The Garage Floor Tile Diamond is a quality garage floor tile that brings excellent strength and durability to the space. Rated to withstand loads of up to 10,000 pounds, this tile is an excellent choice if you plan to use your garage as a vehicle workspace and need to be able to store cars on the floor.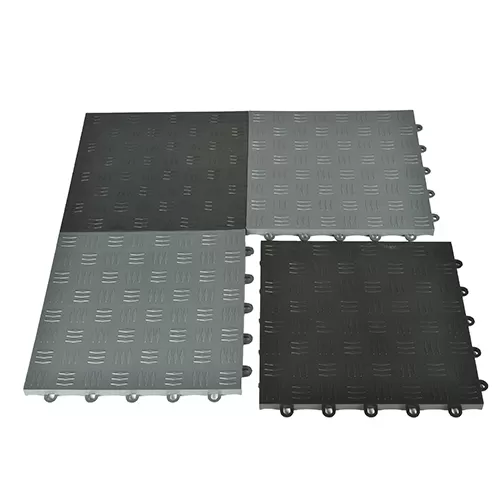 The tiles are made of virgin polypropylene and are waterproof. They feature circular pedestals on the underside, raising the tile surface up off of the subfloor so that air and water can circulate and dry underneath the flooring.
The diamond tread maximizes traction, both for vehicles and people, contributing to the safety of your new floor surface. The snap together system makes for an easy installation, and you can also disassemble the tiles as needed.
Snap together installation
Backed by a five-year limited manufacturer's warranty
Border and corner ramped edging pieces are available
Raised Perforated Interlocking Tiles - Perforated Garage Tile
The Perforated Garage Tile is made of a durable polypropylene and is rated for a 10,000 pound static load per square foot. The tiles are also perforated, allowing liquids to drain through and helping to keep your feet dry.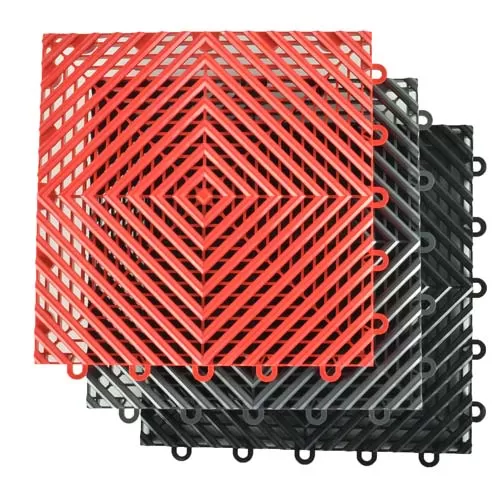 The raised base helps to speed drying, since it lets air and liquids flow beneath the tiles. As a result, this tile is an excellent choice for use in wet areas, and doesn't need to be uninstalled or removed when moisture is present.
With a slip-resistant surface design, the tiles are a safe addition to your space. They are available in three colors, so you can mix and match colors to create patterns and designs.
These tiles feature five interlocking snap-together tabs on each side, creating a secure connection that won't pull apart while in use. They can be easily installed and uninstalled without adhesive, and border ramps are also available.
Snap together installation
Does not require adhesive
Border ramps are available
Flexible PVC - Coin Top Home Floor Tile
Coin Top Home Floor Tiles are a durable choice that you can install directly on an existing garage floor. The tiles can help to conceal cracks, chips, and other concrete floor damage.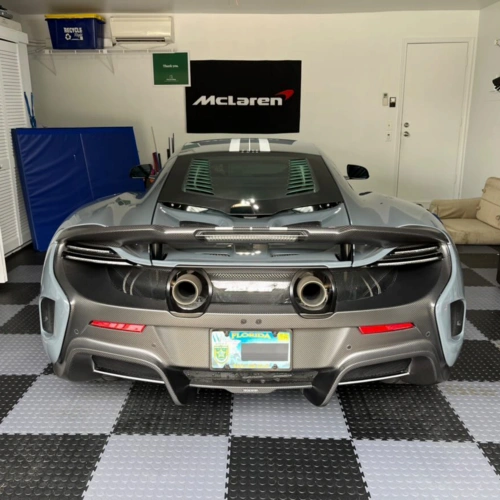 Made from recycled PVC, these tiles are an eco-friendly choice. They're also highly durable, and they aren't impacted by heat, cold, or humidity, making them a practical option for year-round use in garages without climate control.
The raised coin top surface maximizes traction and safety. The tiles are also non-absorbent, so they can be exposed to liquids.
Additionally, these tiles are resistant to oils, gas, and chemicals, making them suitable for garages that are used for automotive maintenance. They help to slow bacteria growth, and are also resistant to mold and mildew, contributing to a safer garage space.
Featuring interlocking sides, the tiles are easy to install and remove, and there's no adhesive required. They can also be damp mopped for easy cleaning.
Backed by a 10-year manufacturer warranty
Does not require adhesive
Interlocking tiles
Anti Fatigue Tiles for Workspace - Safety Matta Perforated
The Safety Matta Perforated tiles add comfort to your garage, ideal when you're using the area as a workspace. The tiles deliver ergonomic benefits similar to an anti-fatigue mat, helping to keep you comfortable when you're standing for an extended period of time.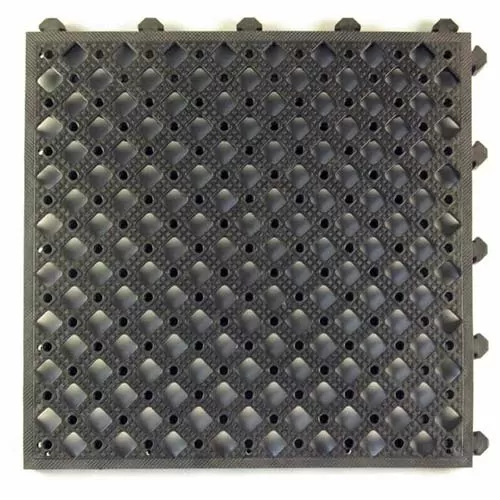 The perforated design helps to keep your feet dry in wet areas, allowing liquids to quickly drain away. The tile's raised base design allows air and moisture to circulate beneath the surface to speed drying.
Additionally, the tiles feature a non-slip diamond shield tread design to maximize traction both when wet and dry. An interlocking lug system makes it easy to install the tiles, and borders are available.
10-year limited manufacturer warranty
Does not require adhesive
Borders are available
Interlocking lug system
Rubber for Garage Gym - Rubber Tile Utility
The Rubber Tile Utility is an economically priced, durable rubber tile. This tile is an ideal choice if you're converting your garage to use as a weight room or home gym.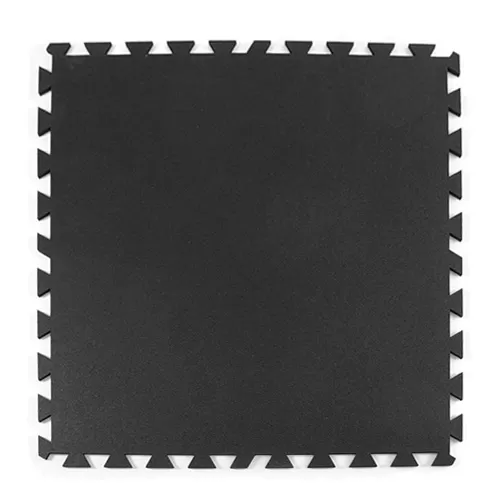 The double-sided tile features a non slip surface to maximize safety during workouts. Made of recycled rubber, it's an environmentally friendly flooring choice.
The tile features precision waterjet cut interlocks, allowing you to tightly secure the tiles together so they won't pull apart. You can also trim them to fit your garage space.
Rubber is an excellent garage flooring choice because of its excellent durability. It can help to absorb shock and is strong enough to place underneath workout equipment.
Interlocking tiles
Does not require adhesive
Easy to trim