Top 5 Workout Mats on a Budget
By Paige Cerulli Created: December, 2017 - Modified: April, 2023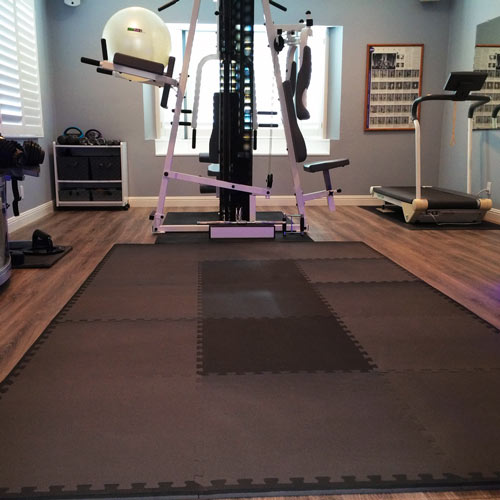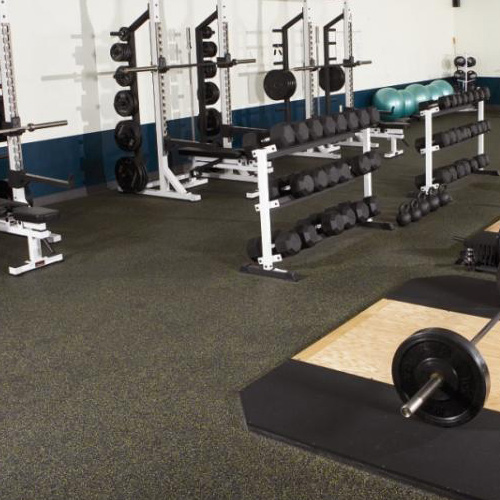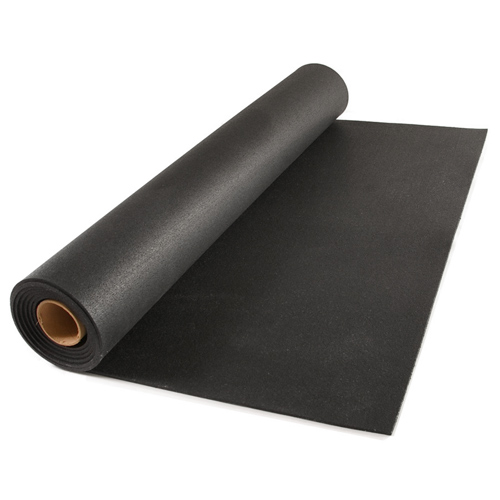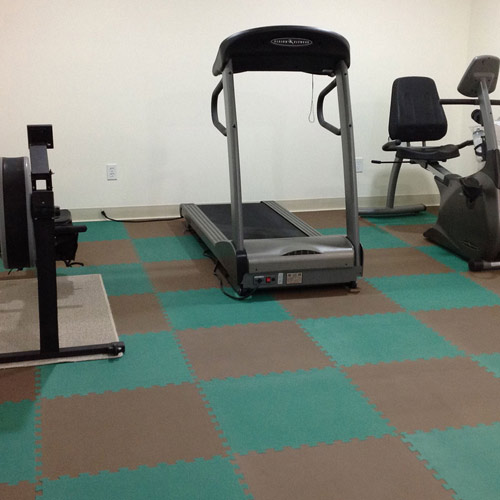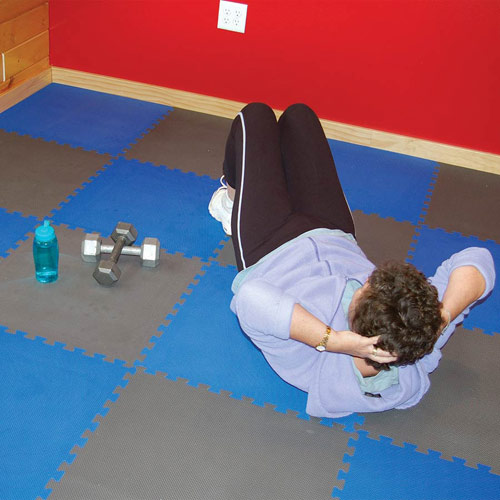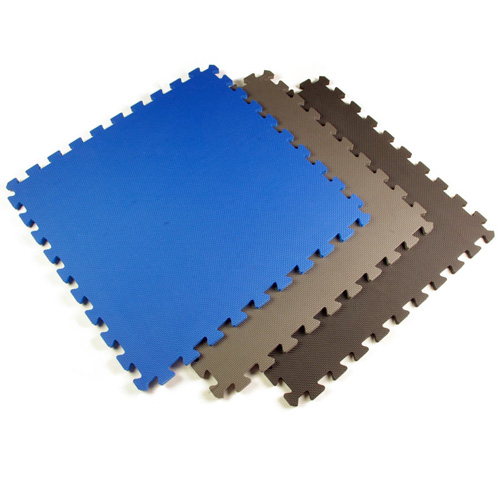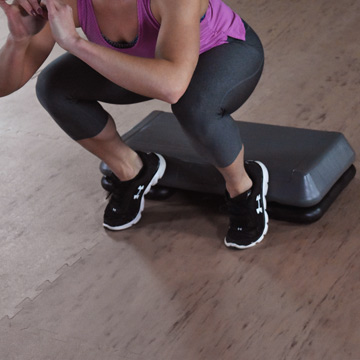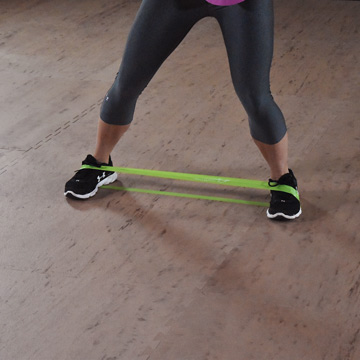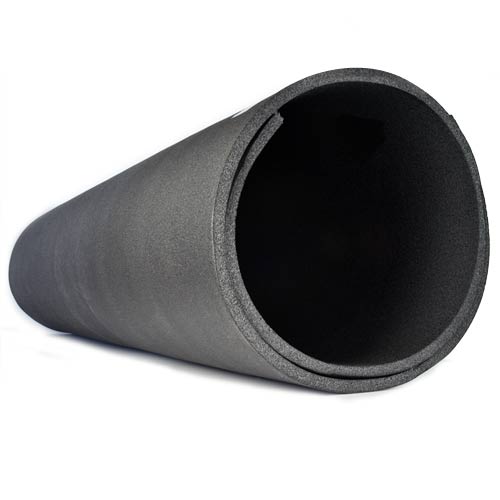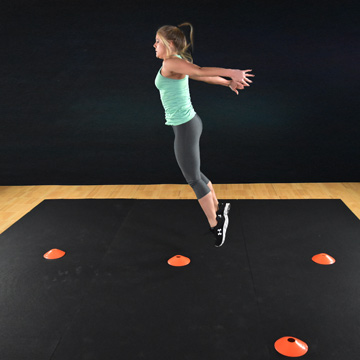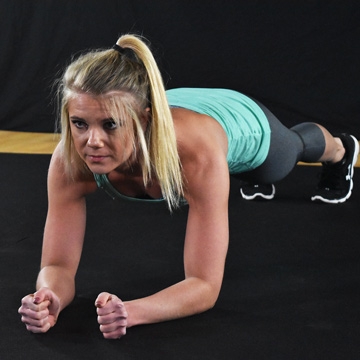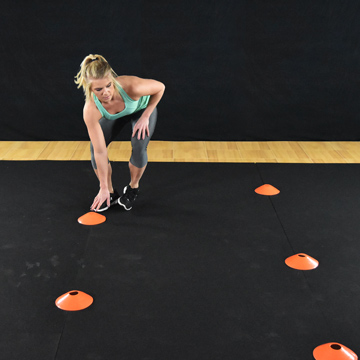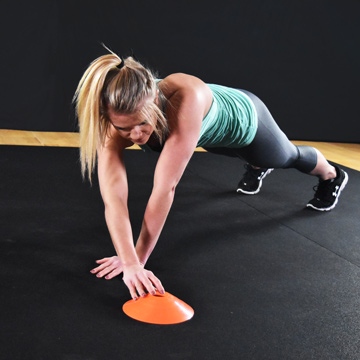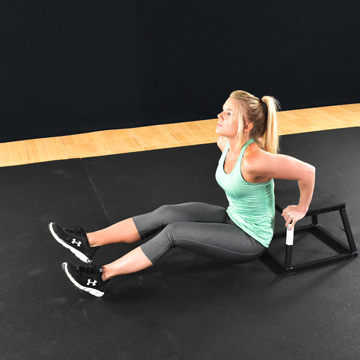 It should not cost an arm and a leg to get strong arms and legs. In fact, it should not cost much at all. That is exactly why Greatmats provides exercise mats that bode well with a budget. Whether it's for weight-lifting, aerobics, plyometrics, yoga, or dance, Greatmats offers workout mats that will not break the bank. Budget friendly and cheap exercise mats make it easy to achieve an amazing space to work out in without any of the financial stress.
Greatmats' Top Five Exercise Mats On A Budget
1) Home Gym Flooring Tile Pebble - $
Best Uses:
Home gyms, basements
Best Features:
Lower cost
Lightweight and easy to carry
Pebble top design for traction
Non-absorbent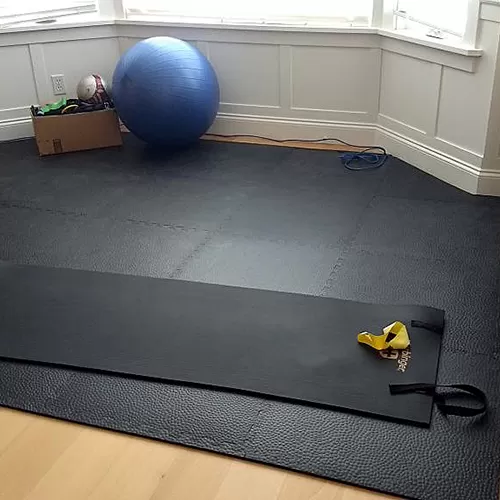 The Home Gym Flooring Tile Pebble is an ideal choice for home gyms, thanks to its durable yet lightweight design. Made of a high-density EVA foam, the tile can withstand the weight of exercise equipment. It's easily portable and simple to install, making it a practical choice for your home gym.
The tile features a pebble texture surface to maximize traction and safety. It adds cushion and comfort, whether you're doing aerobics or lifting weights. The tiles are non-absorbent and water resistant, so they're suitable for use in a basement with some moisture issues. They're also easy to clean up after a workout.
Thanks to their interlocking puzzle-style edges, the tiles are quick and easy to install and don't require adhesive. Each tile includes two border strips for clean, finished edges. While the tiles are full of benefits, they're also an inexpensive choice for your home gym.
2) Foam Kids and Gym Mats Premium - $$
Best Uses:
Basements gyms, kids rooms, home gyms
Best Features:
Soft, impact-absorbing foam
Waterproof
Available in 15 fun colors
Lightweight and easy to install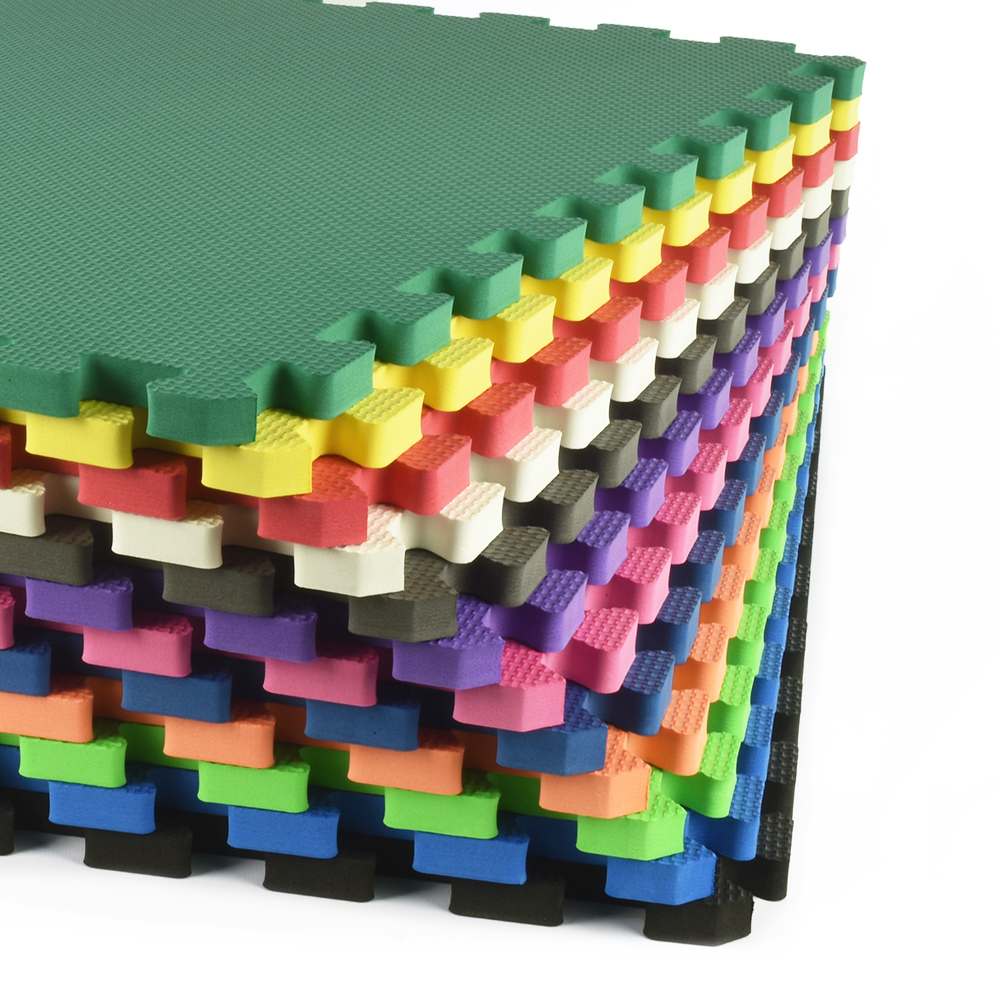 The Foam Kids and Gym Mats Premium are one of Greatmats' all-around most popular products. With over 15 fun, vibrant colors to choose from, these interlocking foam tiles are particularly wonderful for kid-friendly exercise rooms.
These mats are made of an EVA foam and are shock-absorbent, waterproof, and stain resistant. If any spills happen, tiles are easy to clean. The mats feature a texture on one side to maximize traction, while the opposite side is smooth.
Interlocking edges make it easy to install the tiles. The tiles measure 2x2 feet, so you can quickly cover a larger floor without the tiles being difficult to carry. Each tile includes two border strips for a clean island installation. The mats are backed by a one-year limited warranty.
3) Rubber Flooring Roll Greatmats ¼ Inch - $$$
Best Uses:
Home gyms and home exercise flooring
Best Features:
Highly durable flooring choice
Strong enough for small free weights or exercise equipment
Easy to clean
Can be dry laid and removed for storage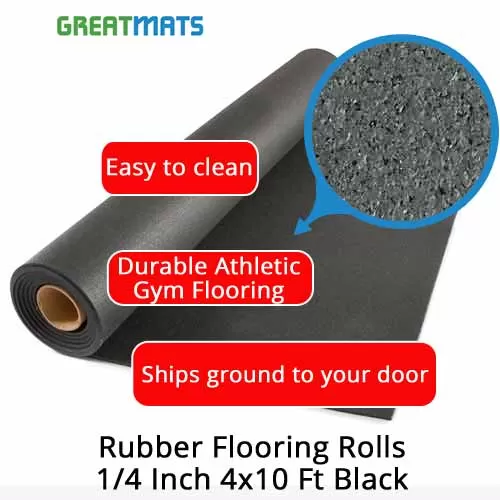 The Rubber Flooring Roll Greatmats ¼ Inch is a durable and versatile choice for gym flooring. The mat is strong enough to be used underneath exercise machines and can also withstand small free weights. It offers 40 feet of coverage at a great value per square foot, and the roll isn't so heavy that it's difficult to manage or move.
You can dry lay the roll so that you can remove and store it as needed. Since it's ¼ inch thick, it's easy to roll up again. Cleaning it is easy, too. Simply sweep or damp mop it with a pH neutral cleaner. This rubber roll is backed by a five-year manufacturer warranty.
4) Home Sport and Play Mat ¾ Inch - $$$$
Best Uses:
Exercise room and home gym flooring
Best Features:
Scuff-resistant texture can withstand athletic shoes
Waterproof and stain resistant for durability
Tight-fitting interlocks for an easy installation
Dual-sided and dual-colored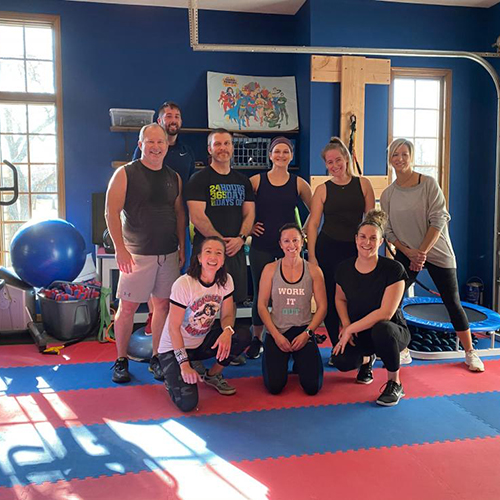 The Home Sport and Play Mat is a commercial-quality mat that's designed for use in your home. It features non-toxic EVA foam that's both waterproof and stain-resistant, so it can withstand spills, basement leaks, and more.
The mat features a highly durable surface that's scuff-resistant to help keep your mats looking their best, even when exposed to plenty of athletic shoe traffic. The mats offer plenty of shock absorption, so they're an excellent choice for aerobics, taekwondo, or even for kids who want to play in the space while you exercise.
These mats' puzzle-style interlocking edges make for a fast and easy installation. Tight-fitting interlocks help to prevent the mats from separating during use. While the mats are waterproof, you can also easily remove and then reinstall them if your gym space leaks.
5) Discount Gym Mats - $$$$$
Best Uses:
Home gymnastics, home tumbling, home wrestling
Best Features:
Convenient folding design
Double stitched seams for durability
Hook and loop connectors on 2 ends to create long lanes
Excellent shock absorption and comfort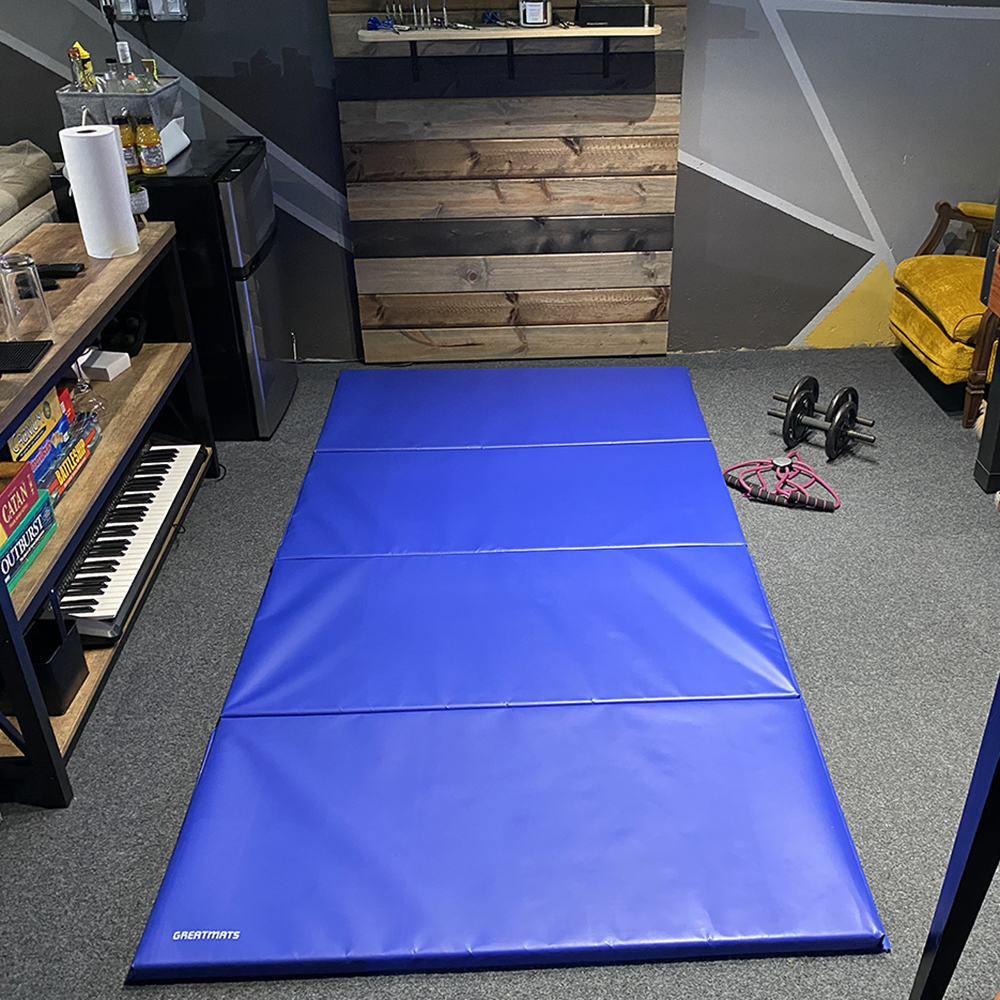 The Discount Gym Mats are an excellent way to add extra cushion and shock absorption to your home gym when you need it. Designed for home use, these mats feature a quality PE foam core that can absorb impact from home gymnastics, tumbling, and wrestling.
The mats feature a convenient folded design, so you can lay them out when needed and then easily store them away after. The connector strips allow you to create long lanes of mats for tumbling passes. The vinyl cover features double stitched seams for durability, and is also lead-free for your family's safety.
Affordable Product, High Quality
These days, it feels like you have to go broke in order to get a long-lasting product. At Greatmats, that simply isn't so. The company does not settle for less - even in the cheapest of products. We prioritizes quality products, but it's important to remain affordable to customers, which is why they offer volume discounts. For questions or specifics, get in touch with us. They want you to get the best deal and the most bang for your buck.