Cool Backyard Flooring Ideas
By Kyle Schurman Created: May, 2021 - Modified: August, 2023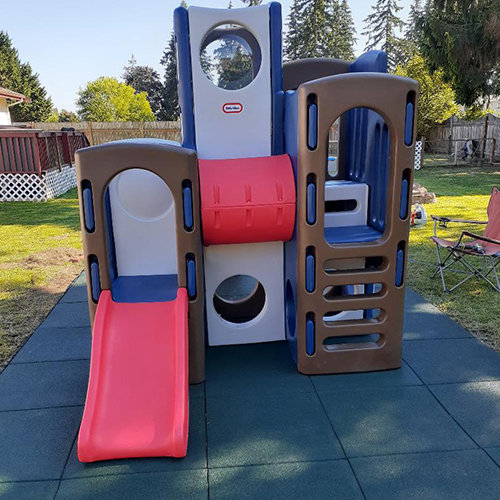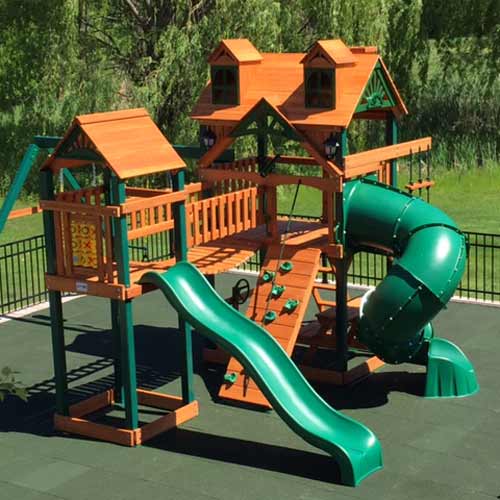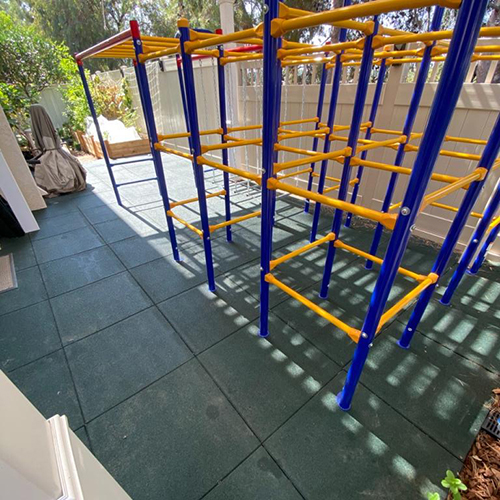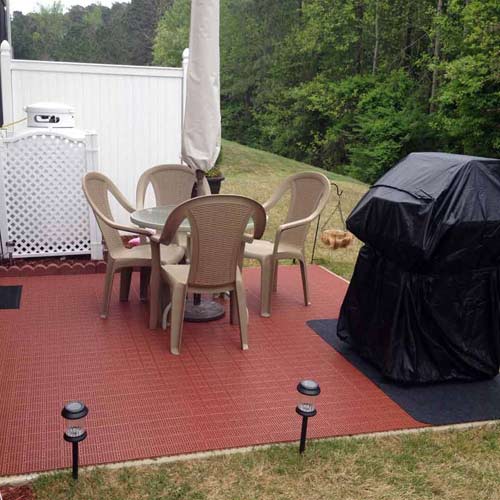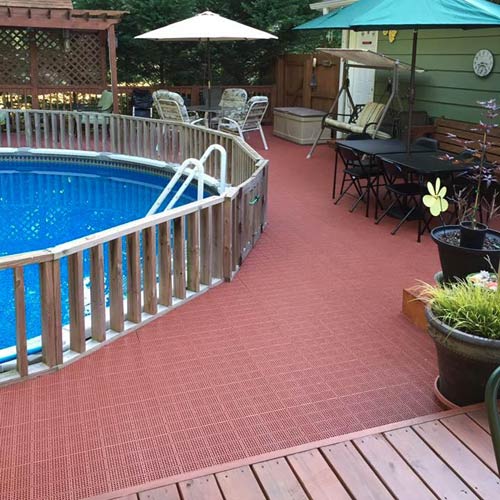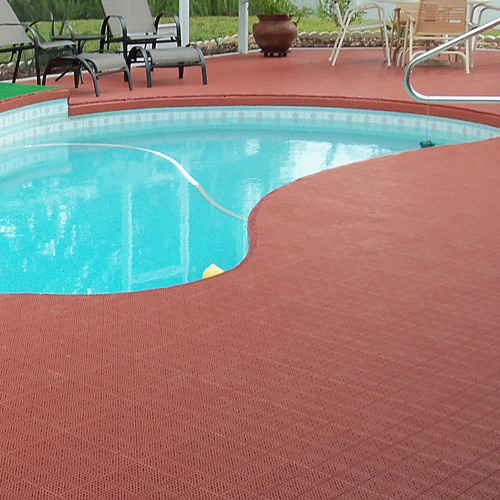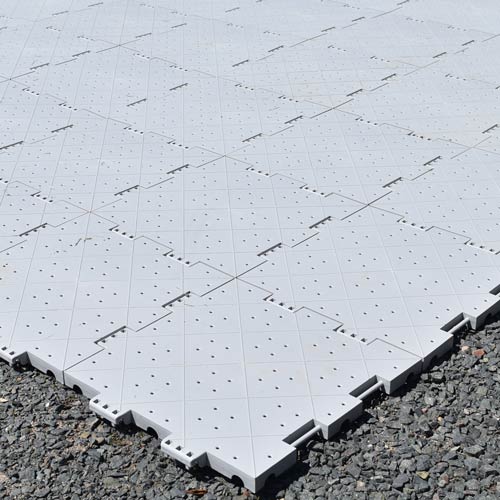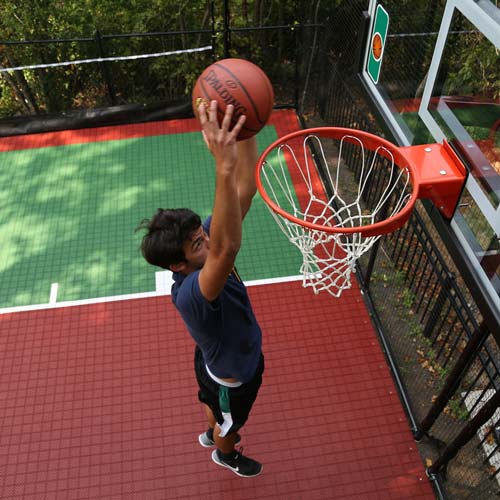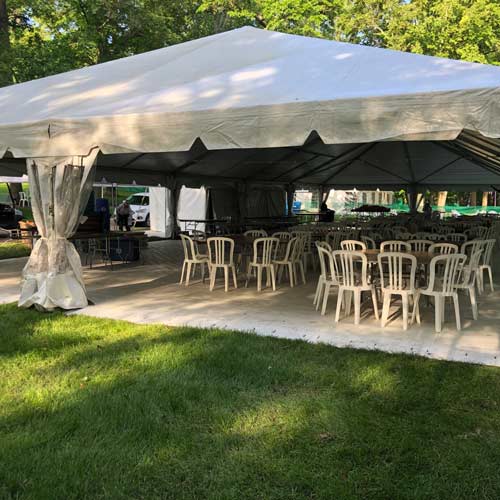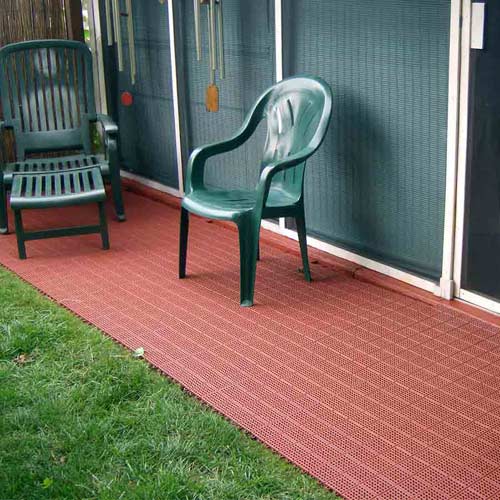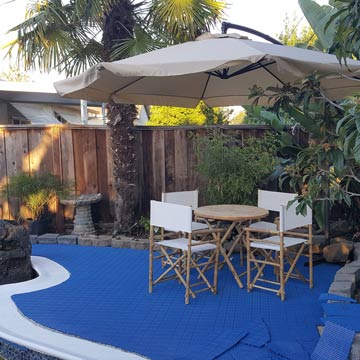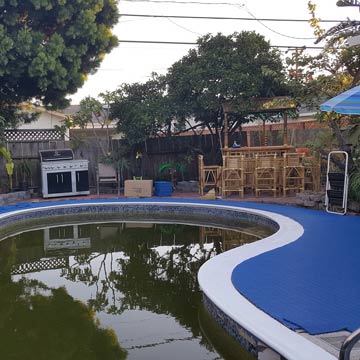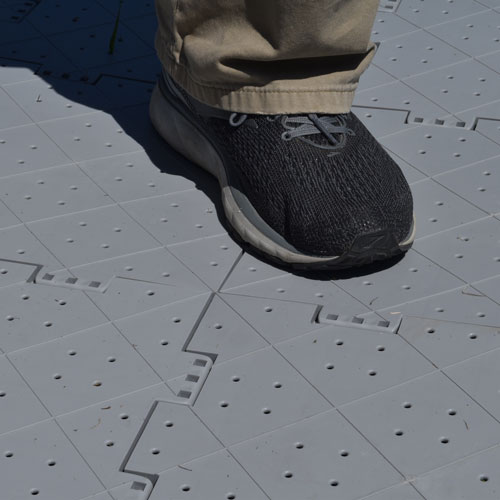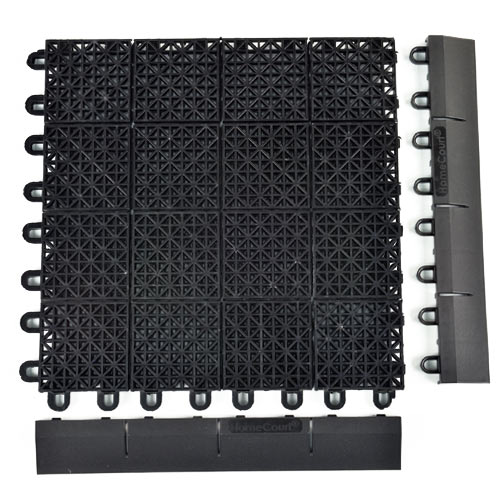 Backyard flooring is a great way to create a fun, cool, functional, and stylish area for almost any type of gathering. If potential flooring design ideas feel a bit constrained inside the home, because of the current furniture and decor, there's still the ability to create some cool flooring designs in the backyard, treating it like a blank canvas.
Picking the right floor in the backyard can involve setting up a permanent outdoor seating area on a deck or patio, creating a playground for the kids, building a basketball court for games, or laying out a temporary backyard flooring for a wedding and dance reception.
With backyard flooring, installers can choose among a variety of colors and materials, all of which help to carry the great looking theme they're developing throughout the area. With the right flooring options available at a low cost per square foot of coverage area, customers can create a look that fully reflects their desires for the space.
What Are Some Cool Rubber Outdoor Flooring Designs?
When creating an area in the backyard that needs to stand up to harsh weather, allowing it to continue looking great over a long period of time, while also providing a bit of cushioning, rubber backyard flooring is a great choice.
Rubber is less expensive than many other outdoor tiles, and it has quite a few advantages, including a cushioned surface to help kids avoid injuries if they fall in a play area. Rubber does not suffer damage easily when exposed to constant sun either.
Even though people may think of rubber flooring as only available in a boring black, this is not the case. Multiple color options are possible in rubber floors for outdoor use, providing just the right look for any design.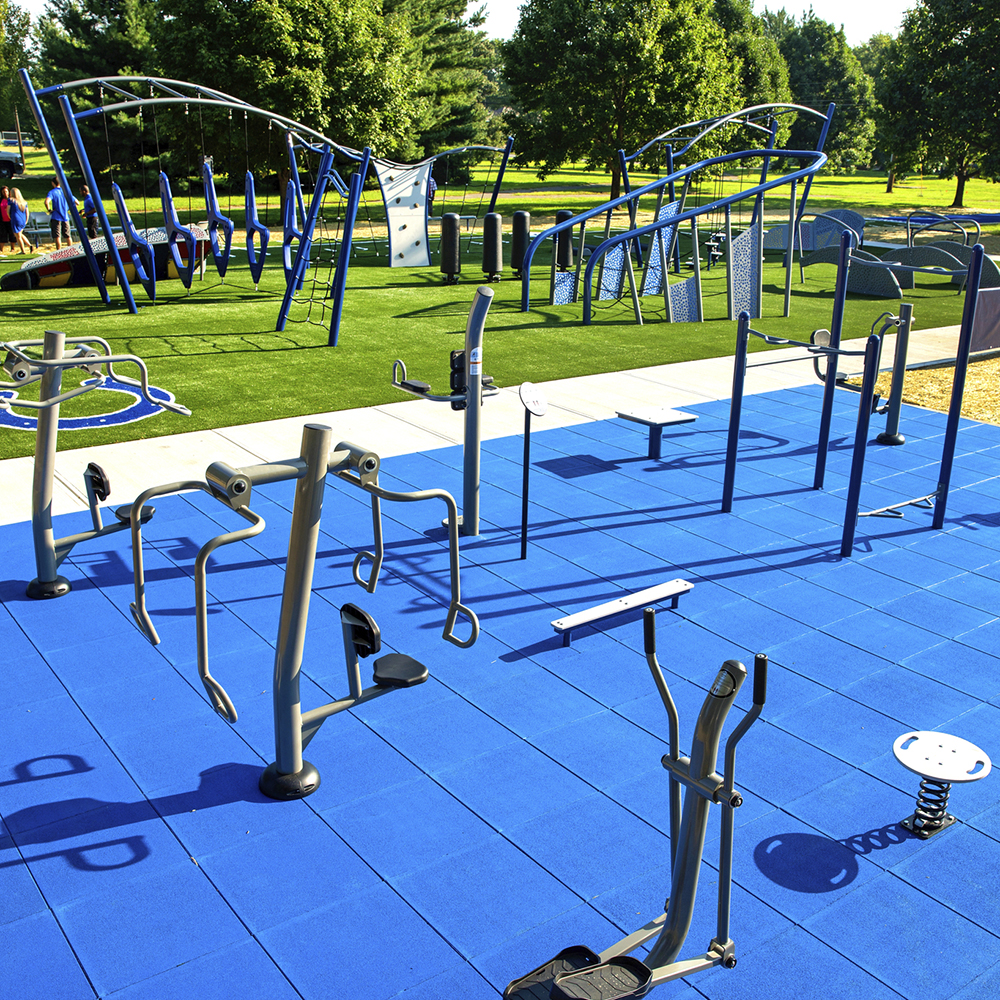 The Blue Sky Rubber Playground Tile Colors is one of those options, providing interesting color options that will complement the look of the backyard space.
These tiles are extremely thick, measuring 2.75 inches, which gives them an impressive level of cushioning. They have a 6-foot ASTM fall height rating, which makes them safe to use under many types of climbing equipment on the playground.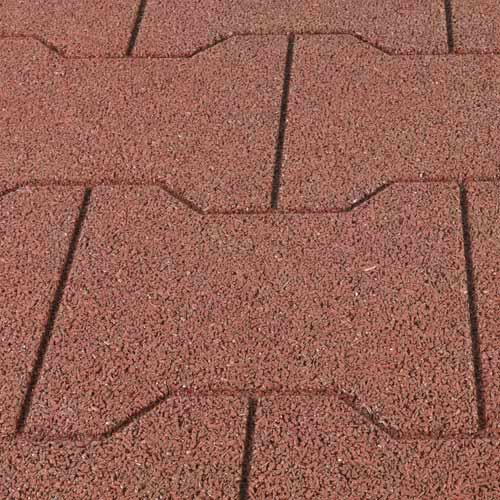 Another great looking option is the Equine Paver Tile, which measures 2 by 2 feet and is available in colors like terra cotta, gray, green, and black. This square tile has a dog bone brick pattern imprinted on it, creating an impressive look that will enhance any outdoor area.
What Backyard Flooring Is Available with Drainage Holes?
For backyard areas that receive quite a bit of rain or that will be near a pool, a perforated tile allows the water to drain away, rather than pooling on the surface of the flooring. This ability to drain the water away reduces slipping hazards.
When desiring a cool looking type of floor for the backyard, perforated tiles made of polypropylene plastic and PVC plastic work well, as many of these tiles offer bright colors.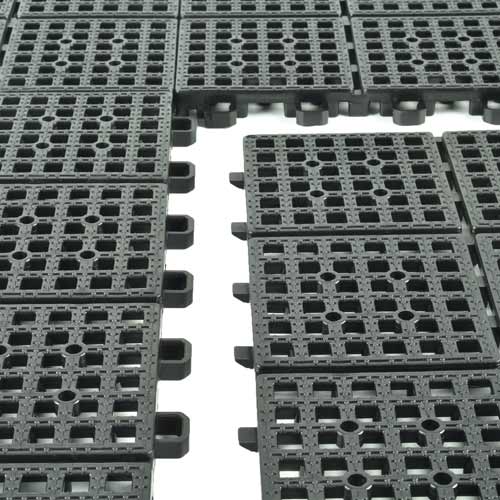 The Patio Outdoor Tile product is available in blue, terra cotta, and gray, and it will work over any compacted surface, providing significant comfort versus hard concrete or weather-worn wood. The PVC plastic in these tiles offers a bit of flexibility, which enhances its level of comfort underfoot.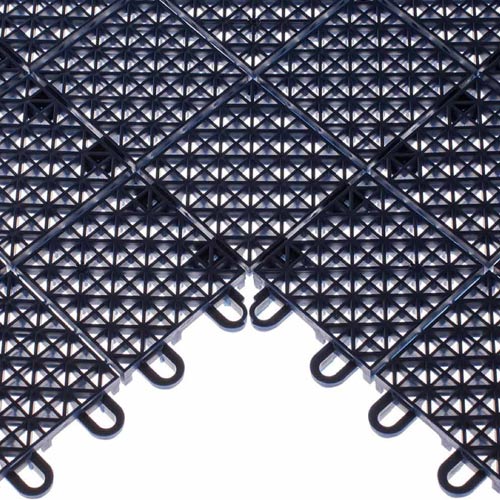 For even more color options, the Outdoor Court Tile XT3 is available in polypropylene plastic. It is a bit firmer than the PVC plastic, making it work well for a backyard basketball or tennis court. It's available in more than a dozen colors including:
Royal Blue

Ice Blue

Performance Blue

Bright Green

Performance Green

Orange

Bright Red

Terra Cotta Red

Silver Metallic

Yellow
What Flooring Works for Hosting Weddings and Other Events in the Backyard?
What could be cooler than being able to create a party space in the backyard whenever desired? There are multiple types of flooring that deliver this capability, creating a firm space for seating and walking over uneven or soft ground. There's even an option for creating a dance floor in the backyard. Add a large tent for the perfect finishing touch, if desired.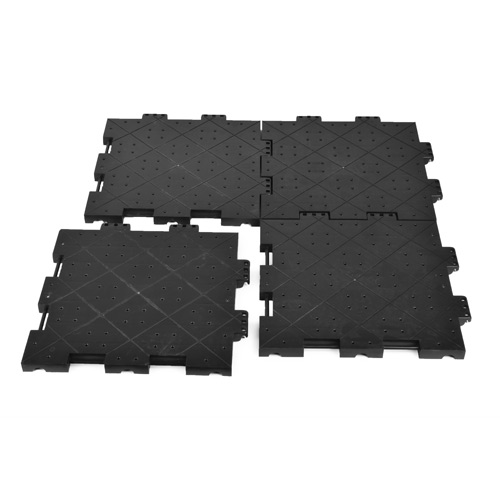 For creating a sturdy backyard floor, the Portable Outdoor Tile is a popular choice, These interlocking tiles are easy to assemble and disassemble, making them ideal for temporary event flooring in a backyard.
They consist of durable, no-break plastic, which provides a sure footing for those attending the event. Whether going over gravel, dirt, asphalt, or grass, these sturdy plastic tiles can provide a high level of performance.
For creating a dance floor for the event, the combination of the Matrax Light Duty Pedestrian Composite Mat and the EZ Portable Dance Floor is very effective.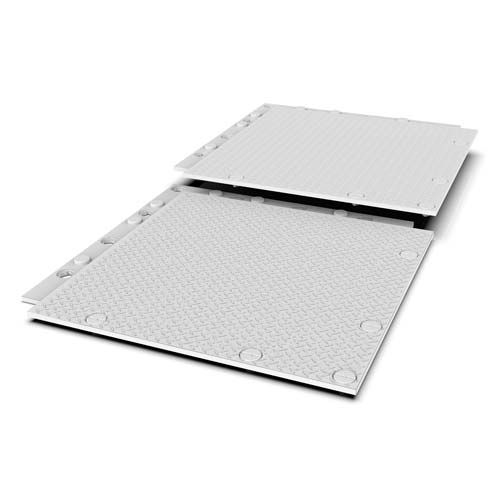 Each 3.89 by 3.89 foot pedestrian tile connects to adjacent tiles through a cam lock system, ensuring a tight, secure fit that will stand up to the stress of people walking on them. It also creates a nice, flat and stable surface for your dance floor.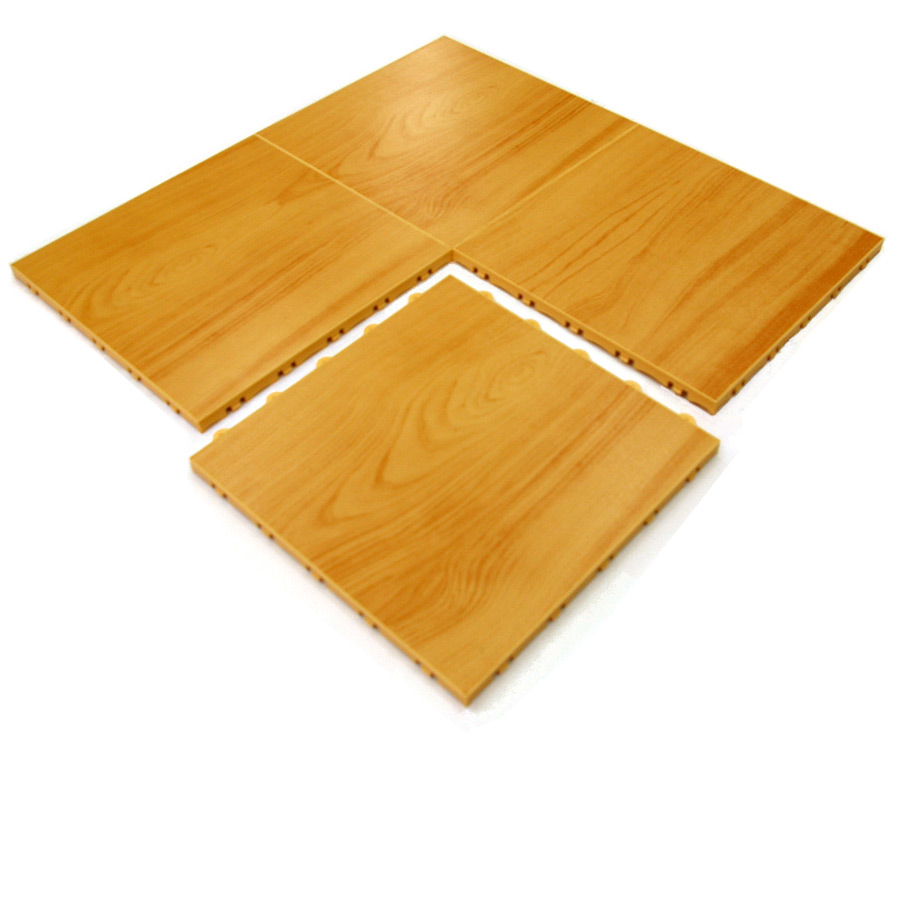 Over the top of these tiles, install the interlocking portable dance floor tiles. This commercial grade vinyl material delivers a safe surface for dancers, and it provides a great looking high quality faux wood grain finish in several color options.