Top 5 Carpet Tiles by Unique Features
By Kif Richmann Created: September, 2017 - Modified: July, 2021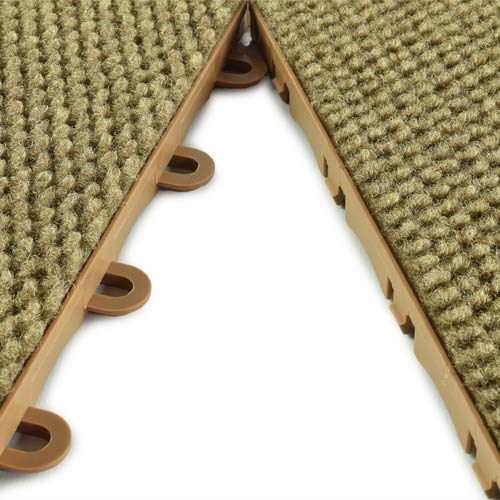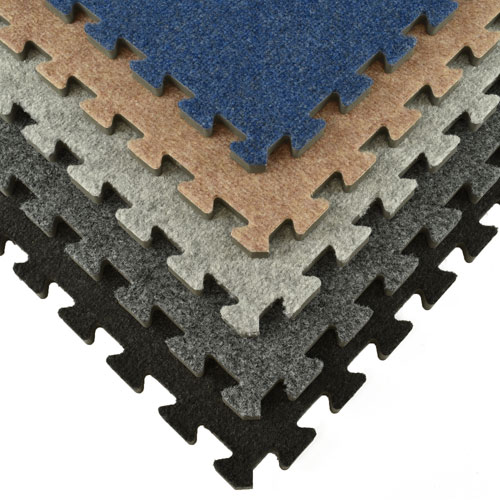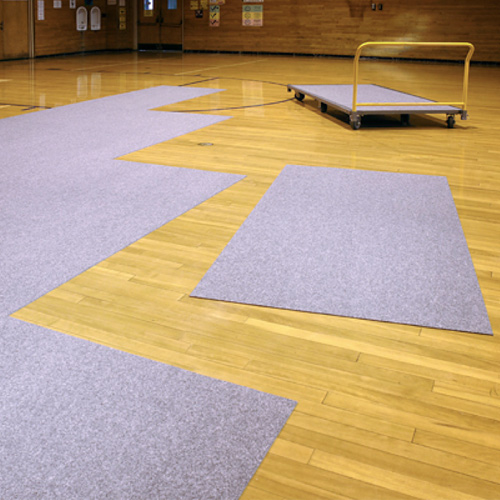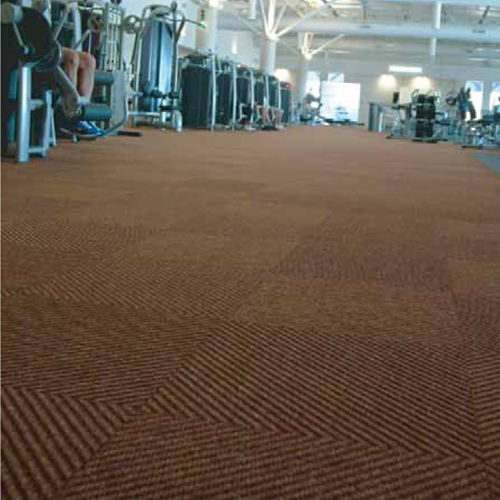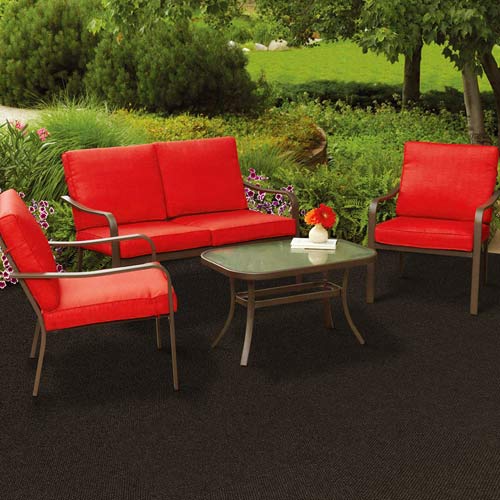 Selecting the right carpet for your specific situation is important. Some carpet tiles are the right choice for protecting gym floors, while others are best suited to outdoor settings. This means you need to take your time, consider your needs, and make an informed decision.
There are different variables, such as color, size, and materials, that will make a difference in your choice. Will the carpet you lay down be permanent or will you be moving it on and off regularly? Should it match an outdoor setting or does it need a professional appearance? Before you buy, make sure you take into account all the variables to ensure quality results.
Let's take a look at some of common situations with flooring and discover a few of the best carpets for each location.
Top 5 Situation-Specific Carpet Tiles
Wet Basements: Basement Carpet Tile Raised Squares
In practically every part of the country, wet basements can be a serious problem. Whether the dampness comes from gradual seepage or a whole-scale flooding situation, water in a basement can cause mold, rot, and unhealthy living conditions, not to mention serious structural damage. That's why any building or remodeling project often starts with sealing the basement from outside moisture, and the project may even include the use of a permanent dehumidifier. Wet basements are a serious problems, but fortunately there are a few options for floor tiles.
Carpet Tile Home ClickBase
is a top-quality product that is waterproof and durable. By utilizing an intelligent design, these tiles keep the carpet raised above the floor and allow any underneath moisture to evaporate quickly. They are easy to install and will not absorb moisture, so your home can have a dry, clean basement for years to come.
One of the top advantages of using these carpet tiles is that they snap together easily, creating simple installation in any basement. They have a strong plastic foundation underneath the carpet that provides a space which not only helps avoid moisture damage, it actually acts like a layer of insulation. This makes the Carpet Tile Home ClickBase perfect for cold basements as well as wet areas!
Each tile measures 1.01 feet by 1.01 feet, creating a versatile fit for nearly any basement, and each tile only weighs about a pound, so you won't have to strain your back and arms moving tiles across the room. Available in tan and grey, these interlocking carpet tiles create the excellent living space you desire for your basement while giving you comfort and convenience.
Trade Shows: Royal Interlocking Carpet Tile
Clean, neat, and professional: that's the image you want to convey at a trade show. You need to create a space that enhances the image of your product and complements the features and design. However, the display area should never steal attention from the items or services you are trying to sell. To have the perfect display area for trade shows, you need the right lighting, the right display table, and the right carpeting.
Our
Royal Interlocking Carpet Tiles
have a unique finish that is neat and professional, giving your trade show display the appearance of quality and organization. They can be placed on concrete or over existing tile, and no adhesive is required to keep them in place. They can be used for indoor or outdoor trade shows, giving you a product that you can take wherever you need to promote your business. They also have an anti-fatigue quality, so anyone who has to stand up and sell products or promote the business for hours on end can do so without running out of energy. What's more, they are odor-proof, which could come in handy after years of traveling from trade show to trade show. It might not seem like much, but having the right carpet can have a significant impact on your trade show presence.
This interlocking carpet tile is available in five different colors, each one designed to show off your specific product. You can choose between blue, dark charcoal, dark grey, light grey, and tan, or you can mix and match to create a design that fits your brand. At 2x2 feet, you can use these carpet tiles to design a wide variety of trade show displays.
Floor Protection: Gym Floor Covering Carpet Tile
Do you have a gym floor that you want to protect throughout the years? Does your community events center have a dance floor that needs to stay in tip-top shape? Then you need versatile, mobile protection that you can easily move on and off of the flooring. The floor covering carpet should not only protect your flooring from damage, it should look good when laid out and it should be easy to move whenever you need.
That's the idea behind our
Gym Floor Covering Carpet Tile
. These tile carpets give you reliable protection while maintaining a light, manageable weight, perfect for moving on and off the floor quickly. Not only that, but they are easy to store, creating greater convenience for your carpeting needs. These tiles are so convenient that they can easily be used by high schools, universities, community centers and many other facilities. From full gyms to racquet ball courts, any hard surface can quickly be covered with these convenient tiles.
When these carpets are laid down, they provide a firm, felt-like finish that, quite frankly, looks like it is installed permanently. This creates a surface that people can enjoy, and one that safely stays flat, helping to avoid any trips and falls. Best of all, this gym floor never requires tape to stay flat, which further enhances the visual appeal when a large floor is covered with this product. Measuring over 6 feet in length and over three feet in width, these gym floor carpets cover a wide space with only a few tiles.
Gyms: Dominator LP Gym Carpet Tiles
You expect a lot from your gym floors. They need to be durable and rugged while providing safe traction for everyone using the facility. They need to stand up to exercise equipment, as well as the constant pounding of athletes in motion. It's common to install a carpeting that wears away quickly, forcing you to spend more money and resources constantly replacing and reworking the space.
With these carpet tiles from Greatmats, you'll get a durable product that is built to last. These are the best carpet floorings for gyms because they have the traction and rugged strength you expect. Made from 100 percent solution-dyed polypropylene and a bitumen backing, these carpet tiles are outstanding for your gym. They have non-woven diagonal ribbing and a permanent anti-static quality. They are designed specifically for use on a gym floor and come with a five-year guarantee when used on flat surfaces, giving you added peace of mind when you make a purchase.
When you order a carton of these tiles, you can choose from a wide variety of colors to match your gym. This includes shades of black, red, grey and blue. If you have an athletic program and want to build a fitness room to match your team colors, there is a perfect option waiting for you. These tiles can even be used in commercial establishments, so you know you're getting the best when you choose
Dominator LP Gym Carpet Tiles
from Greatmats.
Outdoors: Style Smart Highland Carpet Tile
Outdoor carpeting needs to be specially built to meet specific needs. Not only should they be strong and durable, they should be easy to maintain and provide years of vibrant color. They also need to keep their vibrant color when exposed to years of sunshine, rain, snow, and all of Mother Nature's elements. Finally, they should be eco-friendly, so they can't have fluids, chemicals, or adhesives that run off and seep into the soil and water.
Style Smart Highland carpet tiles
are specifically made for the outdoors. From patios to outdoor garden walkways, these tiles look great and give you years of exceptional quality. The fibers will not fray, pull out, or unravel, and the color will hold strong for many years. With a specialized engineering process, the carpet tiles can hold up against indoor and outdoor traffic, and they peel and stick with a firm hold thanks to a powerful adhesive.
Each 1.5x1.5-foot tile weighs roughly a quarter of a pound, so you should have no trouble installing a large section of this carpeting. And you get to pick the color that best suits your outdoor setting, such as heather green, ivory, ocean blue or a smokey grey. No matter what specific style you want for your outdoor area, these carpet tiles will deliver long-lasting quality.
Find the Perfect Flooring with Greatmats
You can find all the right flooring for your needs with Greatmats. From the latest styles to tried-and-true flooring, we have the best options at an affordable price.
Visit Greatmats today and browse our large selection of products for gyms, horse stalls, fitness centers, and more. No matter what type of facility you have, you'll find the right flooring when you order from Greatmats!

For more on this topic please review our
Carpet Tiles
product page.