What Are The Best Vented Garage Floor Tiles?
By Paige Cerulli Created: January, 2023 - Modified: February, 2023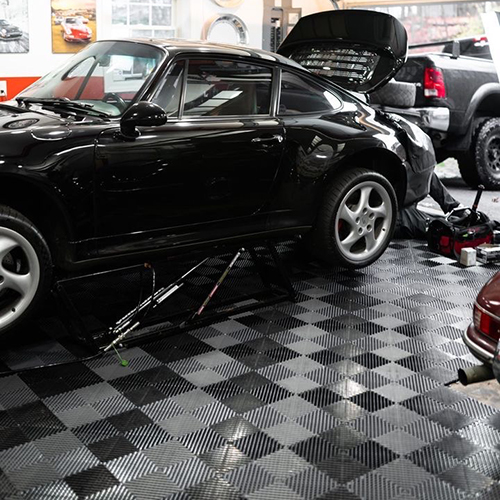 Vented garage floor tiles are an excellent choice when the flooring will be exposed to liquids. Whether you anticipate leaks in your garage or want to be sure you can keep your feet dry when working with liquids, there are many reasons to choose these tiles.
The Benefits of Vented Garage Floor Tiles
Vented garage floor tiles are perforated, so they quickly drain liquids away. They can help to keep your feet dry and can reduce your chance of slipping when you're working with liquids.
These tiles typically feature a raised base, which allows moisture and liquids to circulate freely beneath the tiles. That design can speed drying, helping to prevent mold and mildew growth.
These modular tiles are easy to install, too. Most vented tiles feature interlocking edges that lock together, allowing you to remove them again in the future if needed.
The Best Vented Garage Floor Tiles
There are many different vented garage floor tiles for sale, and you'll find that the quality can vary between different products. Reading customer reviews is a good place to start, but it's also important to consider the qualities that you want your flooring tiles to have, especially in an area that's exposed to moisture.
If you're preparing to floor your garage or another surface where drainage is important, these vented garage floor tiles are excellent choices.
Perforated Garage Tile
The Perforated Garage Tile is a durable tile available in black, gray, and red for a stylish look. This wet area modular floor tile is rated for a 10,000-pound static load, so it can withstand the weight of vehicles and heavy equipment in your garage.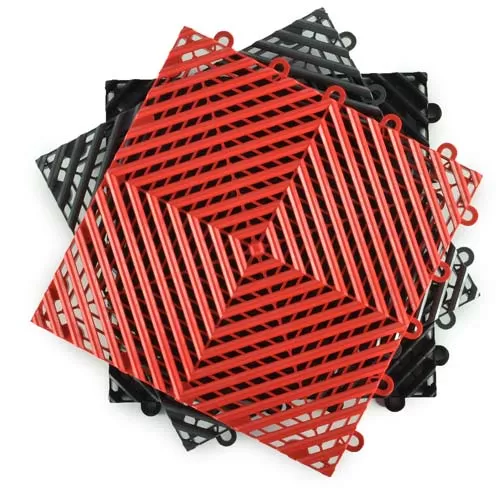 Manufactured from durable polypropylene plastic, the tile features snap together interlocks for an easy, DIY-friendly installation. The angled octagon rib maximizes traction, making for a slip-resistant surface that won't hold any moisture.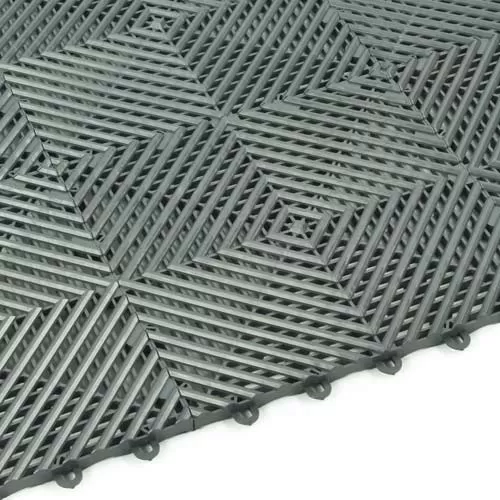 This tile is suitable for both indoor and outdoor use. You can
cut the tiles
using a sharp utility knife, and there is no need to use a saw or other specialty equipment.
If you don't need to custom cut any tiles, you can install 100 tiles in about 40 minutes, and can
disassemble
rather quickly as well.
Perforated Garage Tile Border Ramps
If you're creating an island installation, the
Click Tile Border Ramp
and
Click Tile Corner Ramp
will create clean, finished edges. These ramps are waterproof and create a smooth transition onto and off of the tile floor surface.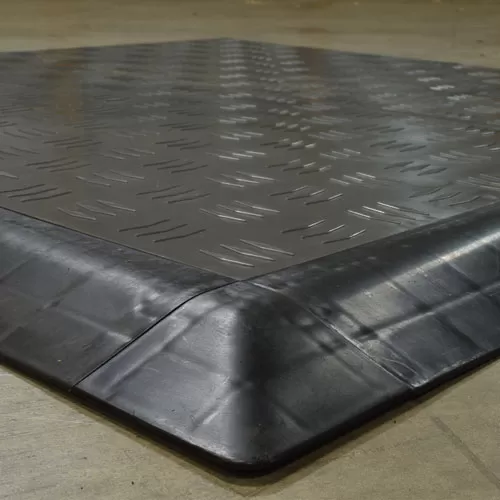 The ramps install without any need for tools or adhesives, and they create a polished look for the floor, too. They help to eliminate tripping hazards and quickly snap into place.
Portable Outdoor and Tent Tile
The Portable Outdoor and Tent Tile is designed for temporary installations, such as in tents or outdoors, but can be used in semi-permanent locations such as a garage. This durable polypropylene plastic vented tile can withstand any climate, while the small holes in the surface allow rain to quickly drain through the tile's surface, preventing dangerous standing water.
The tile's base is raised up slightly, so air and moisture can freely circulate underneath for faster drying. The tile's surface is also equipped with an anti-slip texture to further help prevent slips and falls, even when the tile is wet.
Measuring 12x12 inches, the tile is easy to transport, store, install, and remove. Weighing just 0.81 pounds each, the tiles feature tabs and slots that easily pop together for a secure interlock.
When it's time to remove the flooring, you can uninstall each individual tile, or remove the tiles in 2x2 and 3x3 tile sections, making for a faster reinstallation next time. The tiles are ideal for event venues and other settings where flooring must repeatedly be installed and uninstalled.
These tiles are backed by a one-year warranty.
Safety Matta Perforated Black
The Safety Matta Perforated Black tile not only offers the benefits of a perforated surface, but also delivers ergonomic and anti fatigue qualities. The tile delivers cushioning that is also durable, so it's suitable for use in areas where people stand for long periods of time, including work stations and patios.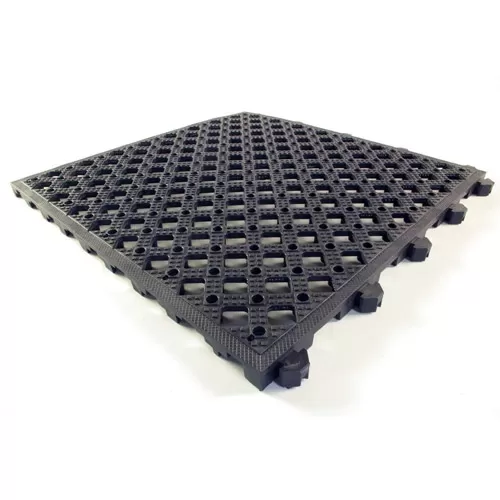 Made of recycled material, this tile is an eco-friendly choice. It is perforated and suitable for areas that are exposed to lots of water, including showers, outdoor spaces and even garage areas, and the diamond shield tread design helps to maximize traction and prevent slips.
The tile is designed to freely drain water through the surface, helping to quickly move it away from the surface. The tile's materials deliver valuable insulative benefits, helping to keep you comfortable even if the ground beneath the tiles is cold.
Thanks to its interlocking lug system, it's easy to install the tile, and there is no need for adhesive or tape. Optional border pieces are available to make a smooth transition onto and off of the one-inch-thick tile surface.
Maintaining the tile is easy. It can be damp mopped with a common household floor cleaner except for bleach.