What Is the Best Play Mat for Hardwood Floors?
By Kyle Schurman Created: January, 2021 - Modified: March, 2021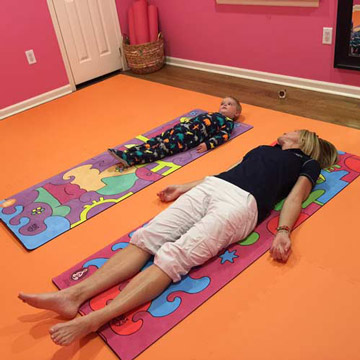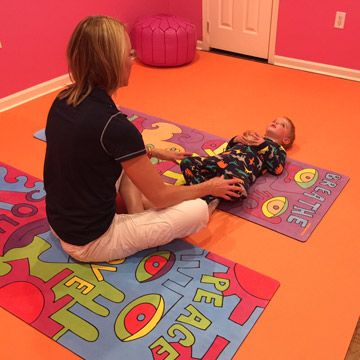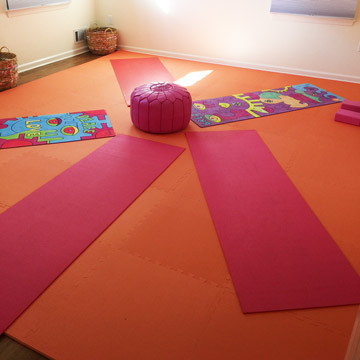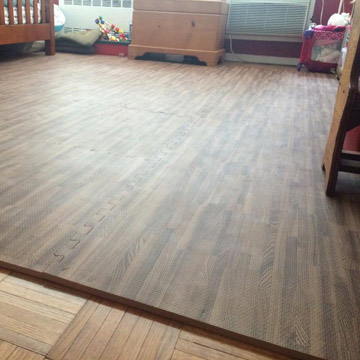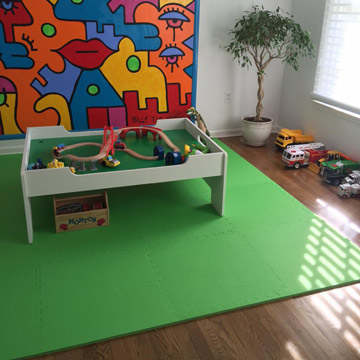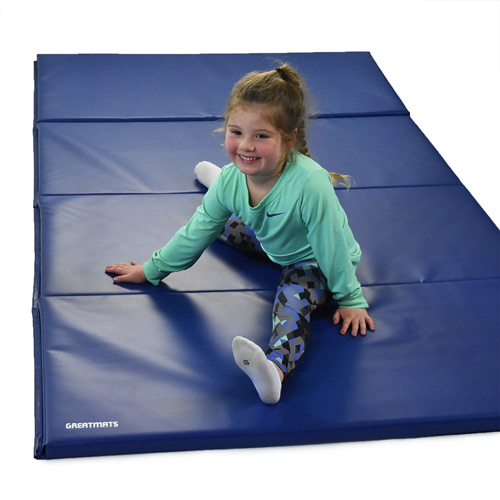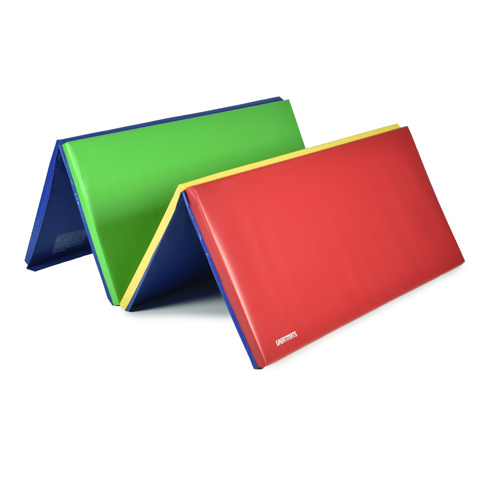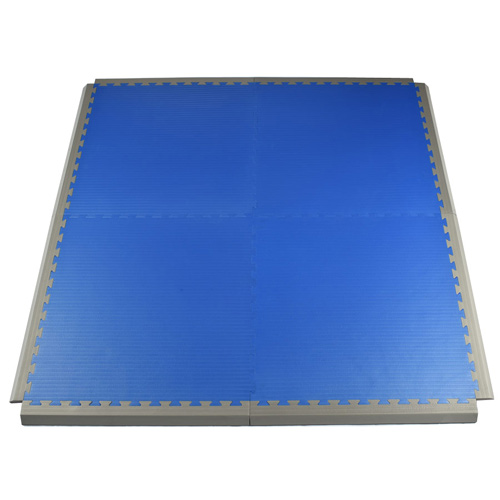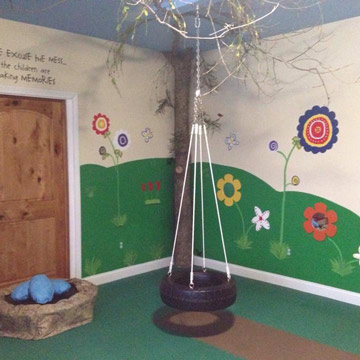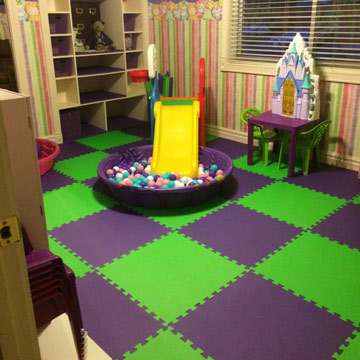 To protect children from falling on hard flooring, choosing the best playmat for hardwood floors can help. The thickness of the cushion within the mat that's required to keep kids safe will vary, depending on the planned use case. Basic playmats can be thinner than mats needed to provide fall height protection or for martial arts practices at home. Some of the top selections include:
Thin interlocking foam mats

Thick interlocking foam mats

Roll out foam mats

Fold up foam mats
Thinner, puzzle edge style matting will have a lower price per square foot than thicker units. However, if there are areas where children will be able to climb, the extra cushioned protection is well worth the additional cost of a thicker mat.
Does a Thin Play Mat for Hardwood Floors Provide Protection?
When you put EVA (ethylene vinyl acetate) foam mats over a hard flooring, you'll create a cushioned surface that helps people in a few different ways, including:
Protection against falls

Comfort for long hours when standing

Comfort when exercising
These mats also protect children who may be running or rolling around. Placing these over the hard flooring eliminates the chance of encountering a slippery spot on the hardwoods.
The
Foam Kids and Gym Mats Premium
is an ideal play mat for hardwood floors, as it measures 5/8 inches in thickness. Whether children will be running and need protection against trips and falls or whether athletes need some soft cushion for exercise, these mats provide the desired protection at a low price.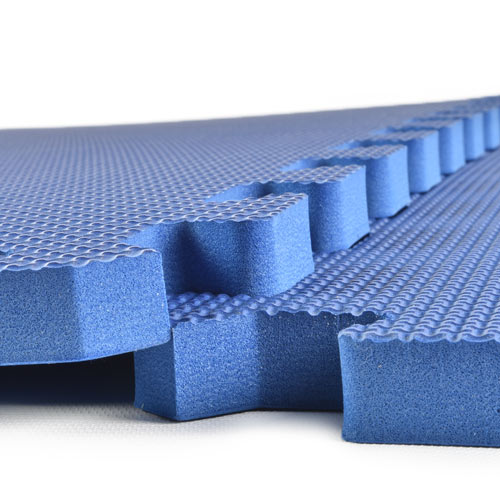 This type of foam has a slight textured pattern on one side and a smooth surface on the underside, allowing the installer to create the precise finish desired.
For a little more cushioning, the
Home Sport and Play Mat
delivers 3/4 inches of thickness. The EVA foam in these mats will not soak up water and resists stains, providing the ideal flooring in areas where kids may spill water and liquids. This mat is also reversible with a scuff resistant texture on both sides.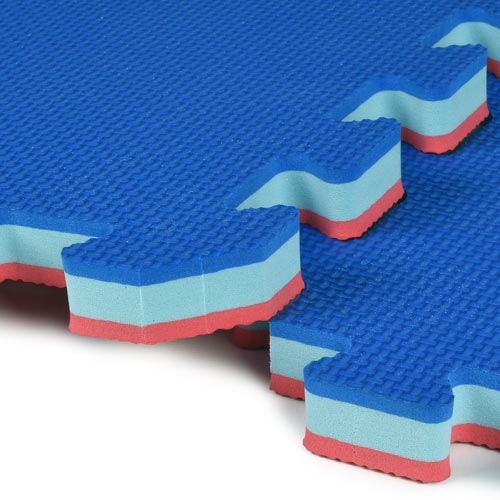 Both of these interlocking play mats for hardwood floors have several different color selections. Installers can mix and match colors within the same model of mat, as the interlocked puzzle edging is consistent from mat to mat, no matter which color is in use.
What Is the Best Play Mat for Hardwood Floors to Create an Indoor Playground?
When creating a playground area for kids, installers will want to deliver the maximum level of impact absorption, especially if the playground will have climbing equipment. Thick foam mats can provide the desired level of protection from falls, significantly outperforming hardwoods, cements, laminates, or tiles.
With the
Indoor Playground Flooring Tiles
product, installation is an easy process. These interlocking tiles go directly over the top of the subfloor without the need for adhesive, making this an ideal play mat for hardwood floors.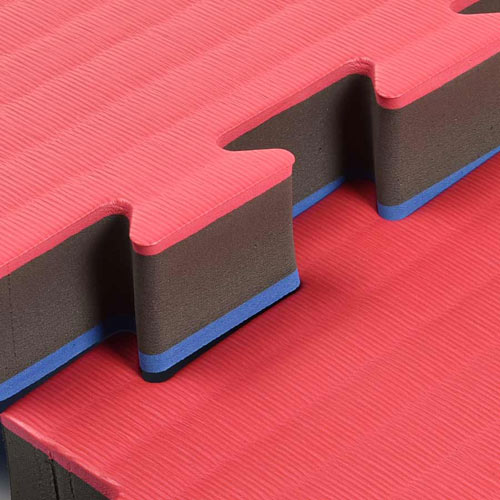 Each mat measures 1-5/8 inches in thickness of high quality EVA foam, giving it an ASTM fall height rating of 4 feet. ASTM (American Society of Testing and Materials) rates the ability of the cushioned flooring surface to protect against head injuries after a fall from a certain height.
Additionally, the top of the tile provides a specially designed surface texture that does not cause skin burns when someone falls on it or slides across it with bare skin, making it ideal as a play mat for over hardwood floors.
At 3 by 3 feet in size, each tile covers a large amount of space in very little time. One person can handle the install quickly.
What Is the Best Temporary Cushioning to Place Over Hardwoods?
When looking for a temporary cushioned play mat for hardwood floors, consider a roll out or fold up mat. These types of mats have PE (polyethylene) foam that delivers excelling cushioning, as PE foam compresses under pressure and bounces back to its original shape.
PE foam is ideal for temporarily transitioning a spare bedroom with hardwoods into a safe play area for a toddler or into a workout room for martial arts.
The fold out
Discount Gym Mats 4x8 Foot
product has 32 square feet of coverage area in a 1-3/8 inch thick mat. The manufacturer uses a 15.5 ounce vinyl cover to protect the foam and create the folding configuration.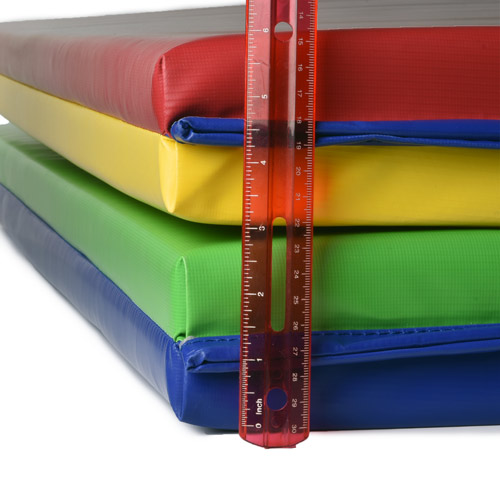 Each individual panel measures 4x2 feet, allowing installers to fold the mat panels onto each other for storage or to spread them out for the full 32 square feet of coverage.
Another useful option over hardwoods is the
Roll Out Wrestling MMA Mat
, which has dimensions of 5 by 10 feet. The 1.25 inch thick PE foam has a smooth vinyl top layer that protects the foam during workouts in either bare feet or shoes.
When the workout is over, just roll the mat into a tight cylindrical shape for easy storage.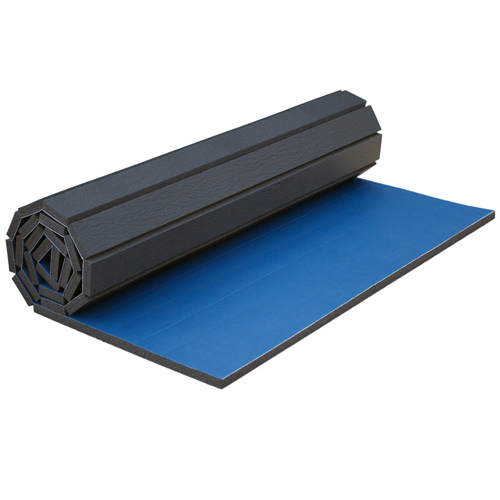 For more on this topic please review our
Kids Flooring
product page.