What are the best mats for wheelchair paths on grass?
By Paige Cerulli Created: June, 2022 - Modified: August, 2023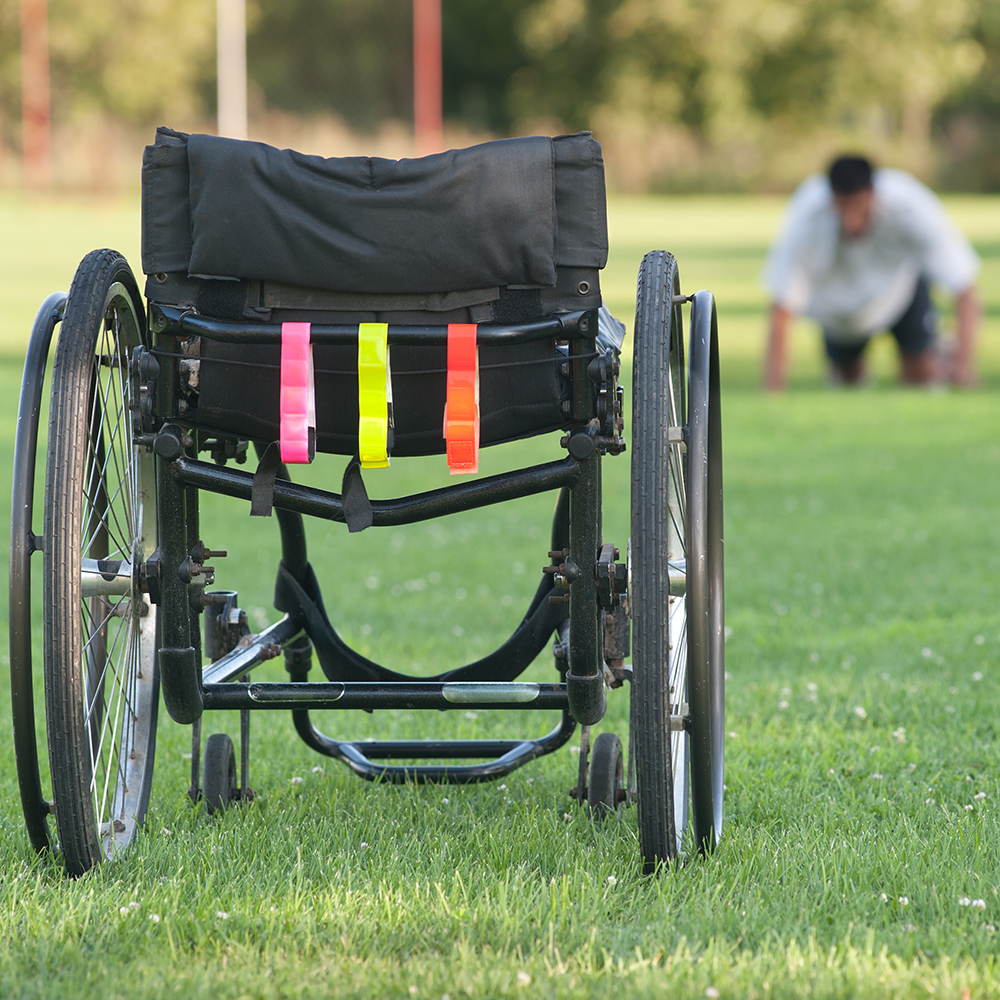 Whether you're setting up for an outdoor event or need to create a temporary walkway, it's important to think about wheelchair accessibility, too. There are several wheelchair mats for grass available that can help you ensure comfort and convenience for all of your guests.
Tips for Choosing Wheelchair Mats for Grass
When installing wheelchair access paths across a lawn or yard, you will face some challenges and will need products designed specifically for use on grass. While a hard, smooth surface makes for an easier installation, you can install these paths on grass as long as you choose the right product.
The ADA recommends wheelchair access paths have a minimum 32 inch width, which makes them useful for most electric and folding wheelchairs. As you shop for products, look for mats at least 32 inches wide.
It's also important to consider the installation method for the mats. Many mats feature an interlocking system that lets you easily connect them together.
Don't forget to consider the condition the turf will be in at the end of the event. If the mats will be in place for multiple days or weeks, look for a product that will allow sunlight to reach the grass so it doesn't become damaged.
Finally, consider the traction that the surface provides. The traction needs to be wheelchair-friendly, and it also needs to be textured enough so that people walking don't slip.
Wheelchair Mats Access Mats for Sale
At Greatmats, we offer several different wheelchair access mats for sale.
Matrax Light Duty Pedestrian Composite Mat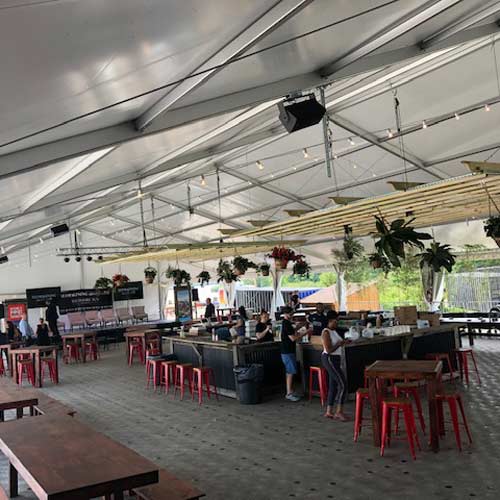 The
Matrax Light Duty Pedestrian Composite Mat
is an ideal solution for creating a temporary walkway across turf or grass. These mats measure 3.89 x 3.89 feet, so they can quickly cover a larger area and are wide enough for a wheelchair.
Made in the USA, the mats are entirely recyclable, making them an eco-friendly addition for your event.
Drainage holes let water right through the surface, while the diamond top texture helps to increase the safety of wheelchair users and anyone who might push the chair. These mats are ADA compliant with the use of ramped borders and suitable for indoor and outdoor use.
A cam lock system makes it easy to connect each panel together. When the event is over, the mats can be easily removed, hosed off, and stored.
Portable Outdoor and Tent Tile
The
Portable Outdoor and Tent Tiles
are versatile tiles that you can install over multiple surfaces, including grass, gravel, sand, and concrete. They are made of a durable, rigid plastic and are backed by a one-year limited warranty.
The tiles can withstand virtually any environment, including extreme temperatures, and feature drainage holes for use in wet areas. Their anti-slip surface helps to maximize traction.
The tiles feature a convenient clip-together design. Since they measure just one foot wide, you can connect multiple tiles together to make a walkway as wide as you need it.
Once installed, you can remove the tiles in 3x3-foot sheets, making for a faster installation the next time.
Ground Protection Mats Black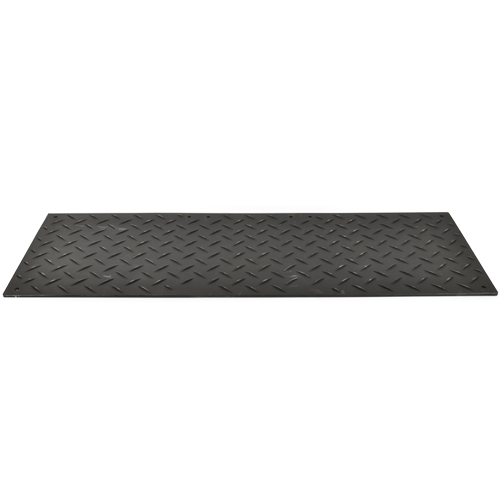 The
Ground Protection Mats
are highly durable and strong; capable of supporting 120-ton loads, but they can double as wheelchair paths. These are made of a ½-inch polyethylene that has been recycled, making them an environmentally friendly product.
The mats leave the turf smooth, so they're ideal for events when you need to preserve a lawn's appearance. They measure 3x8 feet, meaning you can quickly and easily create a large wheelchair path.
Available in a clear option, the panels let the sun reach the grass, perfect for longer-term installations. They feature a cleat design to maximize traction and can be easily hosed clean. While the mats do not have connectors built in, special connector pieces are sold separately.
Mat-Pak Ground Protection VersaMat Black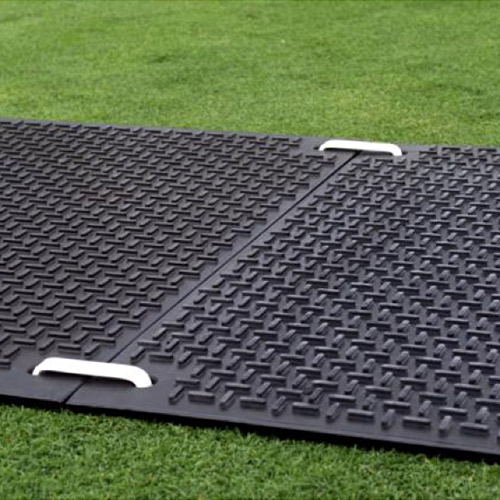 The
Mat-Pak Ground Protection VersaMat Black
is a highly durable temporary walkway mat. It features two cleat designs, so you can use it as a walkway as well as for a vehicle roadway.
The mat is available in black and in a clear option to let sunlight through to the grass. It's strong enough to withstand 120-ton loads, yet it leaves the turf smooth once you remove the path.
Turn-A-Links and EZ links make it easy to connect together, and since the mats are 3x8 feet, you can quickly create longer walkways with minimal effort.
Each Mat-Pak includes 12 mats, allowing you to cover a length of 96 feet when connected end to end.
Mat-Pak Ground Protection Clear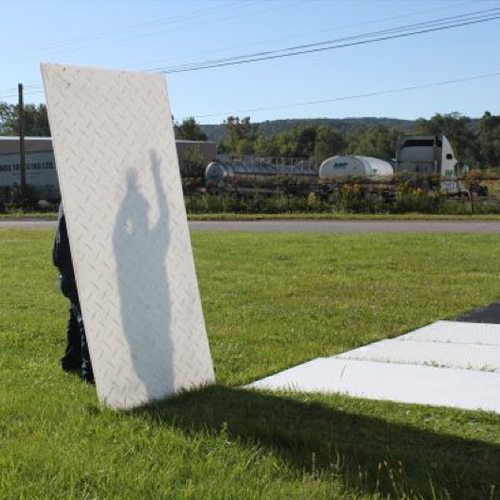 The
Mat-Pak Ground Protection Clear
is a ½-inch mat that can function both as a roadway and as a walkway. The bold cleat design maximizes traction, so visitors can safely roll a wheelchair along the path.
These mats are clear, so they allow sun through to the grass. They also don't heat up as much in direct sunlight as black mats, helping to prevent the grass from dying. Weighing only 64.5 pounds each, one person may be able to maneuver the mats themself.
Sold in a 12-mat pack that includes a rack, connectors, and hooks, you will have everything you need to create a roadway, platform, or wheelchair path.