Top 5 Basement Floors for Dens
By Julia Nass Created: June, 2017 - Modified: December, 2020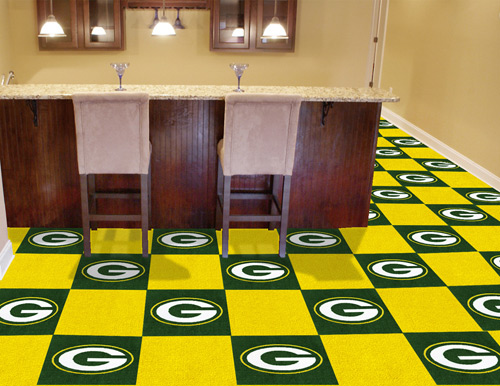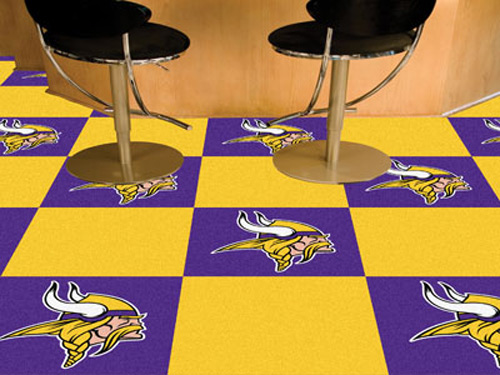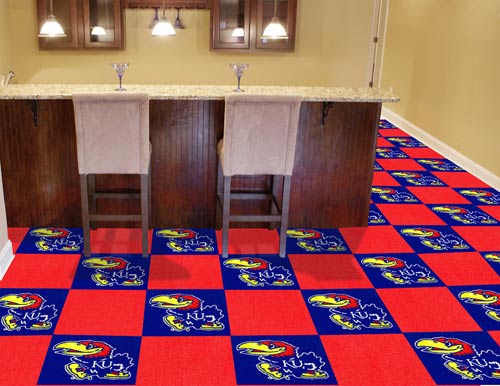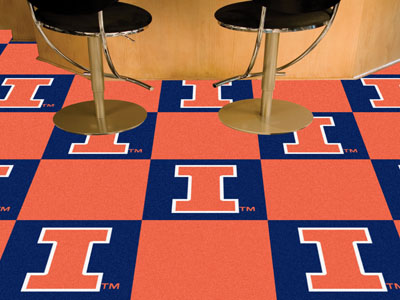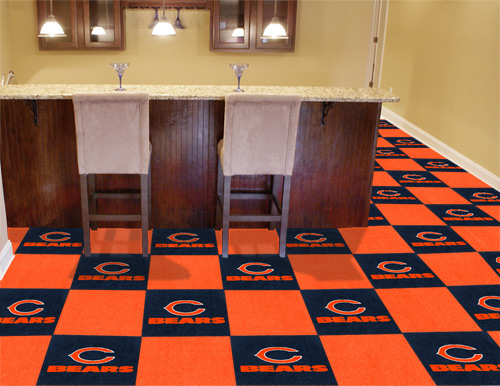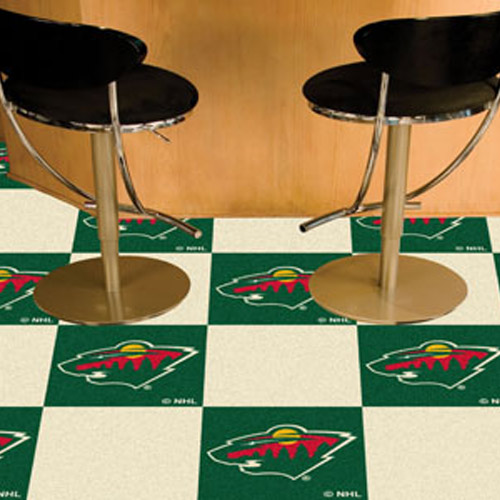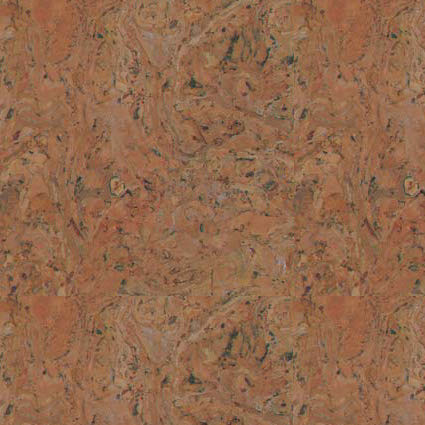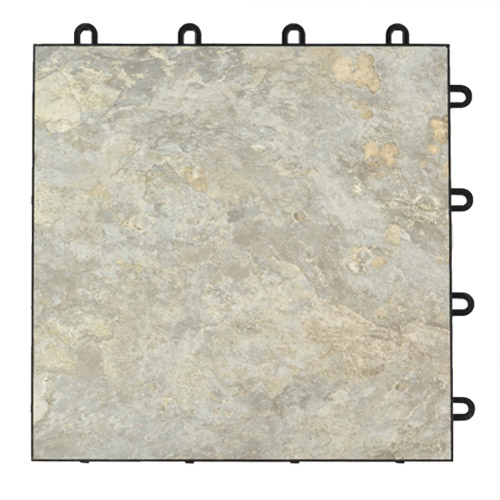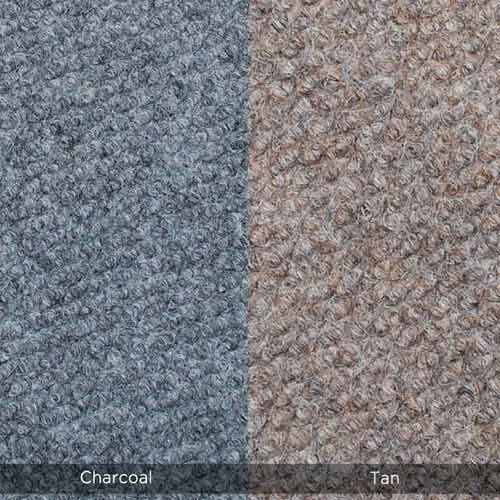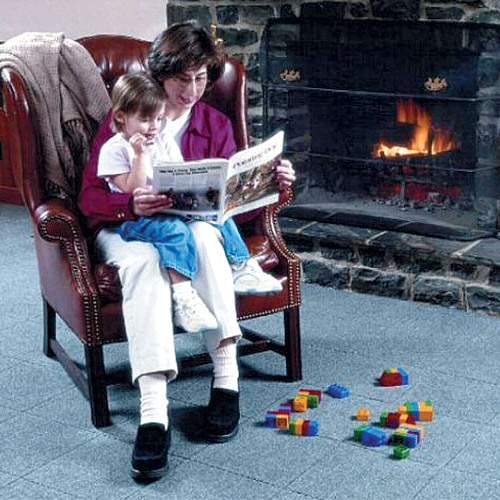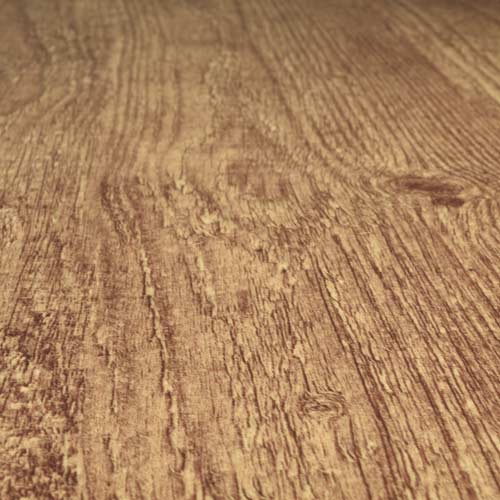 A den may be a sanctuary room reserved to escape the noise or chaos of the rest of the house, a grown-ups only entertainment or office space, or maybe it's a room for the whole family to enjoy. No matter the purpose, the perfect den design starts with the flooring. So what makes the perfect den floor? There's no one specific answer, as the perfect floor is always up to interpretation depending on needs. However, there are a few things that hold up across the board. For example, when putting a den into the basement, it's important to keep moisture in mind. Basements tend to have more moisture issues than the rest of the house, and flooring should be able to hold up in those increased moisture environments. At the same time, den floors should be inviting, comfortable, and barefoot friendly. Den floors should adhere to all of your style and budget expectations as well; a floor should be good looking without breaking the bank. Finally, den floors should be easy to maintain and keep clean.
With all of that and more in mind, Greatmats offers its
top five basement floors
for dens:
Sports Team Carpet Tiles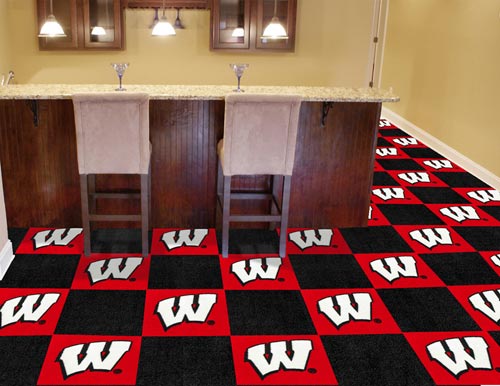 Sports Team Carpet Tiles
are a unique, decorative basement flooring option crafted for the sports enthusiast. These carpet tiles, available with Major League Baseball, National Football League, and National Hockey League team logos, come with a pack of 20 tiles, 10 featuring team logos and 10 featuring solid team colors to be arranged in any way you choose. Carpet tiles are printed with a long-lasting, vibrant dye. Ultimately, tiles will become a comfy, eye-pleasing tribute to your favorite team.
Team Carpet Tiles are made with nylon carpet bonded to a dependable vinyl base. To install, simply arrange tiles. Next, unpeel the double-sided adhesive corner pads and stick down. Once in place, tiles will not shift around or separate over time. For wall-to-wall installations, tiles can be cut down with a sharp utility knife. Vacuum tiles for regular maintenance.
Select college and university team carpet tiles are also available.
Cork Laminate Floor Tile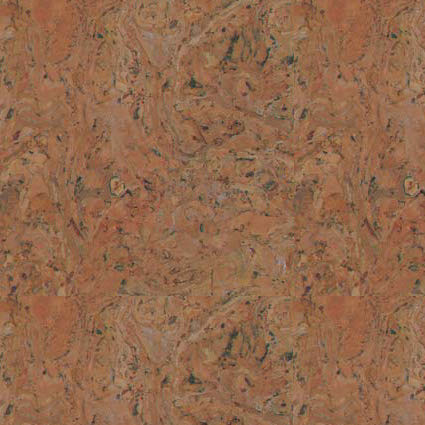 Cork Laminate flooring
is an innovative, environmentally-friendly flooring that creates stylish softness in a basement den. The elasticity and cushion of cork flooring relieves the strain of standing. Tiles provide both heat and sound insulation and are sure to help make the room one you can be in for hours at a time. These basement flooring tiles don't require any adhesives or tools for installation; with the CORKLOC system, all it takes is a simple dry lay of materials.
Even after years of use, Cork Laminate flooring will still look like the day it was laid. The abrasion-proof surface of this cork provides comfort without the worry of scratching, scuffing or marking the cork. The surface finish prevents dirt, water, and grime from becoming trapped, so tiles stay fresh. Clean tiles by vacuuming regularly or sweeping with a soft-bristled brush. If using a cleaning detergent, be sure to use something mild, as abrasive solvents will damage the floor.
TileFlex Tile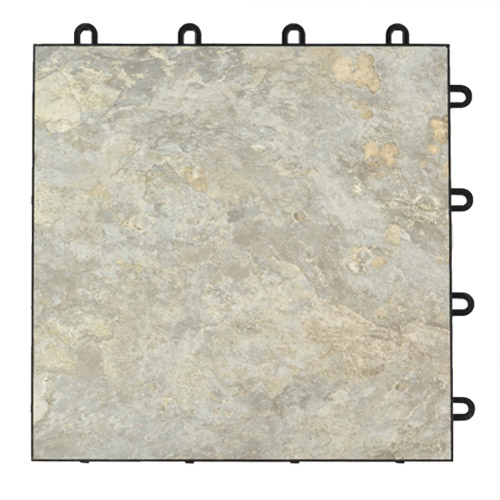 Instantly turn the basement den into an upscale room with
TileFlex tiles
. These tiles come in 10 different classy colors and designs including redwood, sienna and beige slate. In addition to the upscale look of TileFlex tiles, they provide versatility. These basement floor tiles are durable enough to hold the weight of any office furniture. At the same time, they are anti-fatigue and ergonomic, so they make great exercise floors as well.
TileFlex tiles are also designed for wet areas. If the basement sees a high-level of moisture, these tiles are a perfect fit as they allow for airflow underneath the flooring. These interlocking tiles for basements are constructed with a luxury vinyl surface on a polypropylene plastic base. Tiles are 100 percent waterproof and never need waxing or resurfacing. For the added cushion, install a rubber underlayment underneath TileFlex basement floor tiles.
CarpetFlex Tile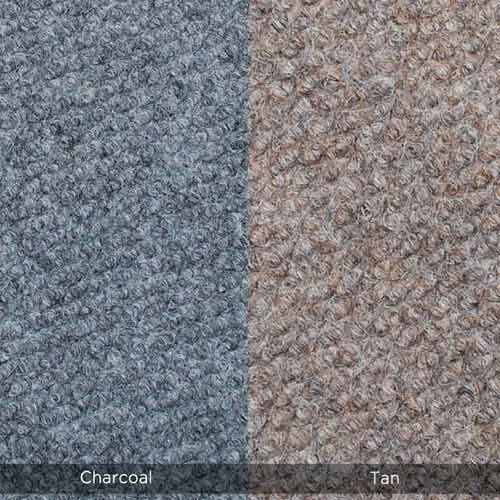 Carpetflex Tiles
are another amazing raised basement floor tile option for a den. Like TileFlex tiles, these basement flooring tiles are constructed with a durable polypropylene plastic base, but they come with a plush carpet surface instead of vinyl. The plush carpet surface brings warmth and coziness to space, a definite pro for any den room. Meanwhile, the raised base, which allows water to evaporate underneath the flooring, solves issues associated with carpeting in the basement. Instead of worrying about moisture becoming trapped in or under the carpet, you'll rest easy with CarpetFlex tiles.
Carpeted basement floor tiles are a perfect fit for a den; they bring warmth and coziness to the room. Tile dimensions are 1 x 1 foot, and they only weigh one pound each. Effortlessly install these interlocking tiles for basements by clicking tiles together with your own two hands. Tiles can be installed over any hard, flat surface. Vacuum tiles to keep them clean.
Wood-Grain Foam Tiles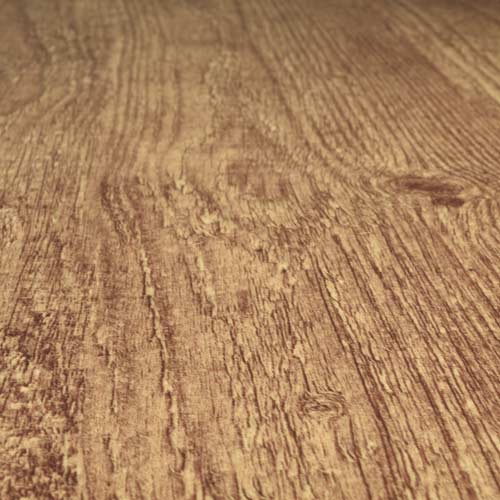 If you are eager for a wood aesthetic but don't want all of the hassle of wood,
Wood Grain Foam Tiles
are the solution. Unlike hardwood, foam basement floor tiles won't warp or rot, and they never need refinishing. Moreover, these tiles provide the classy look of wood with 10 times the cushion and comfort.
Wood-Grain Foam basement flooring tiles are made of closed-cell EVA foam. Consequently, the tiles are completely waterproof. Installation could not be any easier; simply place these interlocking tiles for basements next to one another on the floor. At 2 x 2 feet, tiles are so lightweight and easy to handle that deinstallation and transportation are effortless as well. Keep in mind that foam tiles are susceptible to punctures and scratches, so be sure to utilize furniture coasters on top of foam flooring.