Artificial Grass Turf UltimatePet 1-1/2 Inch per SF
100% permeable backing guaranteed to drain at over 250 inches per hour
High tear resistance
Made in the USA
Handling Time Estimate: 11-14 Working Days
Roll Calculator
Note: Material Width for this Product is 15' wide
Rolls are cut to 15 ft minimum
Option 1

Option 2

Custom Roll Length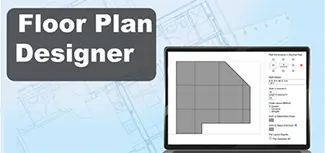 100% permeable backing guaranteed to drain at over 250 inches per hour
High tear resistance
Made in the USA
No Fading! Advanced UV inhibitors protect against fading
Supremely soft, tall and shorter curled yarn Intertwine to match natural grass
Stain resistant fibers
Non-porous, non allergenic fibers and antimicrobial infill options inhibit growth of mildew & odor
Outdoor Dog Areas, Dog Kennels, Dog Runs, Outdoor Pet Areas.
NOTE: This item is a custom order and is not returnable.
Artificial Grass for Kennels, Fast Draining Turf
Don't let poor weather hinder your ability to give your pets a safe and clean area in which to play. The Artificial Grass Turf UltimatePet 1-1/2 Inch per SF product has a proprietary 100% permeable, non-absorbent backing.
This all weather dog turf drains 10 times faster than real grass and better than any other synthetic turf surface available. Other turf backings don't drain as effectively, quickly leading to odor and bacteria buildup when used in a pet play or pet kennel area.

The engineering we've used for our artificial grass for kennels ensures that your pet can use the turf over and over without wearing it down. And you no longer will have to worry about dogs tracking mud into your home when they come back inside from playing!

Pile Height: 1-1/2 inch
Face Weight: 50 Oz.
Minimum order length: 4 LF
Blade Color: Field Green/Olive Green Polyethylene
Thatch Color: Olive Green
Construction of Turf
The Artificial Grass Turf UltimatePet Per SF product is manufactured by the same company that manufactures FieldTurf products used by many NFL teams for games or practice fields.
You can count on the strong construction of this artificial grass for kennels, which is a Made in the USA product. It carries an 8-year manufacturer's warranty, and this product has a 15- to 20-year life expectancy, which is the longest in the industry. You can rest easy knowing that you're protected by the industry's best warranty in the unlikely event something goes wrong with your artificial grass for kennels.
Superior product innovation and engineering come together to create a true-to-life product that matches the look and feel of a natural lawn. Our shred resistant dog flooring has a thickness (or pile height) of 1-1/2 inches, which simulates real grass. The gauge tufting measures 3/8 inches, and the turf's weight is 83 ounces.
Although this is a fast draining turf, you don't have to limit the use of it to an outdoor installation. Animal care facilities nationwide choose the UltimatePet product for both indoor and outdoor areas because of its superior drainage and unmatched durability.
Easy Draining
The Artificial Grass Turf UltimatePet Per SF features Ultra Drain technology, which consists of a 100% permeable backing that's guaranteed to drain cleaner than any other synthetic grass as well as real grass.
As long as you have a proper base material that will allow for draining, and as long as the grading and slope of the overall area is correct, you'll have success with the drainage for this type of product.
All Weather Performance
You can give your pets the ability to play outdoors at any time of the year with our artificial turf for pets. The ability of the turf to easily drain whenever it encounters large amounts of liquid makes it a great choice in locations that sometimes receive a large amount of rain. It also can stand up to heavy amounts of snow without suffering damage. And as the snow melts, the water will drain through the turf, just like rain would drain through.
Additionally, the advanced polymer engineering in this artificial pet grass enables the turf to endure cold climates. The infill you'll create as part of the installation process for this fast draining turf will allow it to avoid freezing in harsh temperatures.
Preparing the Ground
You will not want to install this artificial grass for kennels for dog runs over a grassy area or on bare ground. Instead, to ensure the proper drainage through the fast draining turf, you need to create a base for the artificial grass.
First, remove any existing grass or plants from the area. Then remove any large rocks. Create a proper grade for drainage by adjusting the slope of the area. Most people will add sand to the soil to increase the drainage of the soil in the area. Spread out the sand so that you have a leveled area and so that the drainage will be even throughout the area.
Finally, you will want to place railroad ties or treated lumber around the edges of the area where you'll install the artificial grass for kennels. This wood should be buried so that the top edge of the treated lumber will be at the same height as the artificial turf for pets. You'll then attach the edges of the fast draining turf to the wood to keep it in place after the installation.
Outdoor Installation
As you only will need basic installation materials and supplies, once the ground has been prepared, the installation process for this artificial turf for pets is quick and efficient. Just roll out the turf, cutting it to fit the area you want.
Connect the seams of the individual sections of the artificial grass for kennels with a weather resistant seam tape. Avoid leaving obvious edges between sections, or an animal using the turf may pull on the edge. Then secure the outer edges of the turf by connecting them to the treated wood that you buried at the edges of the installation.
Finally, you'll want to add an infill of sand over the top of the product. You'll run a drop spreader over the artificial turf for pets, adding sand evenly across the turf. Then run a push broom over the entire installation, working the sand into the turf, which evens out the surface and further improves the drainage.
The base layer of the fast draining turf includes a built-in weed barrier that will prevent unwanted plants from trying to grow through the artificial turf. You may end up with weeds or unwanted plants near the edges of the artificial grass for kennels installation, so keep an eye out for those. Additionally, weeds could grow in the seams between the segments of artificial turf for pets if you don't have the seams tightly sealed with the adhesive seam tape.
Indoor Installation
When installing the artificial turf for pets indoors, you will also want to have a drainage base material installed underneath the turf material. This will allow the drainage area to handle pet urine or water spills.
We have helped numerous customers create the proper artificial grass flooring for indoor dog daycare businesses or for dog training areas, so please contact our knowledgeable customer service team to figure out the best option for your indoor dog area. We have quite a few different products designed for just this type of use case.
Cleaning and Maintenance
You will want to perform occasional cleaning and maintenance for this fast draining turf, especially if it's being used outdoors and if pets will be using it frequently. The cleaning and maintenance processes don't take a long time, but they will keep your artificial grass for pets area looking its best.
Matted Fibers:
Although the fibers that make up the pile of the turf should stand up nicely to general traffic, occasionally they may become worn down in certain areas. You can use a stiff broom with natural bristles to fluff this area and return it to a normal look.
Pet Waste:
You should remove solid pet waste as soon as possible using a scooper or plastic bag, just as you would on natural grass. If any waste sticks to the turf, it can be washed with a hose, as long as you do not use a high pressure nozzle that could cause changes to the infill beneath the turf. Pet urine odor should dissipate with regular rainfall. During times of dry weather, you can use a combination of water and enzyme based cleaners to remove the urine odor.
Removal of Debris:
We recommend you remove any organic materials from the surface of the turf as they appear, such as leaves in the fall or grass clippings after mowing areas near the artificial turf. You can use a leaf blower to remove these clippings in an efficient manner. The leaf blower will not affect the infill for the turf while removing the debris.
Spills:
Should substances be spilled on the surface of the turf, you should rinse the area with water as soon as possible. You can use a commercial disinfectant on the turf to clean spills, but flush the area with water to wash away any chemicals.
Stubborn Debris:
If the leaf blower cannot take care of certain debris, you can use a wet-dry vacuum on the turf. However, do not use the suction hose in a vertical orientation, as this could pull the infill sand from underneath the turf. Instead, hold the suction hose horizontally along the surface of the turf to avoid disturbing the infill.
Shipping
Ships via freight delivery only. Please note that customers must be able to hand unload the turf rolls off the the truck. Turf rolls are heavy and will require multiple people to unload and move.
This Product Ships Freight Only.
Please review our shipping disclaimer.
| | |
| --- | --- |
| SKU# | Pet-C |
| In Stock | Yes |
| Product Type | Roll |
| Material Type | Polypropylene Plastic |
| Product Edging | Straight |
| Thickness | 1-1/2 inch |
| Width | 15.00 feet |
| Length | 1.00 feet |
| SF per Item | 1.00 |
| Weight | 0.52 lbs |
| Packaging | Bags |
| Number of Pieces per Package Type | 1 |
| Non Absorbent | Yes |
| Special Adhesives | No |
| Interlock Loss | 0.00 feet |
| Interlocking Connections | No |
| Made In | USA |
| Surface Finish | Artificial grass |
| Surface Design | Solid color |
| Installation Method | Dry lay, tape seams |
| UV Treated | Yes |
| Reversible | No |
| Border Strips Included | No |
| LEED Points | Yes |
| Floor Score | No |
| Green Label | No |
| Manufacturer Warranty | 8 years |
Product Questions:
Q: Can this product be used for an indoor play area?
A: Yes this product can be used indoors, we also have turf with padding.
Q: We have an area where the grass stays worn down in the yard next to the porch. Can it be laid directly on the ground to keep it from getting muddy?
A: For larger installations, not so much, the turf should be installed on sand or crushed stone base that is compacted and leveled. We have the Grab and Go roll out options which can be anywhere.
Q: I have been reading how some artificial turf can get very hot in the sun. Is that an issue with this product?
A: Great question, very hard to answer as the input of the sun, location and time day and year all play factors. The turf material is made from plastic yarn.
Q: Is this product Nontoxic and chemical free?
A: The primary material is polypropylene plastic and does not off gas.
Q: What would it cost to cover 2 areas... One is 150 ft. By 150 ft. The other is 40ft. X 70 ft. With ultimate pet turf? Thank you.
A: I recommend speaking with a customer service representative for accurate quotes with up to date pricing for both products and shipping.
Q: Can you put this down over concrete?
A: Yes turf can be installed over concrete, consider a turf with a 5 mm foam backing for more cushion.
Q: Has this been tested with cats? Do they chew it?
A: This product has not been tested for cats, to our knowledge.
Q: Would this be alright to use on a Trex deck?
A: This turf should be installed on sand or crushed stone base that is compacted and leveled. We have the Grab and Go roll out options which can be anywhere.
Q: Is this turf also made with recyclable materials ?
A: Not in the traditional sense of how we recycle plastic bottles. Generally the primary materials in artificial grass turf are either polypropylene or polyethylene plastic.
Q: Is there a minimum purchase for this product?
A: Our minimum order size for turf products is 300 square feet.