Are Interlocking Carpet Tiles Waterproof?
By Kyle Schurman Created: August, 2019 - Modified: May, 2022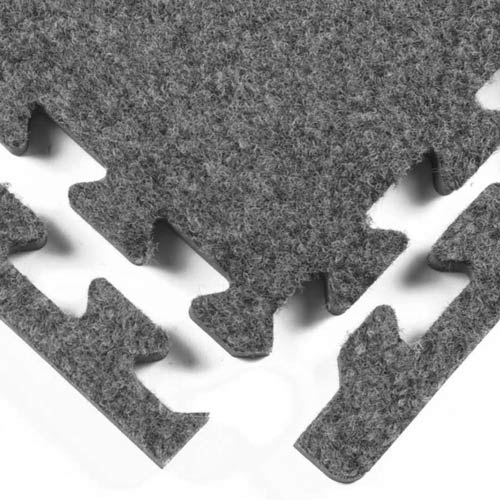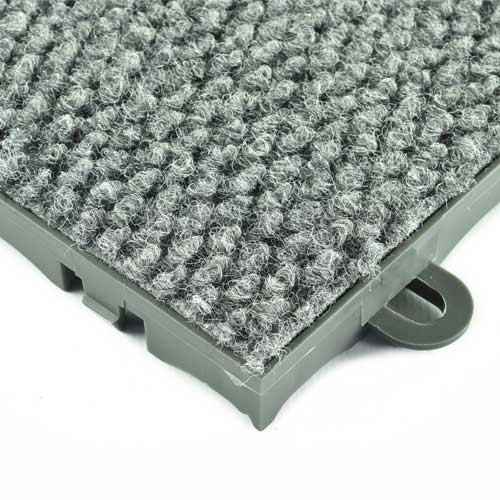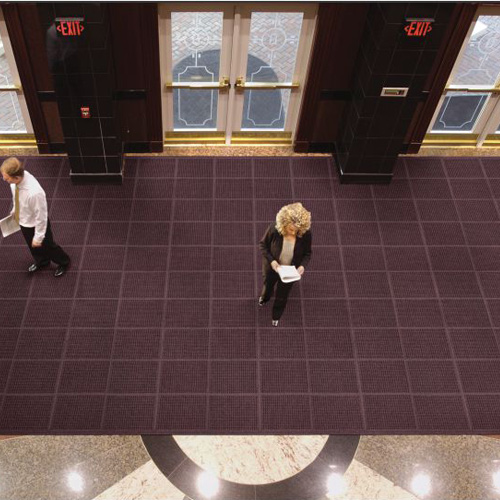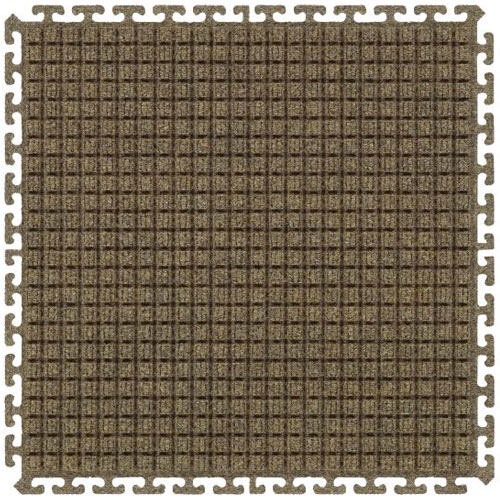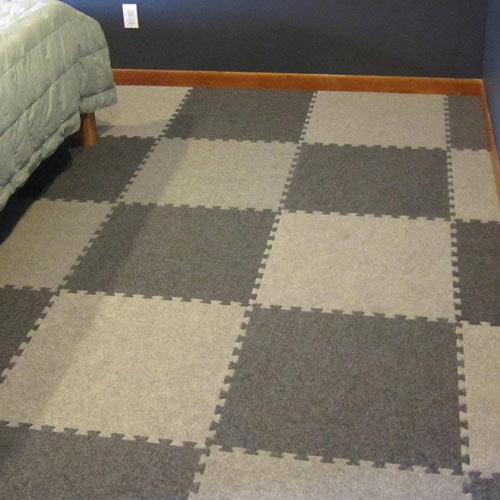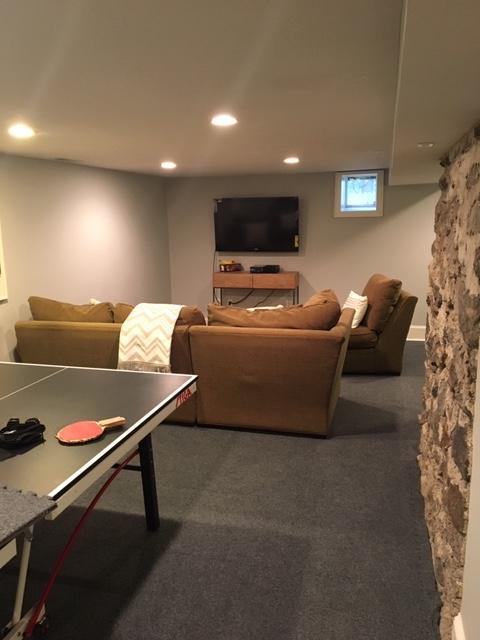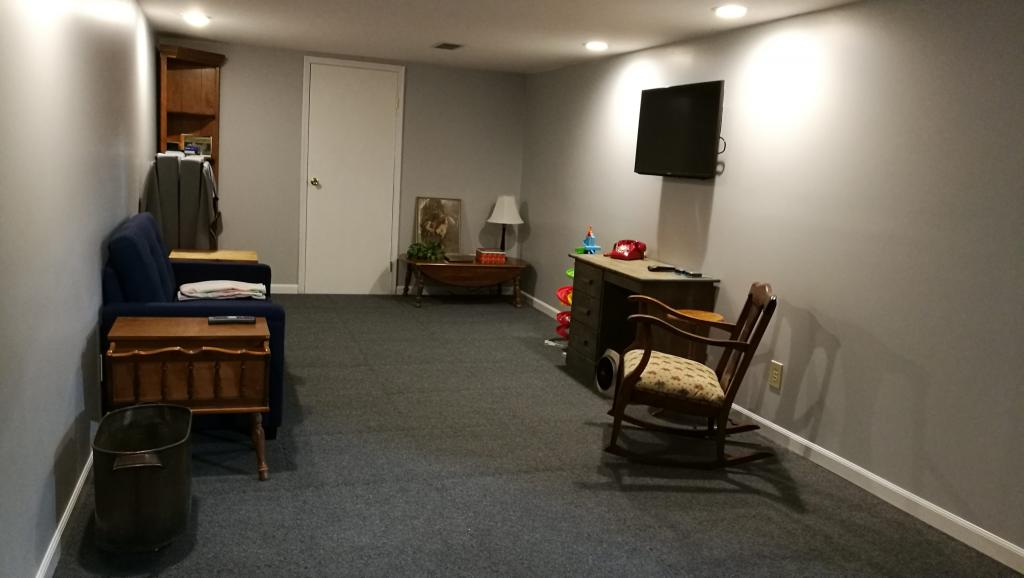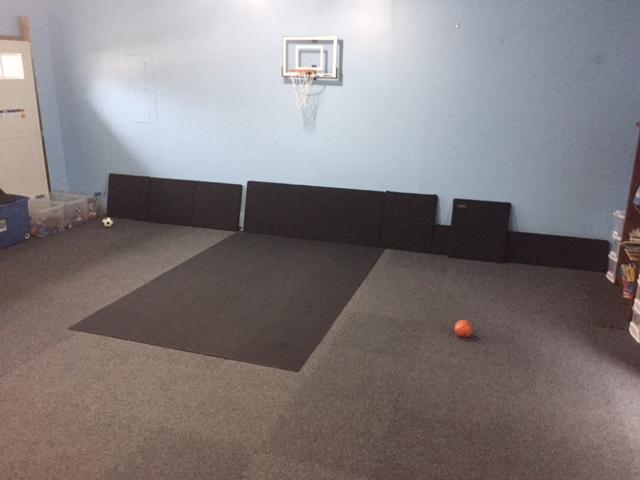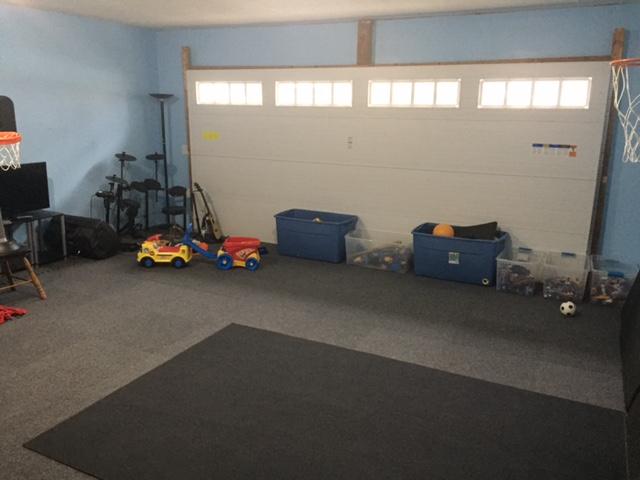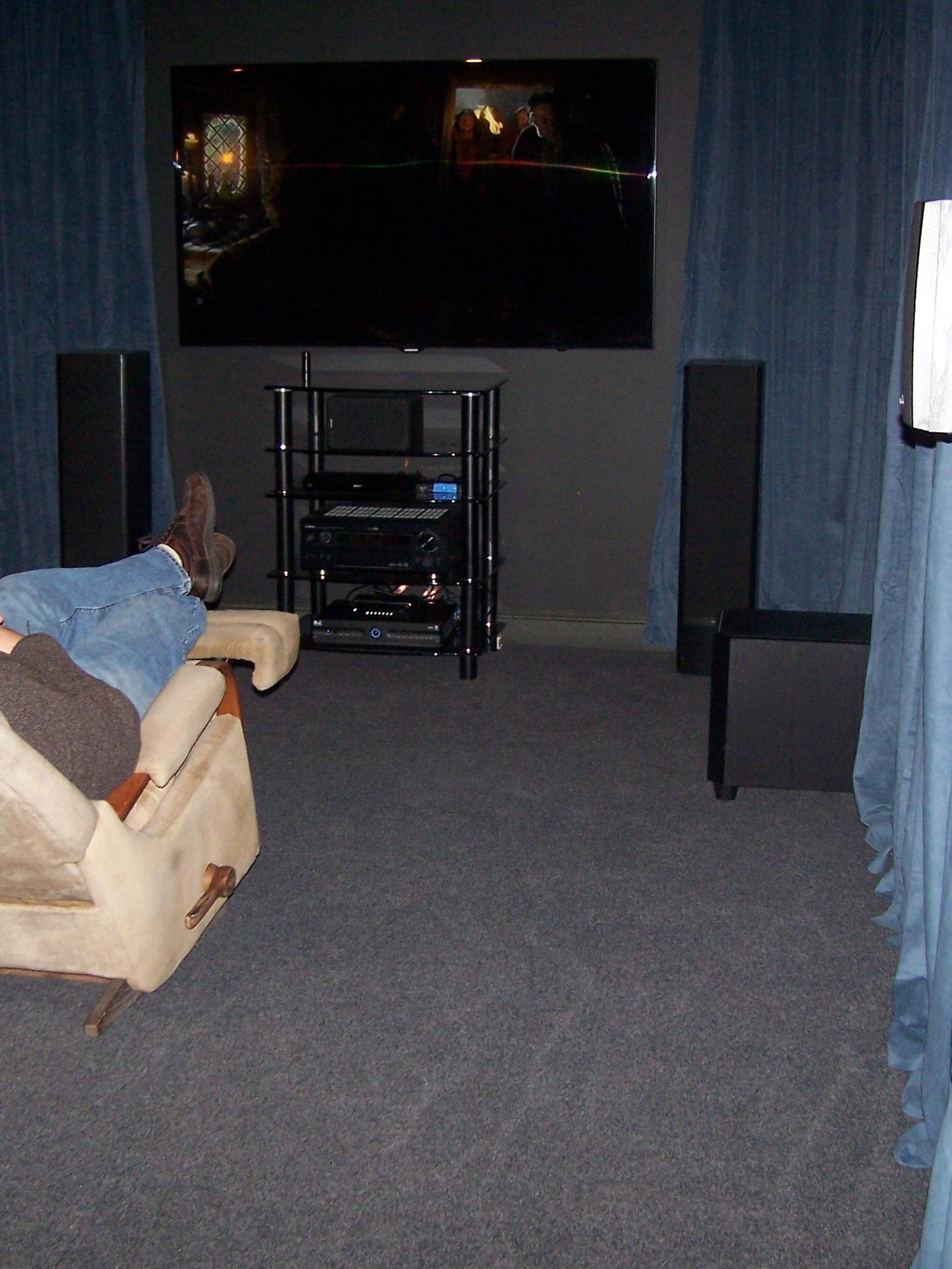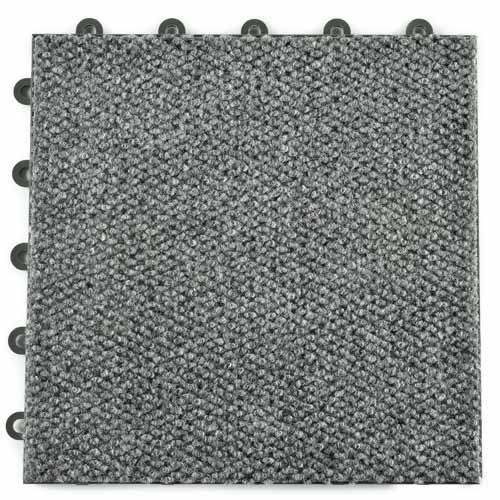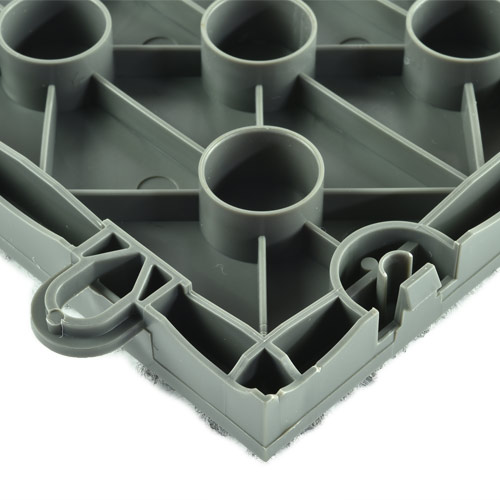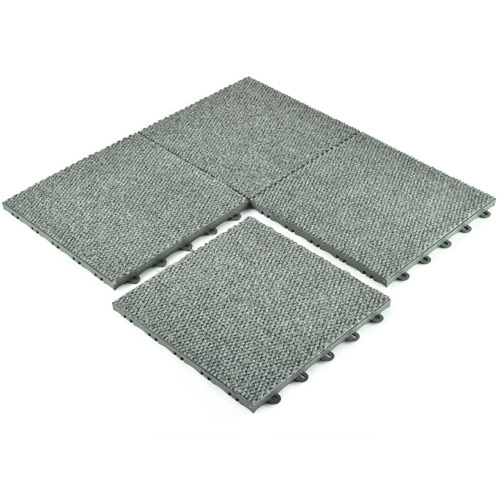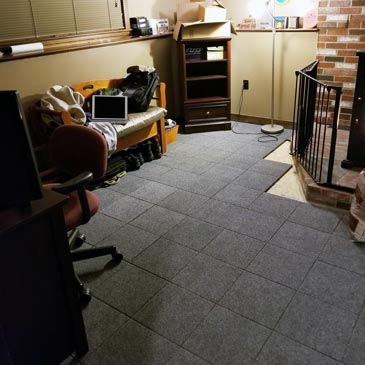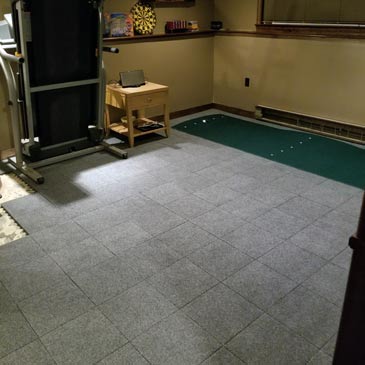 Creating a warm and inviting space in a basement or garage, where there's often a cement floor, can be as easy as adding carpeting. However, garages and basements sometimes end up with moisture in the area, which can ruin carpet. That's why interlocking carpet tiles become a smart choice.
In any location where water and dampness can cause an issue, you'll need protection in the style of flooring you install. Quite a few reasons exist for customers to like installing this waterproof carpet style of flooring at home, in a work setting, or at a trade show.
3 Carpet Tiles That Protect Against Water
Some people worry about placing any kind of costly flooring in a basement or garage. As some of you may have discovered the hard way, water can ruin regular carpeting and padding.
Dampness from condensation or seepage through concrete or outright water leaks can soak into the padding material, the backing, and the carpet itself, leading to the potential of mold, mildew, and odor formation. Then you'll have a huge mess on your hands, and you'll end up throwing out the carpet.
To change the narrative, many styles of interlocking carpet tiles from Greatmats deliver the protection you need from moisture.
1. 12''x12'' PVC Base Carpet Top Tiles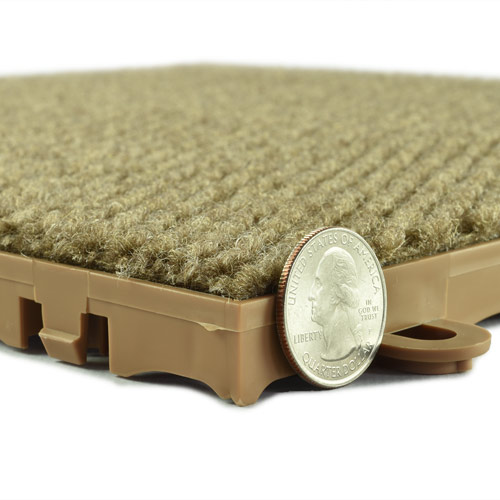 Some styles of these tiles will include a raised plastic base, such as the snap together Carpet Tiles Modular Squares. Even though the carpet top is only a fraction of an inch off the ground, it's enough to allow air to circulate underneath the surface. In an area where dampness is persistent, like a basement or entry way, the air flowing underneath the raised interlocking carpet tiles will help prevent mold and mildew from forming and keeps the non-absorbent carpet surface off of the wet floor. And the raised base is tough enough to avoid collapsing under heavy furniture or regular foot traffic.
2. 24''x24'' Foam Base Carpet Top Tiles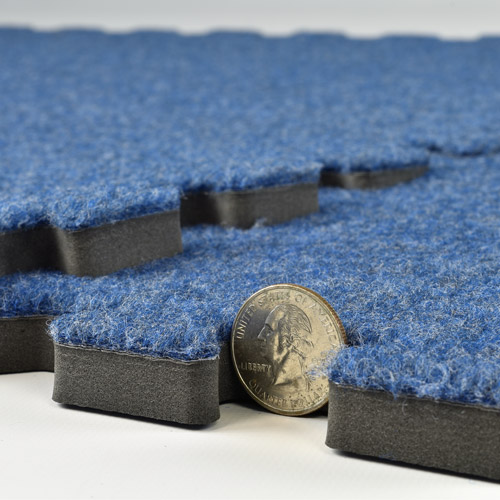 Closed cell foam backed tiles, like the Royal Interlocking Carpet Tiles, deliver a different kind moisture protection performance. These tiles have a beautiful carpet top, and the materials in use are completely waterproof. This means they will not allow water to soak into the fabric. You'll avoid issues with odor or bacteria appearing, which is important in an area where air circulation is minimal, such as a basement. While water won't soak into these tiles, you'll probably want to lift them occasionally to allow for drying beneath the carpet.
3. 18''x18'' Plastic Base, Rubber Reinforced Cleaning Surface, Carpet Top Tiles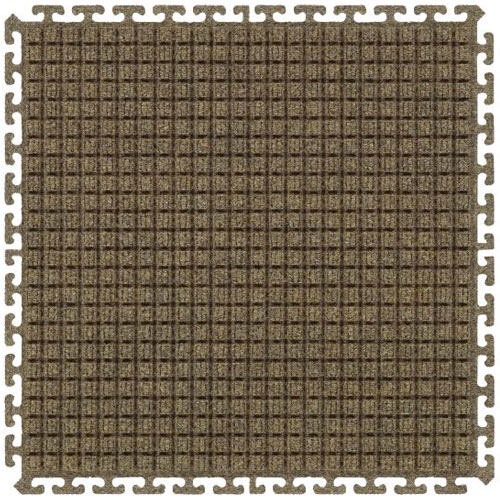 For the maximum protection against water entering a room via foot traffic, Greatmats has rubber reinforced tiles that feature a comfortable carpet top, called Waterhog Carpet Tiles. The rubber grid meshes with the carpet on top, catching moisture from the soles of shoes. With an easy to clean surface, they are a perfect choice for a busy entryway, where visitors will track water and snow into the building. They also dry quickly.
Waterproof Carpet Materials
One of the reasons interlocking carpet tiles are able to avoid damage from dampness is because of the design of the products and the materials in use.
For starters, these waterproof carpet squares do not have a separate layer of foam padding underneath. The open cell foam padding used with a standard carpet installation will absorb water, and it also can trap any excess moisture on the subfloor. Foam is not designed to allow air to move underneath it as it sits flush with the subfloor.
However, for these water protection tiles, the backing and the carpet consist of a single bonded piece. Regardless of whether you select an closed cell EVA foam backing, a rubber backing, or a raised PVC plastic backing, the carpet is securely attached at the factory. This design simplifies installation and carries the water resistant properties through the entirety of the product.
The tiles use a synthetic fiber in the carpeting that will not absorb any liquids, including water. The backing resists water as well, no matter how thick it is. The adhesive layer that secures the carpet top to the backing will not be affected by water either, ensuring the tile remains protected in all situations.
Ease of Assembly and Disassembly
The connection system used to
install interlocking carpet tiles
further enhances their usefulness in damp and wet areas.
These carpet squares will have a tab and loop system or a system that looks like a puzzle edge. Regardless of the specific installation design in use, interlocking carpet tiles are made for repeated assembly and disassembly without breaking down.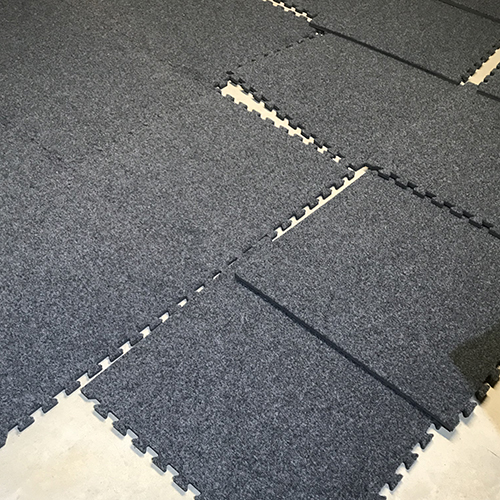 Should you choose a style of carpet tile that doesn't have a raised base to allow airflow, you likely will want to pick up the tiles after a water leak. Allow the area underneath the tiles to dry completely, and then reinstall the tiles.
In this case, having tiles that pop apart easily – no matter how many times they have to be disassembled – and then adhere tightly together again is extremely important.
Unlike easy-to-assemble carpet tiles, you can't just pull up a standard carpet roll installation to allow the subfloor to dry before laying the carpet back down. Pulling up typical carpet and padding often will lead to tears and snags, ruining the look of the carpet. Rolls of carpet simply aren't made for repeated removal and installations.
On the other hand, when you go with waterproof interlocking carpet tiles, you'll receive excellent build quality and protection against water damage, all in a product that will look great no matter where it's installed. Perhaps the best complement for these basement floor squares is that they look so great, others will never know they have a waterproof design.