Are garage floor tiles any good?
By Lisa Hobbie Created: February, 2020 - Modified: May, 2023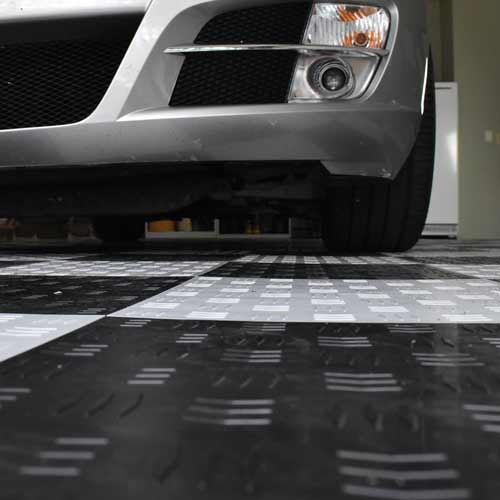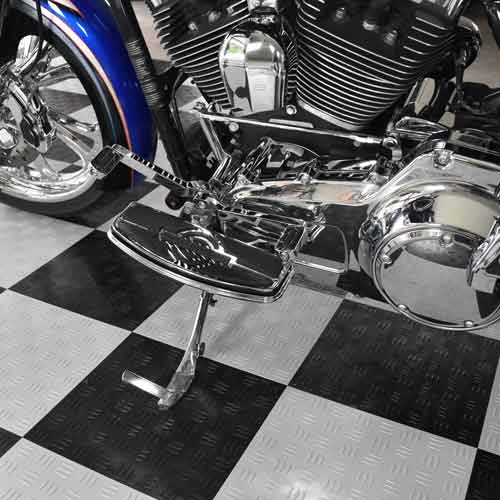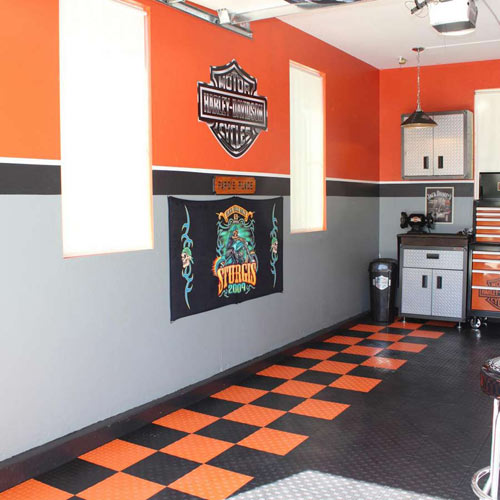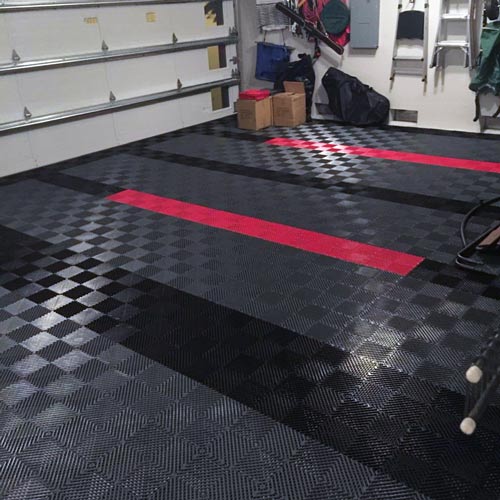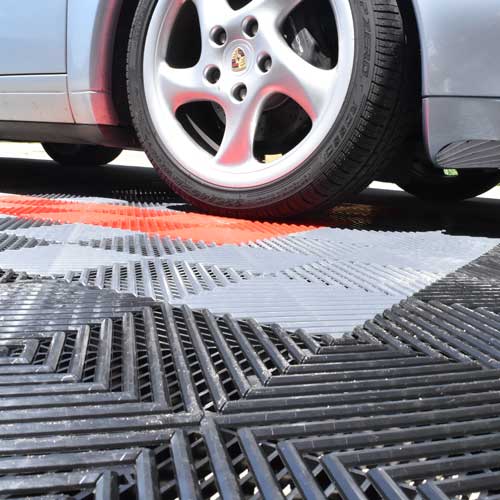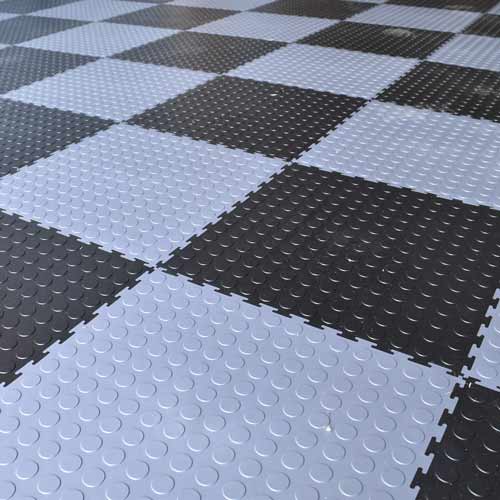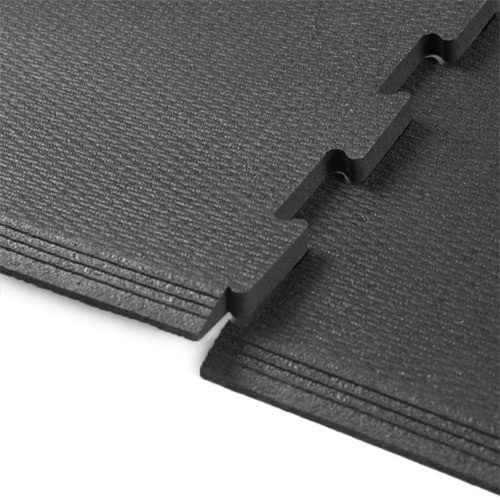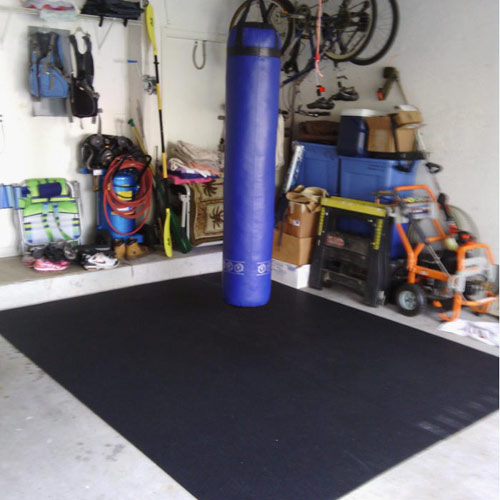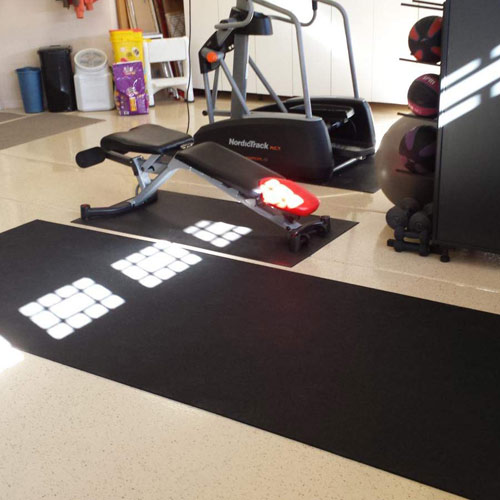 PVC Plastic and Rubber Garage Flooring Tiles or Mats
If you find yourself updating your current garage or having a new one built, you are likely thinking about the flooring options you have.
Where most people stick to a standard concrete floor, there are many other options available. Depending on what you will be using the garage space for, garage floor tiles provide surfaces not only suitable for the standard vehicle storage that garages are known for, but also for other purposes like a gym or workout space.
You may be asking yourself "Are garage floor tiles any good?" Yes - Garage floor tiles, whether plastic or rubber, are an excellent choice for home garage flooring.
Greatmats offers numerous garage floor tiles, from the convenience of a quick snap together floating floor to the insulation provided by tiles, there are many products to consider when thinking about home garage flooring.
Polypropylene Plastic Garage Floor Tile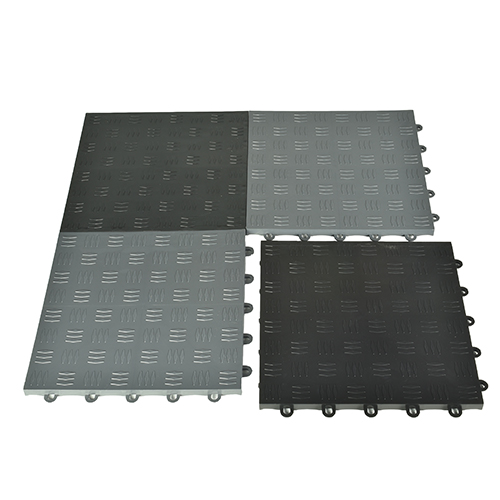 If you want the best garage floor tiles on the market, the
Diamond
pattern modular tile system option is it. Made in the USA from a tough polypropylene plastic with numerous colors to choose from, this tile presents a floor that looks and feels top notch.
Durable enough to hold heavy weight loads of 10,000 pounds, these garage flooring tiles are a great surface on which to park your car, truck, boat, or motorcycle, and also your tools and equipment without sinking like other tiles will.
These plastic tiles for a garage floor feature a tight fitting snap together connector system that makes for a quick and easy garage floor tile installation. They are waterproof and will not soak up liquids, they will take all kinds of garage use and abuse and are
easy to clean
. They are also equipped with a slip resistant diamond tread surface texture that provides a safe grip when walking on the flooring. For the best in durability with a clean and professional look, these snap together modular garage floor tiles are the best.
Another polypropylene plastic garage floor tile option is the
Perforated Tile
. This product features a durable, snap together design with 5 tabs per side. The interlock design allows for easy installation without glue or adhesive.
The unique interlocking snap together tile design is computer engineered for repeated diy installations without degradation to the interlocking tabs on the tiles, so this is an excellent option if frequent assembly and disassembly will be required.
Rated for 10,000 pounds per sq. ft., they provide additional grip when the tiles are wet. Because water drains through these tiles rapidly, this garage tile floor is very desirable for wet areas of your garage. They have multiple color options, and they're backed by a 5 year warranty.
PVC Plastic Garage Floor Tile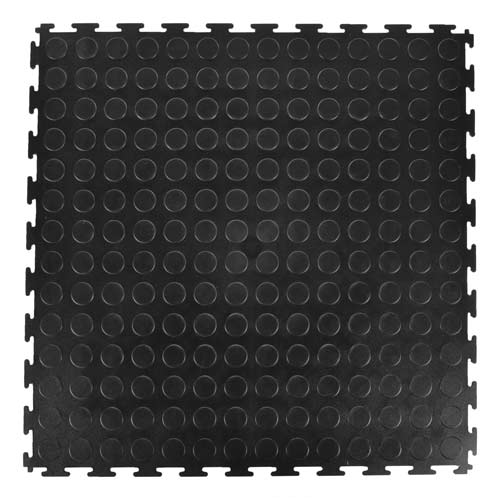 Warehouse Floor Coin PVC Tiles Black
are made from top quality recycled material and are very easy to install without adhesive with their interlocking sides. They feature a raised coin top surface for added traction and create a very clean and fresh appearance.
These interlocking garage floor tiles are resistant to the effects heat, cold, or humidity, and they are very easy to clean and maintain. Since the flexible pvc tiles are resistant to oils, gas, and chemicals, they are among the best options for plastic flooring for an automotive garage.
Greatmats offers similar pvc garage flooring options in several different colors and surface pattern textures such as the popular diamond garage floor pattern.
Rubber Garage Flooring Tiles or Mats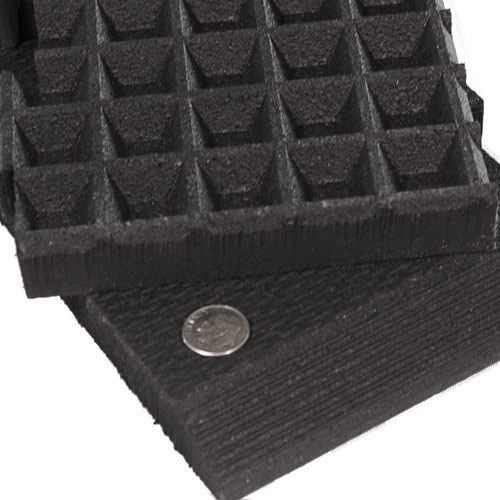 Perhaps you will be using a portion of your garage as a home gym. If so, a rubber garage floor tile suitable for workouts will be needed.
Garages sometimes tend to house a lot of moisture. Rubber is water resistant and many rubber flooring products provide traction when wet. It will not absorb water or other liquids, and it is extremely durable and versatile. It is an excellent material for
garage gym flooring
as it is stain, mold, and mildew resistant.
Although there are a number of rubber garage floor mats at Greatmats, the
ShokLok Rubber Tiles
are superior for a garage setting. This heavy duty, ¾ inch commercial grade recycled rubber is completely non-absorbent, meaning, it will not harbor or promote bacteria growth. 
In garages that could tend to be damp, this non-absorbent feature is a must. It contains an agent that reduces the rubber aroma, and its waffle like design on the underside of the tiles provide a reduction in noise and vibration. This rubber puzzle tile does not curl, and is available with optional straight and beveled edges to avoid tripping hazards and provide a finished look for garage floor mats.
Although not a tile, the
Plyometric Rubber Roll
is another product that Greatmats offers as rubber flooring for garages. This flooring is designed specifically for repetitious and rigorous athletic workouts like plyometrics and aerobics. 
This rubber roll is known for providing exceptional cushion and shock absorption. It will withstand the weight of exercise equipment or other heavy items stored in a garage, and it is made in the USA with the best materials and quality craftsmanship. Rubber flooring rolls are easy to install over a concrete subfloor with either glue or double faced tape and are available in a variety of colors and thicknesses. Once the rubber flooring roll is placed and secured, it requires little maintenance, with a sweeping, vacuuming, or damp mop cleaning process, as needed. 
Note: Keep in mind that you should not drive or park vehicles on rubber floor mats or rolls as their fluids can cause rubber to break down.
Greatmats has it all!
Whether one of the listed products suits your budget and preferences, or, if you want to explore other options, keep in mind that Greatmats has unbeatable quality and service. Friendly and knowledgeable agents are standing by - just waiting to help you determine what your garage floor tile would be. It should now be clear that tiles are an excellent garage flooring choice, so when you're ready to go to work on your project, let Greatmats go to work for you!