What Are the Advantages of Grey Outdoor Tiles?
By Paige Cerulli Created: April, 2022 - Modified: April, 2023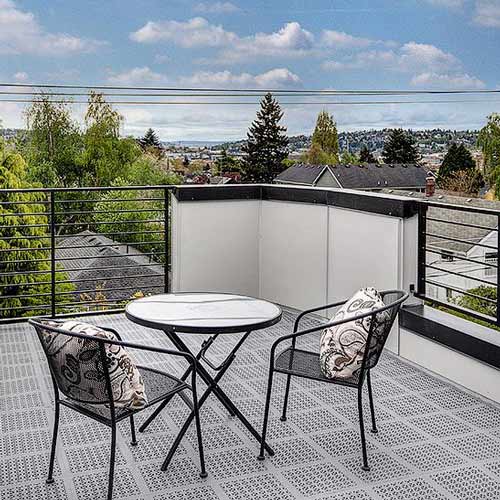 When choosing outdoor tiles for your home or business, you'll have plenty of colors to pick from. Grey tiles are particularly popular, thanks to their multiple benefits.
What Are the Advantages of Grey Outdoor Tiles?
If you're still undecided about which color outdoor tile is best, you might want to consider grey. Grey outdoor tiles offer several distinct benefits.
The first is that grey tiles - particularly light grey - stay cooler than dark tiles. The lighter grey absorbs less heat from the sun, so it stays cooler and more comfortable underfoot.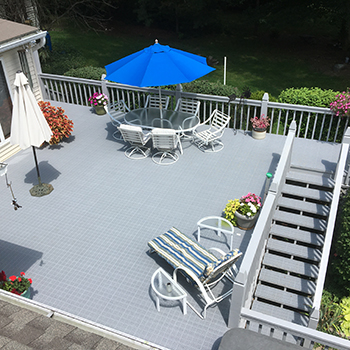 Grey tiles also make a natural addition to many spaces. Resembling slate or stone, they can make your deck or patio feel like a natural element in your yard.
Grey is a neutral color that offers you plenty of decorating opportunities. It goes well with almost any color of house siding or patio furniture, so you don't have to worry too much about matching shades and colors.
If you're undecided about what your decor scheme will be, grey tiles give you flexibility. You don't have to design your decor around the tile color, and can experiment and redecorate without being restricted by your patio or deck.
Top Grey Outdoor Tiles for Sale
At Greatmats, you can choose from many grey outdoor tiles.
Patio Outdoor Tile ½ Inch x 1x1 Ft
The Patio Outdoor Tiles are available in multiple colors, including grey. These tiles are made of a flexible PVC that's comfortable underfoot.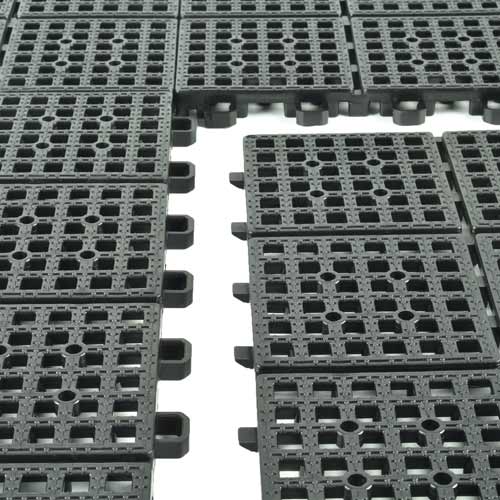 Thanks to their perforated surface, the tiles quickly drain away water, making them ideal for both pool surrounds and decks. The surface features a non-slip texture for safety, and you can install the tiles over concrete, wood, brick, and compacted surfaces.
Tab and hook connectors let you easily install and connect these interlocking tiles. The undersides feature 265 pegs that elevate the tiles, securing them while also raising up the surface for drainage.
StayLock Tile Perforated Colors
The StayLock Tile Perforated Colors is designed for a quick and easy installation. These tiles are suitable for use on rooftops and decks, as well as in wet areas like pool surrounds.
The tiles feature a 20-inch fall height rating, meaning they can help to prevent injuries that could result from a fall. They also feature a non-slip surface to help prevent falls from happening.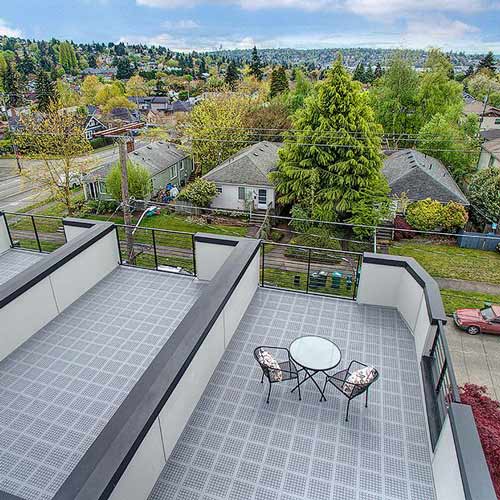 The tiles are perforated and waterproof. Their fast-draining design helps to prevent standing water.
Available in multiple colors including grey, the tiles can be installed both indoors and outdoors.
They're made of a durable plastic and connect together securely, so they won't separate over time.
Ergo Matta Perforated Outdoor Tile
The Ergo Matta Perforated Outdoor Tile is made from recycled PVC plastic. The tiles have a 20-inch fall height rating and are ideal for use in playgrounds, pool surrounds, and other areas where children will play or run.
You can install the tiles on any hard, flat surface, and their interlocking design makes for an easy installation. Optional border ramps are also available if you'd like to make a smooth transition onto and off of the tiles.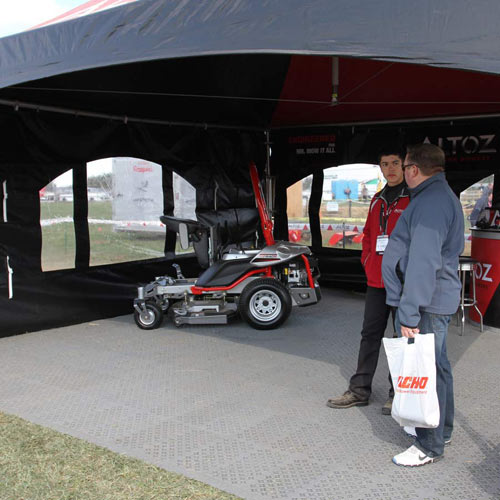 These tiles are available in many brilliant colors, including grey, and provide excellent drainage. You can easily clean them with a pressure washer or garden hose.
Sterling Roof Top Tile Gray
The Sterling Roof Top Tile Gray is a durable interlocking rubber tile suitable for use on patios, rooftops, and more. This heavy-duty flooring is durable, and the tiles are backed by a limited lifetime warranty.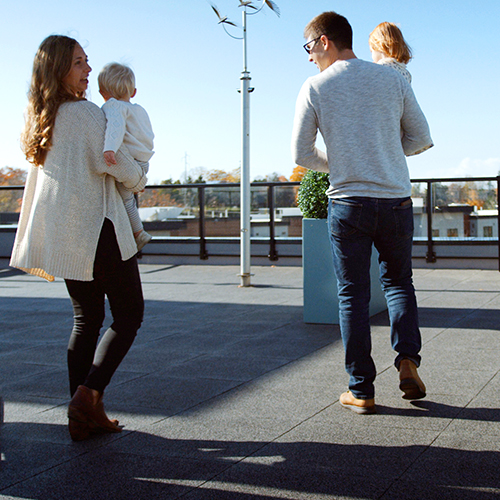 The tiles feature border edging options, so you can interlock them and install them by gluing the edges together, rather than gluing the bottom of the tile to your subfloor. This design allows water to drain under the tiles as needed.
Border strips are available, and since the tiles measure 2x2 feet, they will quickly cover larger areas.
Portable Outdoor and Tent Tile
The Portable Outdoor and Tent Tiles are versatile tiles that you can install over a variety of surfaces,including grass, sand, dirt, gravel, and concrete. They are made of a durable polypropylene plastic that can withstand any climate.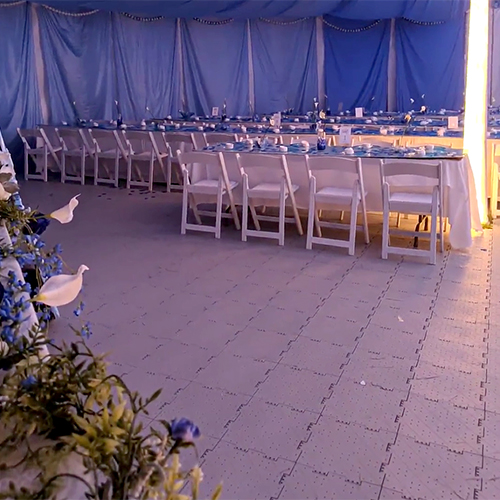 These tiles feature drainage holes and a base that is slightly elevated, allowing for rainwater to run through and under them. Their anti slip texture adds extra safety.
You can easily connect the tiles together, and when disassembling the floor, you can leave some of the tiles connected in sections for a faster installation next time.
Outdoor Court Tile XT3
The Outdoor Court Tile XT3 is a popular choice for basketball and volleyball courts, pool areas, and patios. The tiles are resistant to fungus and mildew, and they're suitable for use in all climates and weather conditions.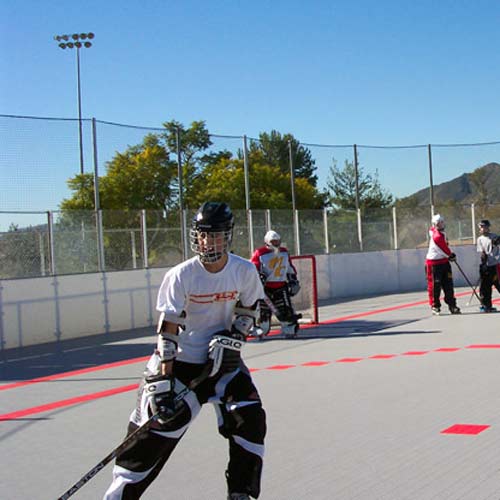 The tiles feature a rugged construction and flow-through design that lets water drain away quickly. They're also supremely strong and are able to withstand a load of 16,000 pounds per square foot.
These tiles feature 32 latch locks for a secure connection that won't separate. They're easy to press together and create a stable platform.