Where Would You Use Red Floor Mats?
By Paige Cerulli Created: June, 2022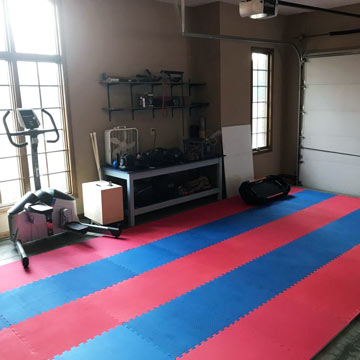 As you shop for floor mats, you'll have your choice of many colors, including red. In some instances, that red color is entirely for aesthetics, while in others, it can indicate that the floor mat has certain properties. You'll find red floor mats used in many different applications.
Using Red Floor Mats
Depending on the type of floor mat that you purchase, you can use red floor mats in all sorts of locations.
Some of the most popular use cases for red floor mats include:
Home gyms
Professional gyms
Playgrounds
Martial arts studios
Garages
Sports facilities
Kitchens
Basements
Kids' rooms
Playrooms
Bars
Patios and decks
Indoor entrances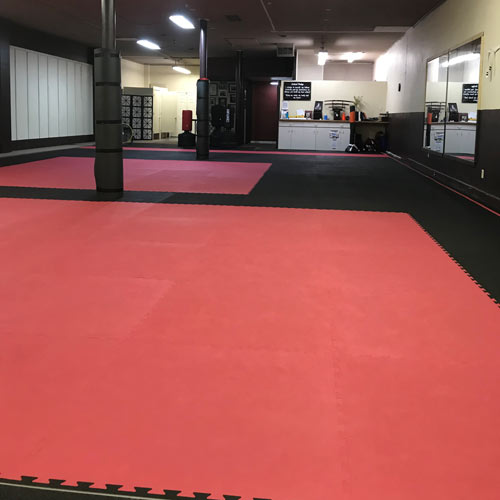 Red Floor Mats for Sale
At Greatmats, we carry a wide variety of red floor mats. These mats are ideal for everything from residential to commercial use and more.
UltraTile Rubber Weight Floor Standard Colors
The UltraTile Rubber Weight Floor Standard Colors is a durable, high-end rubber tile. It's a top choice for sports flooring, weight rooms, home gyms, and other spaces that need a top-performing tile.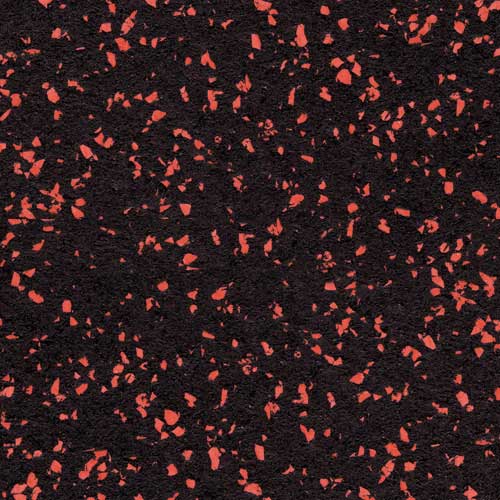 This flooring helps to absorb shock from exercise equipment and weights, while also reducing the noise generated by those activities. The result is a more enjoyable gym space, while the tiles also help to protect your subfloor from damage.
These tiles are made of reclaimed rubber, so they're eco-friendly. They're available in multiple colors, including red fleck, and are made in the USA.
They are backed by a 15-year limited warranty, which is a testament to their durability.
Martial Arts Karate Mat Premium
The Martial Arts Karate Mat Premium is designed specifically for the needs of martial arts studios. The flooring features a high-density EVA foam that not only absorbs shock, but that is also firm and supportive enough for spins and jumps.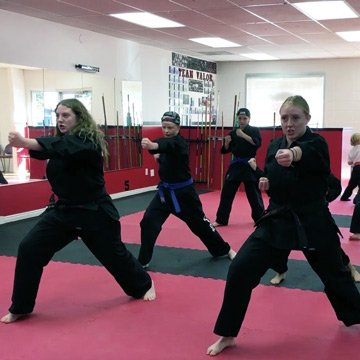 The leather surface means you can use these tiles with shoes, and the materials are safe for children. The tiles are also waterproof, so cleaning up after a practice or competition is easy.
The tiles feature puzzle-style interlocks that make for an easy and fast installation, while also holding the tiles together tightly. They are reversible and feature double colors, including a brilliant red.
You can alternate the tile sides to create patterns, designs, and more within your studio. The tiles each include four border strips for a clean, finished installation.
Foam Kids and Gym Mats Premium
The Foam Kids and Gym Mats Premium are economically priced yet durable foam tiles that offer excellent impact absorption. They're comfortable for both work or play, so they're a great choice for basements, kids' play rooms, exercise areas, and home gyms.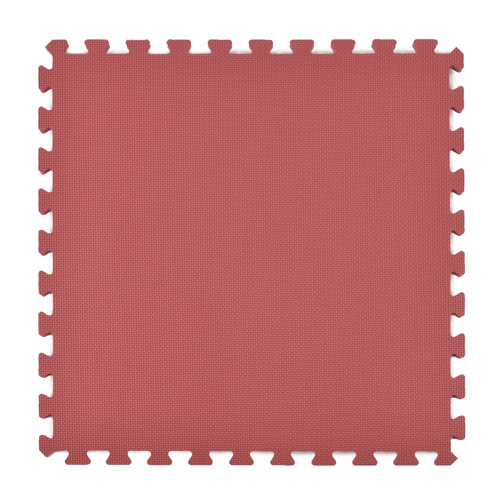 The tiles are free of lead and latex, making them safe for your family, including your kids. They're also waterproof and stain-resistant, which makes them easy to clean up as needed.
The puzzle-style interlocks make for a DIY-friendly installation, and you can remove the tiles again as needed. They include border strips, so you can perform a wall-to-wall or island installation with finished edges.
These tiles are backed by a one-year limited warranty and are available in 15 beautiful colors, including red.
Honeycomb Medium Duty Red Mat
The Honeycomb Medium Duty Red Mat is designed for use in kitchens, bars, prep areas, assembly lines, and more. This rubber mat features a honeycomb design that makes it strong and durable.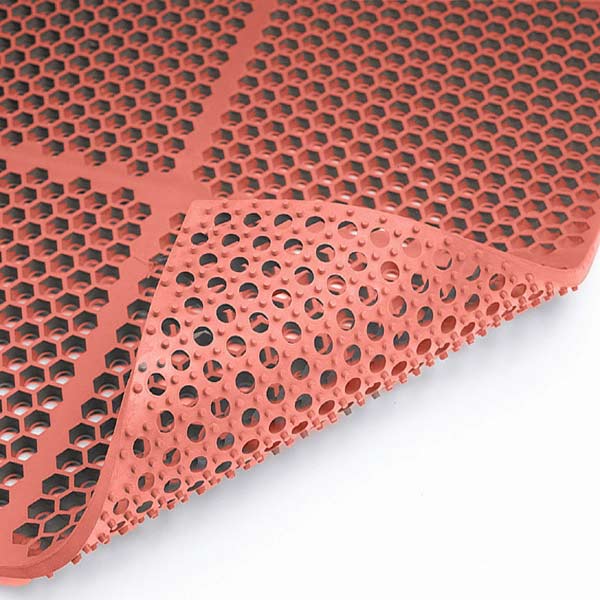 At the same time, that design maximizes traction for improved staff safety. It also allows liquids to drain through, keeping staff shoes up and out of any wet areas.
This mat offers valuable anti-fatigue properties, helping to keep staff comfortable during longer shifts. It can be dry laid and is grease resistant in light to moderate grease areas, making it a durable choice for many kitchens.
Max Playground Rubber Tile
The Max Playground Rubber Tile is designed to make playground surfaces safer, but it can also be used on outdoor patios, decks, and roofs. The tile is highly durable and backed by a 15-year warranty.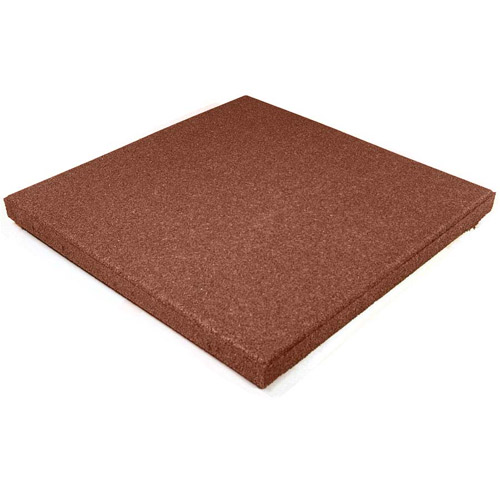 Made completely of recycled rubber, this tile features a six-foot ASTM fall height rating, meaning it can help to minimize the injuries that result from a fall. It's available in different colors, including red, and is highly resistant to UV fading.
When used on rooftops, it can be installed without adhesive, thanks to its interlocking edges. Those edges allow water to drain around and under the tiles, helping to prevent standing water from forming and keeping the area safer.
Apache Logo Mat Custom
The Apache Logo Mat Custom is a great choice for high-traffic indoor entrances and commercial lobbies. This mat is available with the logo of your choice, and with 186 colors to choose from, you can design it so that it matches your branding and your brand colors.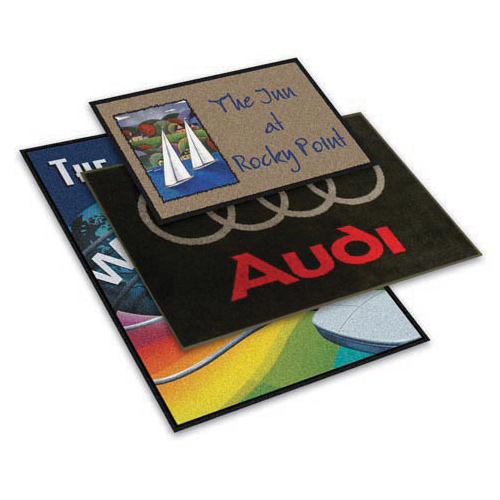 The mat is water absorbent and wear resistant, making it a durable choice. It provides valuable anti-slip traction to make your entrance safe, and it's able to withstand a high degree of foot traffic.
You can choose from multiple sizes, so the mat is well-suited to nearly any entryway. Its durable rubber backing helps to hold it in place.
You can even customize the mat without worrying about additional artwork or setup charges.
For more on this topic please review our
Floor Mats
product page.