Plastic Decking vs. Plastic Deck Tiles
By Lisa Hobbie Created: November, 2021 - Modified: October, 2022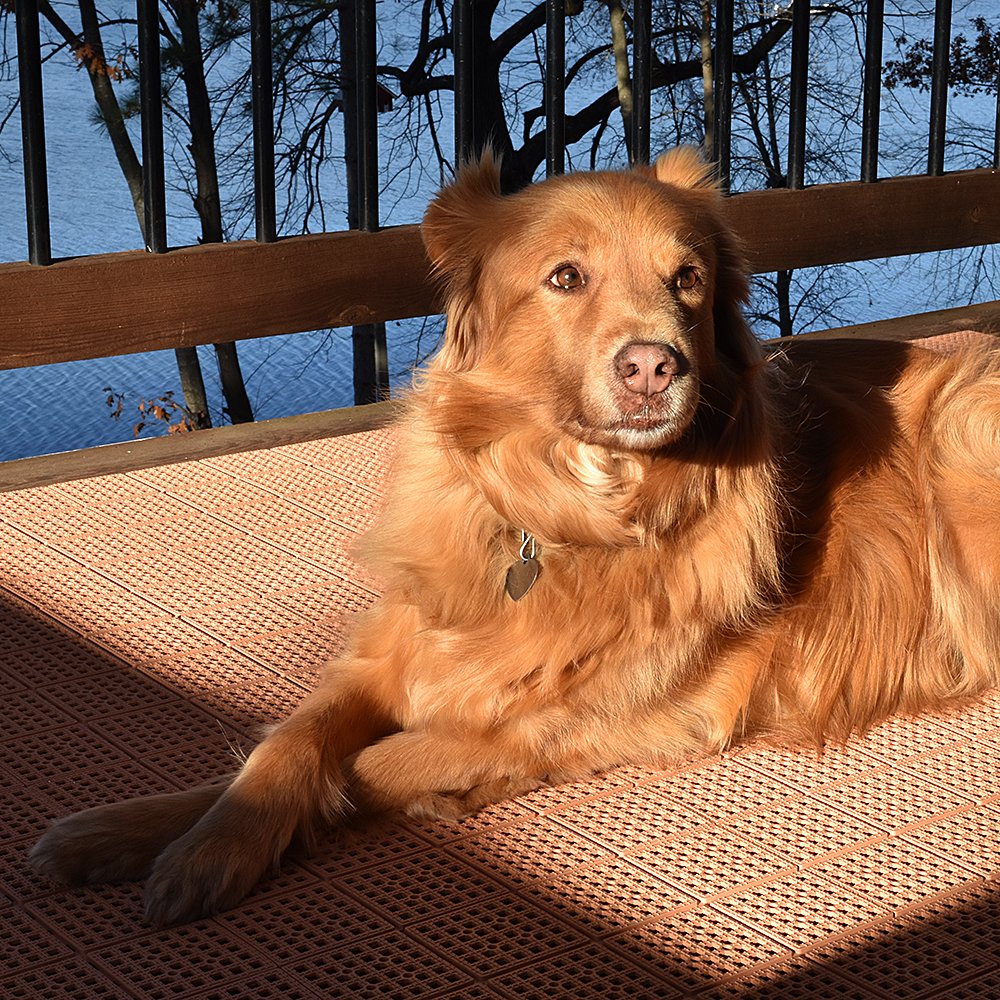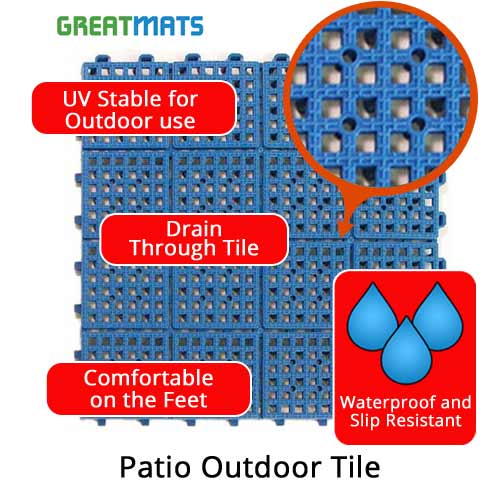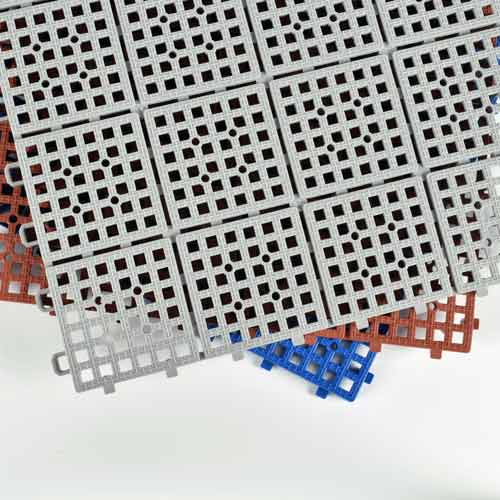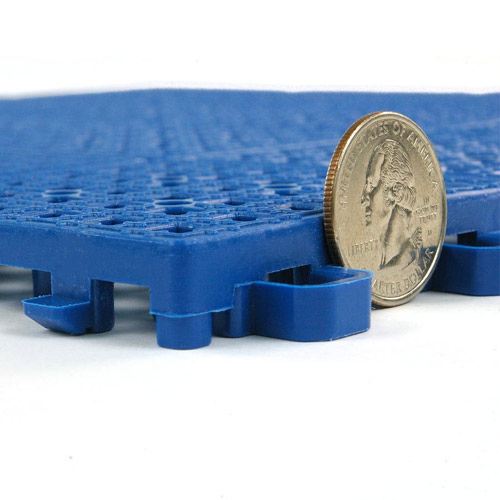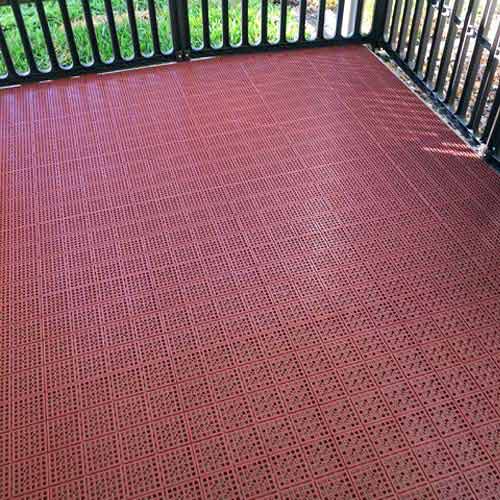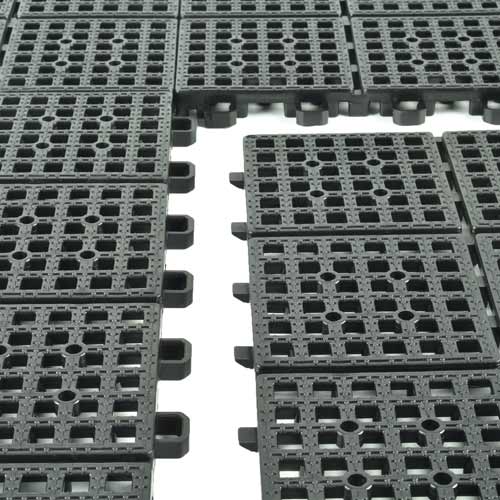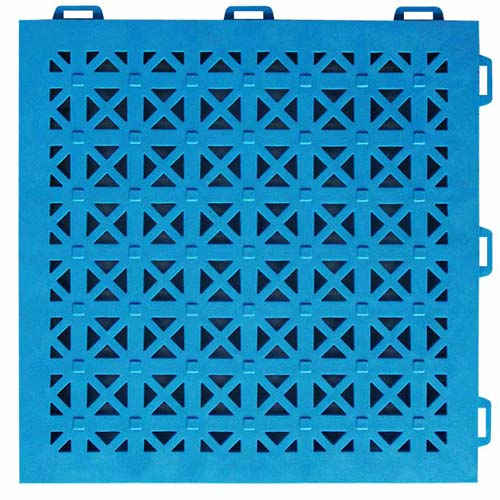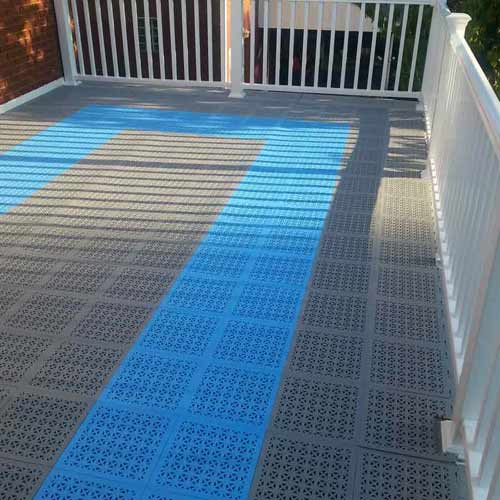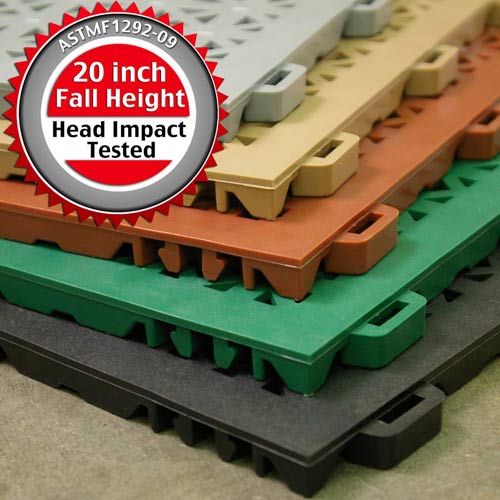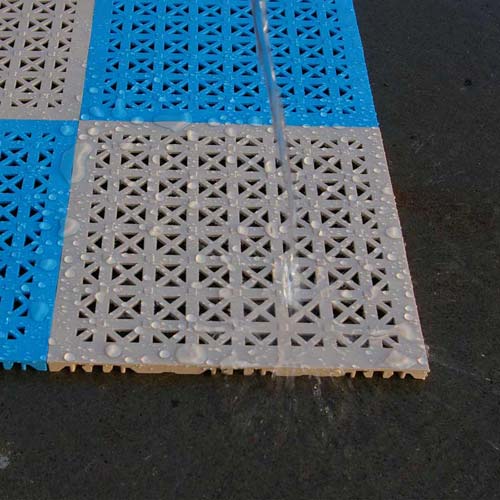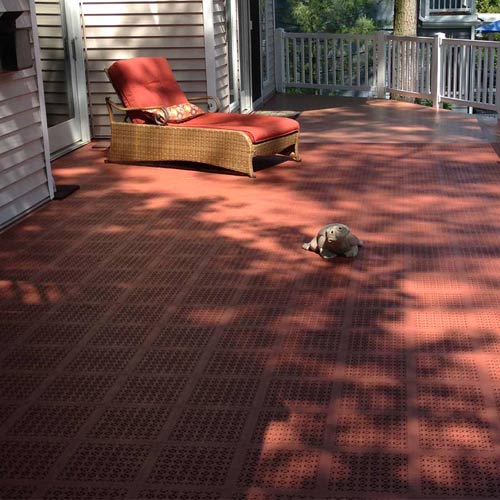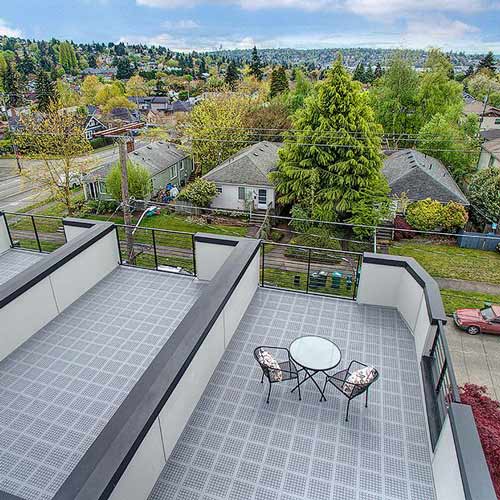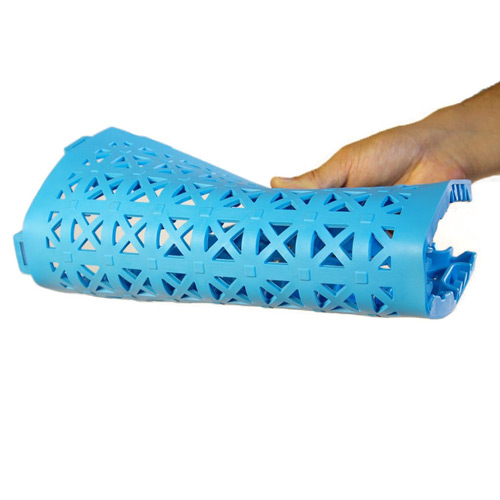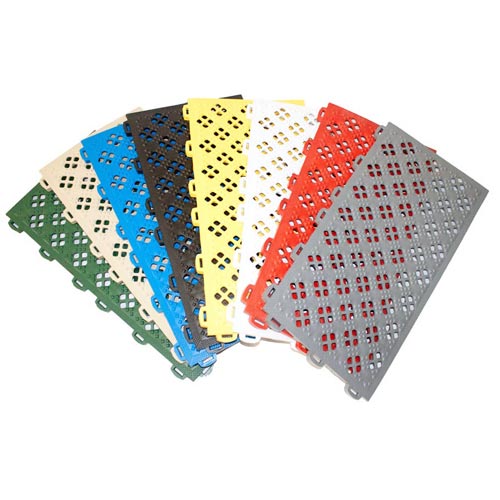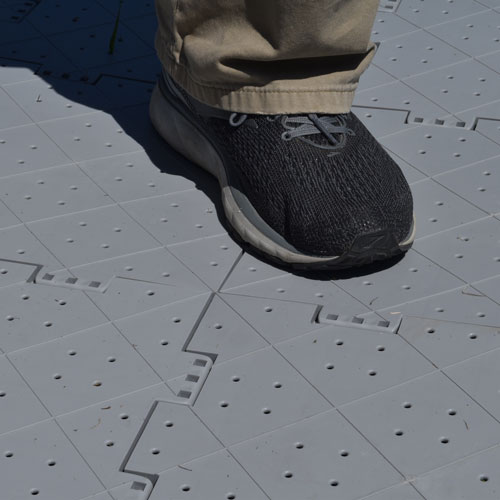 Plastic decking
comes in many forms, with plastic tile and planks being among the most commonly used for their durability, versatility, and ease of installation.
Choosing plastic decking vs. plastic deck tiles is as simple as choosing between building a new deck surface or covering an existing one. Plastic decking in its truest sense involves using plastic "boards" or planks in place of traditional wood ones. Plastic deck tiles, though commonly considered plastic decking, are installed overtop of an existing deck surface, whether that is wood, concrete or some other solid surface. Essential plastic deck tiles would be best considered plastic deck covering.
Knowing which particular plastic decking product to go with comes down to personal preferences and requirements.
Where wood boards are frequently used for decks and other outdoor spaces, this type of covering carries with it a lot of potential problems. The cost of wood can be quite high. Wood can weaken and rot if not properly maintained and cared for, and it's certainly not the best decking to go by a pool or other area prone to excess moisture. Plastic deck tiles and decking are easy to clean, long lasting, anti-slip, and drainage promoting.
Greatmats offers the best deck tiles available anywhere, with the following 4 products being some of the most popular:
If you want an outdoor space that will not need to be refinished or deep cleaned to get rid of mold or mildew, any of these 4 plastic material decking options will deliver the surface you desire. They are all attractive, long lasting, and high performing with the ability to endure foot traffic, patio chairs, and more.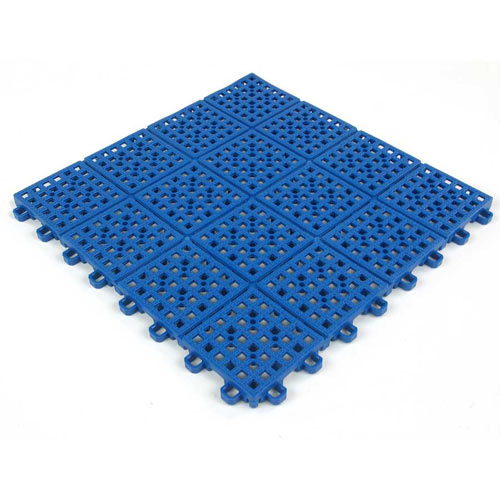 Patio Outdoor Tile is a flexible PVC decking product that offers a comfortable, non-slip surface texture. Unlike a traditional wood deck with basic railing, this product features a unique design that allows liquid to drain right through it, eliminating the issue of deep puddles during inclement weather.
These tiles can easily be installed over concrete, wood, brick, or other compacted surfaces. They feature tab 'n loop connectors, so once assembled, they will not separate. The resulting surface will not absorb water, so it provides a safe wet area that looks and feels great. Also unlike wood, this product will not need to be painted or stained, as it's available in attractive terra cotta, dark blue, and gray.
These plastic tiles carry a 1-year limited warranty and cost approximately $3.90 per tile, which provides just under 1 square foot of coverage.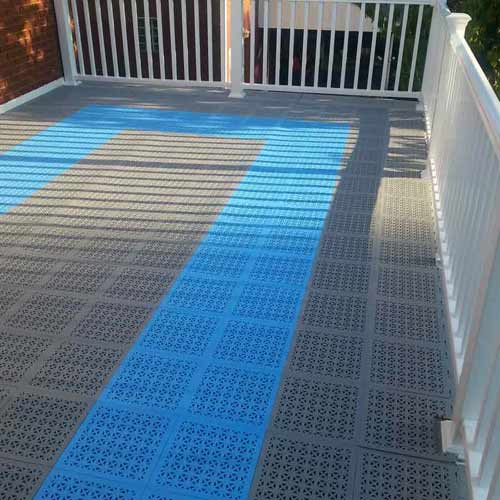 StayLock Tile Perforated offer another PVC decking option designed for premium drainage. When used in an outdoor deck or patio setting, these 9/16 inch thick tiles offer anti-fatigue benefits and help to maintain traction and comfort - even when walking or standing on them with bare feet or when the surface is wet. It also offers limited fall protection.
These plastic decking tiles are connected with a reliable loop-and-tab system which results in a floating floor that will never loosen or separate. The waterproof, UV stable tiles are made in the USA and come in a variety of colors.
This decking will cost less than $6 per square foot and carries with it a 5 year warranty. Black Staylock tiles generally run a bit cheaper due to the use of recycled materials.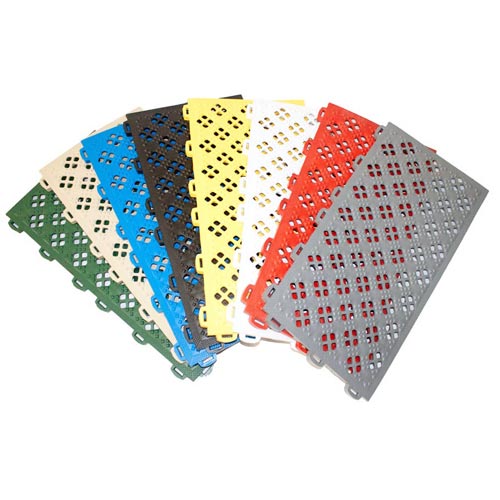 Ergo Matta Perforated Outdoor Tile is one the most popular plastic decking options available. It is another non-absorbent, PVC plastic product that comes in bright colors and is made from recycled materials.
These interlocking tiles are often used for preschools and playgrounds, or any outdoor space where the potential for falls could exist. They feature a 20-inch ASTM fall height rating, and they can be installed on any hard, flat surface, or, over compacted dirt and other natural subsurfaces. The bright colors will never fade from the sunlight, and the excellent drainage surface design keeps them looking dry and vibrant. This product is simple to assemble and install, and it's suitable for both hot and cold climates.
These tiles carry a 5-year limited warranty and cost about $9, which provides about 1.5 square feet of coverage.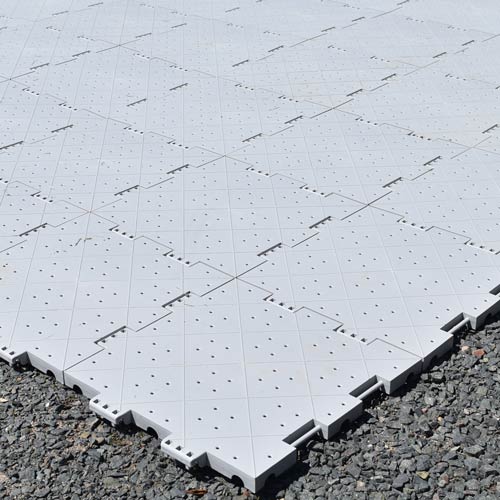 Portable Outdoor and Tent Tile is a plastic product with a clip together design that's easy to install over dirt, grass, gravel, sand, concrete, or pavement. The tiles are 12x12 inches each and hold their shape - even when placed under heavy weight.
This decking solution is manufactured using extremely strong, no-break plastic and features reliable drainage holes for wet areas. It is also anti-slip and non-absorbent, and it comes in a box of convenient 3x3 foot sheets of 9 tiles.
This tile is designed to minimize the growth of mildew and mold, and it's a breeze to clean with a damp mop and basic floor cleaner. This tile carries a 1 year warranty, and it costs less than $3.50 per tile. You'll find these tiles are much firmer and more rigid than the previously-mentioned options.
Greatmats - For The Best Decking Products Available Anywhere
Plastic decking is widely used in residential and commercial settings, because they typically last for at least double the amount of time that wood does, making the lifetime cost lower. The best decking tiles will provide an attractive and reliable surface for your home deck that will allow for a safe and aesthetically pleasing gathering space for years of use and enjoyment, and the featured products are certainly among the best.
Reach out to the fabulous team at Greatmats if you have questions, or, when you're ready to order decking. Regardless of the specific product you purchase, you can be confident that you're getting the best.
For more on this topic please review our
Deck Tiles
product page.