When Would You Want To Use A Rubber Mat With Holes?
By Lisa Hobbie Created: January, 2022 - Modified: June, 2023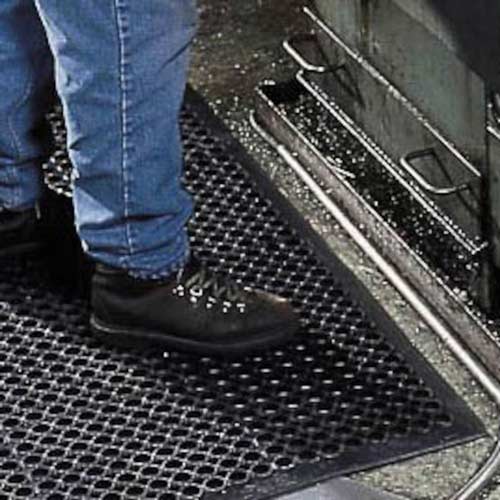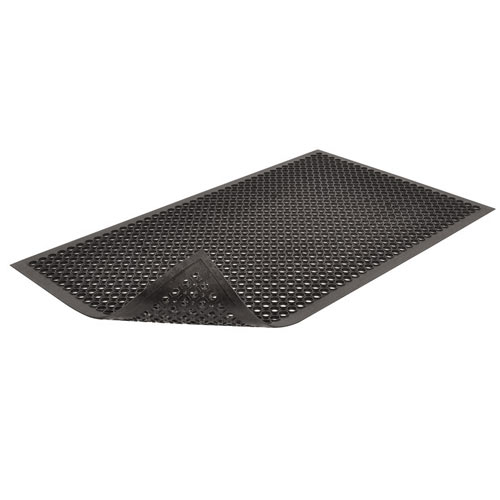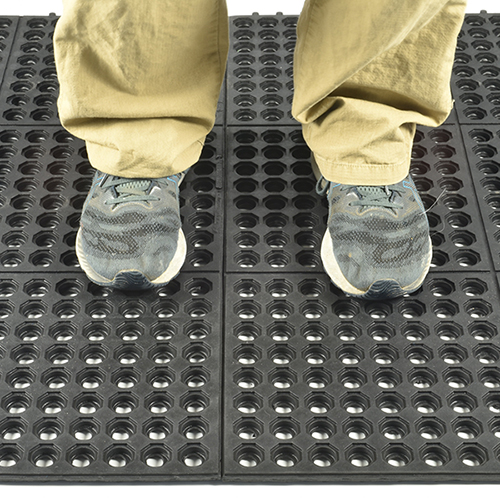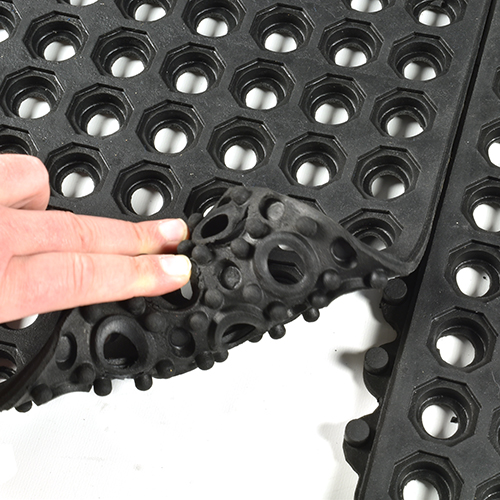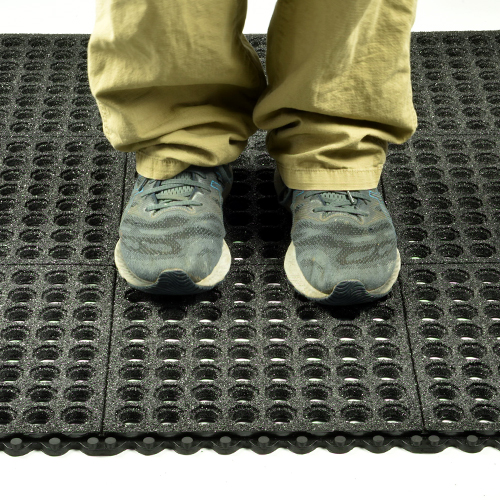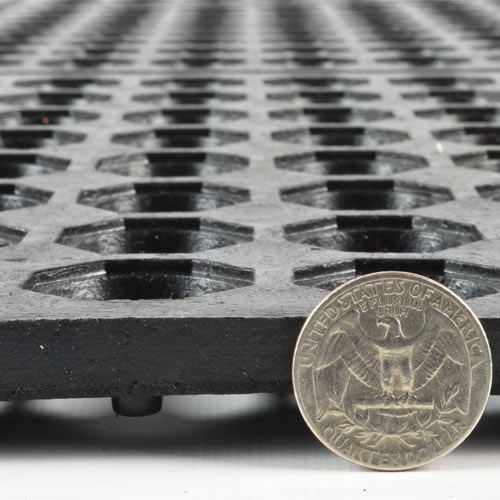 A rubber mat with holes is a great, effective solution to choose when you want an option that will promote drainage and prevent standing water.
A rubber mat with holes can often be found in a restaurant, bar, barn, horse stall, factory, kitchen, or at a business entrance or residential front door. There are thick and thin, indoor and heavy duty outdoor options that provide anti slip and anti fatigue benefits, to name a few.
Greatmats offers a variety of options to consider if you're shopping for a rubber mat with holes, and the following 7 products are some of the best:
These top notch rubber mats are made with the best materials using the best craftsmanship, and they each offer some fabulous benefits!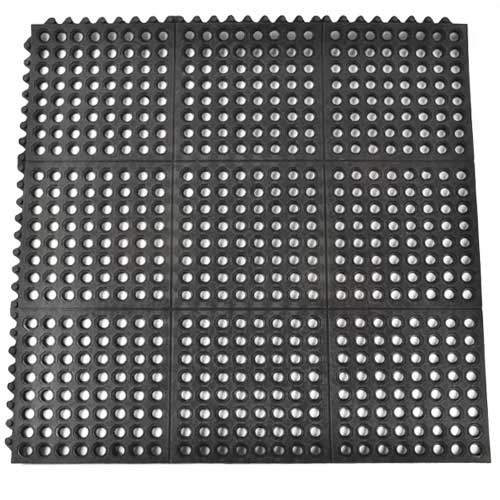 Ring Mat 3x3 Ft for Equine 5/8 Inch is a top notch product that delivers effective drainage in a horse stall, dog kennel, or other wet area - with or without pets or livestock.
The durable, anti-fatigue, anti-slip 3x3 ring mat is great for wash bays and other wet areas, as they are perforated with holes that allow water drainage. They are designed to withstand heavy weight, they can be used outdoors or indoors, and they are made of durable waterproof material.
These mats are high performing and very effective when placed on concrete or other smooth, flat surfaces for a safe and solid foundation for you or your animals.
VIP Topdek Senior Black Mat 3 x 19 Feet 6 Inches is a 3x19.5, perforated, general purpose mat that comes in many different lengths, including those that are up to 20 feet long. These anti-fatigue kitchen mats are great for bars, service areas, and non-grease kitchen or industrial spaces. This classic black mat features molded, beveled edges for added safety.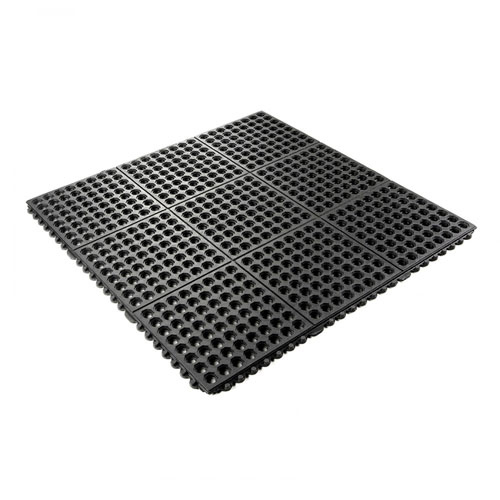 Wearwell 24/Seven GR Perforated 3x3 Ft Mat is an anti-fatigue mat that is high performing and highly versatile. If you're seeking a rubber mat with holes for a bar or industrial space, this is an excellent choice. It's a convenient and manageable 3x3 size with an interlocking design, and it provides comfort and ergonomic benefits.
This particular mat is resistant to chemicals, grease, boric acid, and ethylene glycol.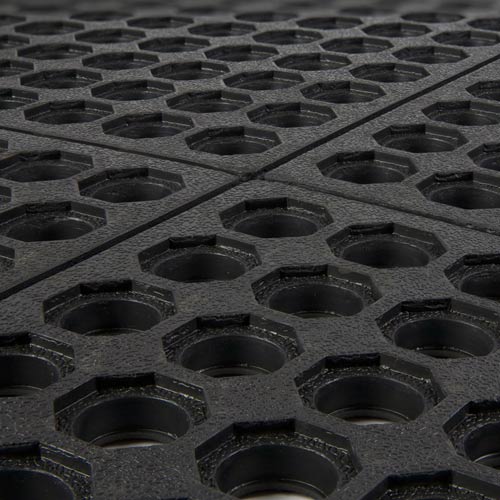 Wearwell 24/Seven NBR Perforated 3x3 Ft Mat is a high performing anti-fatigue mat that is 3x3 in size with an interconnecting design. It's a solution that is often used to cover large flooring areas or workstations where ergonomic benefits are desired.
These mats are grease and chemical resistant, as well as resistant to boric acid and ethylene glycol. They are durable enough to endure 24/7 shift operations, offering superior cushioned support where needed.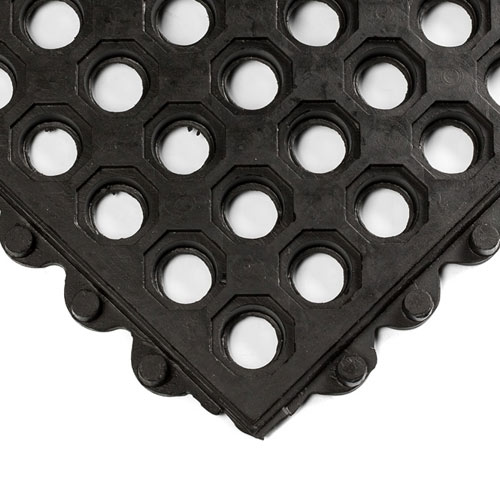 Wearwell 24/Seven CFR Perforated 3x3 Ft Mat is a square mat that is fluid resistant, mineral oil resistant, and effective against silicone-based brake fluid, boric acid, and ethylene glycol. It's made for areas that are slippery and wet.
This anti-fatigue rubber mat with holes reduces physical strain and long-term effects on the feet, legs, and back. Each one is 5/8 inch (16mm) thick and tough enough to handle 24/7 shift operations, but supple enough to provide cushioned support where it is needed.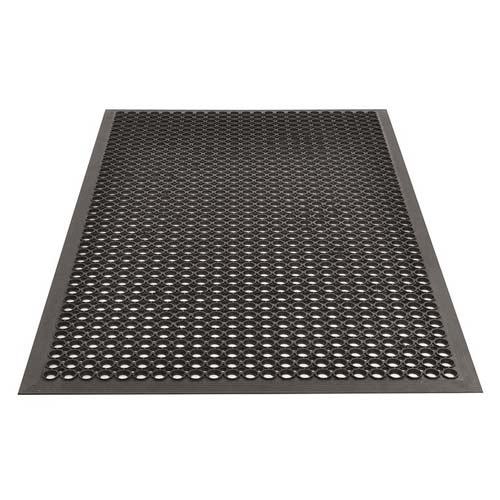 Beveled Drain Step Anti-Fatigue Mat 3x5 ft Black and
Beveled Drain Step Anti-Fatigue Mat 3x5 ft Red
are mats suitable for wet workstations, assembly lines, packing areas, service counters, restaurants, and kitchens. Offering anti fatigue properties and excellent drainage, these general purpose rubber mats offer slip and wear resistant qualities, beveled edges, and ease of cleaning. They are also resistant to oil, grease, and chemicals.
Greatmats - For The Best Rubber Mats With Or Without Holes
When it comes to finding the best rubber matting, with or without holes, the options at Greatmats are plentiful! With different weight options, application purposes, and types, there are high quality, low cost options available for any need or setting, and the featured products are some of the best with holes.
Choosing the best rubber mat for your project or application doesn't need to be complicated, because Greatmats has a friendly and helpful team that will help you decide which product will best suit your needs and preferences. They can answer any questions you have, send you product samples, and help you place your order.
Regardless of the product you choose, you can be confident in the fact that you're getting the best when it comes from Greatmats.