WorkStep Black Mat 3x20 Feet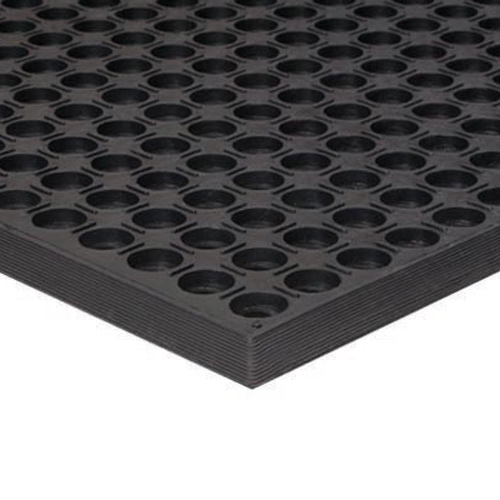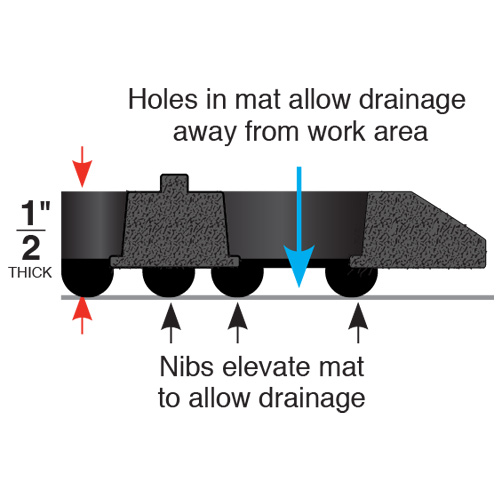 Comfortable anti-fatigue design with molded beveled edges
Available in a grease-resistant red or general purpose black color
WorkStep Black is also available with a gritted surface for enhanced traction
Handling Time Estimate: 4-6 Working Days
Comfortable anti-fatigue design with molded beveled edges
Available in a grease-resistant red or general purpose black color
WorkStep Black is also available with a gritted surface for enhanced traction
Anti slip traction
Water repellant
Anti fatigue
Wear resistant
Custom configurations
Industrial, Kitchens, Service Counters, Restaurants, Bakeries, Machine Shops, Shipping and Packing
NOTE: This item is a custom order and is not returnable.
This lightweight rubber drainage mat, WorkStep Black Mat 3x20 Feet is low maintenance and easy to clean. The 1/2 inch thick mat has molded beveled edges for increased safety and is available in grease resistant red, black and with an optional abrasive GritTuff surface (Black only). Contact Customer Service for more information.
Black WorkStep Kitchen Runner Mat, 3x20 Feet

For work areas where employees need a long coverage area from a cushioned mat so they can move back and forth, our Black WorkStep Kitchen Runner Mat is an outstanding choice. At 20 feet in length, this mat is a great buy, as it delivers a reasonable cost per square foot of coverage.

Our kitchen runner mat works ideally in spaces where a large prep area or assembly line needs a mat on the subfloor. A restaurant kitchen that has a preparation space spanning a long counter can use this mat to cover the entire area easily.

It also works nicely in a bar, giving those working behind the serving area a comfortable mat with a sure footing that prevents slips. When working in a bakery or galley kitchen where spilled food and water is possible, our mat protects the employee from slipping.

Rubber flooring is great in a commercial environment, because it provides a grippy surface that continues to give employees a sure footing, even in areas that may become wet from spills.
Kitchen Mat for Wet Environments
This mat has hundreds of perforations that cover the entire length and width of the area. Any spilled liquids will not pool on top of the mat. Instead they will fall to the subfloor through the perforation holes.
Once the liquid reaches the subfloor, it can move toward a floor drain. The bottom of the mat has small nibs that lift the underside off the floor. This creates small channels for the water to flow away from the underside of the mat toward the floor drain.
By allowing spilled liquid to drain away from the person standing and working on the mat, the mat creates a safer and more comfortable work environment. No one has to try to work in a pool of standing water with this mat in place.
We see many of our kitchen runner mat customers place this mat in front of a sink or dish washing machine in the restaurant. These areas often generate spills, so the perforated rubber mat allows those working near the sink to keep their feet out of any pooled water.
Anti Fatigue Matting
Another advantage of our rubber kitchen runner mat is the cushioning properties it provides for employees. Rubber is a firm material, but it also provides a little bit of give that protects the lower body joints of people standing on the mat and working.
When an employee has less fatigue in the legs and reduced back aches toward the end of a long shift of standing while working, he or she is able to work in a more efficient manner. The employee will be able to work longer when not worrying about any pain in the hips and knees.
The nibs on the bottom of the mat also serve a purpose in delivering anti fatigue capabilities. They give the mat just a little more give than it would have if the underside of the mat was tight against the subfloor. The nibs do not affect the stability of the mat either.
The drainage mat thickness measures 1/2 inch, which delivers the desired level of anti fatigue cushioning in a mat with a little less weight than a thicker rubber mat would have. This long rubber runner weighs about 1.5 pounds per square foot of coverage.
Rubber Anti Fatigue Mat Specifications
Width: 3 feet

Length: 20 feet

Thickness: 1/2 inch

Coverage: 60 square feet

Weight: 90 pounds

Color: Black

Texture: Perforations
Maintenance and Care
With such a long kitchen runner mat, keeping it clean can be a challenge. Customers have the option of moving the 3x20 foot runner outdoors to wash it with a power washer.
Another option is using a scrub brush and warm water over the surface of the mat, while leaving it in place. If the space has a floor drain, using water to clean the mat in its current location should not cause a problem.
Use a scrub brush or a deck brush with warm water to clean the surface of the rubber material. If the stains are tough to remove with water alone, add a bit of mild dish soap or detergent. Do not use chlorine or bleach on the rubber material.
Always clean both sides of the mat. Because the mat weighs 90 pounds, you may need more than one person to flip it over for cleaning the underside.
The rubber will not absorb water during the cleaning process, so customers can clean it as often as required without worrying about excessive wear and tear on the material.
After washing the mat, allow it to air dry. If you washed both sides at the same time, try to stand the mat upright using a rack so both sides receive air movement. Otherwise, wash one side of the runner and let it dry before washing the other side and allowing it to dry.
Shipping
This Product Ships UPS Ground, FedEx Ground and/or Freight.
Please review our shipping disclaimer.
| | |
| --- | --- |
| SKU# | A300-39-378-3x20 |
| In Stock | Yes |
| Product Type | Mat |
| Material Type | Rubber |
| Product Edging | Straight |
| Thickness | 1/2 inch |
| Width | 3.00 feet |
| Length | 20.00 feet |
| SF per Item | 60.00 |
| Weight | 90.00 lbs |
| Packaging | Cartons |
| Number of Pieces per Package Type | 1 |
| Non Absorbent | Yes |
| Special Adhesives | No |
| Universal Interlock | No |
| Interlock Loss | 0.00 feet |
| Interlocking Connections | No |
| Made In | USA |
| Surface Finish | Drainage holes |
| Surface Design | Solid color |
| Installation Method | Lay flat |
| UV Treated | No |
| Reversible | No |
| Border Strips Included | No |
| Floor Score | No |
| Green Label | No |
RELATED PRODUCTS