What's The Best Modular Kitchen Flooring?
By Lisa Hobbie Created: April, 2021 - Modified: April, 2021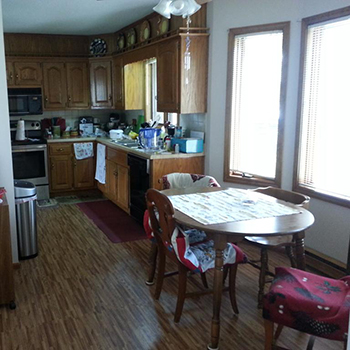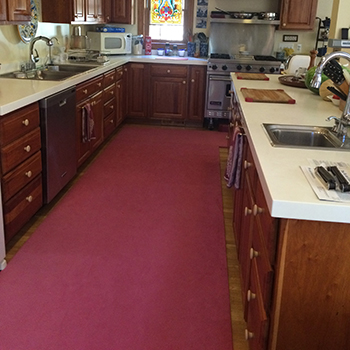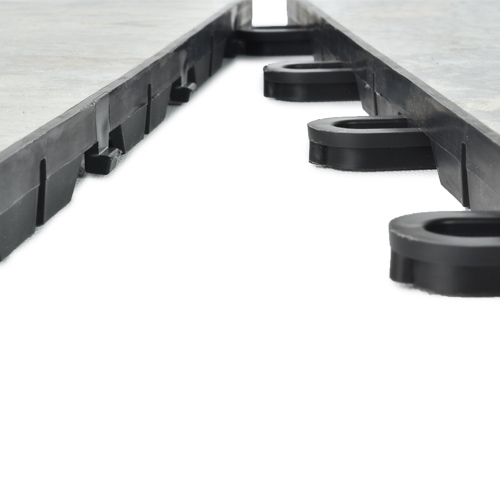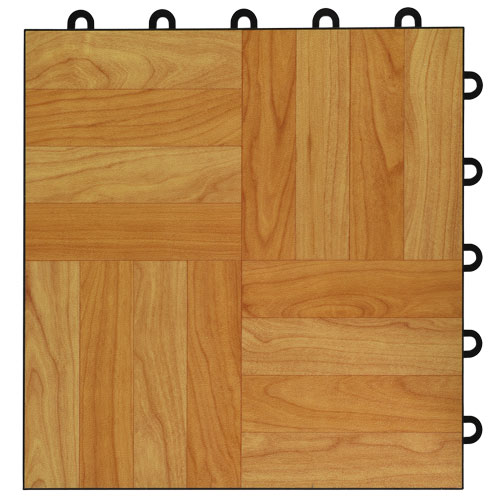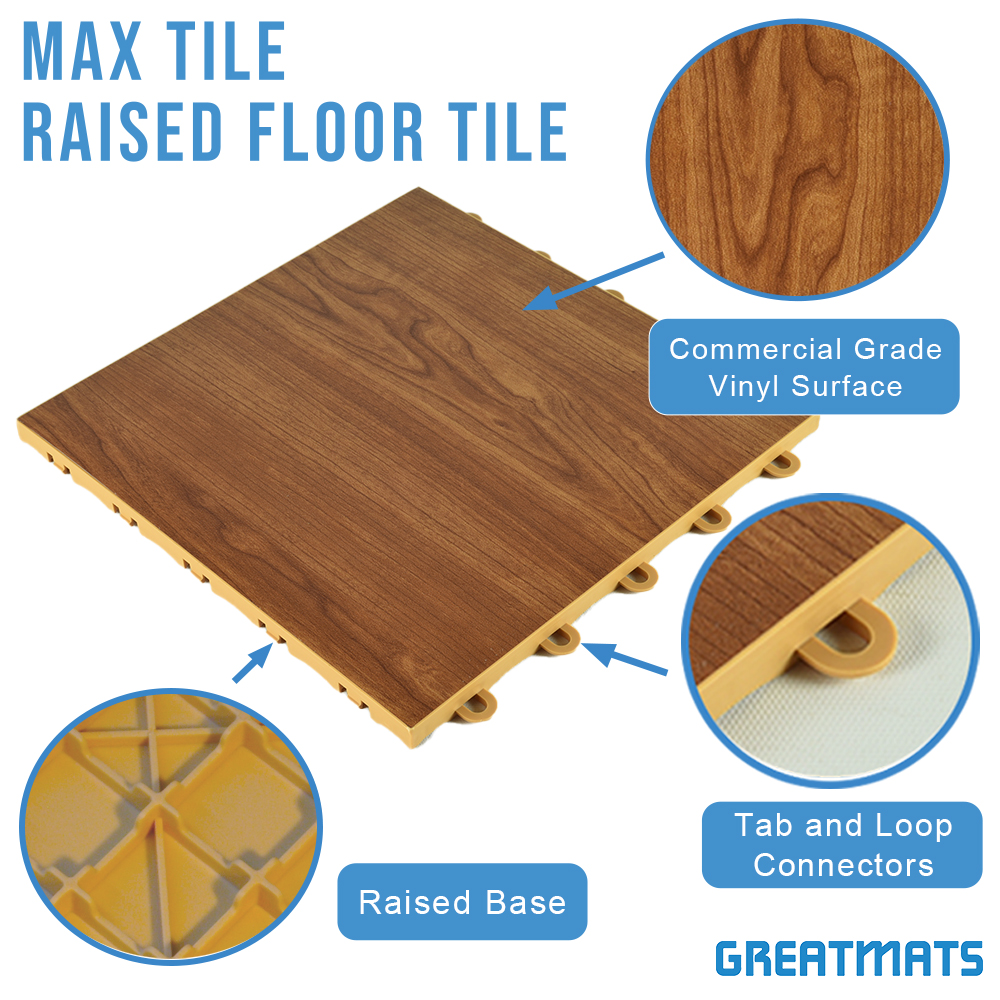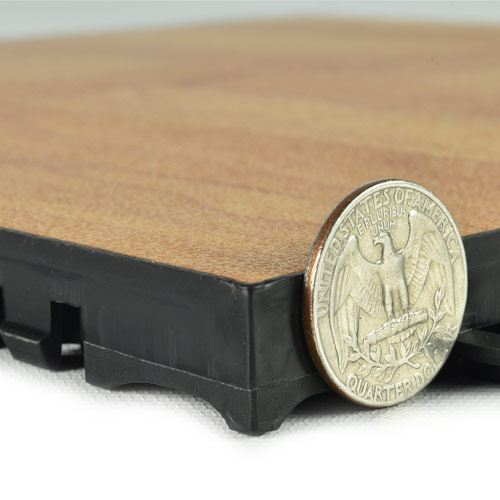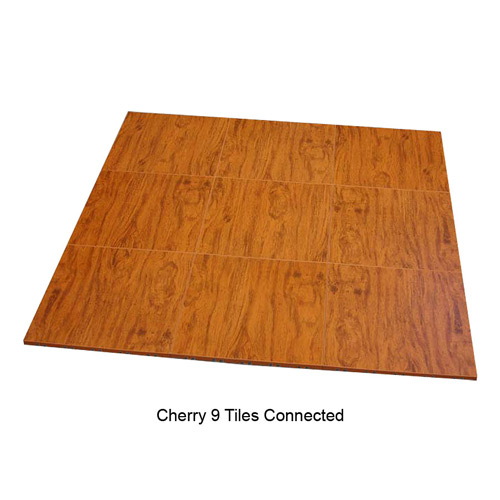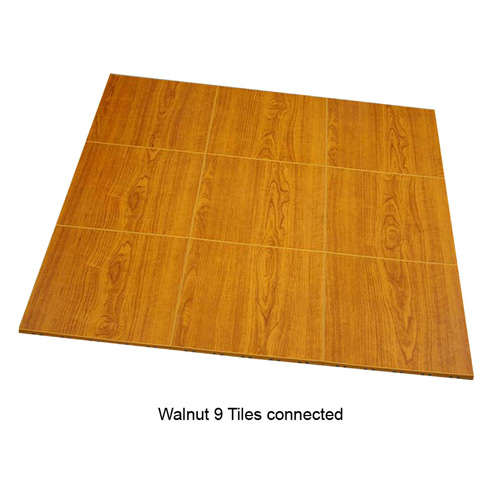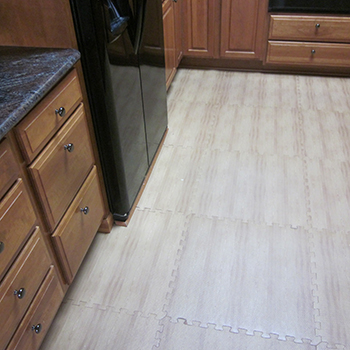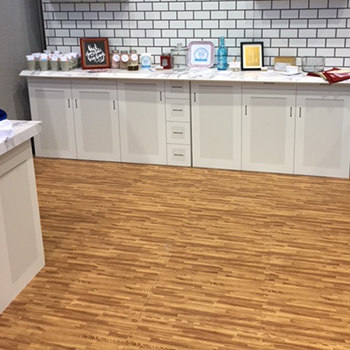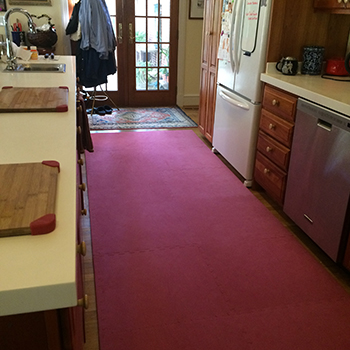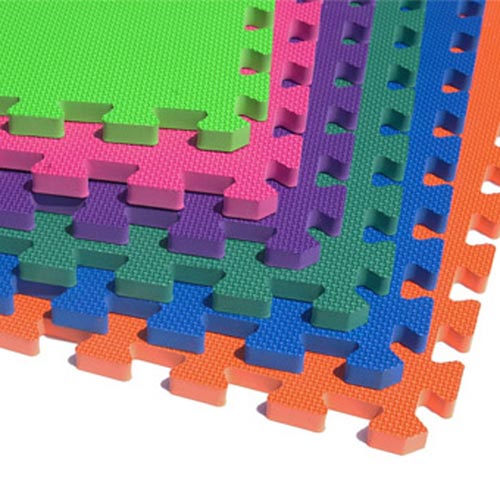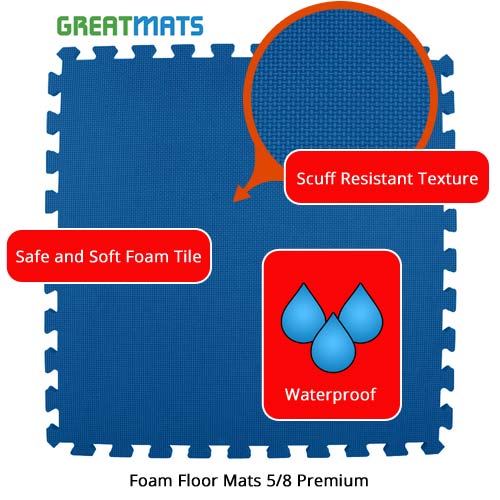 Modular flooring
is very popular for kitchens, basements, bathrooms, and offices because it is easy to install and maintain, and it is more durable and versatile than traditional hardwood and laminate. In a kitchen, modular flooring products perform well, because they offer anti-fatigue benefits, water resistant qualities, and aesthetic appeal. Greatmats offers a wide variety of modular kitchen flooring products, with the following 6 being among the best:
Vinyl Modular Kitchen Flooring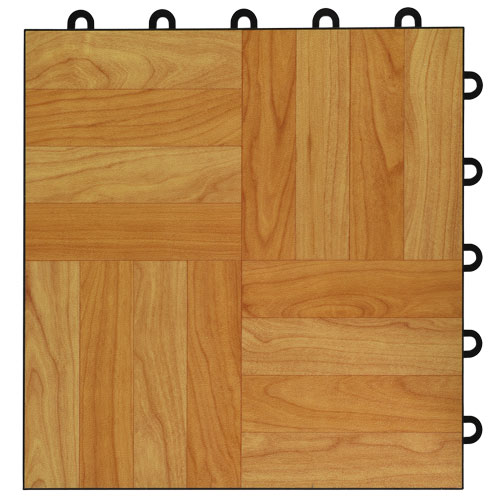 Max Tile Raised Flooring is a product that looks and performs perfectly in kitchens. It's very attractive with a beautiful, commercial grade vinyl surface that presents the look of a stunning hardwood floor without the high maintenance. These raised floor tiles are the perfect mix of performance and durability, while allowing air to flow underneath. This prevents the growth of mildew and mold when and if water is present, and it can provide a thermal insulative benefit due to the air pocket beneath the vinyl surface. For an extra layer of cushioned comfort while standing on your feet and preparing a delicious meal, a 3 mm rubber floor underlayment can be added - which also offers sound buffering and additional insulative qualities.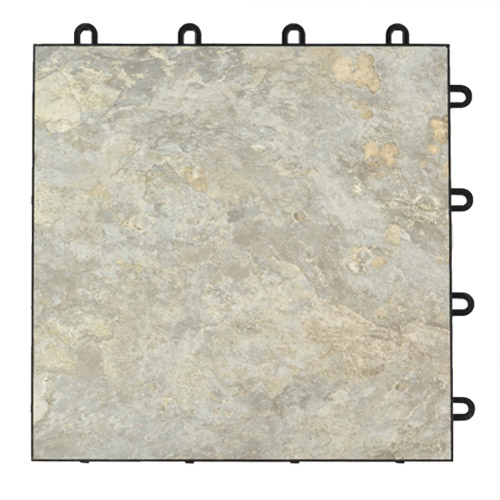 TileFlex Floor Tile is a luxurious modular kitchen flooring product that can be installed over an existing floor, which is great if you're looking to do a quick kitchen update. Similar to the Max Tile, this vinyl tile allows you to achieve the look of an authentic wood floor, without ever having to refinish it. Also, unlike wood, this product is waterproof, and it features a raised design to allow underside air and water flow. It's easy to install without adhesive, so it's a great DIY project. It is simple to clean and maintain, and it's available in many colors and finishes.
Foam Modular Kitchen Flooring
When exploring kitchen flooring ideas, you may be surprised to learn that there are EVA foam products that work really well in kitchens. EVA is an elasticized, closed-cell foam with a rubber-like softness and flexibility. EVA tiles are available in a wide variety of colors, designs, and styles, and have many attractive features such as comfort and affordability.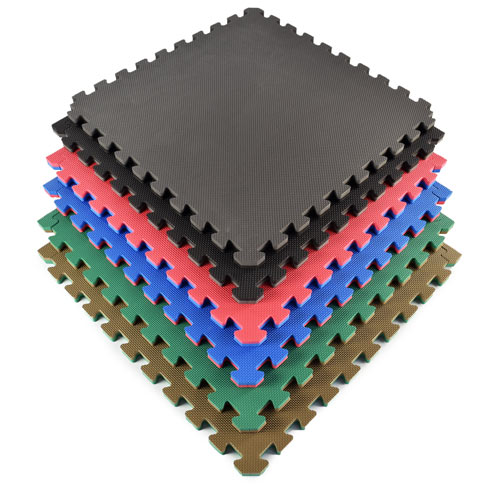 Home Sport & Play Mats are waterproof and stain resistant, and they absorb shock and provide anti-fatigue properties. They are also reversible and feature a scuff resistant surface on both sides.
Installation of the interlocking puzzle mat system is a breeze, and when it needs to be cleaned, it can be vacuumed or damp mopped with common household floor cleaners. The black and dark gray color combo looks very attractive in kitchens, but there are other options, as well.
These mats have been installed in kitchens and other rooms in homes all over the country, and customers rave about them in their online reviews. As customer Ana wrote, "I put them on the hard, cold slate floor in the kitchen. I used red in the kitchen. They are soft and cushy and my feet are happy. Mopping with vinegar takes away the outdoor footprints."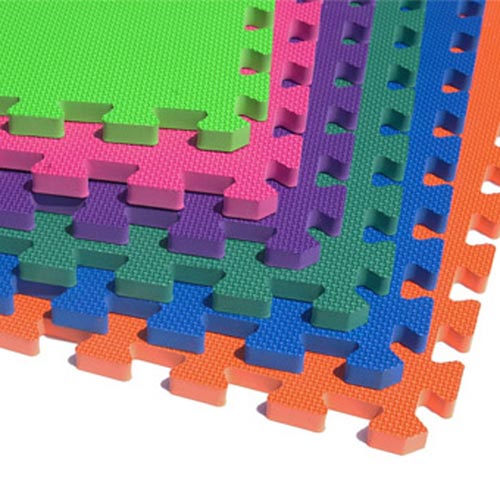 Premium Foam Mats are another viable kitchen flooring solution. These foam floor tiles can quickly transform any space into a safe, vibrant, and cushioned one. These mats are ⅝ inch thick and offer thermal insulation, noise suppression, waterproof properties, shock absorption, and stain resistance. They come in 15 different colors and offer a thatch surface texture and stand up to constant use and resist scuffing.
Customer reviews also highlight these mats. Barbara wrote, "I have been using these mats in my kitchen for years. Will continue to use them."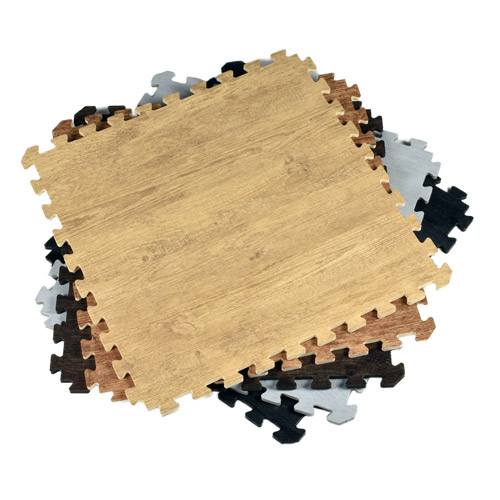 Wood Grain Foam Tiles offer many of the same qualities as the previously mentioned foam mats, but they feature a wood grain design on one side, complimenting any paint or cabinet style preference.
These tiles are free of lead and latex, and they are waterproof, and they offer cushion, comfort, and style.
These foam tiles are very popular among Greatmats' customers, and the many reviews solidify that.
As Perry wrote, "My wife and I decided to treat our feet with a little comfort when in the kitchen where most of the day's activities are done. Friends and family are impressed and are drawn to our kitchen when they visit."
Stephanie wrote, "My mom has severe arthritis in her ankles and feet, preventing her from standing on hardwood for any length of time. She loves to cook and bake. These tiles turned out wonderful. They were so easy to install, and it's been a year, and they still look great. Everyone who visits pauses midstep to say, hey, this feels great, and they are surprised it's foam."
Connie and her pets both like the mats! She wrote, "I put these in my kitchen area instead of runners so the dogs don't slip. They work great, and they are cushy under my feet, too."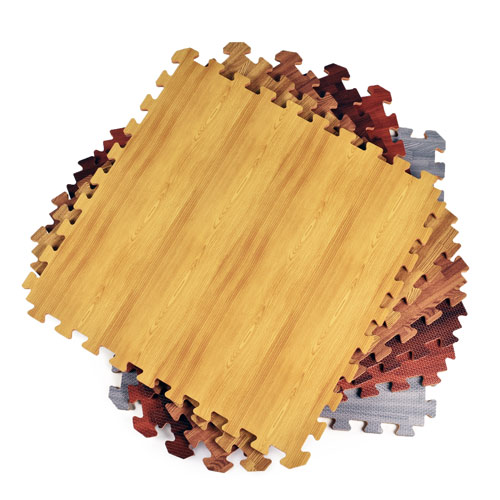 Finally, Reversible Wood Grain Foam Tiles provide anti-fatigue and insulative qualities, as well as durability and waterproof benefits. With one side presenting a wood grain design and the reverse side featuring a thatch surface, either one will provide a great surface on which to stand or relax. Plus with the tan colored core, they will maintain that classy appearance longer than many other wood look tiles in the event of a scratch or puncture in the surface layer.
These foam tiles are the most popular foam kitchen flooring option, and Greatmats' customers are beyond pleased with their look and performance. In his review, Christopher wrote, "I've used Greatmats foam flooring in 3 kitchens. Everyone who sees it, and steps on it, raves about it. It looks great but, more importantly, reduces standing fatigue and joint stress. Before this floor, I could not cook for more than 15 minutes. Now I can chop, prepare, and cook for an hour. Any spills can be cleaned up by unhooking the tiles and lifting the flooring. Highly recommend."
Carolyn wrote, "I love my new kitchen floor. I covered an existing stone floor on which I had broken 3 bones in 4 years. I sometimes fall because of poor balance. I didn't want to cover the beautiful stone floor, but am amazed at how beautiful the foam floor is, and I accomplished what I needed - a soft floor with good support."
Greatmats - For your Modular Kitchen Flooring
If you plan to update your kitchen flooring, choose one of the products featured here, and you will not be disappointed. When you want the best quality, pricing, and service, buy your flooring at Greatmats.