What Makes a Great RV Mat?
By Kyle Schurman Created: June, 2021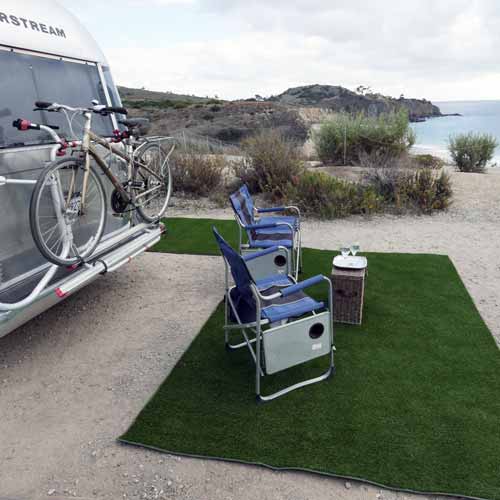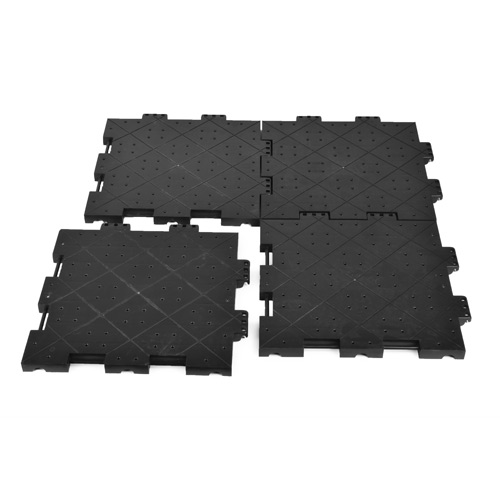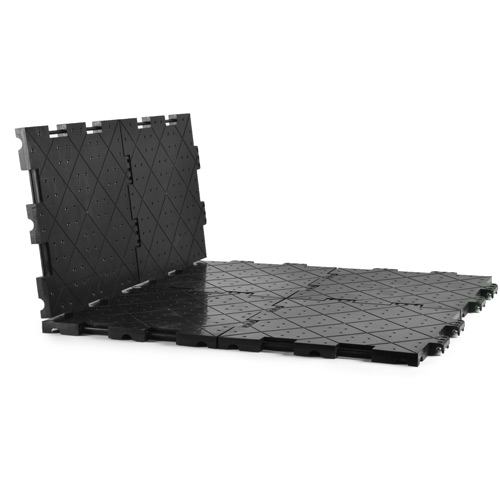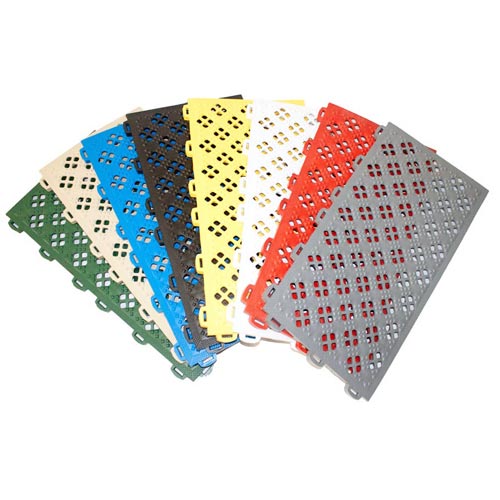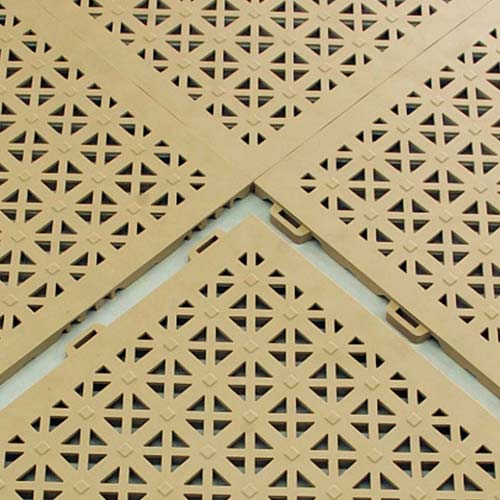 When enjoying the great outdoors during a camping trip, the right RV mat can ensure that the outdoors stays where it belongs, rather than tracking into the RV.
Some of the best features of RV outdoor mats include:
Waterproof or water drainage capabilities

Sun and UV resistant materials

Textured materials for slip resistance

Portable size and design

Stands up to chairs and foot traffic

Easy to clean

Allows people to scrape their feet

Creates a nice looking entrance area
Some people may be looking for a simple mat that sits outside the door of the recreational vehicle. Others may want a large mat or a series of interlocking tiles to create a sitting patio area outside the camper under the awning.
Some campers prefer durable, practical RV outdoor mats that allow for cleaning of shoes before entering the RV. Others may want to add a splash of color or to use a fashionable material to deliver just the right look for the ground at the campsite.
If camping in an area with some sand near a lake or river, the RV outdoor mats should be stable and sturdy. In a camping area where rain is frequent, the flooring should allow the rainwater to drain away to prevent slipping hazards.
Regardless of why campers want to set up flooring at the entrance to the recreational vehicle, the right RV mat can give the camp space a personalized feel, creating a home away from home.
What Are Some Stylish RV Outdoor Mats?
When seeking to create an inviting area outside the recreational vehicle, a splash of color is a great option. The material should be comfortable too, allowing people or kids to sit directly on it and play or relax.
When dogs are traveling inside the RV on the trip, a stylish RV mat can provide an area for the animal to rest comfortably outdoors. The dog will stay clean when resting on the mat, rather than walking through tall grass or brush that may have burrs and ticks.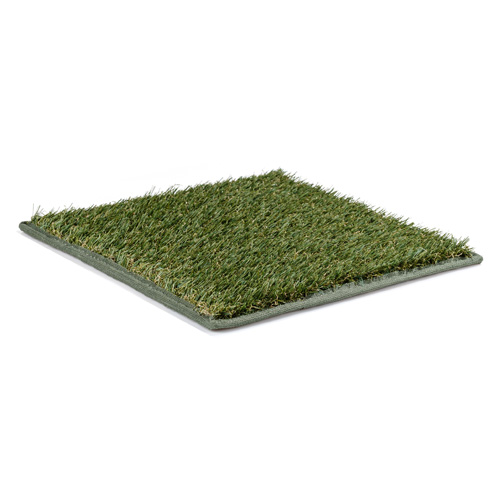 One popular selection among RV campers is the Go Mat Artificial Grass Mat. This is a high-quality style of mat that uses bright green artificial turf to create a great-looking sitting area.
It covers a large space at 7 by 10 feet, so it's perfect for a patio at the RV park. It can go over existing grass, bare dirt, gravel, or cement.
The artificial grass fibers, consisting of polyethylene plastic, measure 3/4 inches in height, providing a cushioned area for sitting. The faux grass blades weave into a backing layer to provide durability.
The mat can work well for creating a pet area just outside the camper. If dogs use the mat for pet waste, the owners can just rinse the stain resistant mat with water to clean it.
If necessary, commercial disinfectants may be used. Just be sure to rinse afterward in order to soak the disinfectant
through the turf. To clean away waste and eliminate odors during dry weather, dampen the area that your pets use with water or a combination of water and enzyme based cleaners.
When it's time to return to the road, the RV owner can roll up the mat and stash it in the vehicle until reaching the next campsite. Each mat weighs only 28 pounds.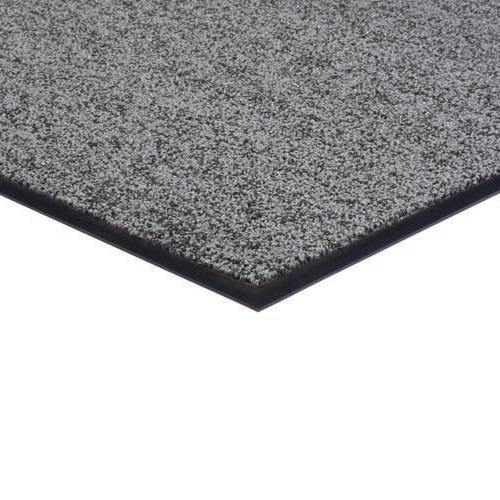 Another stylish option to use as an RV mat is the Brush Loop Carpet Mat.
This rug is available in custom cut lengths, so campers can order the perfect fit for the campsite.
This is an extremely durable type of carpet that works to scrape shoes before entering the camper. It consists of a thick and coarse yarn that will last a long time, even when used regularly.
It is available in four color options, including:
Charcoal

Burgundy

Navy Blue

Hunter Green
After using the carpet mat, the camper can roll it up tightly to store it in the recreational vehicle for transportation to the next destination.
What Is the Best Perforated RV Mat?
When used at a campsite where rain is possible, an outdoor mat for the entrance to the recreational vehicle may need to have perforations.
The perforated tile will allow rainwater to drain through the holes, so it doesn't pool on top. This creates a safer space, reducing the chances of a slip as someone steps down onto the ground from the RV.
Another advantage of using interlocking tiles to create RV outdoor mats is that they're easy to store until they're needed. The small tiles assemble and disassemble quickly, so campers can create a patio in very little time.
Stack the tiles in a storage area of the recreational vehicle when traveling between sites.
No matter what size of patio the RV operator is trying to create, these perforated interlocking tiles will work. Just add or remove tiles to create a specific size, whether it's 4x6, 9x12, 9x18, or 12x24 feet.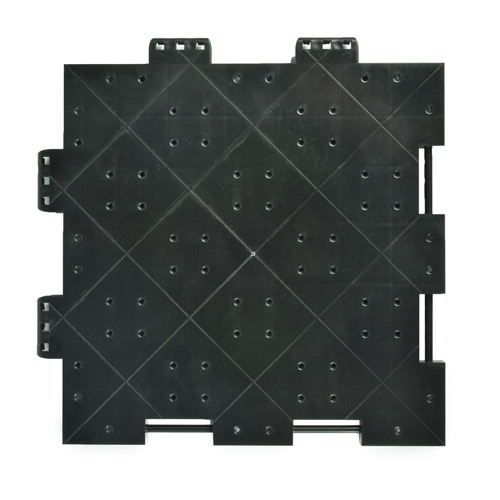 A smart selection for this use case is the Portable Outdoor Tile product. This is a no-break, rigid plastic that creates a highly level surface for almost any camping location.
This is an impressive interlocking plastic tile for creating a patio outside an RV, as it will work over grass, sand, gravel, or concrete. The 3/4-inch thick polypropylene plastic can support a large amount of weight without cracking or buckling.
Each tile measures 1-by-1-foot and weighs only 0.81 pounds, so it's easy for one person to handle for the installation. Having such a lightweight design is helpful for those who are trying to keep the overall weight that the RV must carry as low as possible.
The tiles pop together using a clip system on the edges that secures them tightly.
The Portable Outdoor Tile has tiny perforations that run through the entire thickness of the tile, so they will drain away water. For a faster draining perforated tile, consider the StayLock Perforated Tile.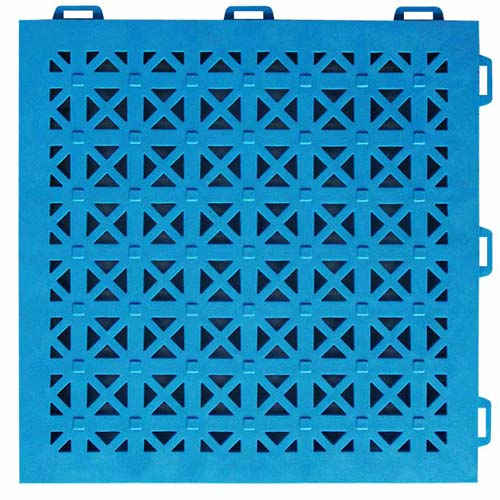 The StayLock tiles have triangle shaped perforations that cover a large section of the tile. Even so, the design of the tile maintains a high level of strength for mid to lightweight patio furniture and more.
Each tile consists of a waterproof PVC plastic material, which yields both cushioning and durability. The material also provides a high level of texture and cushion, so those walking on it will greatly reduce the possibility of slipping on a wet floor.
This is not a reversible tile, but it still will provide a long-lasting design for use with the camper. It carries a 3-year limited manufacturer warranty.
The StayLock tile is easy to assemble and disassemble. It makes use of a hidden interlocking tab and loop system on the underside of the tile to secure the installation.
Each tile measures 1-by-1-foot and weighs only 1.25 pounds. This is the perfect size for seeking portability and easy storage in RV outdoor mats.
Five different color options are available, including:
Blue

Gray

Green

Tan

Terra cotta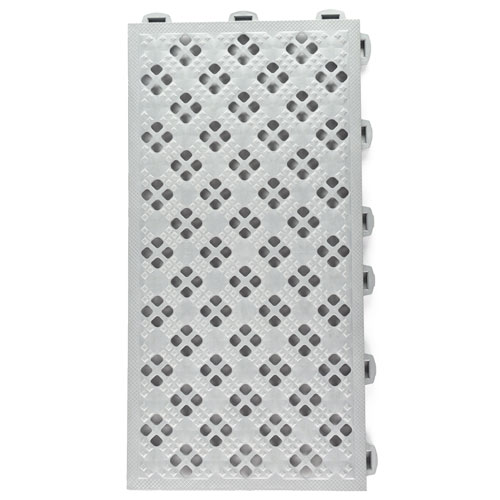 A similar colorful PVC plastic tile that works well for creating a patio area outside an RV is the Ergo Matta Perforated Outdoor Tile. These tiles have diamond shaped perforations that extend through the entire 9/16-inch thickness of the material.
Each tile uses tabs and loops on the edges to connect adjacent tiles securely. The tiles will connect and pop apart in very little time, making them ideal for temporary use at a campsite.
Each tile measures roughly 10x20 inches and weighs 1.6 pounds. This lightweight design further simplifies the install process.
The available colors for the Ergo Matta product include:
Beige

Black

Blue

Green

Gray

Red

White

Yellow
What Are the Best Rubber Mats to Use Outside an RV?
For those RV owners who just want a mat outside the door to the recreational vehicle, a few options will work. A simple, small mat may work better for some people than a larger patio sitting area.
Placing a mat directly outside the door gives people a place to scrape shoes before entering the RV. It also provides a secure place to step down safely without the possibility of slipping on wet grass or mud.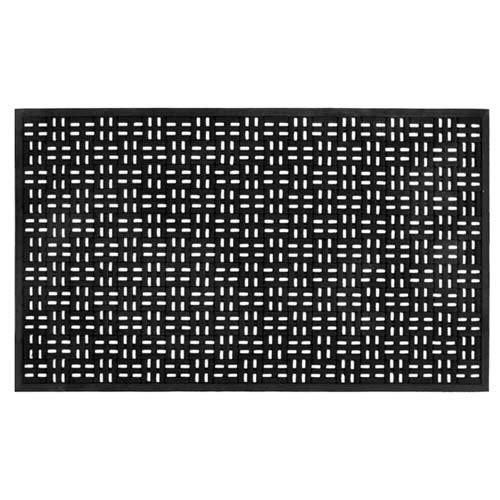 The AquaFlow Outdoor Entrance Mat is a smart choice for this use case. This rubber mat measures about 3 by 5 feet, so it's the perfect size to place outside the RV door.
At 1/2 inches in thickness, this mat is extremely durable. Rubber will last a long time, even when exposed to constant sunlight and weather.
The mat has perforations that extend through the entire thickness of the mat, allowing rainwater to drain away. The surface of the mat includes rubber ribs and nubs that catch dirt and mud, making it easy to scrape shoes.
It even has beveled edges to reduce the possibility of someone tripping over the lip of the mat.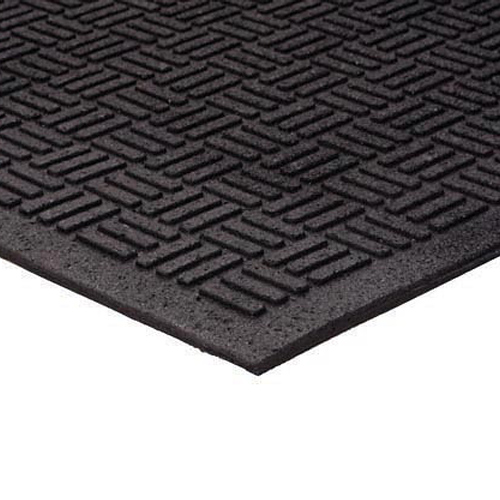 Another rubber mat option that covers a little less space, making it more portable, is the Mission Mat. This rectangular mat measures 2 by 3 feet and weighs only 9 pounds, so it's easy to carry into and out of the RV.
It uses a parquet pattern of raised sections on the top layer, which makes it easier to scrape shoes to wipe off mud and other debris. Because of the alternating orientation of the raised sections, people can scrape their shoes by moving them in any direction.
This rubber Mission Mat will go directly over any kind of ground that's found outside the RV's door, including gravel, cement, grass, or dirt. The rubber material offers a sturdy texture to reduce the possibility of slipping.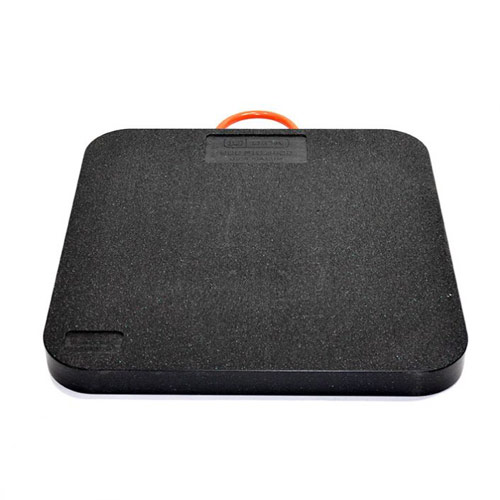 For a highly sturdy and stable option to help in leveling the RV, consider an Outrigger Pad. This pad is available in multiple sizes, including a 15-by-15-inch coverage size.
As its primary use case, the Outrigger Pad will support the weight of outriggers and jacks for heavy vehicles. The safety textured surface tread prevents the outriggers from slipping out of place. This is great for RVs, campers and travel trailers.
They are small, easy to clean and store, and lightweight with unmatched durability.
Use the pad to support the jacks used to level the recreational vehicle.