What Makes a Good Hospital Floor?
By Paige Cerulli Created: May, 2022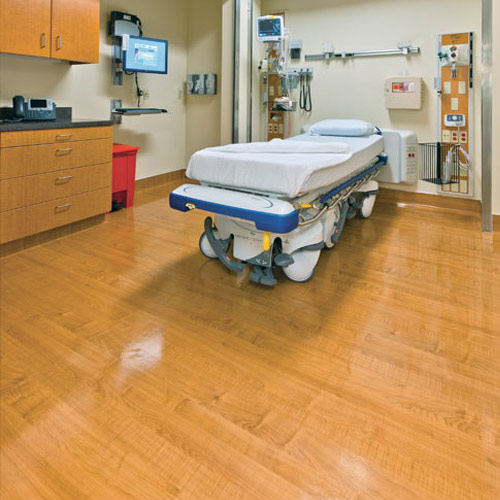 The quality of your hospital floor has a direct effect on the safety of your staff and patients. It also contributes to the hygiene of the building, as well as its aesthetic and overall atmosphere. If you're choosing a flooring product for your new hospital or for a renovation, it's important to choose a good hospital floor product.
What Makes a Good Hospital Floor?
A good hospital floor needs to have several distinct qualities.
Durability
Whether you're considering a rubber or LVT product, you need to start with a durable floor. Hospital floors see significant foot and cart traffic, and the floor needs to be strong enough to support this traffic, as well as heavy hospital machinery.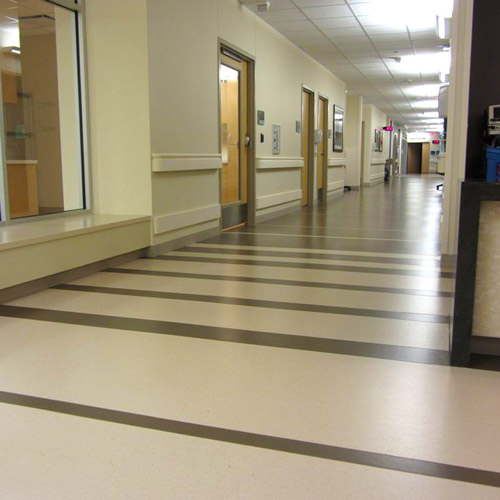 Slip Resistance
Depending on where you're installing the flooring, slip resistance may be essential. A flooring that maximizes traction is important in patient rooms and procedure rooms, since it can help to prevent slips and falls, contributing to staff and patient safety.
You may also want to look for a flooring product that is forgiving and that offers some mild cushion, since it can help to keep staff comfortable during long hours on their feet.
Anti Microbial
Most hospital flooring products have been designed to be anti microbial, inhibiting the growth of bacteria and helping to keep the room more hygienic. You may want to also look for products that have anti-fungal properties, too.
Ease of Maintenance
Hospital flooring will be cleaned frequently, so look for a product that is easy to clean and that supports the cleaning methods you already have in place. A product that can withstand the cleaning and disinfectant chemicals that you already use will be a seamless addition to your hospital.
Aesthetics
It's also important to choose a flooring product that is aesthetically pleasing and that matches the decor of your hospital. Look for products that are available in a variety of colors and finishes, especially if you want to be able to install the same product in different colors throughout the hospital.
The Best Hospital Floor Products for Sale
At Greatmats, we sell several products that are ideal for use as a hospital floor.
LonMoire Topseal Vinyl Rolls
The LonMoire Topseal Vinyl Rolls feature a distinctive contemporary style that will be right at home in an ICU or health clinic. The wood grain finish is beautiful and detailed while still being versatile enough to complement many decor schemes.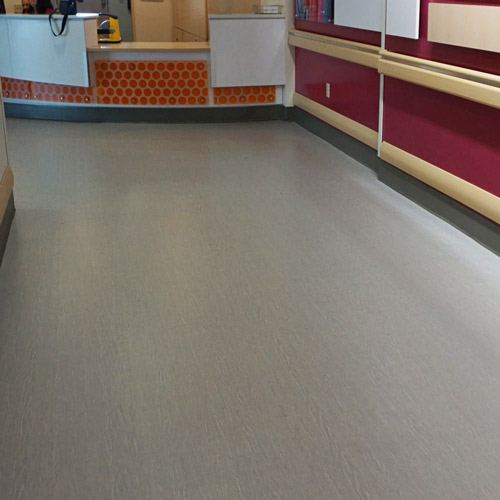 This commercial grade sheet vinyl is designed for durability and long-lasting performance. It features a topseal urethane finish that reduces scuffs and makes for easier maintenance, saving your maintenance team both time and money.
The rolls are also antimicrobial, and they're free of phthalates. The antimicrobial properties help to prevent odors from developing in your flooring.
This product also features GreenMedic, which helps to restrict the growth of bacteria, contributing to a safer environment.
LonEco Topseal Vinyl Rolls
The LonEco Topseal Vinyl Rolls are antimicrobial and feature a urethane finish that offers extra protection while reducing scuffing. This hospital grade flooring is often used in emergency rooms, clinics, surgical suites, and nursing homes.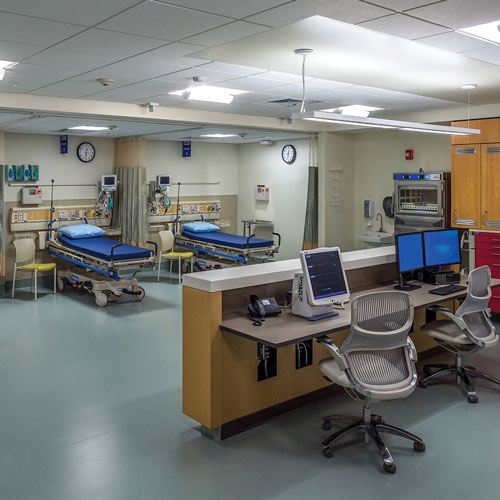 This flooring is made of 50% recycled content, making it an environmentally friendly choice. It has the lowest VOC properties of any vinyl flooring product available, contributing to a safer, healthier space.
This product is available in 16 different colors, each with a fleck pattern that adds visual appeal to a space without being overwhelming. This sheet vinyl is ideal for various health settings, including children's clinics, regional healthcare centers, patient rooms, and more.
Wood Grain Natural Vinyl Flooring Roll
The Wood Grain Natural Vinyl Flooring Roll is a commercial quality vinyl flooring that's highly durable. The floor offers excellent sound absorption, contributing to a more enjoyable hospital space.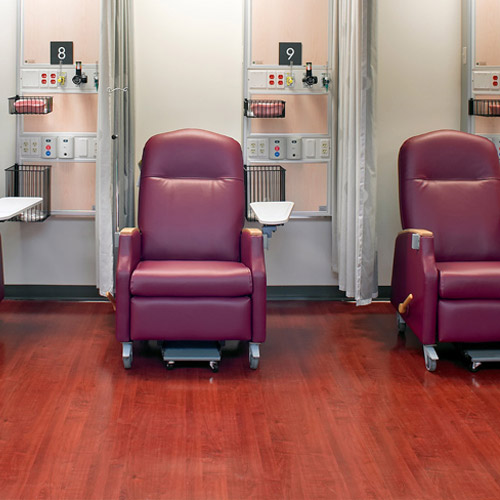 Both stain- and slip-resistant, the floor can help to maximize safety while being durable enough for use in high traffic areas. The urethane finish also maximizes durability and makes for easy maintenance.
This product is designed specifically for areas that see a high volume of foot traffic. It won't fade when exposed to sunlight, and is resistant to abrasions.
LonZebra TopSeal Vinyl Rolls
The LonZebra TopSeal Vinyl Rolls are available in a beautiful linear pattern that makes a pleasing addition to most spaces. The flooring highly resembles real wood, but it offers the durability and unique properties needed for a hospital setting.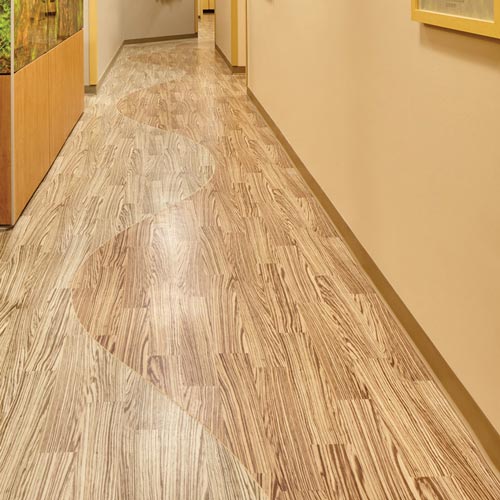 The flooring is antimicrobial and free of phthalates and SVHC, so it contributes to a healthy and safe environment. The factory-applied urethane finish enhances its durability while protecting the floor from scratches.
The wear layer makes it easy to perform regular maintenance, and you can damp mop the floor, scrub it with a buffing pad, and use a microfiber mop pad for a thorough clean.
The commercial grade floor is ideal for healthcare applications, including in hospitals.
TackyMat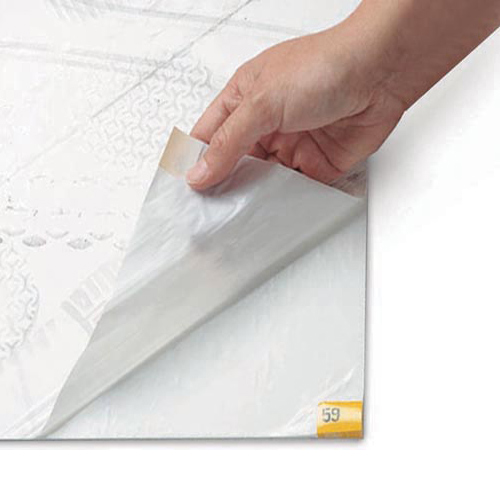 The TackyMat captures dirt and debris from shoes, helping to keep the hospital space cleaner and more hygienic. The mat features an anti-microbial surface and is an ideal addition to clean rooms, laboratories, and surgical suites.
The mat has anti-slip traction to help prevent slips and falls. Once a sheet is contaminated, you can just tear that disposable sheet away, exposing the underlying sheet.