Different Types of Gym Turf & Best Products
By Paige Cerulli Created: August, 2022 - Modified: August, 2023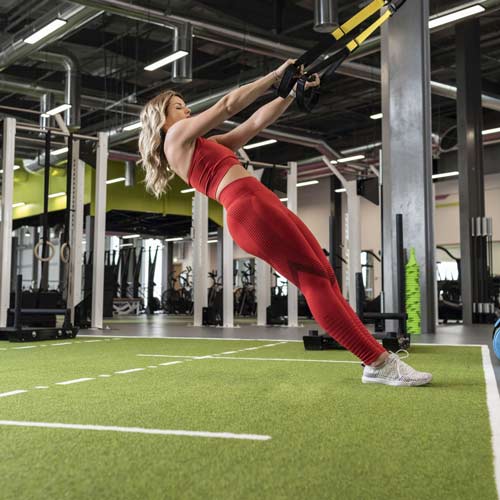 In gym settings, turf plays an important role. Gyms might use turf for many purposes, from facilitating cross training workouts to creating a space where athletes can use turf sleds. To offer this type of versatility and even specialty training, it's important to choose the right gym turf for your facility.
What Kind of Turf Do Gyms Use?
Whether creating an indoor or outdoor training space, gyms use artificial turf for several reasons. The first is the sheer durability of the turf.
Artificial turf is often made of polypropylene, polyethylene, or nylon, which makes the material tough and long-lasting. This turf can withstand the high amount of traffic and use it will see in training facilities.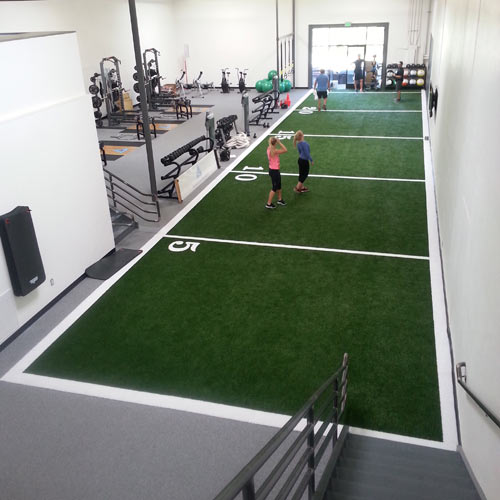 That durability means that these turf fields are usable, even after inclement weather that would leave genuine turf fields wet and muddy. The durability also means that the areas are low-maintenance, since they don't require the mowing, fertilizing, watering, or even divot repair that genuine turf would need.
This artificial turf is available in several forms, any of which can be used as gym turf. Artificial turf rolls are ideal for covering larger areas, including entire rooms or fields.
While rolls offer maximum coverage, they are very heavy to move and install, meaning you will need a team of people available to help with that installation.
Artificial turf is also available in
interlocking tile form
. The tiles are more conveniently sized and easily manageable than turf rolls are, and they're often ideal for smaller spaces, like a room, where using a roll would result in lots of wasted material.
Choosing the Right Gym Turf
Once you've decided whether a
turf roll or tile is right for your gym
, you will need to consider other qualities to determine which product is best for your needs.
Pile Height
Gym turf is available in varying pile heights, creating a different feel and performance. A higher pile height offers more cushion and comfort for games like soccer, while shorter pile heights are suitable for golfing.
Pile height can also affect a product's cost. Greater pile heights tend to cost more than products with shorter pile heights, since more material is required to make those longer fibers.
Noise Dampening Properties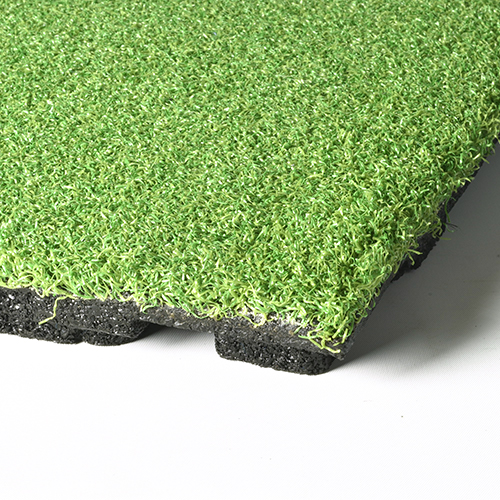 Turf products offer varying noise dampening properties. A product with a taller pile height and an underlayment will offer maximum sound dampening, which can contribute to a more enjoyable gym environment.
Lifting weights, strength training, and pushing sleds can all generate significant noise. Investing in turf can keep these areas of the gym quieter, encouraging athletes to stay longer and even making your gym more appealing to potential new members.
Durability
Gym turf is designed to withstand the high degree of use it will see in these athletic settings, making it a long-lasting investment in your facility. Many of these products are backed by warranties of one year or more.
Installation Method
The way that you install a product will also help you to decide which type of turf is right for your needs. For instance, if you're installing a small training area within a home garage, you might want to choose artificial turf tiles that you can place directly over a concrete floor.
Some turf products are designed to eliminate the need for additional infill. The turf, itself, includes the cushion that infill creates, and that can save you the extra cost and time of buying and installing infill.
This padded turf often features a black rubber backing that helps to absorb shock. The cushion the padding provides can help to protect athletes from repetitive stress injuries, allowing them to train harder with reduced risk of injury.
Maintenance
Most turf products are easy to maintain. When installed outdoors, you can often hose them off or rely on rain to do the job for you.
When installed indoors, you can maintain the turf with a vacuum cleaner or a leaf blower.
Colors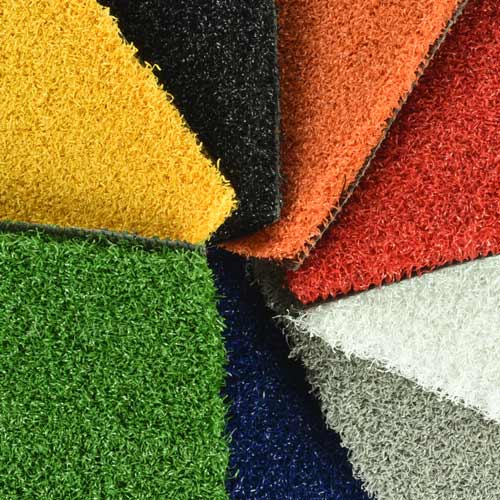 Gym turf is available in the traditional green, but you will also find several products are available in additional colors. Options like red, yellow, and blue are available, giving you plenty of choices when planning out the flooring for your gym or athletic facility.
With so many colors available, you can create fields in different colors so that they're easily identified. Alternatively, consider choosing colors that reflect your branding or team's colors.
Finding the Right Flooring for Your Gym
When it comes to gym flooring, you will find a wide selection of options at Greatmats, including plenty of artificial turf products. Our products are available at many different price points, and many of our products are designed for an easy installation to save you time and money.
If you have questions about which product is right for your project, contact our Greatmats customer service team. We're always happy to provide you with additional product details, shipping quotes, and samples.