What Kind Of Flooring Can Be Used On A Lawn?
By Lisa Hobbie Created: May, 2021 - Modified: May, 2023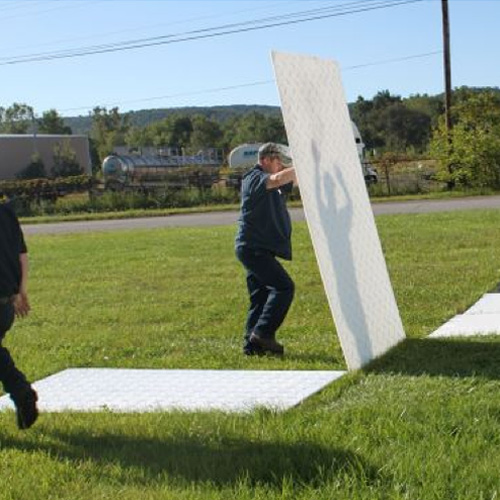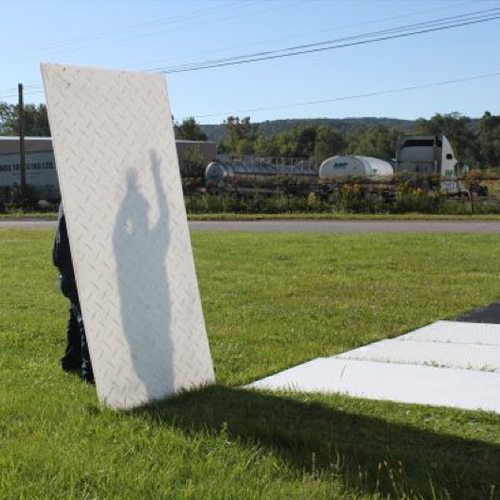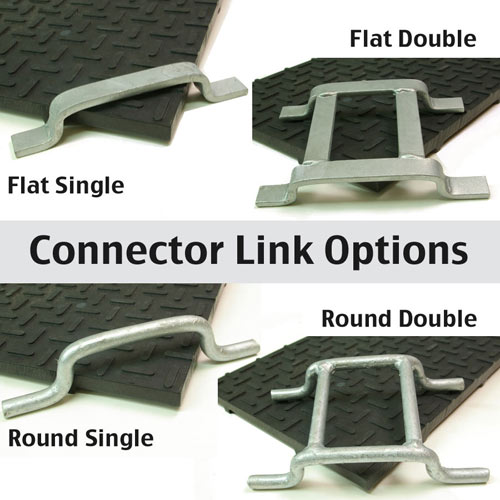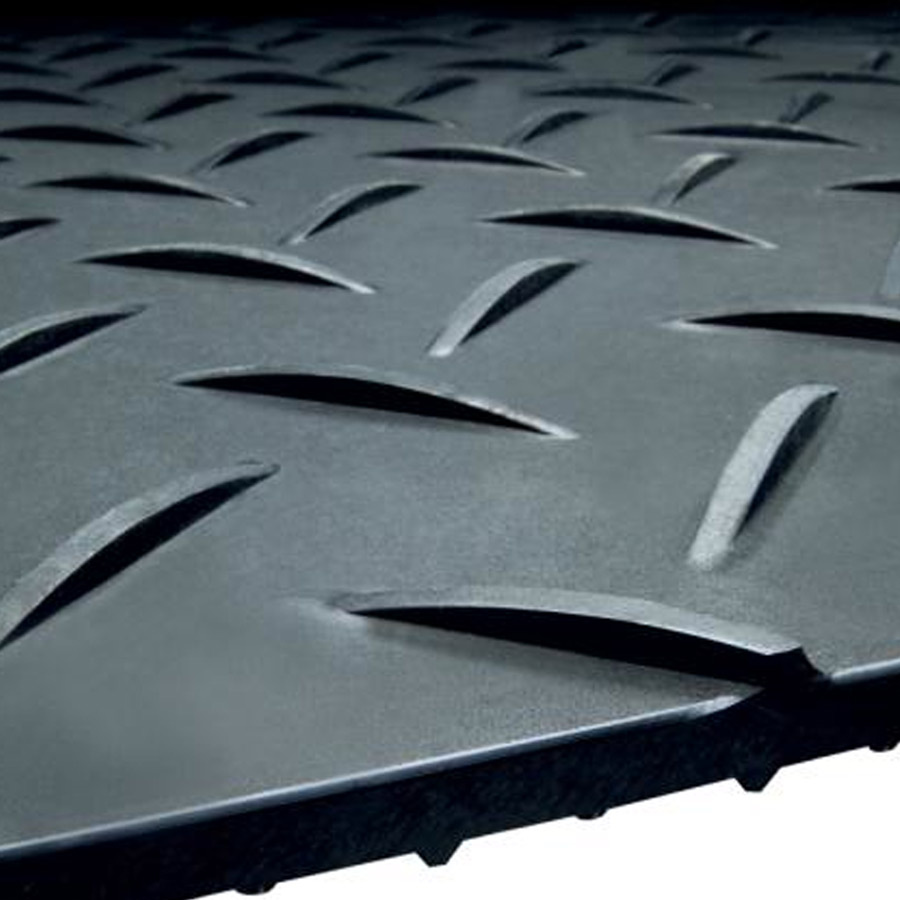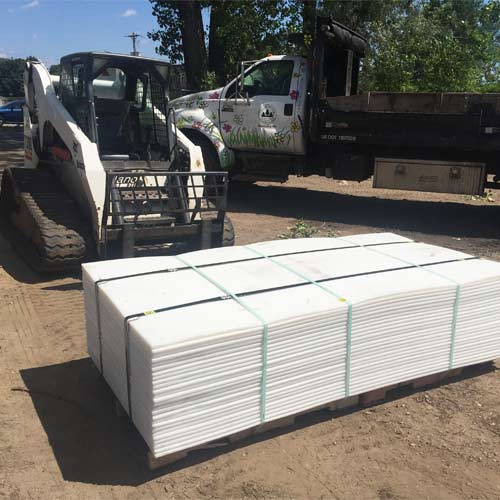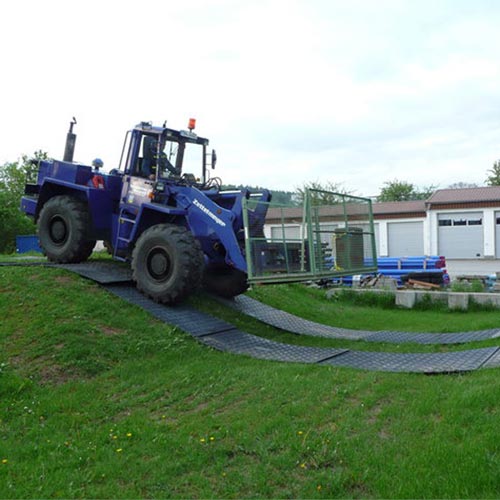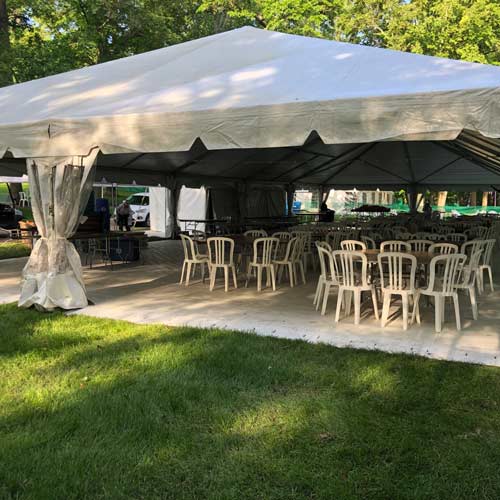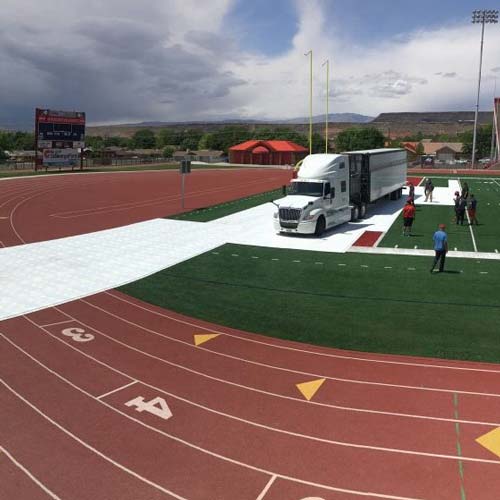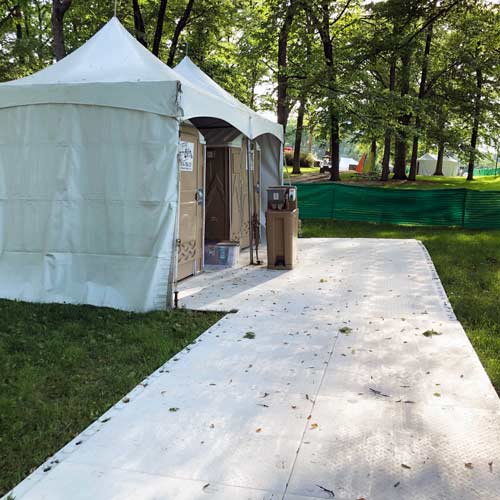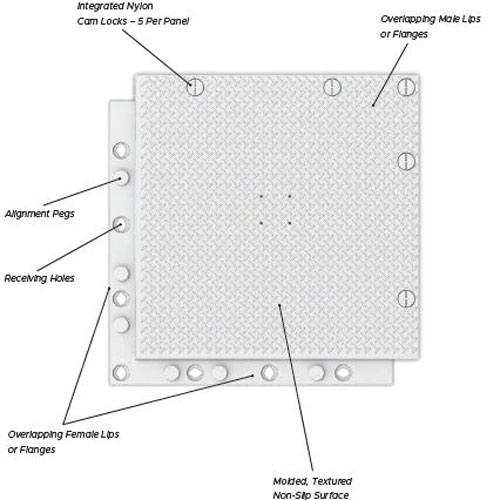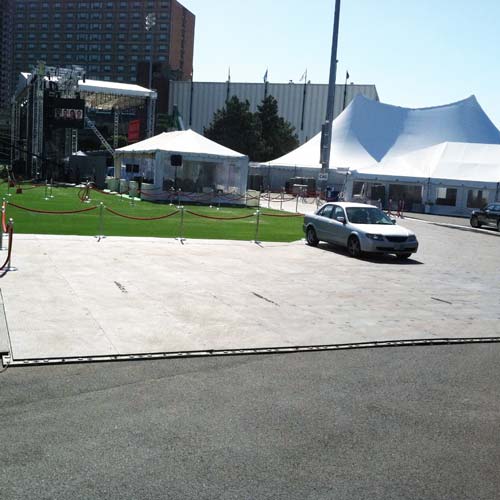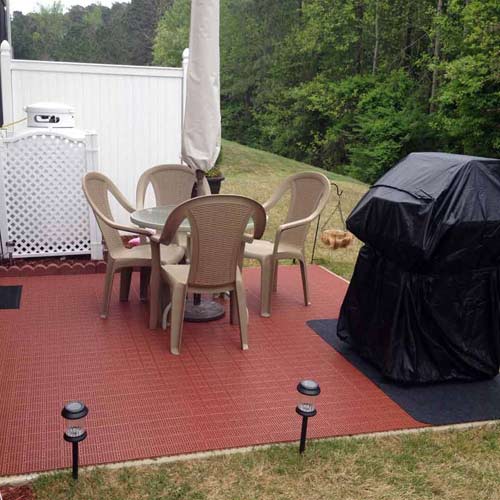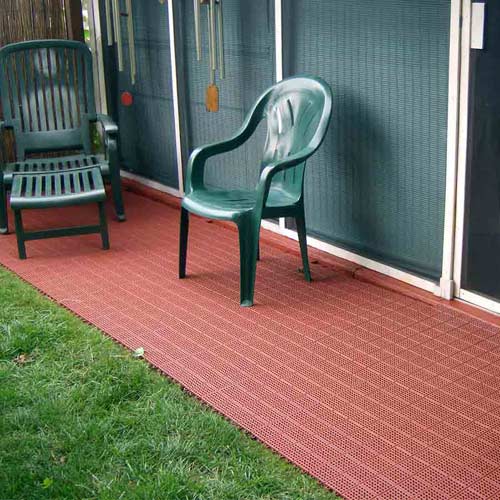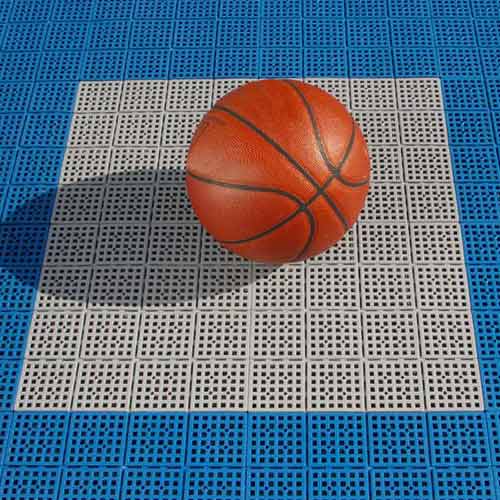 If you are shopping for lawn flooring - either to protect a home lawn if you're bringing in construction or other heavy equipment, or, if you are looking for flooring for an outdoor patio, party, or event, there are many options available. From artificial grass to vinyl flooring and faux wood options like maple and oak, there are lawn flooring products for just about any need and application.
Greatmats is a supplier of some of the best
lawn flooring
products available, anywhere, with the following 6 being the most popular ones you can buy:
This list offers the best of all worlds - ground protection mats, outdoor tile, decking, event flooring, and more. Regardless of the reason why you are in the market for lawn flooring, one of these solutions should be perfect for you and your space.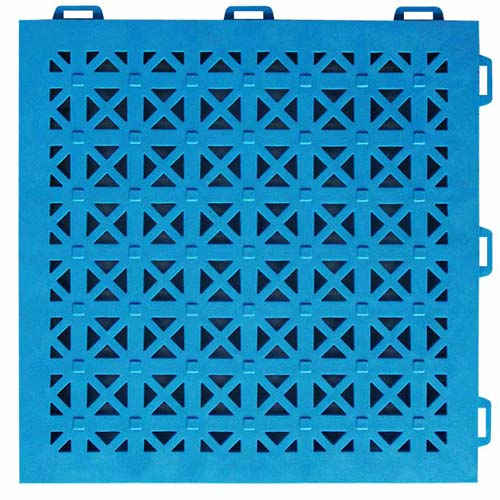 StayLock Tile Perforated Colors are not only attractive and vibrantly colored, but they are also a high performing drainage tile with a non-slip surface texture. The 1x1 waterproof tiles are made in the USA and come in many bright colors.
They are super fast and easy to install with an active locking connector system, and the finished surface will float over a lawn. Once installed, the tiles will not separate unintentionally, and with their ASTM fall height rating, they will provide protection from fall-related injuries. This is a great option if you're looking for flooring for a patio space, landscaped area, outdoor event, or grassy area around a pool.
Due to the drainage holes in the surface, you should lay a landscaping cloth down first if you plan to keep this product installed long term. This will prevent grass and weeds from growing up through the flooring. They can also be easily removed for temporary installations.
This is a popular solution for backyard play areas and playground flooring under swing sets, slides, playhouses, and climbing equipment. It helps prevent erosion and offers a little extra safety.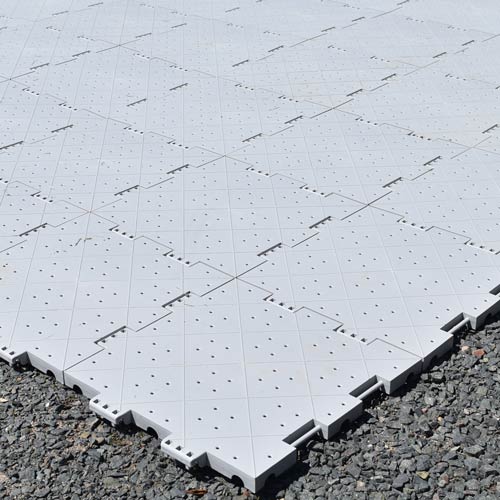 Portable Outdoor Tent Tile 1x1 ft is a durable and attractive flooring solution that can easily go over dirt, grass, gravel, sand, concrete, or pavement. Made from very strong plastic, the tile has drainage holes for wet areas, it's non absorbent, and it has an anti-slip surface texture. Once installed, they hold their shape - even when placed under pressure, and they will not come apart unintentionally.
If installing over grass, it works best if the area is freshly mowed to prevent the grass from poking through the perforations in the surface. It is also handy to have a small sheet of plywood handy for aiding in installation over soft or uneven ground surfaces. The plywood can be placed under the seems to provide resistance when snapping the tiles together. It can be removed once the connection is complete.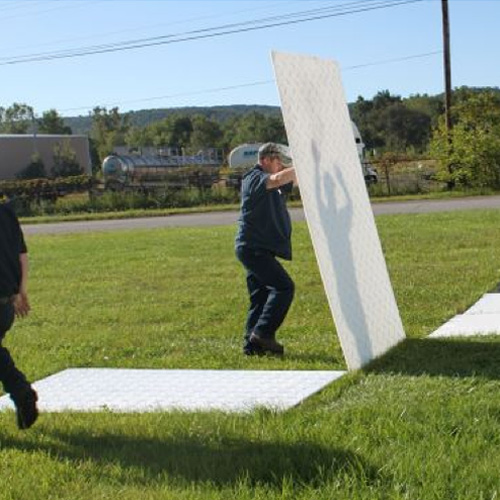 Ground Protection Mats 4x8 ft Clear are excellent mats to install over lawns to protect them from the extreme weight of equipment used by contractors and landscapers. The clear mats are unique as they allow the sun to shine through to prevent the existing grass lawn from dying.
The mats can be linked together, making turning in equipment a breeze. The ground protection mats offer a solution that saves time, energy, and hassle as they will not break, splinter, waterlog, or warp like plywood does.
These can also be very handy for temporary parking lots at events such as backyard weddings or parties to prevent rutting of the existing lawn and provide a clean, stable surface in the event of soft or soggy ground.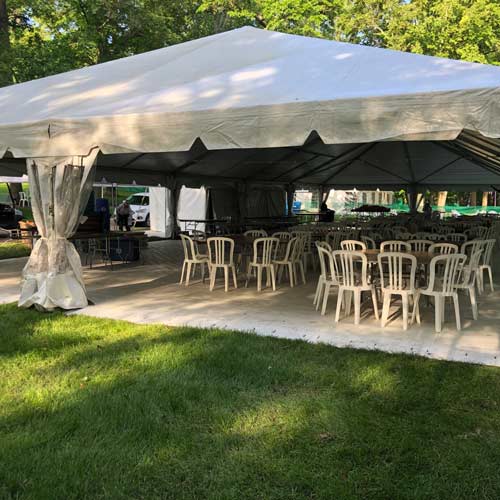 Matrax Light Duty Pedestrian Composite Mat is a pedestrian mat that provides excellent protection for lawns and grass. Made in the USA of tough polyethylene plastic, it features a diamond top texture and is constructed with aeration holes for safe use over natural grass, as they allow water, light, and air through.
This mat system looks and performs really well for temporary walkways, event flooring, flooring under a temporary stage or platform, and more - whether on grass or other outdoor surfaces. They feature a cam lock system that provides for a sturdy, solid floor that is very easy to install.
Matrax Heavy Duty Drivable Composite Mats 4x4 Ft
are among the best mats suitable for supporting heavy loads. This product is a suitable temporary event parking solution - even over grass, as well as an option for tent flooring. They would also work well as a surface for a park that will host a travelling fair with rides and other heavy equipment.
These mats are designed to produce a covering that shields grass or turf from stress of events or weight of equipment needed to set up stages, tents, and parking areas. It also allows sunlight through them, promoting photosynthesis.
The mats are easy to install, and their diamond top texture delivers a safe and sturdy, resilient working surface for events that is free of tripping hazards.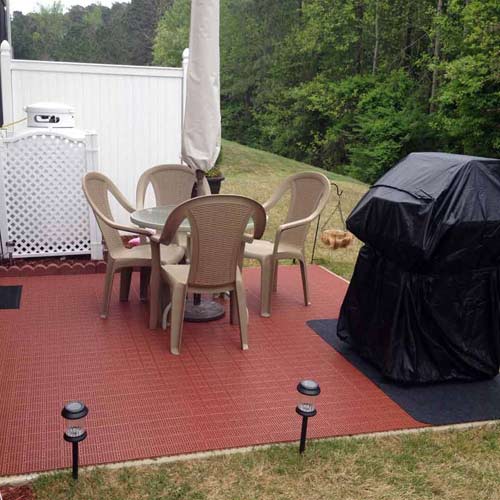 Patio Outdoor Tile is another high performing lawn flooring product that offers a non-slip surface texture and is fast drying. These 1 x 1 foot interlocking tiles feature a surface that is very comfortable. It's a lightweight product made from PVC material, making it super manageable and easy to install with a snap together design. They prevent the growth of mold and mildew, and are safe to install over grass.
Greatmats customers have used this product as an inexpensive and sturdy solution to crossing the lawn with a wheelchair and to cover muddy patches in the lawn to prevent dogs from tracking mud into their houses.
Greatmats - For the Best Lawn Flooring
Whether you plan to purchase one of the products highlighted, or, if you want to explore other products available, just reach out to the service staff at Greatmats. Together, you can determine the perfect flooring solution - whether a temporary attachment solution or more permanent model. Regardless of the product you select, you can't go wrong when it comes from Greatmats.