What is the Best Speed and Agility Flooring?
By Kyle Schurman Created: February, 2020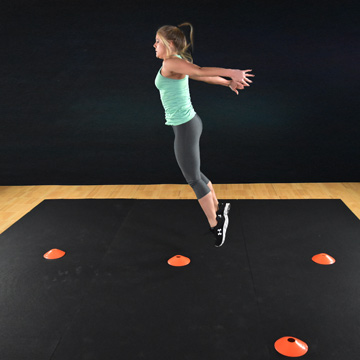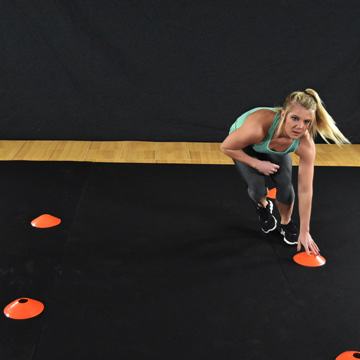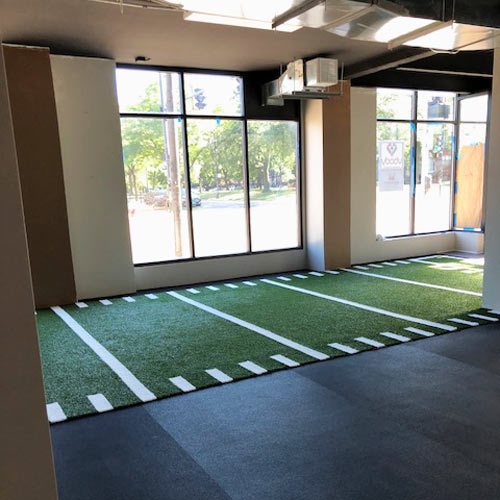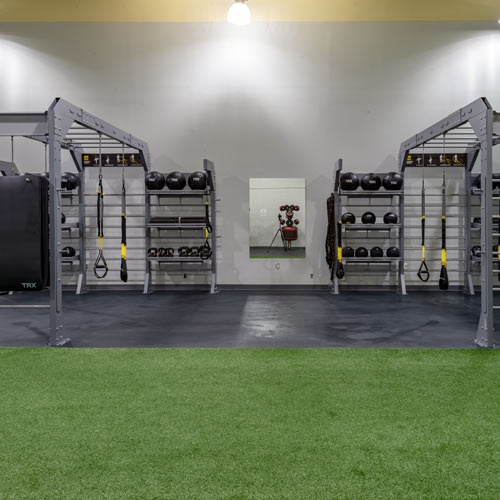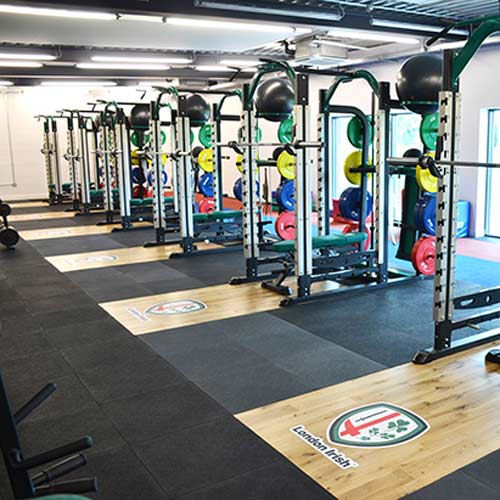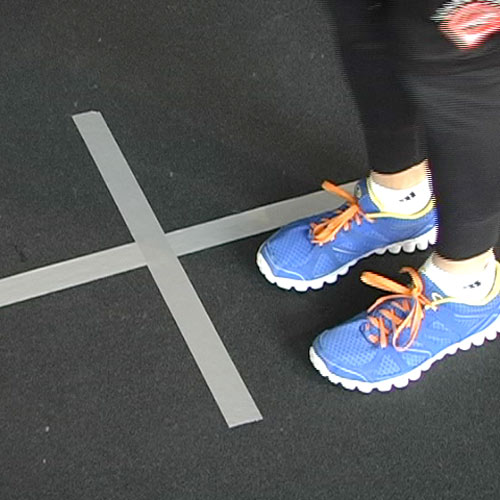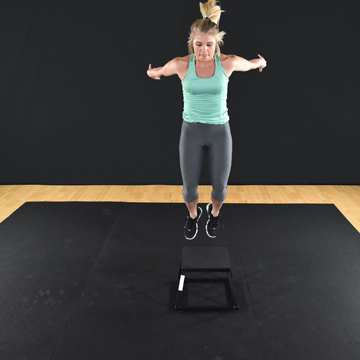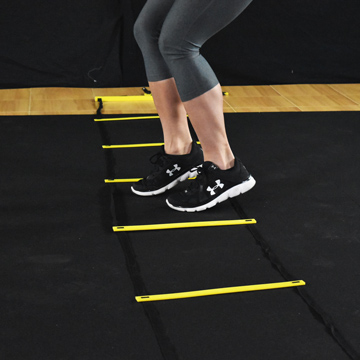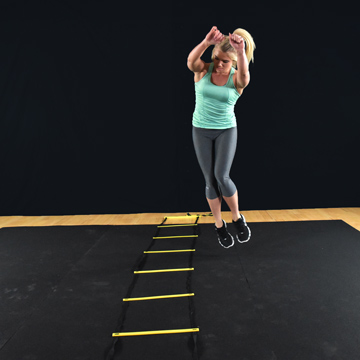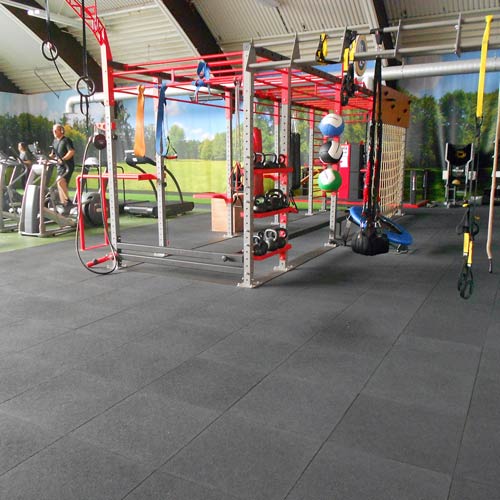 When you need speed and agility flooring for an athletic studio, you will want a versatile type of floor. It needs to provide firmness to make quick movements, a slight texture for slip-resistance and traction, and cushioning for impact absorption.
You can use speed and agility flooring for all types of exercises, including ladder drills, side-to-side jumps, and aerobic training. With the right type of floor, you'll be able to challenge yourself in your workouts, achieving your highest level of performance session after session.
With a high performing type of floor surface, you will feel fresher during and after your workouts. This allows you to work out for longer periods and more frequently, ensuring you are gaining the biggest benefit from your exercise program.
Here are some of the best options for speed and agility flooring.
Greatmats Gym Turf Pro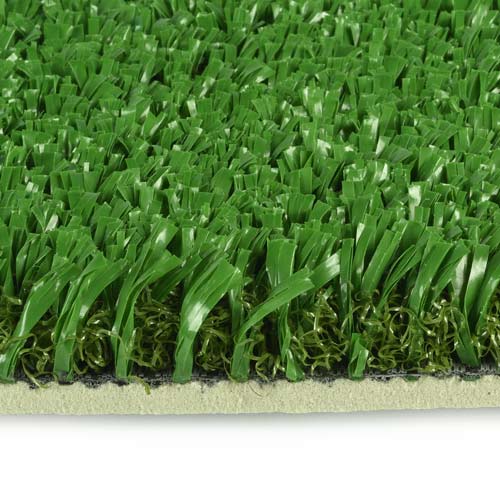 Customers like the Greatmats Gym Turf Pro product as a speed and agility flooring for good reason. For starters, it looks great with a turf upper layer and a 5 mm (or 0.20 inches) thick foam backing.
The 7/8-inch thick polyethylene yarn on top is available in several different color choices, so you can move beyond the basic green that's common with artificial turf. It has the traction that athletes need when making quick cuts or just doing straight ahead sprint workouts.
If you place a cone on the top of the material to mark a lane or finish line, it will stay in place, as the faux turf sits flat without uncomfortable undulations.
The foam cushioning on the back of the mats will keep the athletes' knee and ankle joints feeling fresh throughout the entire exercise session.
The upper layer is guarded by a UV protective coating, so you can install it indoors or outdoors with equal levels of success.
V Max Artificial Grass Turf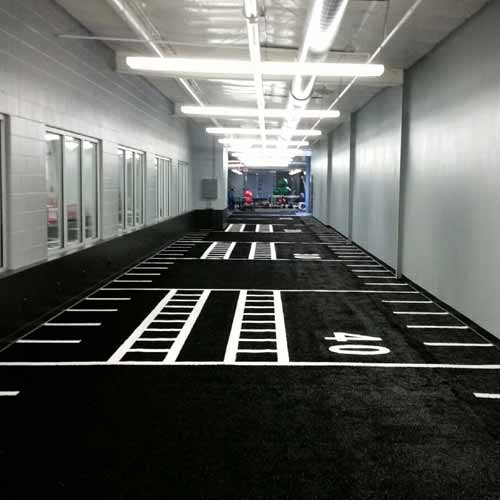 When you need a big coverage area indoors or outdoors in your speed and agility flooring, count on the longevity and value you'll receive with the V Max Artificial Grass Turf.
The upper layer of this faux turf matting consists of a polyethylene and nylon yarn that's 3/4 inches thick, which creates the perfect traction for all kinds of workouts, including for running and sprinting. The green turf will brighten up the look of any athletic facility in winter or summer.
On the back side, you'll find a nice layer of cushioning with a 5 mm foam backing. Athletes can work out for long periods of time with the reliable cushioned layer.
At 12 feet in width, these faux grass rolls will cover a ton of space in a hurry, which reduces your cost per square foot and gives you an excellent value.
Turf Interlocking Tile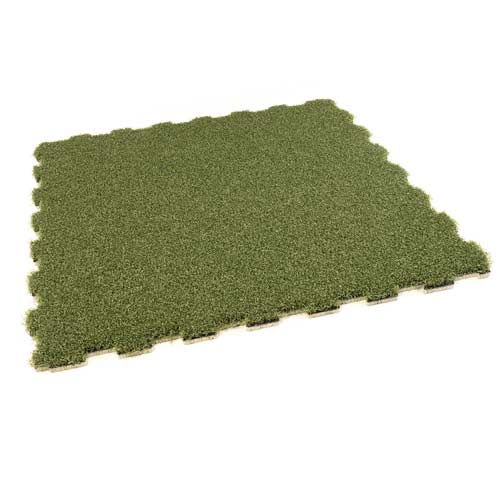 Some people prefer a slightly thinner pile height in the turf, especially for sprint workouts. The Turf Interlocking Tile is a nice choice in this case, as it has a 9/16-inch thick pile consisting of polypropylene.
The foam base has a 3/16-inch thickness, so the overall thickness of this speed and agility flooring is 3/4 inches, which is a bit less than the other artificial turf options on our list. It still delivers a nice level of cushioning, but some athletes just prefer a thinner type of flooring.
This is an interlocking tile type of product, which simplifies installation. Each turf tile measures about 4 by 4 feet, meaning you can cover a lot of area with ease.
Plyometric Rubber Gym Roll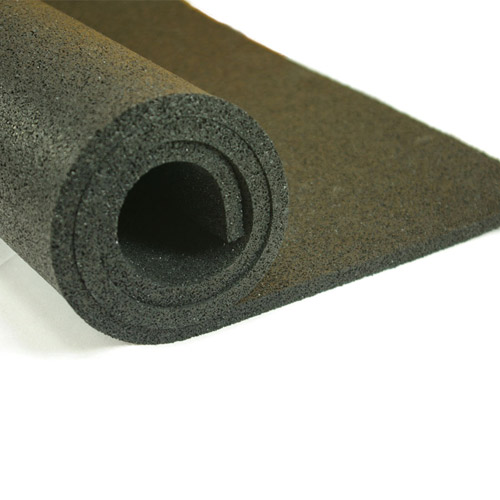 For a simple and economical means of delivering cushioning and amazing traction in speed and agility flooring, our Plyometric Rubber Gym Roll is a popular choice among customers.
Plyometric workouts are great for cardiovascular benefits, but they sometimes are hard on the joints of the athlete. By placing this 3/8-inch thick rubber on the floor, you'll create a perfect workout space in no time at all.
Sprinters will receive an excellent level of traction from the rubber surface, allowing them to make quick movements.
Rubber rolls deliver a good value in an exercise floor, as they last a long time and have a lower price per square foot of coverage than many other options. These 4-foot wide rolls will cover a lot of space in no time.
High Impact Athletic Rubber Tiles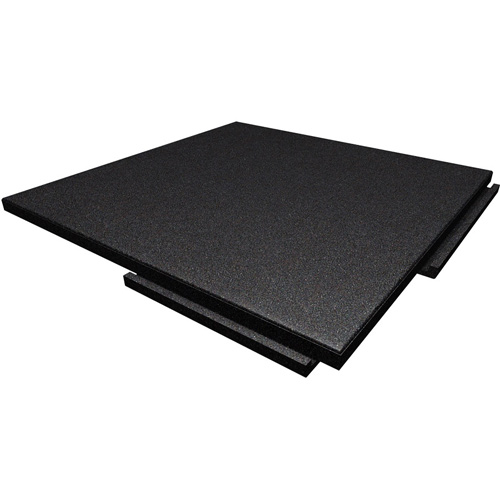 If you're looking to cover a smaller space, but you prefer the idea of rubber exercise flooring with maximum impact absorbing properties, consider the Sterling Athletic Rubber Tiles.
These tiles cost a bit more than rubber rolls, but they have 1.25 inches of thickness, which delivers an impressive level of cushioning for tough exercise classes. And the tile design makes an added perk for exercises like four square drills as they squares are naturally marked by the edges of the tiles.
These 2-by-2-foot tiles lock together securely during installation, giving you a firm footing for your speed workouts. Rubber has the traction athletes need to generate top speed or to make quick cuts for agility workouts. There's even border and corner edge ramps to reduce any tripping hazard for this floor.
This is the best option if you're workout space will also included heavy weight training.
Any time you need the highest quality of speed and agility flooring, count on Greatmats to deliver. We have many products at a good value, all ready to ship.