What's the Best Flooring for an Outdoor Sensory Playground?
By Paige Cerulli Created: November, 2022 - Modified: August, 2023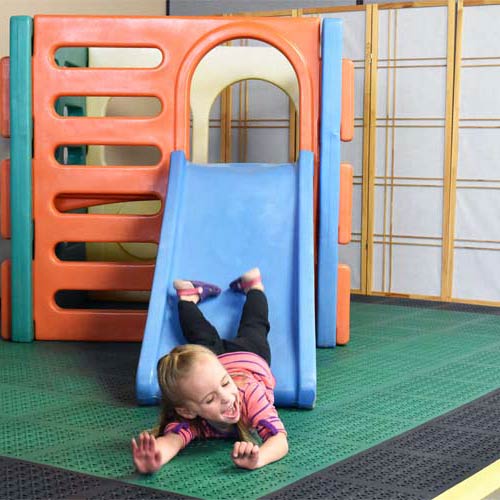 Designed to provide sensory stimulation for growth and development, an outdoor sensory playground is a fantastic addition to your school, park, or even your home. In designing your playground, it's important to choose the right flooring, and Greatmats has plenty of options.
Benefits of an Outdoor Sensory Playground
A sensory playground helps to stimulate the senses, providing valuable support to child development. Sensory play can promote cognitive, language, social and emotional, and creative development, so a sensory playground has many important benefits for children.
A sensory playground might combine colors and textures, fragrant garden plants, a sandbox, equipment to facilitate movement, and more. It not only gives kids a chance to play, but also a place to explore ideas, make friends, and enjoy physical activity.
While sensory playgrounds are beneficial for all children, they can also provide valuable therapy and support to children with autism and developmental disorders.
Choosing Flooring for Your Outdoor Sensory Playground
When designing your playground, it's important to start with the right flooring. Look for the following qualities in your playground flooring:


Fall height rating: A product that is fall height rated is proven to reduce the risk of injuries when children fall from a particular height. Make sure that the fall height rating is at least the same, if not greater, than the height of the highest piece of equipment that will be on the playground.


Tile size: Think about the ideal tile size for your space. A smaller 1x1 Ft. tile may be ideal for a small playground, while a larger 2x2-foot tile may be the best choice for a large space.


Traction: Playground flooring should have a surface that maximizes traction. Anti-slip surfaces can help to prevent falls when kids run and play.


Drainage: A product that will be used outdoors needs to have some sort of drainage system. That might consist of perforations in the tile or channels along the side that direct water away.


Durability: A tile needs to be highly durable, especially when exposed to the high amount of foot traffic that a public playground can see. The flooring also needs to be able to withstand other elements, like UV rays, hot and cold temperatures, and snow and ice. You may also want to consider the length of the manufacturer's warranty on any product.


StayLock Tile Perforated Colors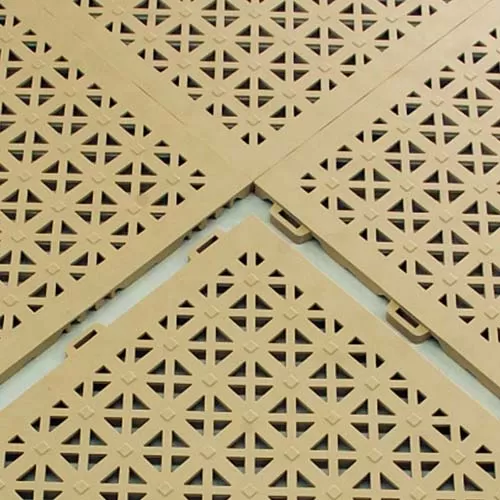 The
StayLock Perforated Tile
feature a 20-inch ASTM fall height rating and a non-slip design to help maximize the safety of your playground. The tiles are waterproof and fast draining, which means kids will be able to use the playground soon after heavy rain.
Measuring 1x1 Ft., these tiles are available in multiple eye-catching colors. You can order them in multiple colors and create fun patterns and designs.
The tiles' active locking connector system makes for a fast and easy DIY-friendly installation. They are a highly durable flooring choice and feature a one-year warranty.
Sterling Playground Tiles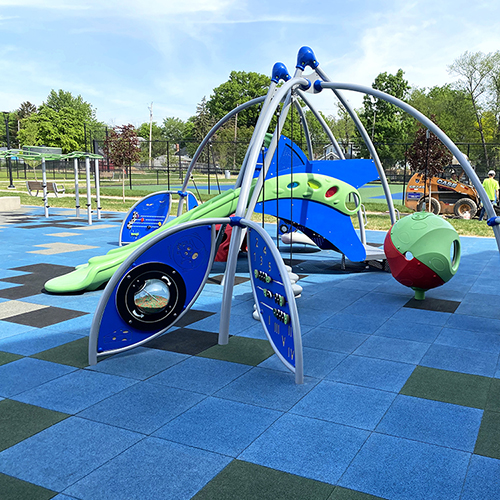 The
Sterling Playground Tiles
feature up to a ten-foot ASTM fall height rating, making them an ideal choice for playgrounds with higher equipment. These commercial-quality tiles are highly durable and resist fading, mold, and mildew, so they're a low-maintenance option.
The tiles, which are made of recycled rubber, are non-toxic and safe for kids. They are also slip-resistant, which contributes to child safety when running and playing.
Backed by a limited lifetime warranty, these tiles are made from recycled rubber. They are designed to put in a long-lasting performance even when exposed to the elements, including ice and snow.
Ergo Matta Perforated Outdoor Tile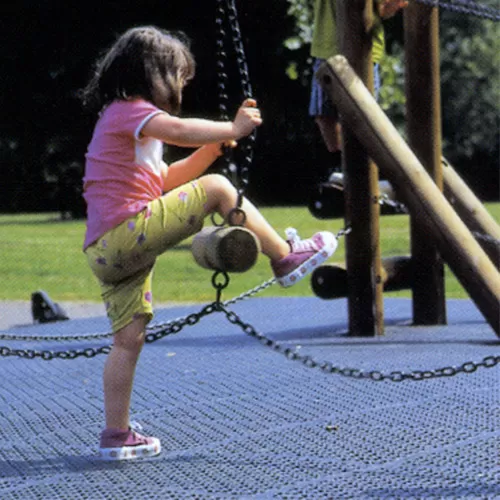 The
Ergo Matta Perforated Outdoor Tile
is a PVC plastic tile that's ideal for playgrounds. The generous perforations quickly drain away water, preventing puddles from forming and contributing to the floor's safety.
Made from recycled materials, the tile is an eco-friendly choice, and it's also available in a selection of bright and bold colors. You can purchase tiles in a single color or buy multiple colors to create eye-catching patterns and designs.
The tiles feature a 20-inch fall height rating, which can make the playground safer for kids. The hook and loop design makes it easy to connect the tiles, and you can also replace a tile that's worn or damaged.
These tiles are available with ramped border pieces to make the playground accessible. They are backed by a five-year manufacturer warranty.
Blue Sky Interlocking Playground Tile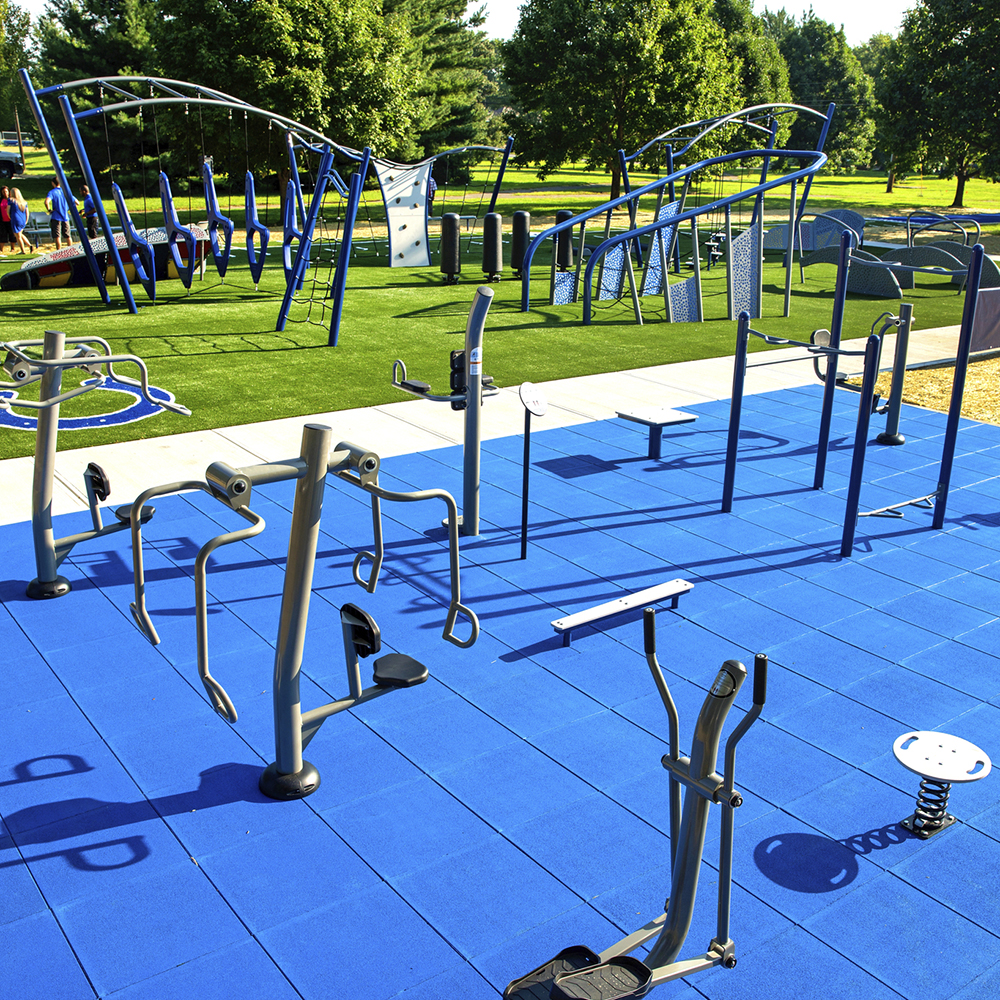 The
Blue Sky Interlocking Playground Tile
is a highly durable playground flooring choice. It's available in various colors so you can mix and match colors to create your own unique, customized design.
Made of recycled rubber, the tile features an eight-foot fall height rating, so you can pair it with higher gym equipment and surfaces. The tile offers valuable impact absorption and requires no daily maintenance, saving your maintenance team time and money.
The tile features an interlocking design for a secure installation. Optional border ramps are available to make your playground ADA accessible.
These tiles feature a 5-year limited manufacturer warranty.