What is the Best Cheer Mat Thickness?
By Greatmats Staff Created: February, 2020 - Modified: September, 2023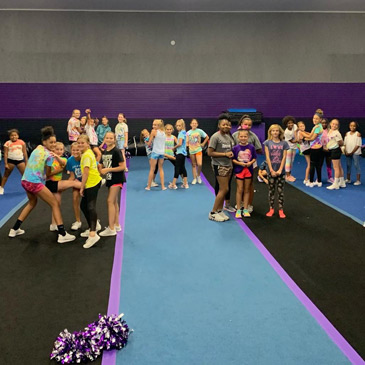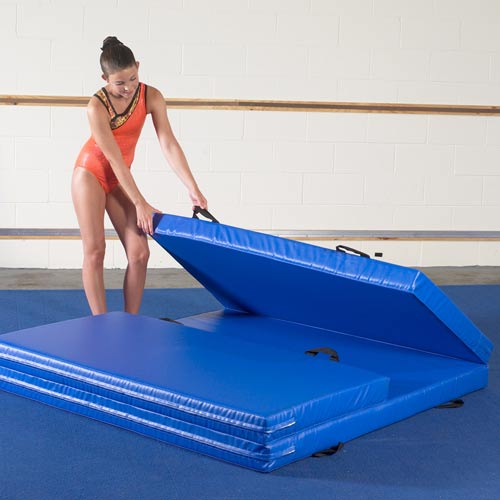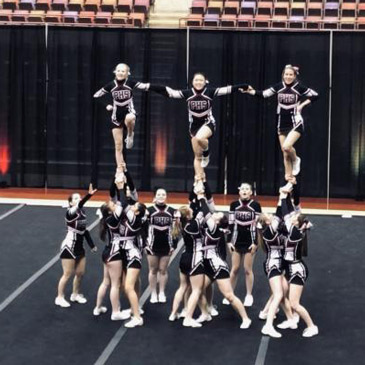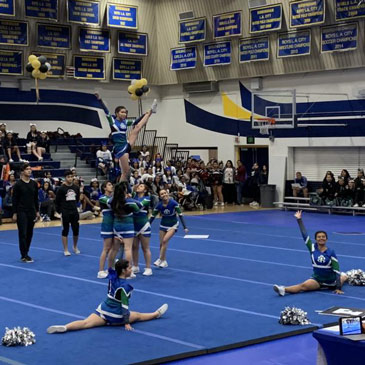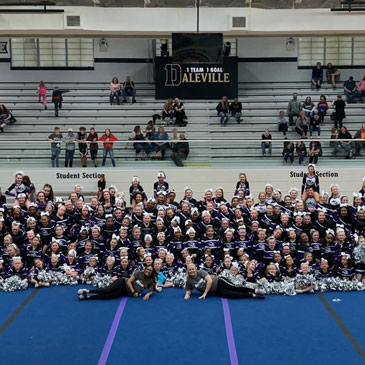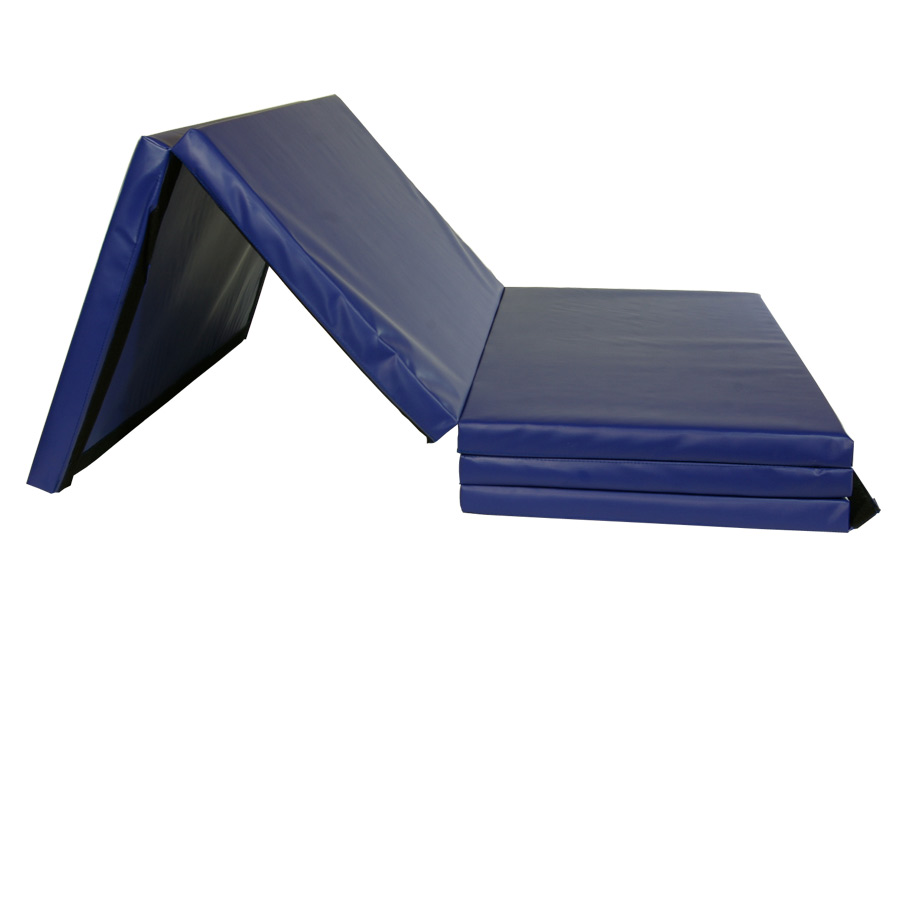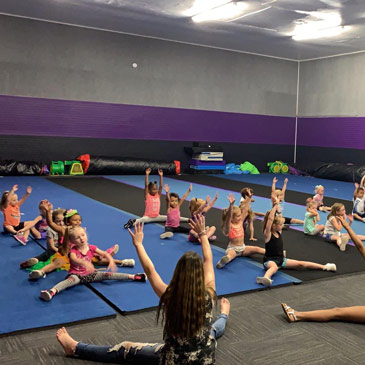 Selecting the right cheer mat thickness for your home gym or studio use will give your students the highest level of protection from ankle and knee injuries as they practice.
The best cheer mat thickness ultimately depends on the types of stunts and moves the students will be doing
, when you determine the use, then you can select the perfect mat thickness measurement. Because these mats consist of high-quality materials, they're appropriate for competition as well as practice.
Mat Rolls for Tumbling & Cheer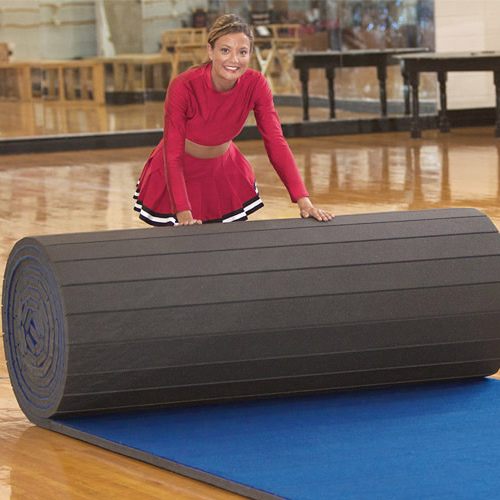 Cheerleaders involved in tumbling need to have a padded runway strip so they can build up the speed to tumble properly and safely.
The Cheerleading Mats Poly Flexible Roll has a carpeted top that's bonded to a foam underlay to create the roll of a padded floor. The carpet top has the traction cheerleaders need to make their desired movements, and the foam layer has the cushioning needed for landing tumbling moves.
The cheer mat thickness options in the Poly Flexible Roll are 1 3/8 inch or 2-inch choices.
Each pad has slits cut into the foam on the underside, which allows you to roll up the material tightly.
Padding thicker than 2 inches is not a great choice for a tumble run, as the cheerleader's feet may sink too far into softer and thicker foam, causing a stumble or trip during the approach.
Each tumbling roll has a 3-year warranty, so it will give you plenty of longevity and value, even if you use it every day. The average tumble strip measures 6 by 42 feet.
For a smaller product that's made for home use, try the
Home Cheer Mat
. This roll-up padded cheer mat measures 1 3/8 or 2 inches in thickness, just like the larger unit that's made for studio use. But it ranges in coverage size from 4 by 6 feet to 5 by 10 feet. This makes it easier to use or store in small spaces at home, while also having a lower price point.
With a smaller coverage size, it's perfect for practicing jumps, stunting, or other moves that don't require an approach run. It uses a carpet top and high-quality foam padding to match the cushioning properties of the larger cheer mat thickness roll. The carpet surface also helps take the slap out of a fall and offers a warm and comfortable surface for practice and competition.
Folding Panel Gym Mats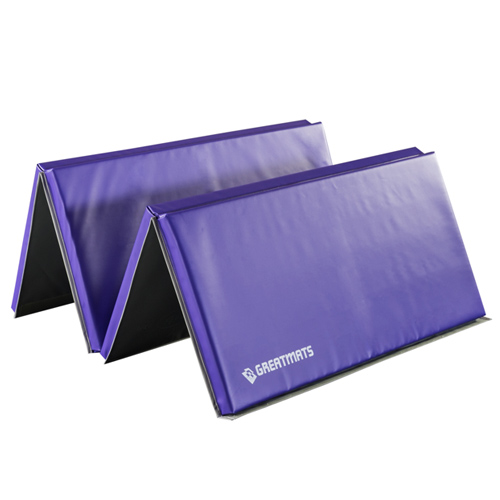 Another great option for cushioned mats for use at a cheerleading studio or at home is a folding gym mat. You'll want to select a folding mat when you need a product that works for multiple cheer practice moves. Because of its fold-up design, it has plenty of versatility, as you can change the thickness of this cheer mat as needed.
When laid out flat, these cheer mats have a thickness of between 1.5 and 2.5 inches of foam inside a durable vinyl cover.
Because the mat folds upon itself, you can end up creating a cheer mat thickness of 10 or more inches, allowing it to serve as a technique training and calisthenic tool.
The design of a fold-up mat generally consists of four, five, or six panels, all of which are permanently connected to each other side-by-side by the vinyl cover. When it's time to create a thicker cushioned area, just fold two or more panels on top of each other. You will lose some coverage square footage when folding up the mats to gain the additional thickness, however.
Folding the panels is also a significant benefit when it's time to put the mat away for storage, as it will fit neatly inside a closet when folded up.
The Folding Custom Gym Mat allows you to pick the size of the mat, the cheer mat thickness, and the color of the vinyl. The smallest coverage area you can select is 4 by 6 feet, which is great for one person. Or, if you want two cheerleaders to practice side by side, pick the 6 by 12-foot option or attach multiple mats to each other via the built-in connector strips. Multiple other sizes are available.
Crash Pad Mats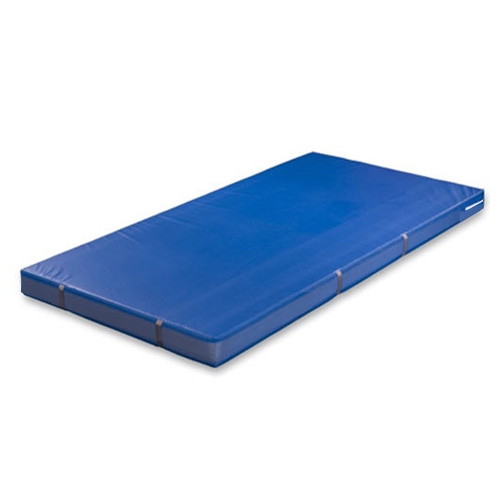 For cheerleading that involves stunting, you may want to use a crash pad. These mats have a large coverage area and are extremely thick, protecting the cheerleaders in case of a fall. Oftentimes, this style of crash mat is popular in gymnastics studios, but it's easily adaptable for cheerleading practice too.
The Safety Gymnastic Mat is a great choice for this use case. It gives you 24 square feet of coverage area in a rectangular-shaped mat. But most importantly,
it has an 8-inch thickness measurement, providing a high level of cushioning.
Other coverage area sizes and thicknesses are available. Some crash pads consist of two or three panels that can fold on top of each other, allowing you to create an even greater level of padding and simplify storage, such as with the
Foldable Safety Mat
.
Some cheer coaches will choose a roll-up cheer mat for a tumbling runway and then place a crash pad or landing mat at the end of the runway to provide a high level of cushioning for the cheerleader when landing.
Bottom line: If you need a cheer mat thickness that provides extra cushioning for landings or protection against falls, a thicker mat is the better choice. For a mat that allows sudden and sure movements, a thinner mat works well.