What is the Benefit of Laminated Flooring
By Paige Cerulli Created: November, 2022 - Modified: November, 2022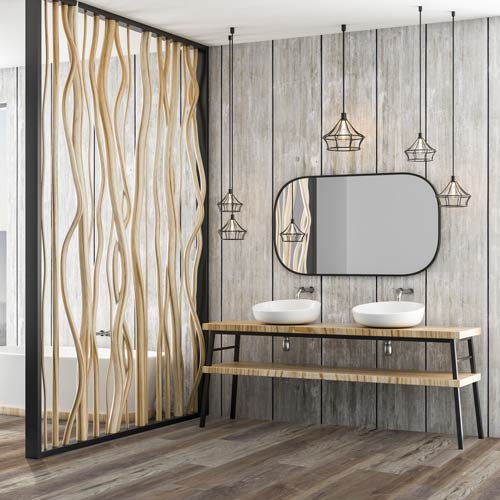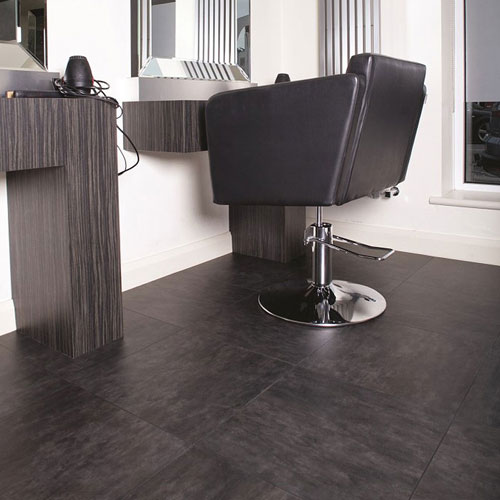 As you explore the different flooring options available for your home or business, chances are you've seen laminated flooring products. Laminated flooring has become increasingly popular, and when you consider the benefits it offers, it's easy to see why.
Benefits of Laminated Flooring


Realistic wood look


Cost effective


Durable


Easy to maintain


With laminated flooring, you can achieve the look of real wood at a lower price per square foot than you would pay for genuine hardwood flooring. The ability to install many laminate flooring products yourself also adds to its cost-effectiveness and convenience.
Some laminate products are extremely hard-wearing, making them a better choice for high-traffic areas than wood flooring. Laminate products, like planks, also feature an upper wear layer that provides enhanced scratch resistance, keeping the products looking their best.
Maintaining laminate is also easy. You can wipe up spills and sweep or mop most products, so there's no specialized or intense maintenance needs to worry about.
As you shop for laminated flooring, you will have your choice of many different styles, including products that closely resemble woods like oak and maple. Many of these products are highly realistic and, with so many options to choose from, you can find a product that provides the specific aesthetic that you're looking for.
Laminated Flooring Products for Sale
At Greatmats, we offer an excellent selection of laminated flooring products for sale. Whether you're looking for tiles or planks, chances are we have a product that's just right for your project.
Cottage Tour Laminate SPC Flooring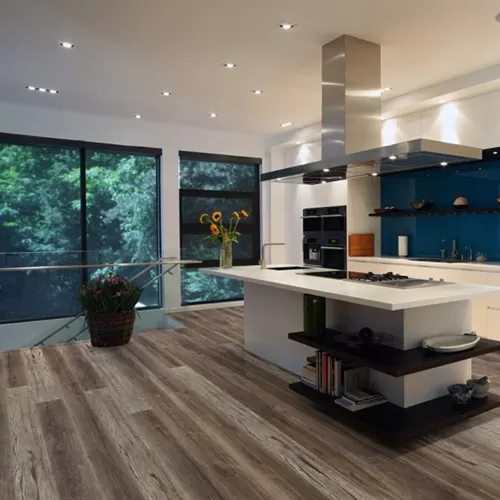 The
Cottage tour Laminate SPC Flooring
is inspired by the rustic flooring that you would find in vintage farmhouses. Available in shades of brown or grey, these planks may look like they're decades old, but they bring modern benefits to your home or retail space.
This flooring features embossed graphics and is paired with a durable top vinyl wear layer that makes it an ideal choice for homes with kids or pets. The lower layer consists of a sound control underlayment that helps to reduce noise.
These planks have a tongue-and-groove design that allows you to click them together, supporting a DIY-friendly installation. Since the underlayment is already included, you don't have to purchase and install a separate underlayment, which helps to keep your installation cost down.
Supremely durable, this flooring is backed by a 35-year manufacturer's warranty.
Foam Tiles Wood Grain
The
Foam Tiles Wood Grain
features a highly realistic wood grain look that is paired with the cushion of foam, making them more comfortable than traditional wood flooring. You can choose from a variety of wood grain color options, including walnut and driftwood, creating an upscale look.
Ideal for homes and basements, these tiles are lightweight and their puzzle-style edges make them easy to install. They are water-resistant, reducing the chance of mold or mildew forming.
Since the tiles measure 2x2 feet, they can quickly cover large areas. If you need to remove them in the future, such as after a flood or leak, you can easily do so and can store them away until you're ready to install them.
The tiles are easy to clean, too. You can damp mop or even vacuum them. Each tile includes two border strips, making for a clean installation with finished edges.
Wood Grain Foam Tiles Reversible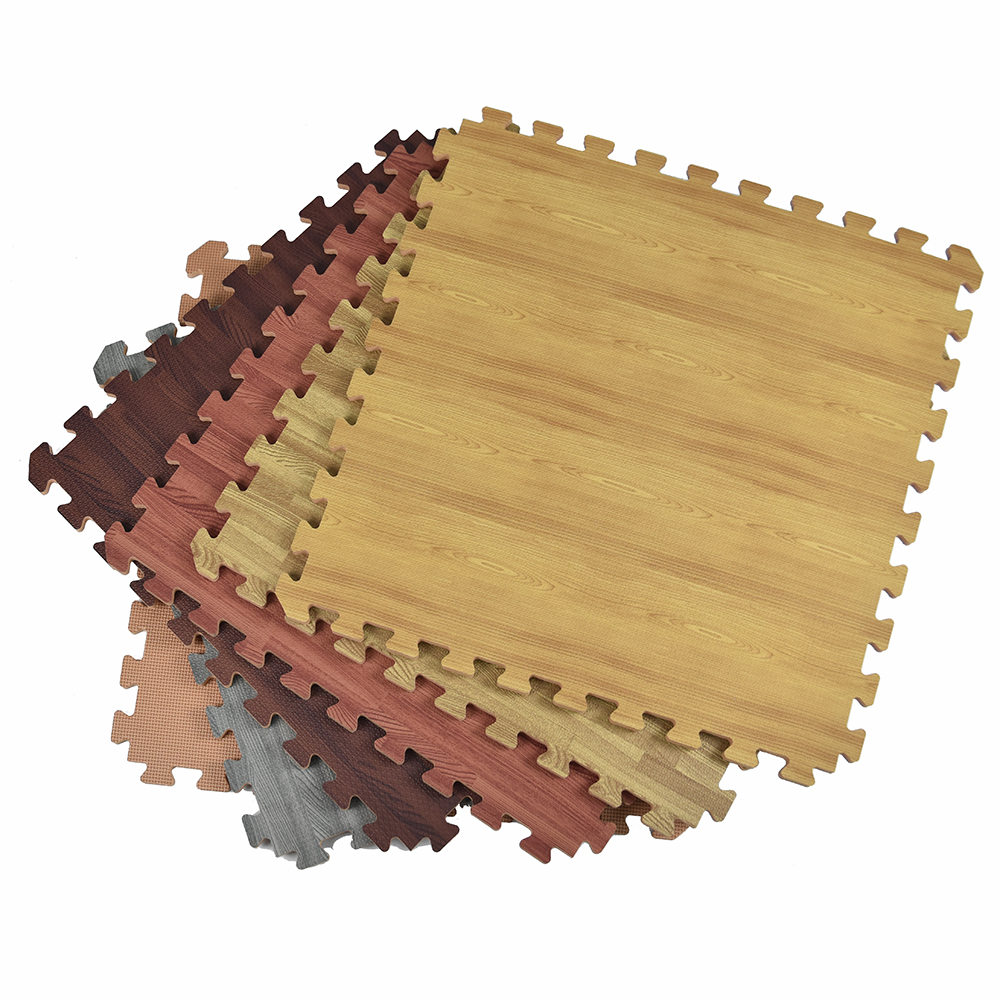 The
Wood Grain Foam Tiles
are highly durable foam tile that features realistic wood grain patterns on one side. The opposite side features a scuff-resistant surface, so you can choose the surface that's best for your project.
Made of waterproof EVA foam, these tiles are ideal for home gyms or basements. They offer cushion and act as a buffer against a cold concrete basement floor, making the space more comfortable and enjoyable.
The tiles are lightweight and easy to install, thanks to their puzzle edges. Two border strips are included with each tile, or you can also cut them to fit your space.
Since the tiles are reversible, you can maximize their longevity, by flipping them over when one side has become worn.
Max Tile Raised Floor Tile
The
Max Tile Raised Floor Tile
features a vinyl tile surface that is mounted on a plastic base. The entire tile is waterproof, and the raised tile design means that air and moisture can circulate beneath the tile, speeding drying.
Available in highly realistic upscale wood grain designs, this tile is a popular choice not only for basement floors but also as a portable dance floor. It's suitable for both commercial and home use and is UV treated for extra durability.
The tiles feature a tab and loop snap together system, that makes for an easy installation. You can also repeatedly uninstall and reinstall the tiles, so they're a highly versatile flooring choice.
SupraTile Designer Vinyl Top Series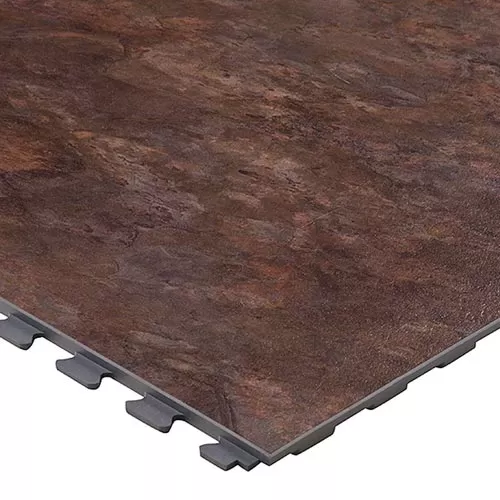 The
Supra Tile Designer Vinyl Top Series Tile
is a water-resistant tile that is available in several beautiful finishes, including marble and sandstone. These luxury finishes add a distinctive look to a space, making the tile a popular choice for showrooms, galleries, offices, and basements.
The snap-together tile features a PVC plastic layer that is printed to resemble stone. Warm and comfortable, the tile also offers excellent sound absorption.
Since the tile is resistant to oils, chemicals, mold, and mildew, it's a versatile choice that can be installed in offices, basements, showrooms, and galleries. It is also highly resistant to impact and abrasions, making it a long-lasting choice for many settings.
You can install the tile on top of old subfloors, even if they are uneven or contaminated. Installation is quick and easy, and you can damp mop the floor for easy cleaning.