What Flooring Works Best For 10x10 Dog Kennels?
By Lisa Hobbie Created: August, 2021 - Modified: January, 2023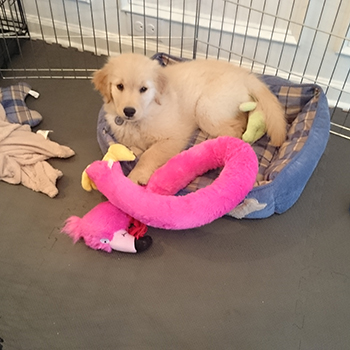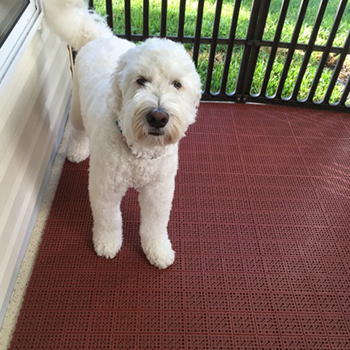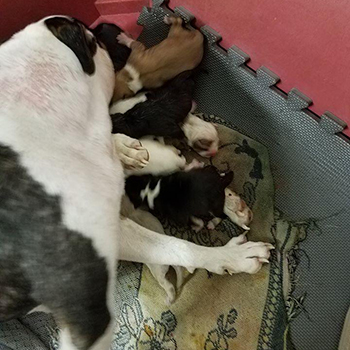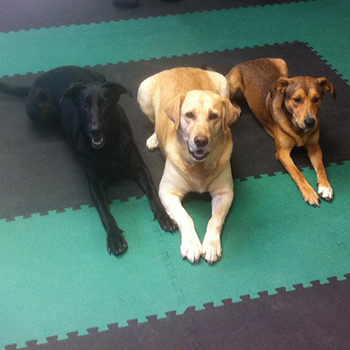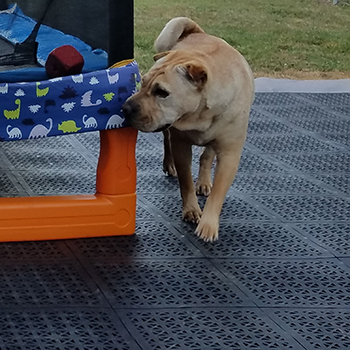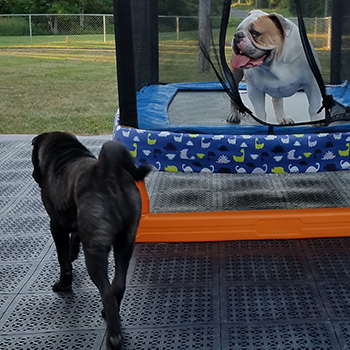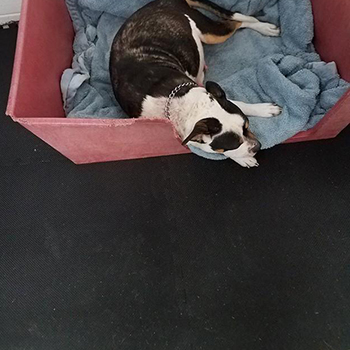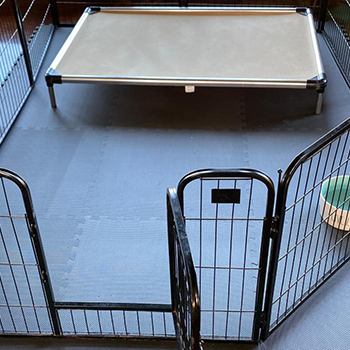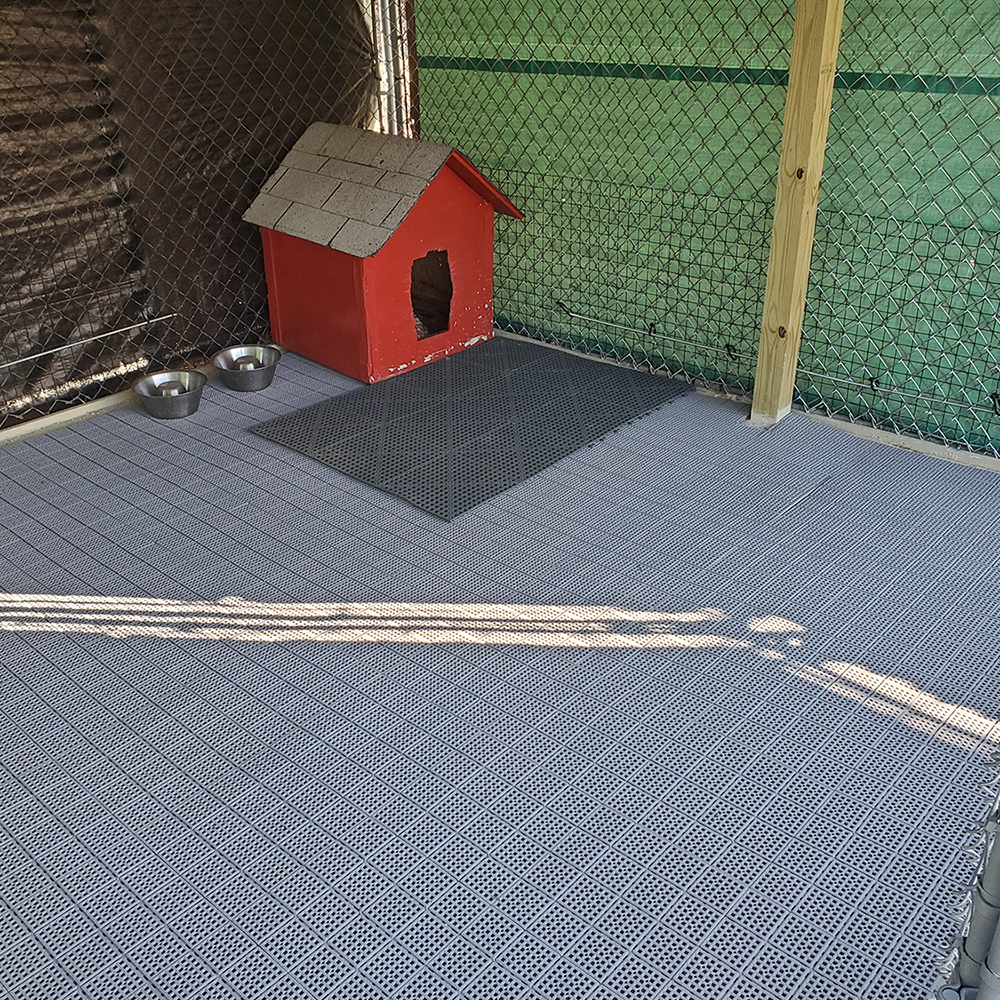 A 10x10 dog kennel offers a safe and controlled space for your canine friends, and providing adequate flooring will keep them more comfortable and cleaner.
There are many different 10x10 dog kennel flooring options at Greatmats, all of which look nice and perform well under your pups. From plastic or rubber flooring to raised deck tiles, the suitable products will not be damaged from scratching and pawing, and they will help keep your dogs healthier.
Of the numerous options to consider, the following 5 are some of the most popular among Greatmats' customers:
These flooring products are among the best, as they are dog proof, can be installed on concrete or wood, many are suitable for indoor or outdoor use, and they are affordable. Knowing which one is the best 10x10 dog kennel flooring for you depends on the type of product you prefer, your budget, and the features and benefits you want the flooring to deliver.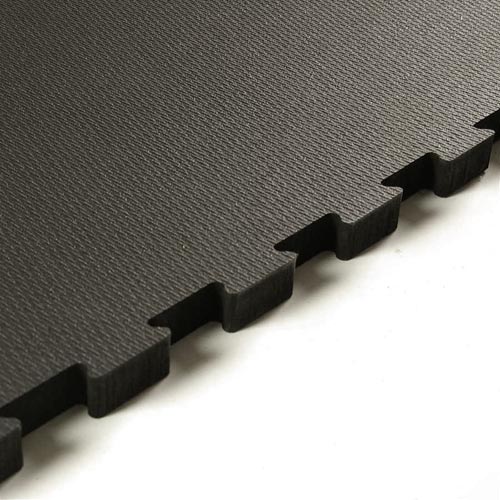 The 10x10 Foot Kit of Horse Stall Mats is literally a perfect 10x10 dog kennel flooring solution, as you get the amount of product you need in mats that are designed specifically for animal use.
Greatmats' customer, Dianalynn uses these mats for her kennels that her show dogs use. She says, "They love them! I will be ordering more." She says that working with Greatmats was, "Such a great experience from start to finish."
These mats are easy to assemble with an interlocking design, and they can be installed on any flat surface. Made of durable rubber with a ¾ inch thickness, these made-in-the-USA mats deliver a comfortable surface that's a breeze to keep clean.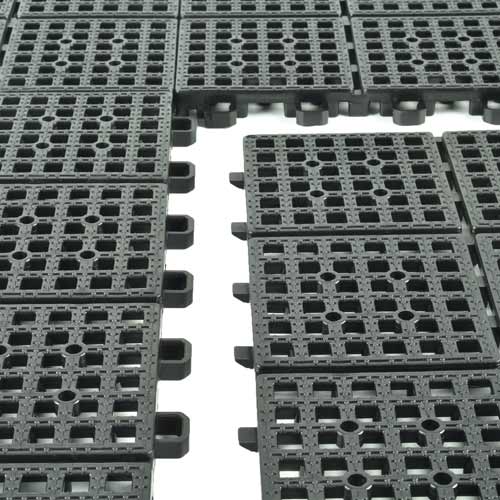 Outdoor Patio Tiles are a great kennel solution if your dogs will be spending time outdoors or over a concrete surface with a floor drain. They deliver a surface that is non-slip and comfortable. The tiles are made of flexible PVC material, and they can be installed over virtually any outdoor surface and will deliver excellent drainage.
At 1x1 foot in size, you'll need 100 tiles to cover a 10x10 foot kennel floor.
They can even serve as a subfloor for more solid surfaces as they allow waterflow and airflow underneath, enabling drainage and preventing fluids from becoming trapped underneath the floor.
Greatmats' customer, Susan, stated, "I have a dog that is blind and the doggie door leads outside into a dog kennel so he doesn't get lost in the yard. I put these in the kennel and put artificial grass on top, and that is his place to potty. The grass is off the ground just high enough that I can keep it washed off and clean. Works great!"
For a similar, but more cushioned option, consider our StayLock Perforated Tiles.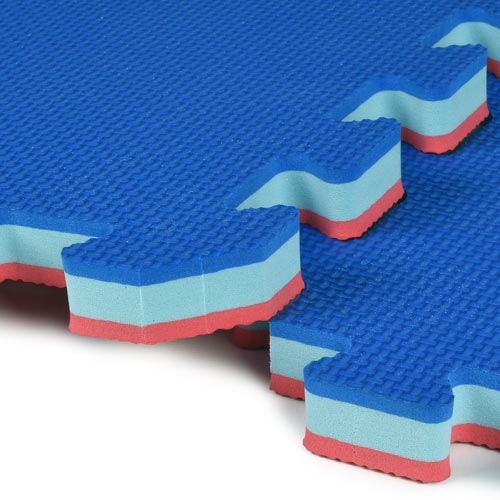 The Home Sport & Play Mat is made of EVA foam that is double color and reversible. It's a product that is waterproof, stain resistant, scuff resistant, durable, easy to transport, and a breeze to clean.
Greatmats' customer, Geo, reviewed his use of this product as, "We purchased these for the middle of our boarding kennel. We ordered additional mats for areas where our older dogs lay, and they love them!"
This is a high end version of 2x2 foot Foam Mats with the following features.
¾ inch of cushion
2 color options per tile
Border strips
Bright color options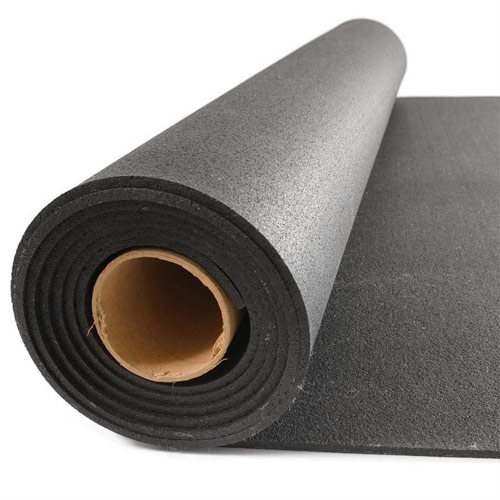 ¼ inch Thick Rubber Flooring Rolls also work really well in kennels. They are durable, easy to install, simple to keep clean, and are made to endure all types of animal use and abuse.
Greatmats' customer, Gerald, is very satisfied with his use of the 4x10 foot product. He writes, "Good product! We are using it on one of our kennel floors."
You'll need three rolls to cover a 10x10 space. Either trim 2 feet off the side of one mat or 1 foot off the edge of two mats to make it fit your space.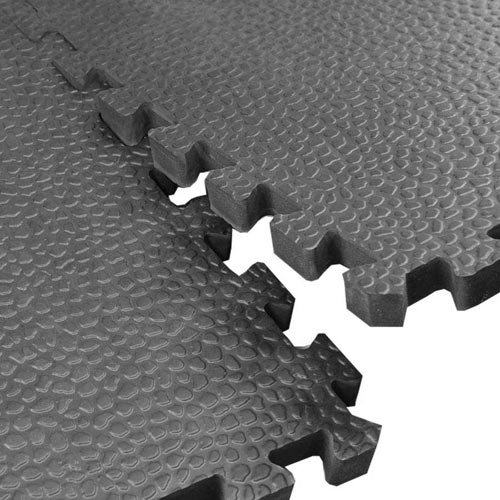 Gym Floor Workout Fitness Tile Pebble is a lightweight, super high density EVA foam product. Designed to endure the weight of exercise equipment, it's obviously strong enough for your dogs. Also sized at 2x2 foot per tile, 25 tiles will suffice. Like the Home Sport and Play mat, it is about ¾ inch thick, reversible and comes with border strips. However, it is only available in black, has a pebble style surface texture instead of a thatch texture, and the foam is much firmer.
This product is double sided with a non-slip pebble texture, and it's free of lead and latex.
Customer, John, reviewed his use of this product as, "I purchased some of these mats to put in the floor of the dogs houses, as they are in an outdoor kennel. The dogs use them, and they don't chew on the material."
Greatmats - For The Best 10x10 Dog Kennel Flooring
The products highlighted are among the best to use as 10x10 dog kennel flooring. As indicated by customer reviews, they perform and look great, and the staff at Greatmats make the ordering experience a positive one.
When you're ready to order dog kennel flooring, let Greatmats go to work for you! No matter which product you choose, when it comes from Greatmats, you know you and your dogs will be getting the best!