What Are The Best Gym Floor Tiles: Interlocking Foam, Rubber and PVC
By Lisa Hobbie Created: December, 2020 - Modified: January, 2021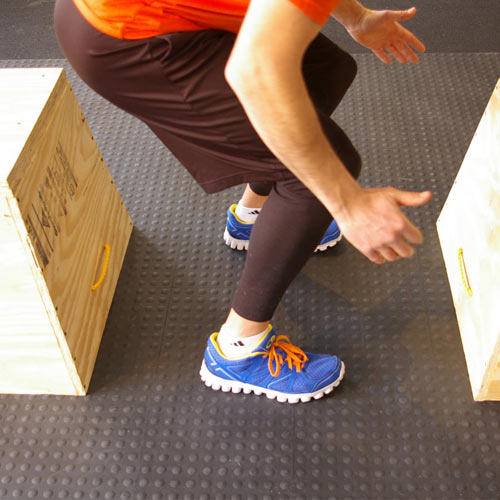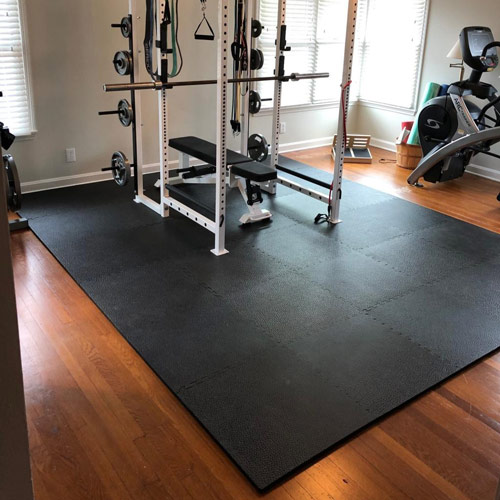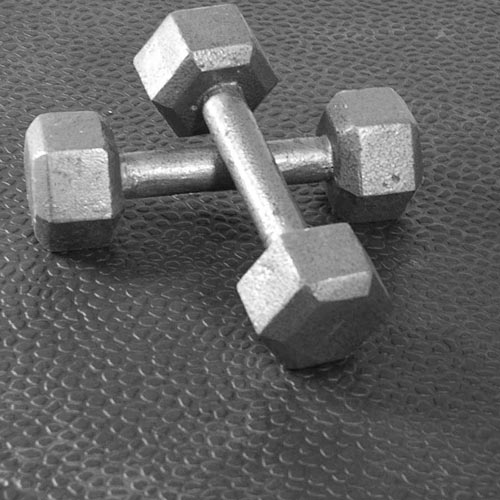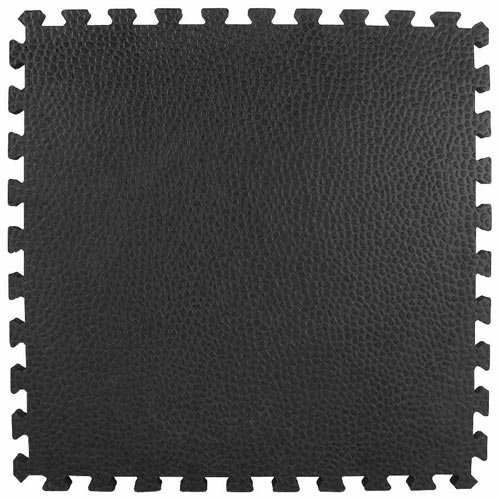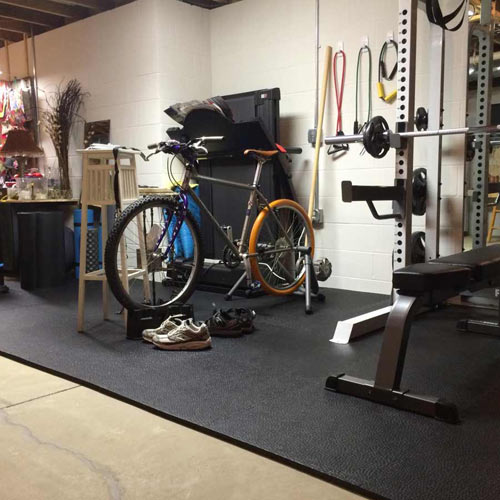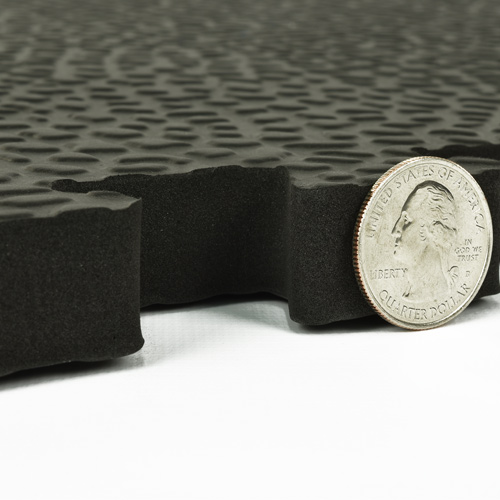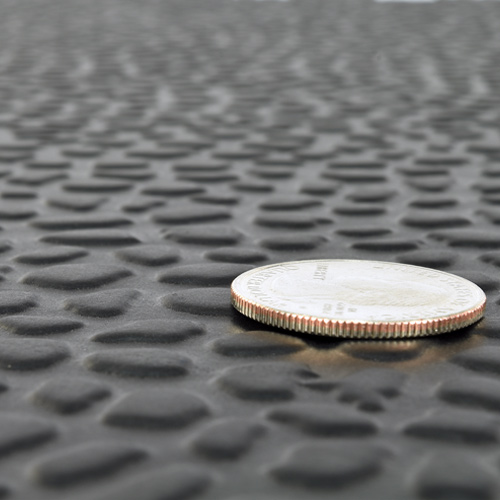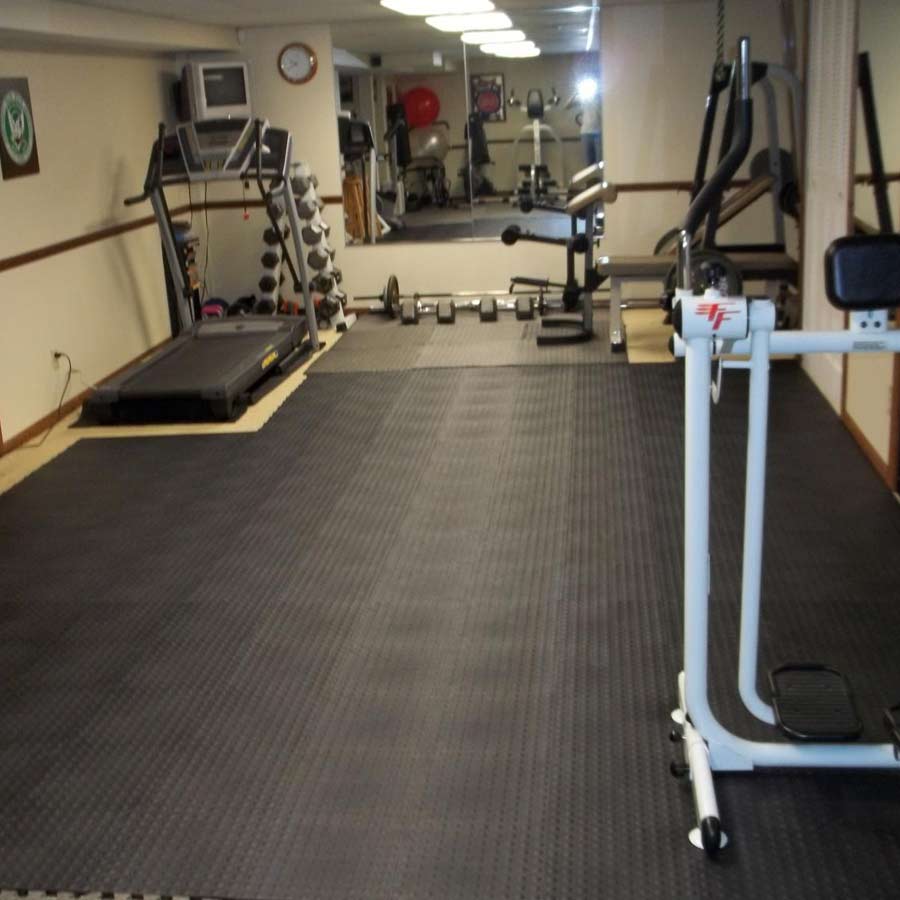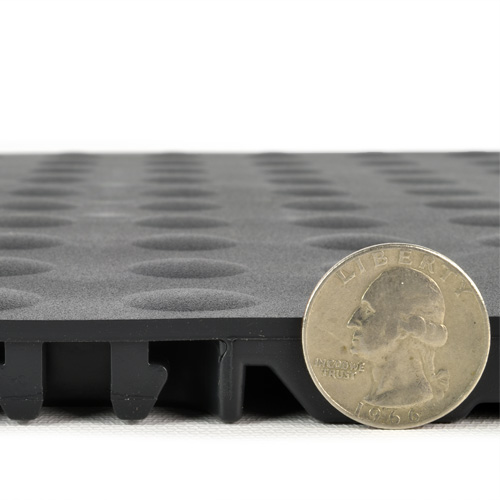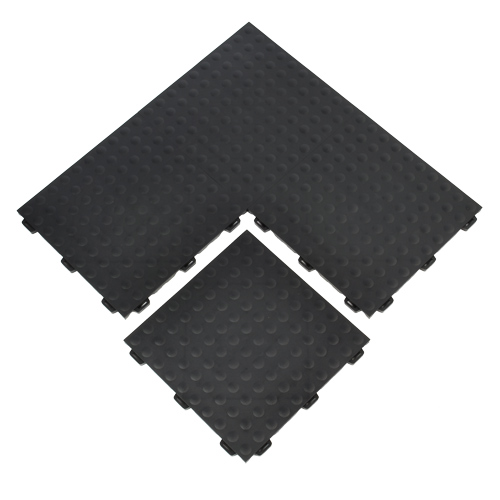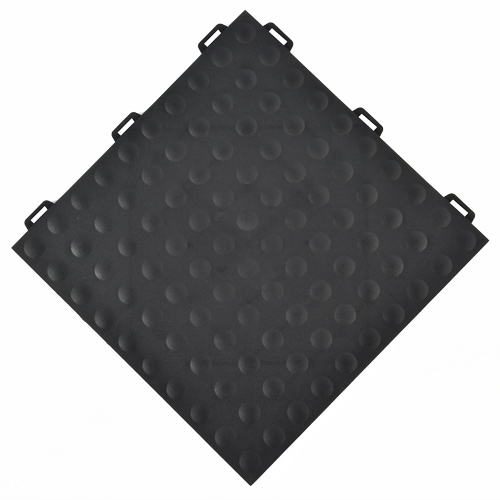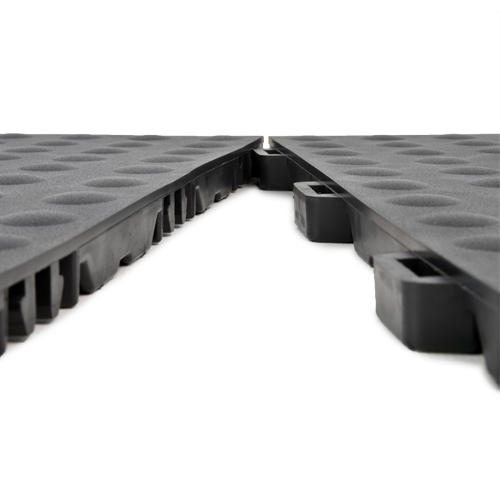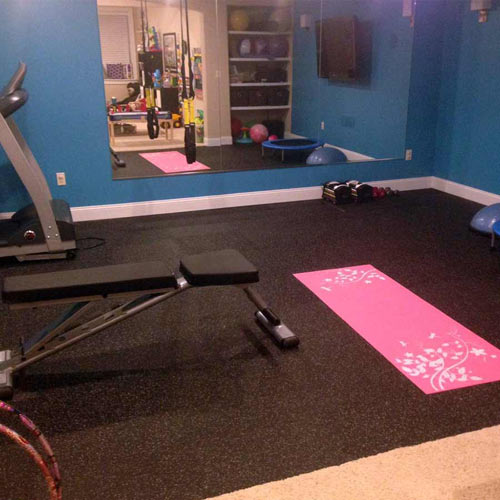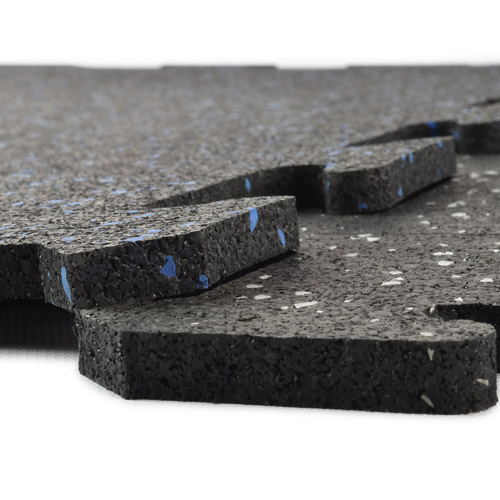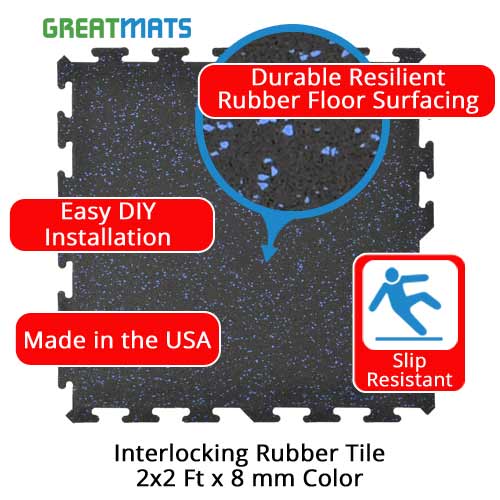 Aside from selecting the equipment and weight systems that will go in a gym, consideration must also be given to the gym floor tiles that will be installed. Having an adequate flooring system in a gym will provide safety features for the athlete, protection to the subfloor, and protection for the exercise and fitness equipment. Greatmats offers some of the best gym friendly flooring systems that will look and perform well in your home or commercial space for years to come.
Max Raised Floor Tile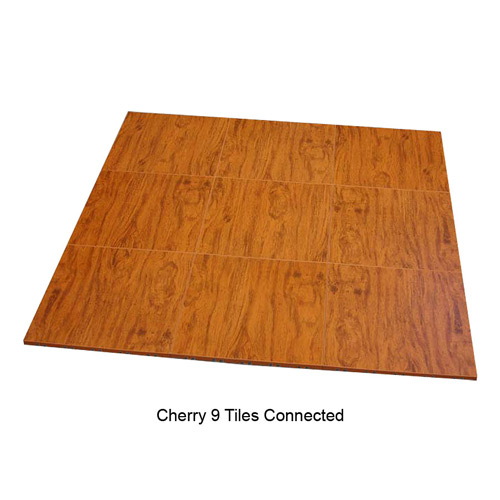 Greatmats' raised modular flooring tile is one of the best gym floor tiles on the market. This floating tile provides excellent comfort and support and is a suitable option for areas that are susceptible to moisture - like a basement. It is mold, mildew, and bacteria resistant and allows for airflow underneath because of its raised design. There is also an air pocket under the surface that adds some thermal buffering - which is a great feature if the product will be laid in a pole shed or basement gym setting.
The flooring's vinyl laminate surface provides protection from potential dents, scuffs, and divots. The high quality, durable gym tiles are 1 foot by 1 foot and allow for ease of movement, and feature an attractive and professional finish. This is a great gym flooring system for aerobic activities, such as Zumba or Jazzercise, and also works well under home gym equipment such as stationary bikes or ellipticals.
Gym Floor Workout Fitness Tile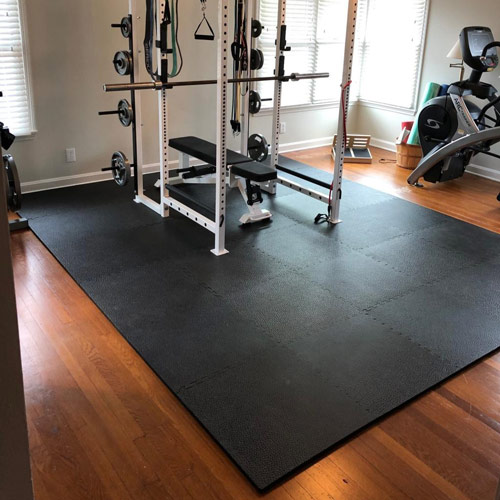 An excellent economical gym floor tile solution is the workout fitness tile with a pebble surface. This flooring is made of durable, extra high-density EVA foam material and is designed specifically for use in home gyms and weight rooms.
It is lead and latex-free, waterproof, and designed to withstand the use and abuse of heavy exercise equipment. These gym floor tiles can be installed wall-to-wall or as an island installation to go under exercise machines or weights. It offers cushion for knees or elbows, should you take your exercise to the floor, with the added benefit of insulating against cold, hard concrete.
Each tile measures 2x2 feet, creating almost 4 square feet of coverage area per tile, and the jigsaw puzzle-style edges easily interlock to simplify installation and hold the tiles tightly in place, even when they're subject to stress. This product is a breeze to keep clean by sweeping or using a gentle vacuum to remove debris, or, you can damp mop it with hot water and a common household, bleach-free floor cleaner.
Bump Top StayLock Tile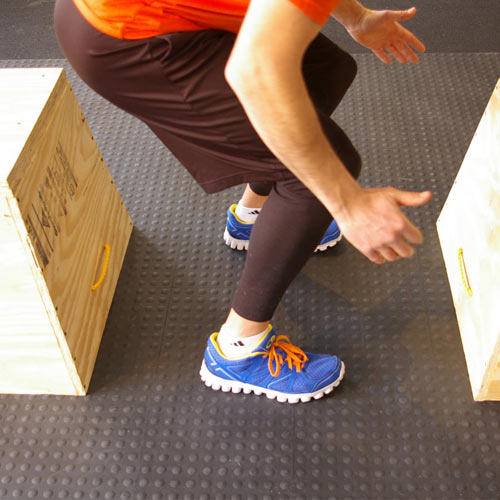 StayLock Bump Top gym floor tiles are perfect if you desire a product that is durable like rubber with a cushioning that feels more like foam. This durable PVC flooring has a design that will lock together tightly without separating over time - even when placed under pressure.
It is waterproof and resistant to most acids and oils, and its raised base and lightweight design prevents water from getting trapped beneath it. It also prevents the flooring from sliding over the carpet.
These floor tiles provide soft cushions and superior support for any level and intensity of the aerobic workout or lifting routine. Its bump top surface top texture provides excellent ergonomic benefits and aesthetic appeal, as well as anti-fatigue properties. The 1x1 foot squares are also among the most durable cushioned gym flooring options, with the ability to support even the heavy exercise equipment!
Interlocking Rubber Floor Tiles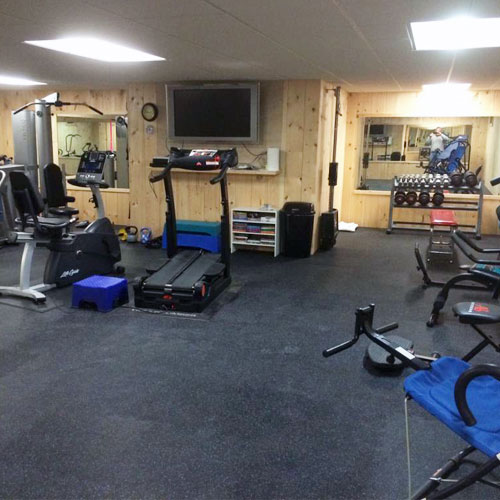 For heavy-duty interlocking rubber gym floor tiles for a home gym, basement, or garage, the 2x2 foot by 8mm tiles made in the USA are an excellent choice.
This product is fast and easy to install and is best designed to withstand the heavyweight of fitness or weight equipment and foot traffic. The tiles also dampen noise and are easy to keep clean by sweeping and vacuuming them.
Their smooth, non-slip surface and 8mm thickness provide a durable, long-lasting surface for years of workouts and athletics.
Flat Top Court Floor Tile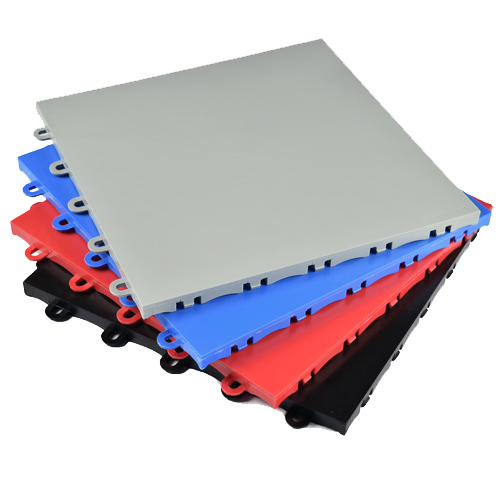 One of the best gymnasium floor tiles for a multi-sport facility is Greatmats' Flat Top Court Tile. These raised tiles can be installed over nearly any surface - even carpet - and they allow for airflow underneath in damp environments. These tiles are excellent for creating one or multiple basketballs or volleyball courts or even roller or floor hockey rinks.
If you are searching for gym floor tiles that you can easily assemble, disassemble, and store, the easy DIY snap-together design of the court tile makes that possible. There are many popular color options available like grey, blue, and red, and this product has been load tested for 10,000 pounds per square foot.
The quality control processes in place during the manufacturing of these athletic floor tiles ensures a long-lasting value for some of the best athletic tiles available on the market.
Greatmats - For Gym Flooring and more!
If you are looking for the perfect gym floor tiles, Greatmats is your one-stop shop!! There are numerous other flooring solutions beyond those highlighted here, all of which could work as gym flooring. Simply reach out to a friendly staff member who can help you determine the perfect product for your space! Regardless of the flooring solution you choose, you simply can't go wrong when you purchase from Greatmats.