What Are Modular Carpet Tiles?
By Lisa Hobbie Created: October, 2020 - Modified: June, 2022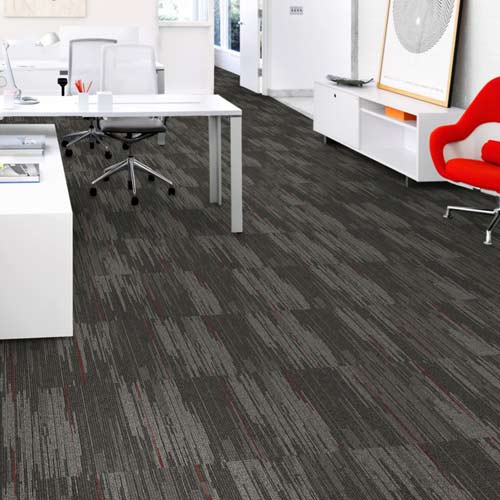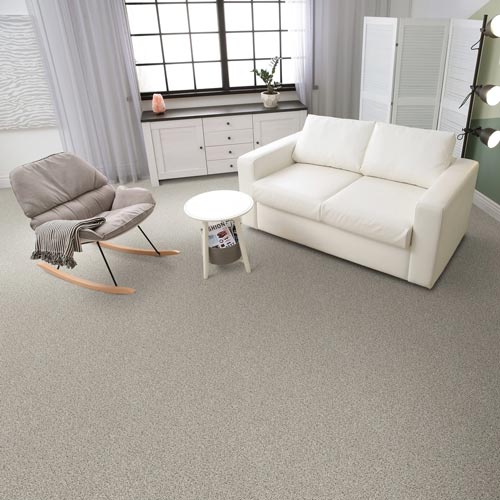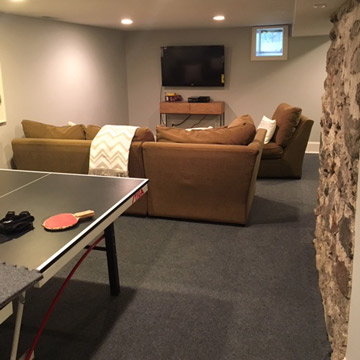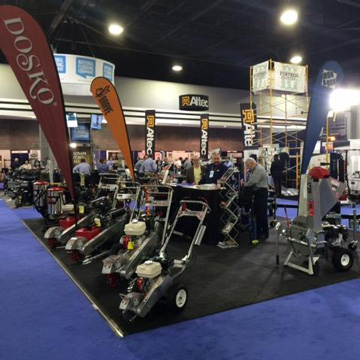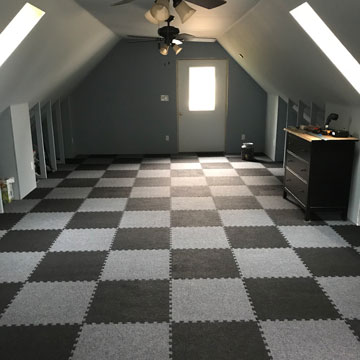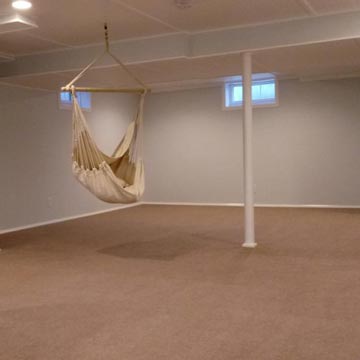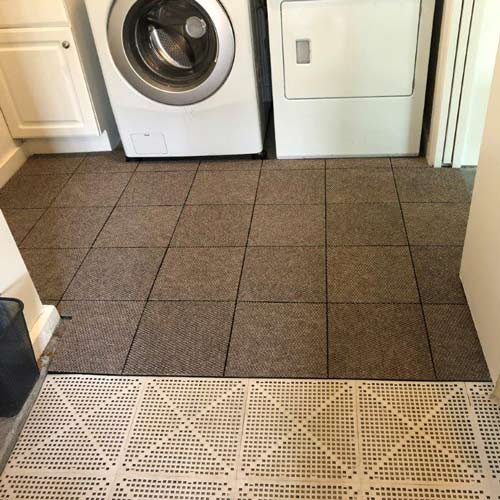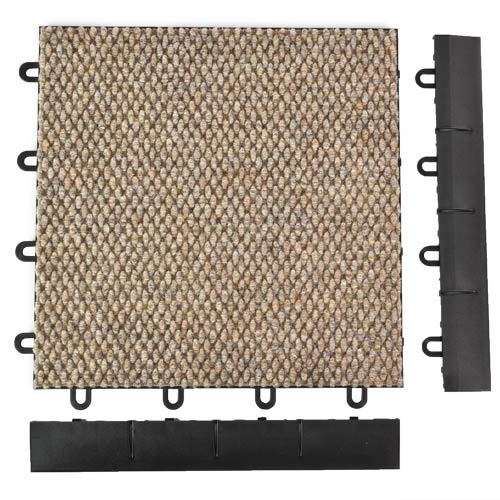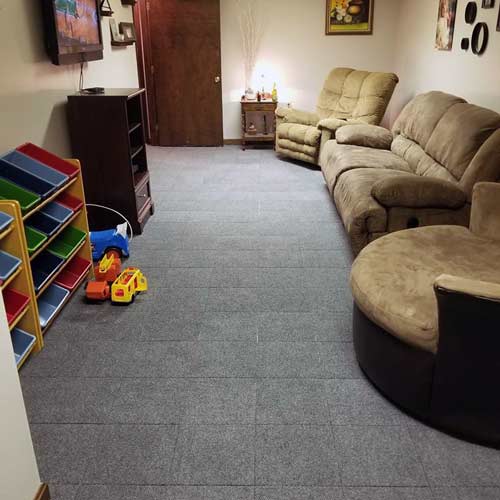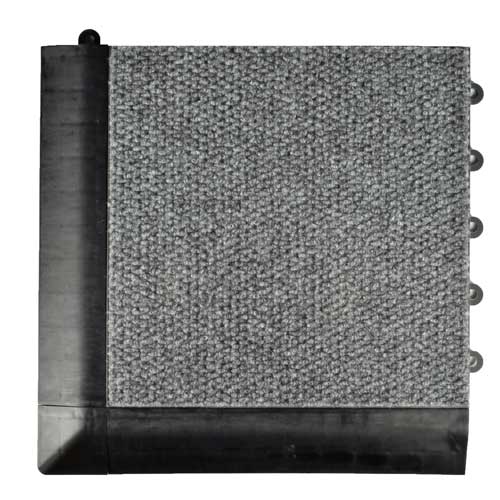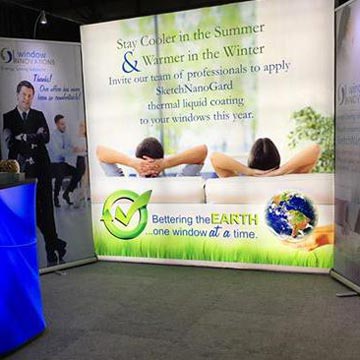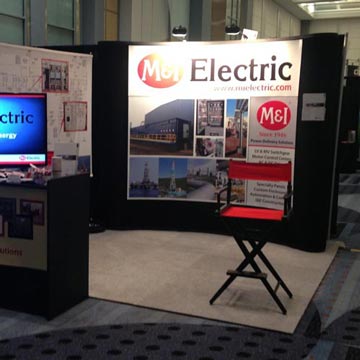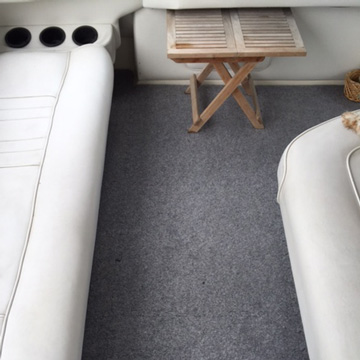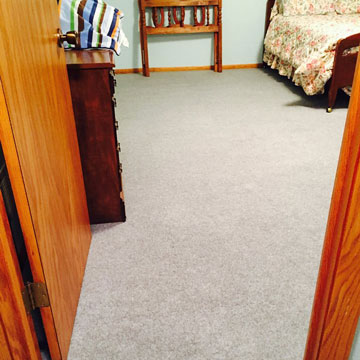 Modular carpet tiles are an attractive and user friendly alternative to traditional carpet, often available in carpet squares, these tiles are typically easy to install, easy to keep clean, and easy to replace, if needed.
There are modular carpet tiles for commercial and residential applications, most of which can be laid in a number of configurations to provide virtually endless design possibilities. 
Greatmats specializes in quality and affordable flooring, with modular carpet tiles being among the most popular flooring solutions. Regardless of the color and pattern you are seeking, the type of application, and the size and thickness you're looking for, Greatmats offers the best collection of DIY installation carpet tiles available. 
Royal Interlocking Modular Carpet Tiles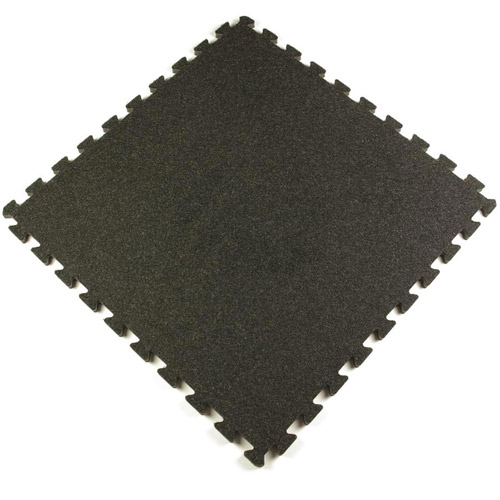 Royal Interlocking Carpet Tile is among the most versatile and popular removable modular carpet tiles at Greatmats. It is extremely durable and boasts numerous benefits, making it an option for most indoor and a few outdoor applications. 
The tops of these particular carpet tiles are layered with a durable plush carpeting that is bonded to a soft closed cell foam base, resulting in a strong product that will stand up to foot traffic, furniture, and years of heavy use. 
These carpet squares can easily be placed directly on a clean concrete or tile floor without using special tools, adhesive, or additional padding. This product is a great one to install where spills, leaks, or other accidents are likely, as it is waterproof and stain resistant. The modular carpet tiles are also odor proof, easy to clean, and provide a comfortable anti-fatigue and insulation value similar to traditional plush carpet rolls. They are simple to maintain and clean by vacuuming as needed. 
2x2 Commercial Carpet Tiles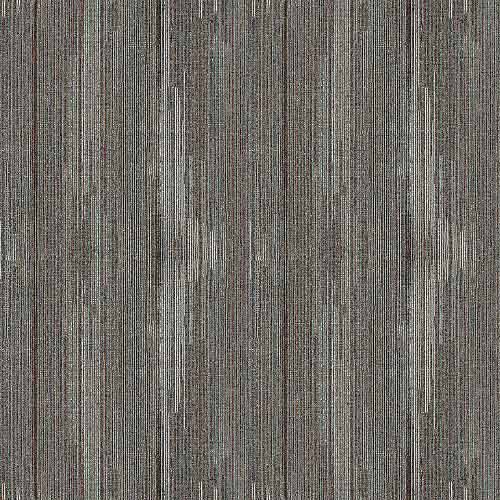 Streaming Commercial carpet tiles are another durable and versatile option. 
This product is stain and soil resistant and designed for moderate foot traffic. It is also Green Label Plus certified for indoor air quality.
The layout designs with this product are limitless, and it's relatively easy to install with a simple, glue-down process. The carpet squares are also simple to clean and maintain with a daily vacuuming and deep cleaning, as needed. 
This product comes with a 10-year warranty, but it will look and wear really well long beyond the life of the warranty.
Peel & Stick Modular Carpet Tiles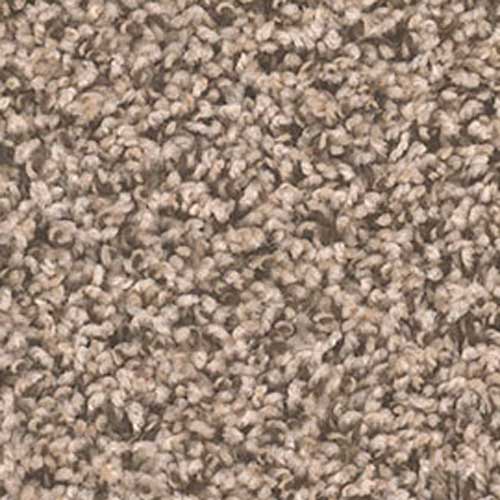 This In a Snap peel and stick carpet is among the most luxurious in terms of modular carpet tiles. 
This superior product features a half inch padding on an 18x18 inch square tile. It has Kanga Hide backing and a PureColor Fiber system that provides long-lasting quality and resistance to stains, bleach, and fading - making it ideal for family rooms, basements, and virtually any other space! 
The carpet tiles are super easy to install on essentially any clean, flat surface; you just peel, stick, and press the tile firmly into place on the subfloor. Once installed, it provides an extremely soft surface to walk and stand on, as it features a half inch pile height. 
These carpet squares will look and perform really well for years to come. 
Raised Modular Carpet Tiles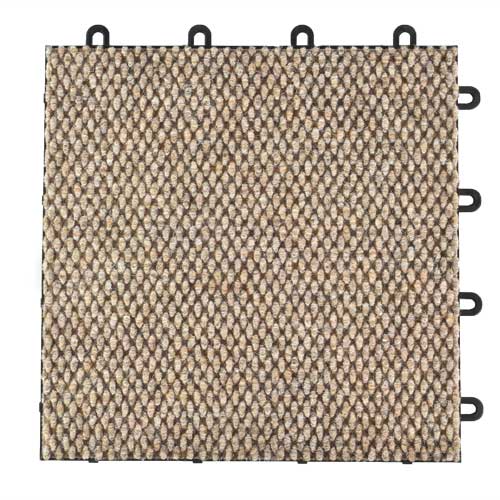 CarpetFlex Floor Tile is a great flooring solution for a room or area of a home or office in which a carpeted texture yet durable surface is required. This is one of the best products if you're looking for modular carpet squares that are anti-fatigue, non slip, and waterproof. 
This product is made in the USA and can be installed easily with its snap together design. This flooring solution is a raised support system that transforms any space into a warm and attractive one. 
It performs well in basements, family rooms, or areas where moisture may be present, because it doesn't have a foam base like traditional carpet. Instead, this product's unique design allows for airflow beneath the base, preventing dampness from getting to the carpeted fibers. This also offers an air barrier between the subfloor and carpet surface.
Carpet Flooring Tiles Modular Squares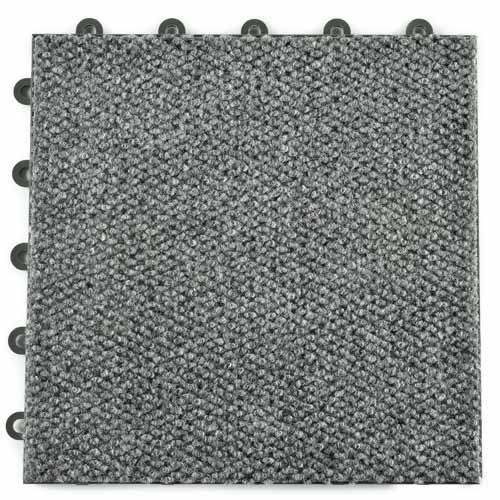 Another option that is great for damp areas such as basements are square modular removable carpet tiles. This floating floor is constructed from recycled materials, and it features a berber like carpet top. 
It is designed to handle high roll loads with its quality construction and is great for cold basement floors as they reduce transmission of cold temperatures from the subfloor through the carpet by way of the layer of air in between. 
These squares are easy to snap together without padding or adhesive. It's also equally as easy to remove the tiles for temporary installations or to check subfloors.
Because the floor is raised, if the subfloor gets wet, the carpet tiles will allow for airflow beneath and can be disassembled and re-installed as needed. The easy assembly process also makes the modular carpet tile a great option where a temporary floor is needed. 
Greatmats - For Modular Carpet Tiles and more!
If you are considering modular carpet tiles for your home or office, Greatmats really is your one stop shop. From a large selection of product options to the best quality and service available, you can't go wrong with any of the flooring solutions at Greatmats.