AlturnaMats Ground Protection Mats Black 1/2 Inch x 4x8 Ft. Diamond/Diamond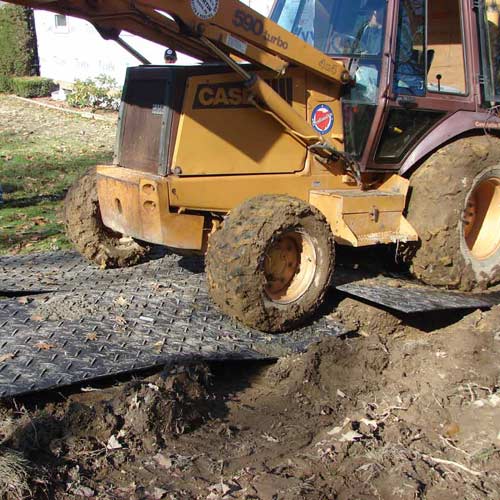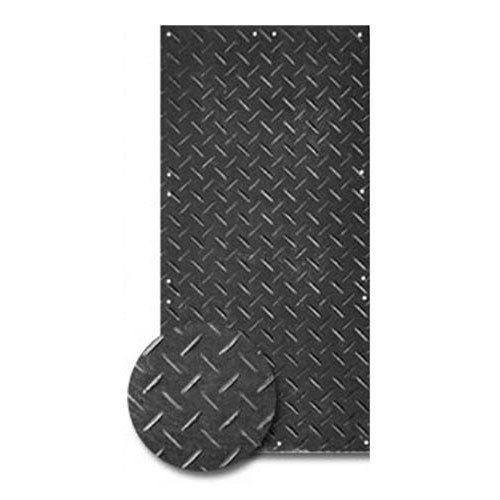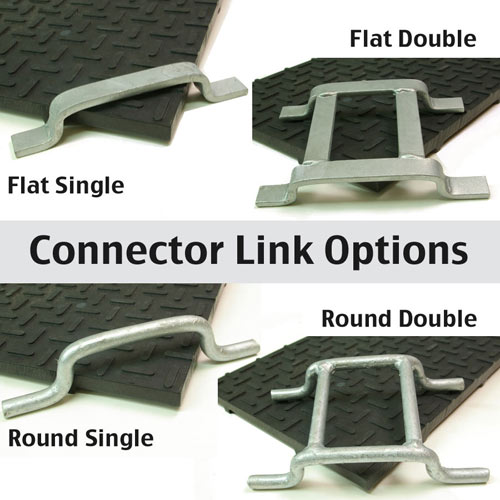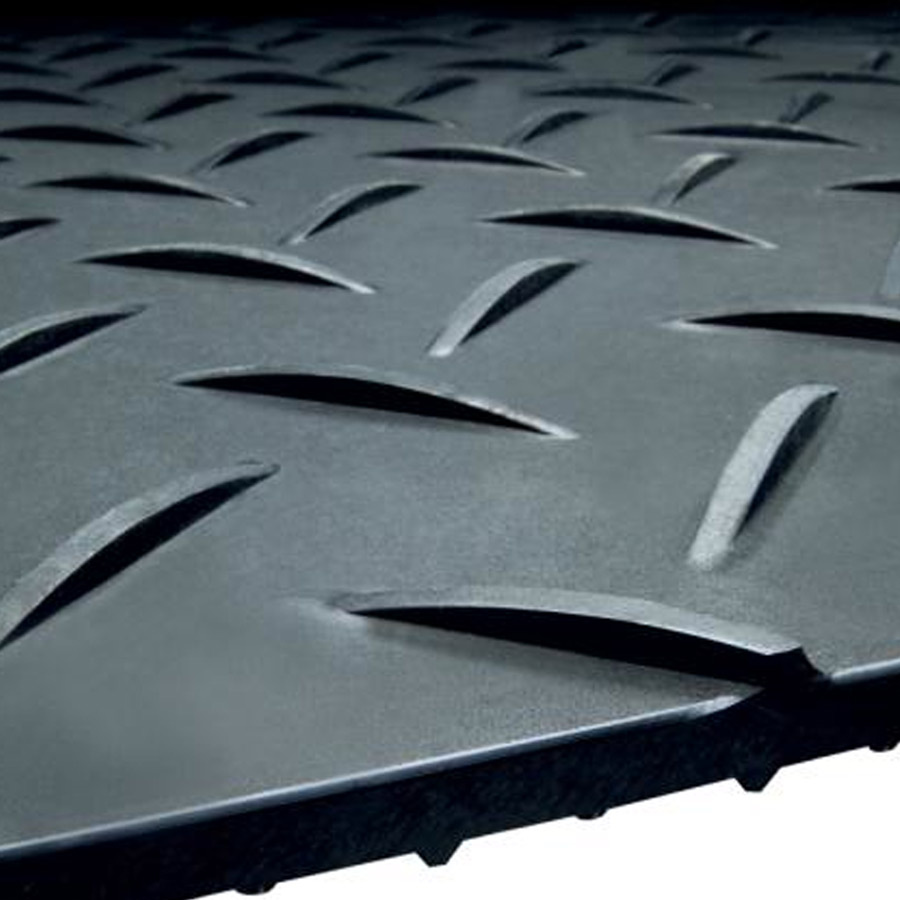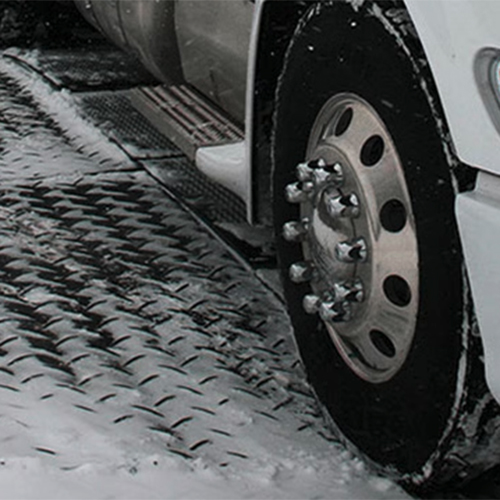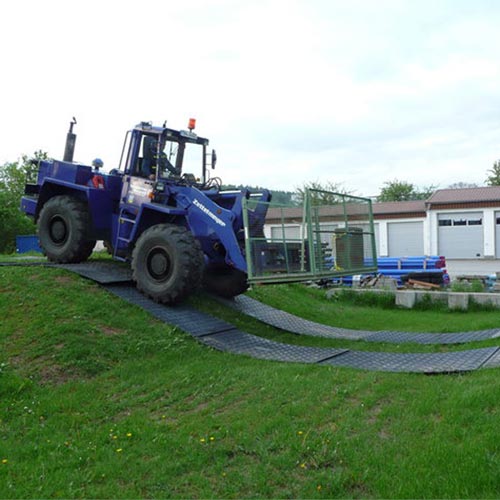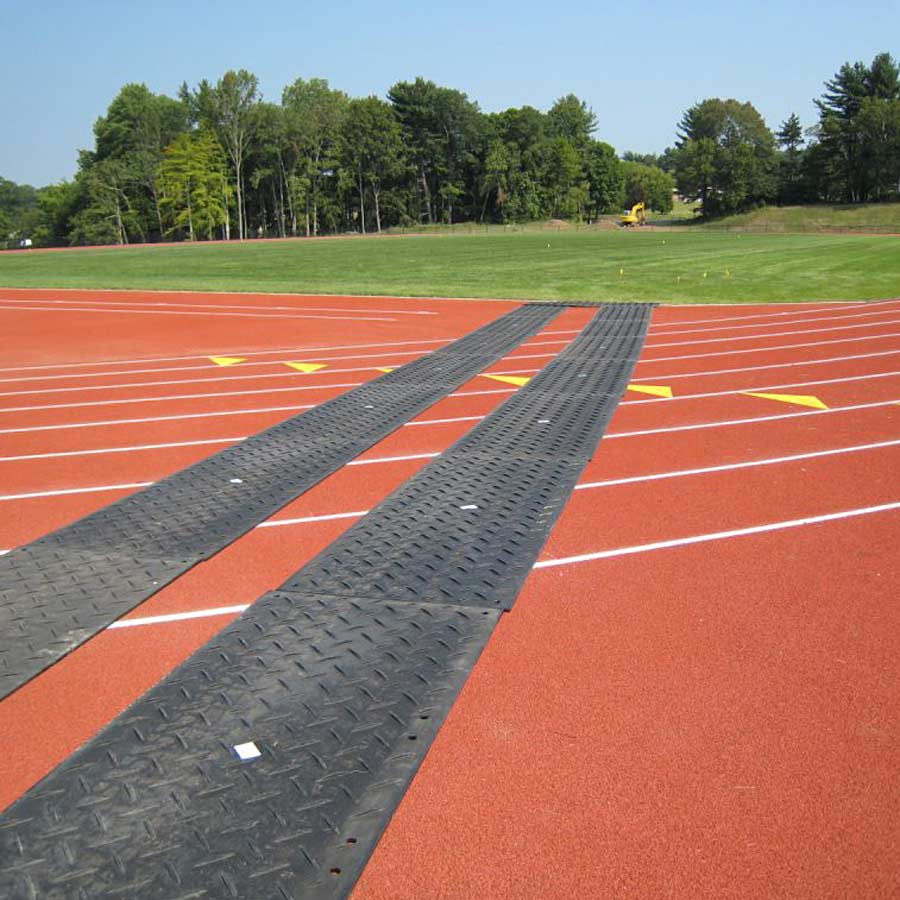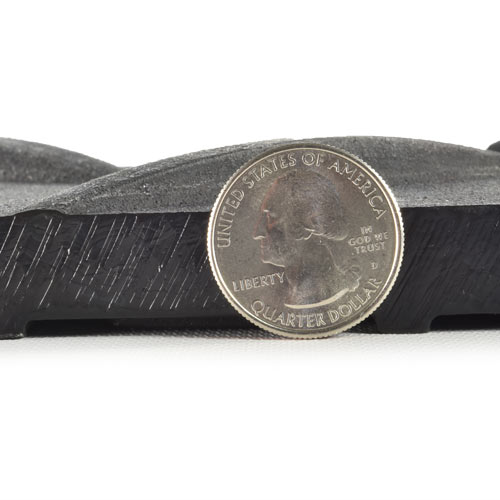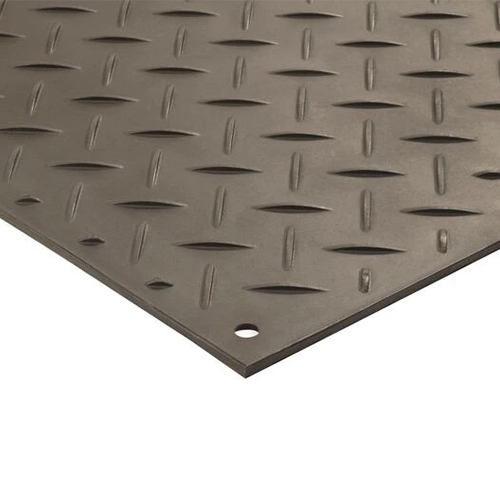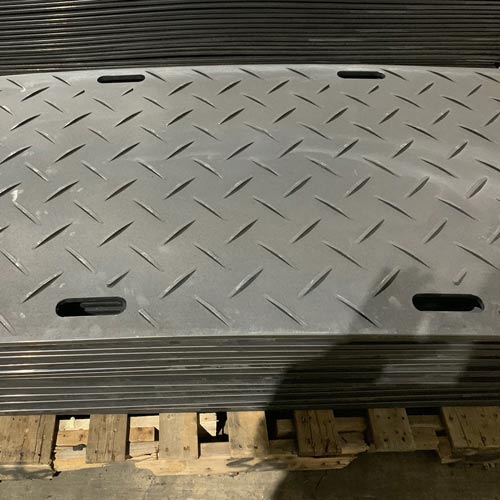 Easily supports 120-ton loads
Rugged 1/2 inch thick recycled polyethylene
Bold cleat design for great traction
Handling Time Estimate: Call for Availability of Lead Times

Diamond-Diamond
Easily supports 120-ton loads
Rugged 1/2 inch thick recycled polyethylene
Bold cleat design for great traction
Build a roadway or working platform in minutes
Leave turf smooth, even in soft conditions
No more splintered, warped, water logged plywood
Simply hosing down leaves the mats clean
Available in both black or clear mats

Ground Protection, Heavy Equipment Mats, Skid Steer Mats, Grass Protection Mats, Temporary Roadways
NOTE: This item is a custom order and is not returnable.
AlturnaMats Ground Protection Mats Black 1/2 Inch x 4x8 Ft.
The original temporary roadway mats AlturnaMats Ground Protection Mats Black 1/2 Inch x 4x8 Ft. feature maximum traction with a diamond plate tread mat design. Simply the best made ground protection mats on the market - hands down, this claim is backed-up by our Lifetime Warranty on all ground protection mats that we sell.
AlturnaMats Ground Protection Mats 4x8 Feet, Black

To eliminate the problem of driving vehicles across a muddy construction site or of driving vehicles on a delicate sports turf or lawn, count on the high quality AlturnaMats Ground Protection Mats 4x8 feet in size.

Our turf access mats create a safe method to move vehicles of almost any size across an area with soft ground underneath. Whether customers want to avoid tearing up the natural turf with the large vehicles or to avoid sinking in mud, our ground protection mats 4x8 in size are ready to provide the desired level of traction.

Even when the ground underneath the mats is soft from rain or from watering, the mats are able to spread the weight of the vehicle across the ensure width of the mat, preventing the tires or treads of the vehicle from digging into the ground.
High Quality Mats for Temp Roadways
These mats consist of a high density polyethylene, or HDPE, material, which outperforms other products and materials construction workers and maintenance teams use to create temporary roads.
The HDPE is far stronger and sturdier than plywood, which is a common material construction workers use for carrying vehicular traffic around the job site.
Plywood cannot hold the same amount of weight as our ground protection mats 4x8 feet in size. Our HDPE mats can support up to 120 tons, depending on the ground conditions.
Plywood also will begin to weaken and rot as it receives constant exposure to moisture, while our mats maintain their durability, even when wet.
As a final benefit, our ground protection mats 4x8 for sale will work for dozens, if not hundreds, of jobs. After a team uses plywood sheets one time for a temp driveway, the plywood will end up as garbage. Our mats use 100% recycled HDPE, making them an environmentally friendly, reusable choice.
Versus using basic plastic as a temporary ground cover, our mats can hold far more weight and are far sturdier. Most types of plastics tend to bend or become brittle under significant weight, leaving them unusable day after day.
Some construction teams may prefer to lay road gravel at the site to create a method of moving heavy vehicular traffic. However, with all of this gravel in place, it makes planting a lawn or using sod extremely difficult later without the time and expense of removing the gravel.
Our ground protection mats 4x8 sized will go over the top of existing grass. Or, if planting a yard after the construction process ends, just pick up our mats and move them into storage or move them into place at a new construction job before planting the grass seed or laying the sod.
Even though these mats work perfectly for vehicle traffic, they also are an option for creating a pedestrian walkway around a construction site. This helps to keep visitors to a construction site safe and free from walking on mud.
These mats also work for creating a bike path or a golf cart path for moving around a large property safely.
Interlocking Traction Mats for Large Vehicles
Customers can select among three traction patterns over the top of our mats, helping them match the pattern to the conditions.
In an area where vehicles may have quite a bit of mud on the tires, a full diamond pattern is a logical choice. In areas where mud and wet conditions are not present, customers can select a tile with a smooth top surface, as they don't need the traction from the tread.
We offer models with diamond tread on both sides, diamond tread on one side, and smooth surfaces on both sides.
When creating the road, customers almost certainly will want to connect multiple mats together. These mats contain holes for adding secure connector pins along both the length and width of the mats.
Heavy Equipment Ground Cover Mats Specifications
Width: 4 feet

Length: 8 feet

Thickness: 1/2 inch

Coverage: 32 square feet

Weight: 86 pounds

Colors: Black

Texture: Diamond tread pattern or smooth
Maintenance and Care
Count on our ground protection mats 4x8 kit to deliver a long-lasting option for creating temporary roadways. Even after using these mats for a long period of time as a temporary driveway, customers can pick them up and reuse them in a new location.
Under the majority of use cases, the durable mats may show a little bit of wear and tear, but they will maintain their integrity, allowing them to continue working normally for years to come.
The manufacturer provides a limited lifetime replacement warranty. The warranty even provides protection against any cracking, breaking, splintering, or chipping of the material.
During normal use, the mats will collect mud and grass. Customers can clean the surface of the mats using a pressure washer or a garden hose. To remove soils that won't pop loose with the pressure washer, customers can use a non-metal scrub brush.
Do not use these mats to bridge over a ravine or drainage ditch. They must sit on top of soil, grass, or gravel at all times.
The product is not intended for use with steel tracks or as a landing area for dropping tree limbs.
Maintenance
Clean using a pressure washer or garden hose and non-metal scrub brush.
Shipping
Ships via freight delivery, shrink wrapped on pallets. Customer must unload at delivery location, Lift Gate service is not available for this product.
This Product Ships Freight Only.
Please review our shipping disclaimer.
WARNING: This product can expose you to chemicals including Lead and/or Phthalates, which are known to the State of California to cause cancer and birth defects or other reproductive harm. For more information go to www.P65Warnings.ca.gov.
| | |
| --- | --- |
| SKU# | AM48 |
| In Stock | Yes |
| Product Type | Mat |
| Material Type | Polyethylene Plastic |
| Product Edging | Straight |
| Thickness | 1/2 inch |
| Width | 4.00 feet |
| Length | 8.00 feet |
| SF per Item | 32.00 |
| Weight | 86.00 lbs |
| Packaging | Shrink Wrapped on Pallets |
| Number of Pieces per Package Type | 20 |
| Non Absorbent | Yes |
| Special Adhesives | No |
| Interlock Loss | 0.00 feet |
| Material Hardness | Shore A 100 |
| Interlocking Connections | No |
| Made In | USA |
| Surface Finish | Diamond or Smooth |
| Surface Design | Solid color |
| Installation Method | Dry lay, connector pins |
| UV Treated | Yes |
| Reversible | Yes |
| Border Strips Included | No |
| Manufacturer Warranty | Lifetime limited |
Product Questions:
Q: I see that it says minimum order of 3. Does that mean 3 mats or does that mean 3 pallets?
A: The minimum order for this temporary roadway and ground protection mat is 3 panels.
Q: Is the min order 20 sheets at $218.00 + per pallet and 3 pallets ? What is the smallest order of 4 by 8 foot sheets ?
A: The minimum order is 3 panels. The packaging is up to 20 per pallet.
Q: I'm trying to find a solution for a concrete pad that gets dump truck use 2x's week. The tires of the dump truck have started to wear a depression in concrete. Will these pads hold up to that kind or weight?
A: These ground protection mats support 120 ton loads and are available in with a smooth underside.
Q: I have a forklift 14k forklift that will sit on these for long periods of time, will these hold up or will they sink in the mud eventually with the constant pressure of the forklift?
A: Your forklift should not be a problem over this ground protection mats.
Q: Can these mats be cut to size? If so, what can I cut them with?
A: We do not recommend cutting the mats since it voids warranty. Therefore, we do not have instructions for cutting mats.
Q: RE: Alturna Ground Protection Mat 3x6 diamond/smooth, specs say 120 tons. Would mat work for mil 10K AT fork? Plan to shore up 3/8'' steel diamond plate over 24'' width access panels on concrete warehouse floor.
A: The mats will work for rubber tires and rubber tracks. For forklift, we recommend using our
Versamats
. The mats should not be used for structural support.
Q: How much a piece for 20?
A: Please call us for volume discount questions. - 877-822-6622