Should I Use Glue Or Rubber Flooring Adhesive?
By Paige Cerulli Created: January, 2022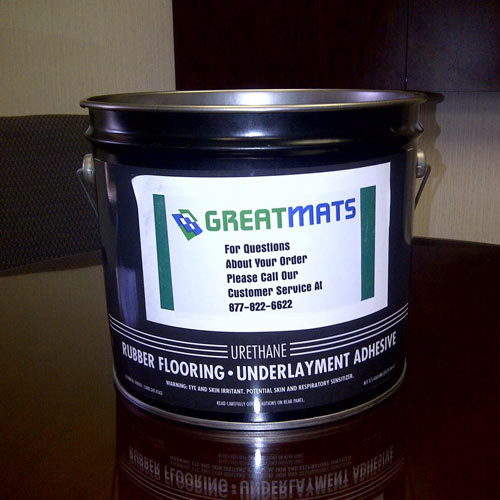 Rubber flooring offers many advantages, from being highly durable to also being one of the strongest flooring products you can buy. Many rubber flooring products are designed to be easy to install. Some do need to be glued down, while double-sided tape will be sufficient for others. And some need no adhesive at all.
When You Need Rubber Flooring Adhesive
As a general rule, you'll usually need to glue down outdoor rubber flooring in some manner. This flooring is exposed to the elements and an adhesive provides extra security, ensuring it doesn't shift or start to pull up.
When you're installing rubber rolls indoors, then a double sided tape is often sufficient to keep the rubber in place. This tape offers an extra hold that helps to prevent shifting, but it also allows you to easily remove the roll in the future if you should need.
While those general rules can help to guide you, there are always exceptions. It's best to review the directions that come with the specific product that you're buying.
You'll find that many rubber products include detailed instructions about what type of adhesive and base layer to use. The directions might specify certain steps to follow when adhering the rubber to concrete or another surface, so read those instructions carefully when determining which product is right for your needs.
The Best Rubber Flooring Adhesive Products
At Greatmats, we stock a wide variety of quality rubber flooring adhesive products. These glues and adhesives are known for their strong hold and overall quality, and they pair well with many of the rubber flooring roles and tiles that we have for sale.
Adhesive for Rubber Floors 3.5 Gallon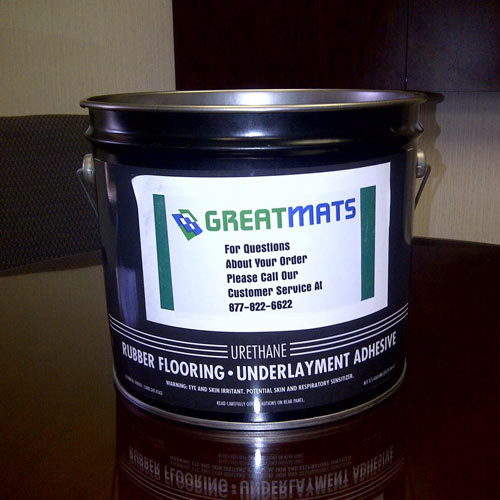 Our Adhesive for Rubber Floors is a urethane product that's ideal for rolled rubber, rubber tiles, and cork underlayments. It creates a waterproof installation that's highly durable.
This adhesive can be applied to fully cured concrete, primed lightweight concrete, plywood, and OSB, making it a versatile choice. It has a 90-minute open time for easy installation.
Each gallon covers approximately 100 square feet.
Adhesive for Tiles to Base Bostik 4 Gallon Pail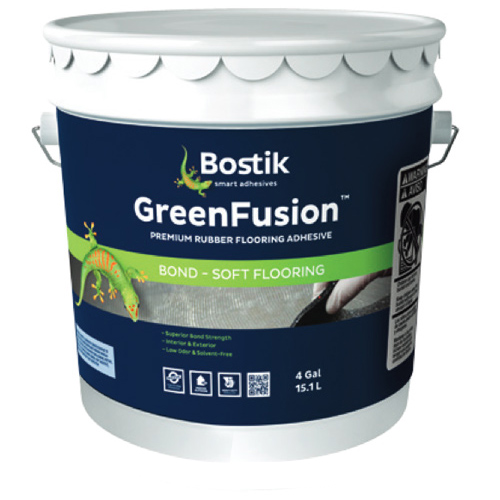 The Adhesive for Tiles to Base Bostik is a low-odor formula that is solvent-free. It also has zero VOCs and is freeze/thaw stable, so it's easy to use and offers distinct advantages over other adhesives.
This adhesive offers a superior bond strength for long-lasting installations. It features a fast tack and grab for ease of use.
Suitable for both interior and exterior applications, the adhesive is also easy to clean up. You can apply it to concrete, plywood, terrazzo, and asphalt substrates, making it one of the more versatile adhesives you'll find.
This product is intended for use with the Sterling Roof Top Tiles, Sterling Rubber Tiles, Sterling Playground Tiles, and Sterling Athletic Sound Tiles. One gallon covers approximately 36 tiles.
Joint Adhesive 30 ounce Tube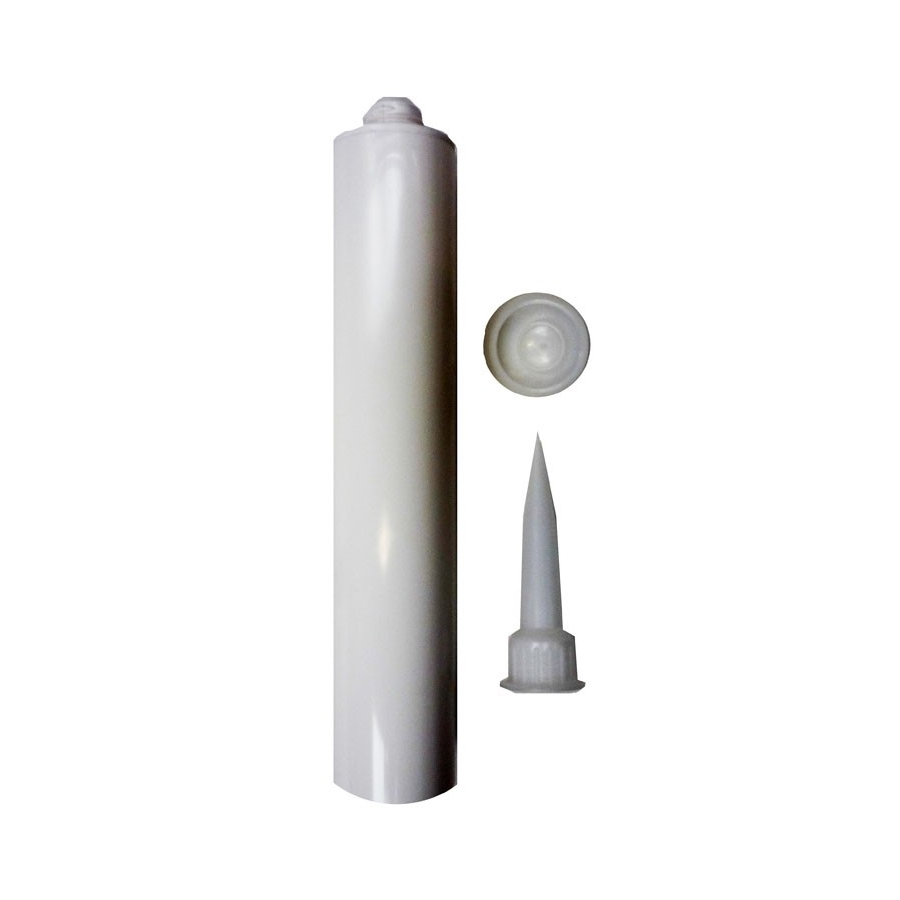 The Joint Adhesive 30 ounce Tube is a latex-based, non-flammable formula. It's a polyurethane-based joint sealant that cures to create an elastomeric material that also has adhesive properties.
The adhesive creates strong, early wet strength that's ideal for vertical surfaces, since it helps to prevent tiles from slipping. It becomes water resistant once it's fully cured.
This adhesive is made in the USA. When adhering a tile to another tile, it covers 20 tiles per tube. When adhering a tile to the floor, it covers 16 tiles per tube.
MI 3000 Polyurethane Adhesive 2 Part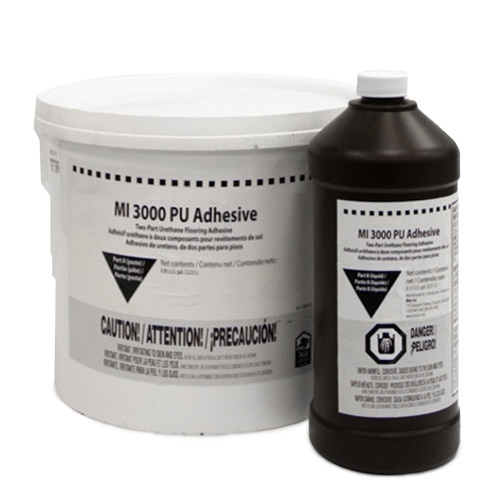 The MI 3000 Polyurethane Adhesive 2 Part is a two-part system that pairs with the Spectation 9mm Tiles and the ProTrack Track and Field Runway Rubber Rolls. You can also use it on vinyl-backed tiles and planks.
This urethane flooring adhesive has low VOCs, so it's an excellent choice for occupied areas like schools, hospitals, shopping malls, and sports facilities.
The adhesive creates a strong bond to substrates that have been properly prepared. One gallon covers approximately 185 to 245 square feet of a PVC or vinyl-backed product. It covers approximately 150 square feet of Spectation Gym Flooring.
EGrip III Adhesive 4 Gallon Pail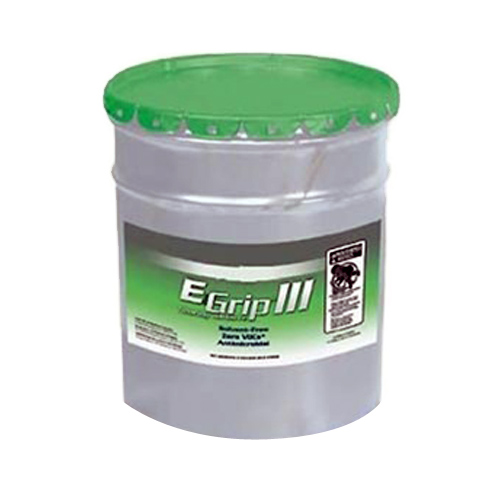 The EGrip III Adhesive 4 Gallon Pail is a solve-nt-free urethane adhesive that requires no mixing. It has a very low odor and is easy to apply, and it produces flat, concealed seams.
This zero-VOC adhesive is designed to be used with Max Playground Rubber Tile, Rolled Rubber Eureka, Ultra Tile, and MX Outdoor Rubber Tile products. It's moisture-cured and permanently elastic, so it adheres well to concrete and wood, and can be used both indoors and outdoors.
Sikaflex 221 Adhesive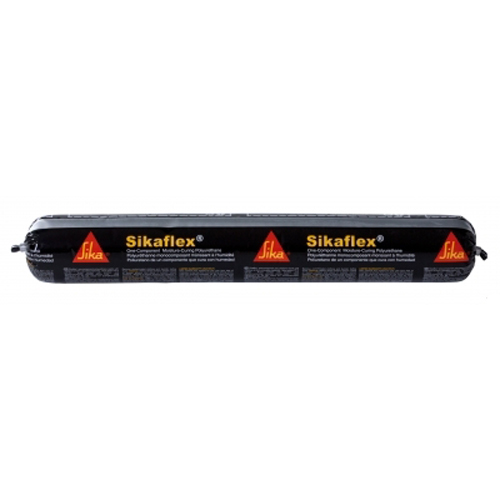 The Sikaflex 221 Adhesive features a one-component formula that's designed for Sterling Roof Top Tiles. This adhesive adheres to wood, metal, metal primers, ceramic material, and plastic.
This multi–purpose polyurethane sealant reacts with atmospheric moisture to cure, creating an elastic finish. It's designed for outdoor use and can be painted over and sanded for a clean finish.
Masterweld CX-941 Adhesive 5 Gallon Pail
The Masterweld CX-941 Adhesive is a very low-odor formula that's suitable for use in occupied spaces. It's free of chlorinated solvents and is nonflammable, making it a safer adhesive for workers to use.
The formula is freeze and thaw stable, so you can use it both indoors and outdoors. It's free of water and solvents that can prompt wood to expand, so it can be used on flooring, trim, underlayments, cork, recycled rubber, and more.
Easy to use, this adhesive creates a strong, long-lasting bond.