Is Rubber Flooring Good For Veterinary Spaces?
By Paige Cerulli Created: January, 2023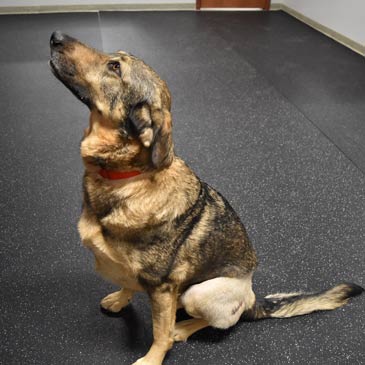 Choosing the right flooring for a veterinary clinic or hospital plays a key role in the space's overall safety and performance. Whether you're building a new practice or want to revitalize your current space, rubber veterinary flooring might be an ideal solution.
Benefits of Rubber Veterinary Flooring
There are many reasons to choose rubber flooring products for veterinary clinics and hospitals.
Durability
One of rubber's greatest benefits is its strength and durability. Many rubber products are strong enough to withstand the weight of furniture, equipment, kennels, and more.
Rubber is also supremely durable. Rubber flooring can withstand the significant foot traffic that a veterinary space sees, and it's tough enough so that pet nails won't tear or damage it.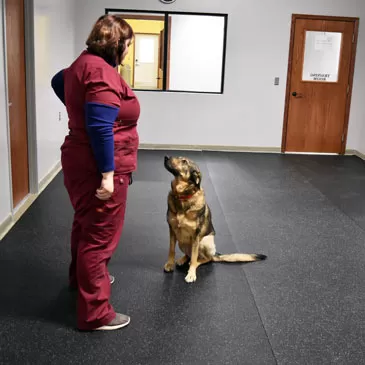 Since rubber is available in multiple thicknesses, you can choose the product that is appropriate for the particular room that you're working in. You might opt for a thinner product for a reception area or a small animal practice, and a thicker product for areas that will see heavier use, like the aisle of a treatment barn.
Shock Absorption
Rubber also offers excellent shock absorption, which can make a veterinary space more comfortable and safer. Rubber can create a more forgiving surface when it's laid over concrete, helping to keep staff more comfortable when they're on their feet all day.
That shock absorption is particularly valuable if a slip or fall does occur. Rubber also helps to relieve some of the shock on animals' joints, a major advantage for horse stalls.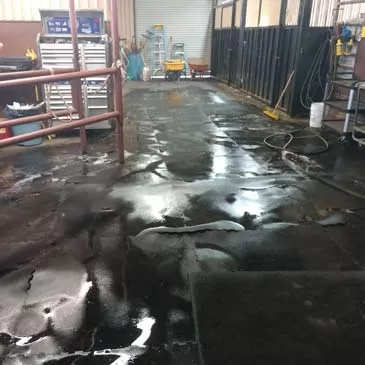 Traction
Rubber flooring products also help to maximize traction to help prevent falls. Many of our rubber products feature a texture to maximize traction, improving the safety of your space.
Sound Absorption and Temperature Buffering
Adding rubber flooring to a veterinary space can also offer valuable sound absorption. While larger rooms and barns might resonate because of the space and traditional hard flooring, a rubber floor can dampen that sound and make the environment more enjoyable for people and pets.
Rubber also helps to buffer temperatures. When installed in dog kennels or horse stalls, it can help to prevent cold from traveling up through concrete floors to the animals.
The result is a more comfortable, warmer space.
Easy Installation
When you shop for rubber flooring, you will have plenty of design options to choose from. Rubber is available in tiles, mats, and rolls, and most products are easy to install.
Rubber mats can be dry laid in many areas throughout a veterinary space. They are ideal for adding extra protection to a subfloor, cushion to an area, or traction to a space.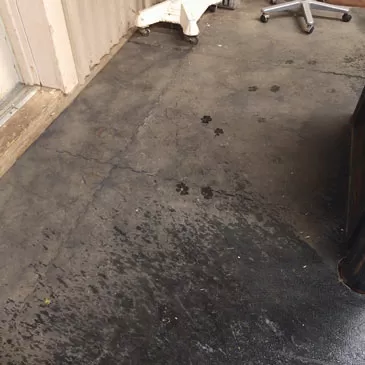 Consider rubber mats for areas where you want these properties, but where you also want to be able to remove the flooring if needed. Mats are ideal for dog kennels, horse stalls, and more.
Rubber rolls offer significant coverage and are an economical way to floor larger spaces, including barn aisleways and entire rooms. These rolls can be taped down or installed with adhesive when you want a permanent installation.
Rubber tiles also offer an easy installation process. Equipped with interlocking edges, tiles fit together tightly to prevent them from separating while in use.
These tiles are available in different sizes, so they're suitable for smaller and larger spaces. Many of these tiles can be installed without adhesive, which gives them more versatility.
If you dry lay your rubber tiles, you can easily replace any tile that becomes worn or damaged, rather than having to replace the entire floor. You can also expand the floor by adding on more tiles in the future.
Low Maintenance
Any flooring in a veterinary facility needs to be easy to clean, and it has to be able to withstand frequent, thorough cleaning and disinfecting. Vulcanized rubber products are waterproof, meaning you can use a vacuum, damp mop, and disinfectant on them without damaging the floor.
Rubber Veterinary Flooring Success Stories
Rubber flooring has been a success in multiple veterinary hospitals.
Clovis Veterinary Hospital
, located in east central New Mexico, is a mixed animal veterinary practice. The hospital's co-owner, Jon Ford, installed multiple rubber floor mat types from Greatmats in 2016.
Ford chose the 12x12 Foot Big Sky One Piece Stall Mats for the equine intensive care unit stalls. The mats' traction is ideal for the large animals, and the mats create a forgiving surface that's comfortable for both animals and staff.
Ford also chose a beveled edge custom kit of the Greatmats interlocking rubber mats for other areas within the clinic. The mats were easy to install and worked well with the different floor plans in the facility.
The
Babinski Foundation
, located outside of Pequot Lakes, Minnesota, uses the Greatmats ¼ inch thick rubber flooring in its new facility room that is used to train dogs. Some of those dogs are undergoing rehabilitation from surgeries, while others are learning basic obedience skills to make them more adoptable.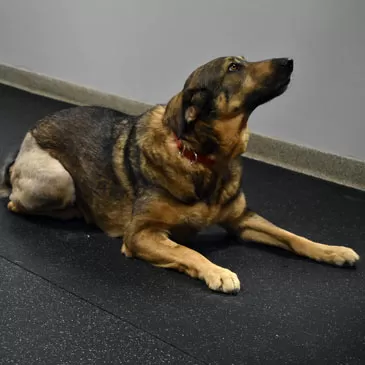 The rubber flooring gives the dogs the traction they need to be secure while training. They're also easy to clean and can be mopped or swept, so staff save time on cleaning and accidents are no big deal.