Rooftop Deck Flooring Features: Flat Roof Deck Flooring
By Kim Butler Created: July, 2017 - Modified: April, 2023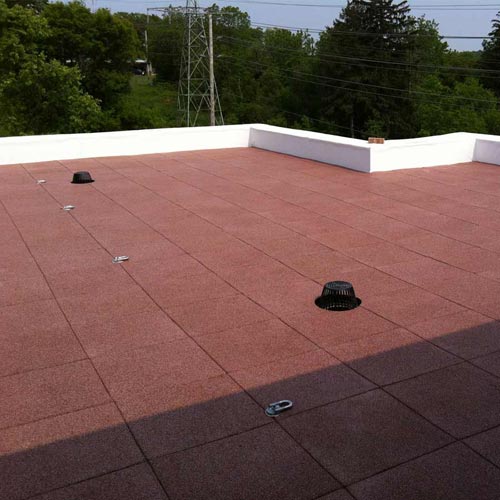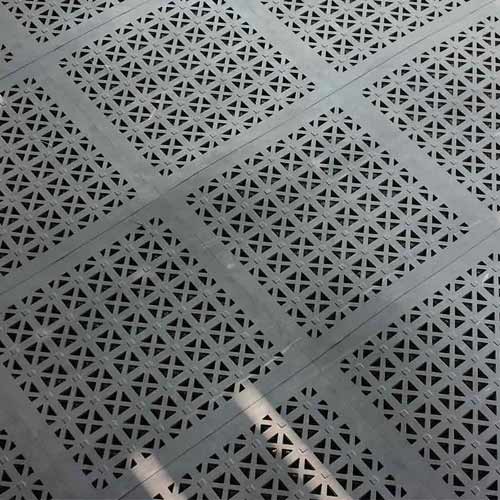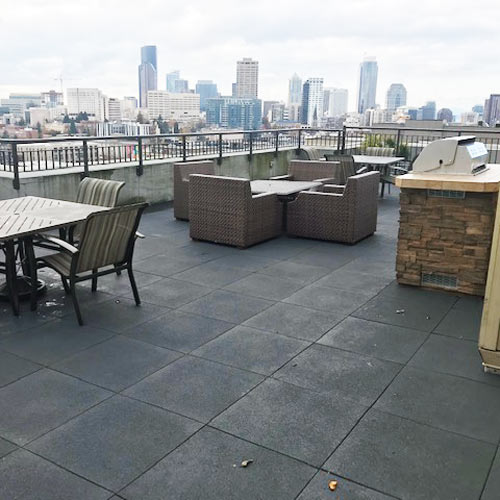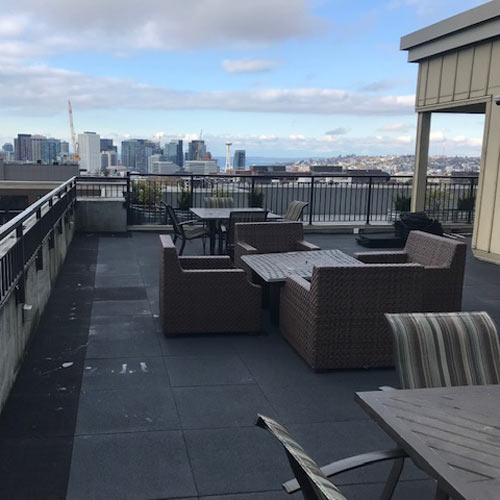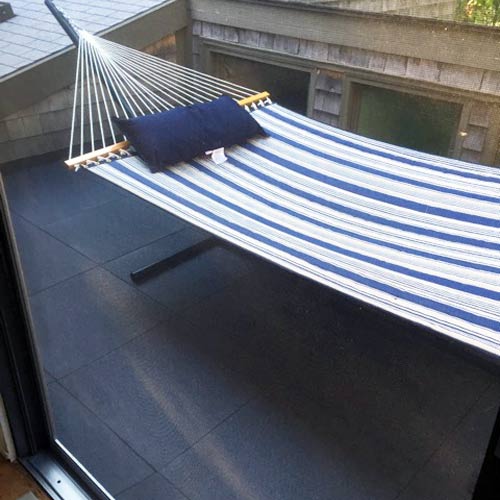 As the weather warms, homeowners and apartment dwellers are looking for ways to maximize their outdoor entertaining spaces, and create inviting open air living environments. Similarly, the trend in restaurants is to add seasonal seating areas for their guests to dine al fresco.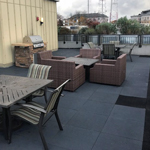 In urban areas where space is at a premium, these folks are looking up - to their roofs. A flat roof can make a great patio or deck, but you can't just put out a bistro set and sit back and enjoy the view. No one wants to hang out on 'Tar Beach.' An unfinished roof surface can be dirty, sticky and dangerous. Waterproof membranes on some roofs are easily punctured, and you don't want your roof damaged by moving furniture or high heels. To avoid these problems, make sure to start your rooftop patio design with a solid flooring choice.
Conversely, maybe you already have a nice space like a condo balcony, but you don't like the look of a drab concrete floor, or your patio surface is damaged or deteriorating.
The solution to these problems is a
rooftop deck flooring
tile system designed specifically for roofs. The number one concern is that the outdoor tile must be safe for your rooftop membrane. Installing a tile that is not recommended for rooftop membranes could cause damage, affecting the integrity of the roof.
Another major consideration is drainage. Standing water and water runoff on a flat roof is a challenge as it is - but you don't want pooling water where your family and guests are hanging out. Wet areas can be slippery, and standing water can encourage mosquito growth and damage furniture. Here's a rundown of some of the choices in flooring specifically designed for use on roofs, patios, and balconies.
Rubber Rooftop Deck Flooring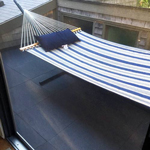 Rubber is one option. Lighter weight than concrete, rubber is durable but won't require roof reinforcement.
Sterling brand rooftop deck flooring tiles, which come in 2X2 foot tiles, in black, terra cotta, green, blue, grey, and brown as well as more than eight different multicolor blends. The tiles interlock, and borders and corner ramps are available to increase safety and give your space a finished look. At almost 20 pounds a tile, these tiles are heavy enough to avoid lifting in strong winds and won't fade or curl in extreme temperatures.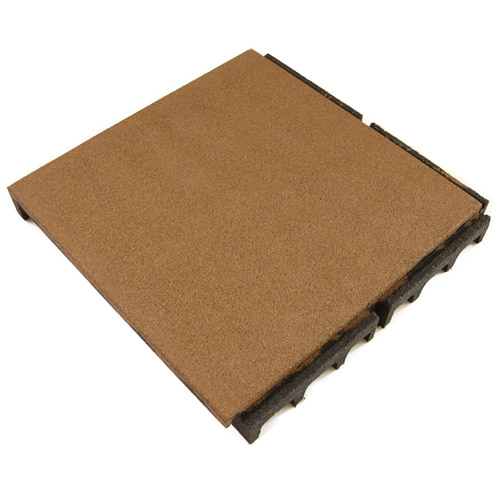 Blue Sky Brand Interlocking rooftop deck flooring rubber tiles allow water to flow underneath the tile and protect fragile underlayments like waterproof membranes. The surface is non slip and will not mold or mildew. This brand of tile is suitable for use with rubber roof membranes, and ships from the east coast. With six standard and more than 10 mixed colors, you are sure to find a coordinating color that suits your outdoor space.
Plastic Rooftop Deck Flooring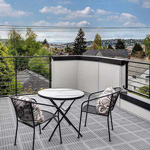 If weight is an issue, PVC outdoor tiles weigh around 1 pound per tile and can start at less than $3 per square foot. Interlocking design makes installation a snap. The perforations allow for drainage and the tile itself will not absorb water or get slippery. It's a great option for patios and rooftop deck flooring in rainy climates., however they are not recommended for rubber membrane roofs.
Greatmats.com, a leader in specialty flooring, carries its own brand of PVC rooftop deck flooring tiles. StayLock Brand PVC interlocking rooftop deck flooring tiles allow water to drain through their perforated surfaces, making it a great choice for locations with heavy rainfall. The soft PVC plastic feels good to the touch and is comfortable to play or stand on. The tiles are available in various colors for your rooftop deck.
Rooftop Turf Flooring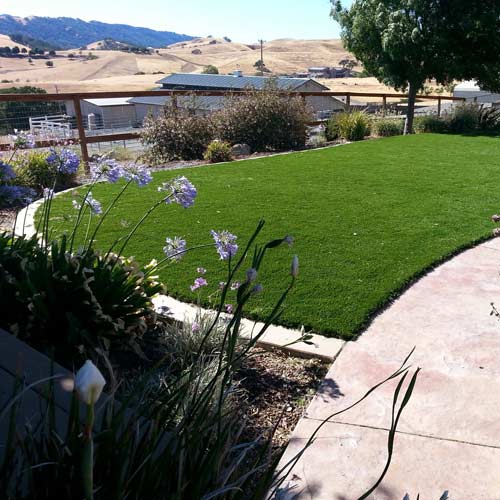 When creating a patio or gathering area at a business, office building, apartment complex, or home, installing rooftop turf from Greatmats provides an eye-catching solution that will last a long time and look great at any time of the year.
The La Jolla Artificial Turf Roll has a high performance quality and reacts naturally underfoot for a great, comfortable feel. It's both durable and versatile and can be used indoors and outdoors.
The turf features a 1.75-inch yarn pile height, so it looks and feels just like natural grass. The thatch pattern creates additional body and reduces the amount of infill that you need.
Maintaining the turf is also easy, since you can rinse it with water or rely on rainwater to do the job for you. If you need to fluff up the fibers, you can do so with a broom or a rake. This turf comes in lengths that are 15 feet long, and you can have them custom cut by the linear foot, ordering exactly how much you need for the installation.
Whether you chose rubber, perforated PVC, or wood tiles, your new roof or patio floor will give your outdoor space project a solid footing. Make sure to get some free samples from an online retailer to really get a feel for what surface you like.
Do some more research on the pros and cons of each material to make sure it works for your specific project, or save yourself some time and talk to the experts at Greatmats.com, or check out the product lines at a home improvement store.
Summer is short in many parts of the world - so get started now to make sure you can enjoy and make the most of those lazy days of summer on your new roof deck or patio.