What Are The Pros And Cons Of Soft Laundry Room Flooring?
By Paige Cerulli Created: October, 2021 - Modified: November, 2023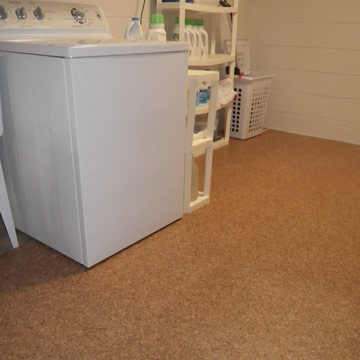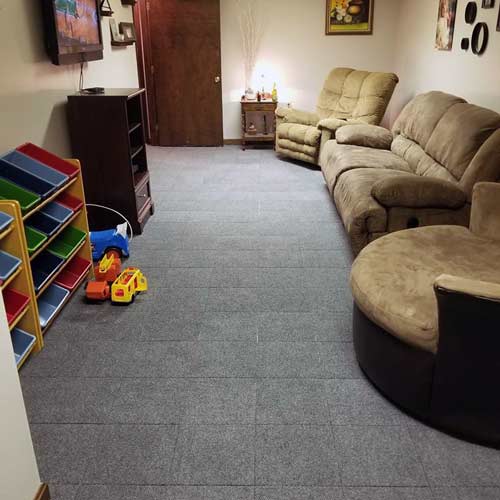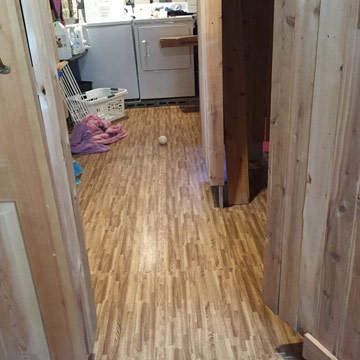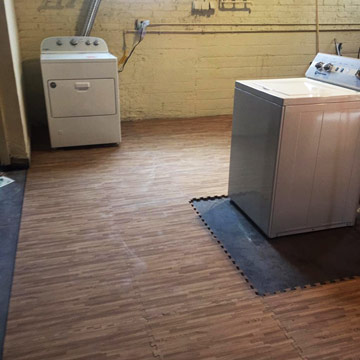 Chances are that your laundry room flooring is cold tile or even concrete. While hard tile might be ideal for spaces like bathrooms, it isn't always the best for your laundry room. Considering soft laundry room flooring can have many benefits.
Pros of Soft Laundry Room Flooring
There are many reasons to consider using soft laundry room flooring.
Easily revitalize a worn floor
Installing soft laundry room flooring can quickly revitalize your existing laundry room floor. Most of our soft tiles can be laid directly over existing flooring, including concrete.
These tiles can help to conceal some imperfections, and depending on the color that you choose, they can make your room look lighter, brighter, and cleaner. They're an affordable way to make your room look great, and pairing these tiles with a new coat of paint can make for an easy and economical renovation.
Because you can install these tiles yourself, you can save money on a professional installation. The tiles are easy to cut, so you can trim them to fit around cabinets and other objects.
Absorb sound
Soft tiles help to absorb sound. This can make your laundry room a quieter space, and may also help to prevent some of that noise from traveling out into your home.
Soft underfoot
A soft tile is comfortable underfoot. If you're using the laundry room for ironing, sorting, or folding, then soft flooring can help keep you comfortable when you're spending lots of time on your feet.
Warm in the winter
Soft tiles are a much warmer alternative to traditional flooring like vinyl tiles or cement. This can make doing laundry in the winter much more comfortable.
Prevent slips
Spilled water, detergent, or a dropped dryer sheet can be a safety hazard in your laundry room, but using a soft flooring tile can help keep you safe. They not only tend to be more slip-resistant but also provide cushioning in case of a fall.
A raised tile will allow water to drain through it, so you don't have to worry about continuously spotting and wiping up spills.
This can also be beneficial if you use your laundry room for other purposes, like having it double as a mudroom or as a space where you feed your pets. All of these activities can lead to increased moisture and spills, but soft laundry room flooring can make the space safer.
The ability to withstand moisture makes this type of flooring ideal not only for laundry rooms but also for basements and even garages.
Cons of Soft Laundry Room Flooring
While there are many reasons to use soft laundry room flooring, there are some disadvantages to be aware of.
Vacuuming required
If you choose a carpeted flooring option, then you'll need to plan on some vacuuming. Rather than quickly sweeping or mopping up your laundry room, when your flooring is carpeted, you'll need to get out the vacuum, instead.
Can stain
Many carpet tiles can be stained, so it's important to address spills promptly. Choosing a stain-resistant tile can help to minimize the chances of a stain occurring.
However, if the tiles do get stained, you can replace just the stained tiles, rather than having to replace the entire room of flooring.
Punctures and Indents
If you choose foam flooring, be aware that heavy furniture placed on the flooring will likely indent the flooring. If that is a concern, one way to combat that is the use of furniture coasters.
Another thing to watch out for is that as a soft material, foam can also be easily punctured by sharp objects - like the legs of some tables or chairs, or pet toenails. This will not affect the performance of the flooring but may be noticeable aesthetically.
Best Soft Laundry Room Flooring to Consider
If you're looking for flooring ideas for your laundry room, consider these products available right here at Greatmats.
Carpet Tiles Modular Squares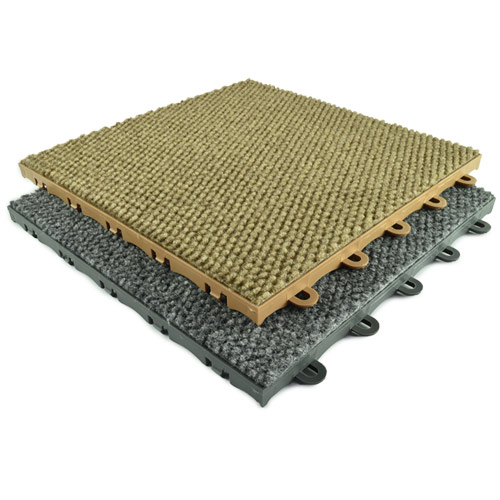 The Carpet Tiles Modular Squares is a raised carpet tile that helps to make your laundry room a more comfortable space. Because it's waterproof, it's ideal for laundry rooms, basements, and more.
This modular snap-together carpet tile features plastic pegs on the bottom, raising the tile up for airflow and natural drying. The tiles act as a buffer against cold temperatures and can be easily vacuumed clean.
Royal Interlocking Carpet Tile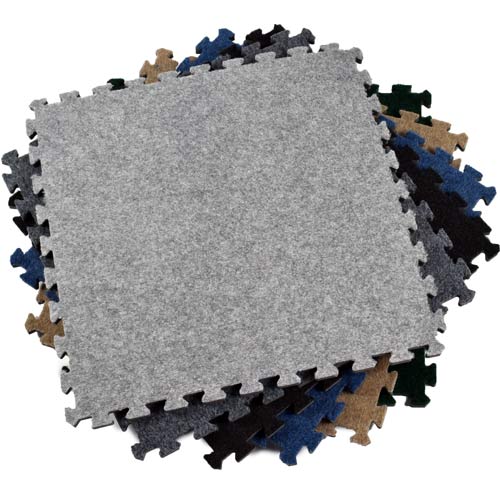 The Royal Interlocking Carpet Tile offers anti-fatigue and insulation properties that are similar to traditional carpet. These tiles are waterproof and stain resistant - as well as odor resistant, making them durable enough for your laundry room.
These foam-backed puzzle-style carpet tiles are easy to install, and you can put them directly on your concrete, wood, or tile floor. They are even puncture-resistant due to the high-quality carpet surface. Each tile includes two border strips for a clean, finished edge.
Wood Grain Foam Tiles Reversible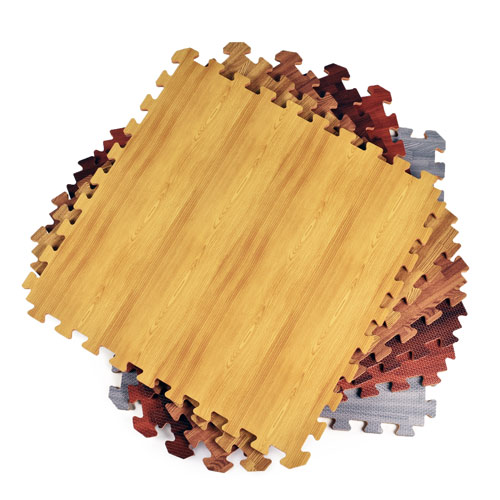 With the Wood Grain Foam Tiles Reversible flooring, you'll enjoy beautiful wooden patterns that look like real hardwood. These cushioned EVA foam tiles are much more comfortable than hardwood, though, and they're also lead and latex-free.
These tiles feature a wood grain finish on one side and a scuff-resistant surface on the other. These tiles have an interlocking design for easy installation, and they come with border strips for clean edges.
Foam Kids and Gym Mats ⅝ Premium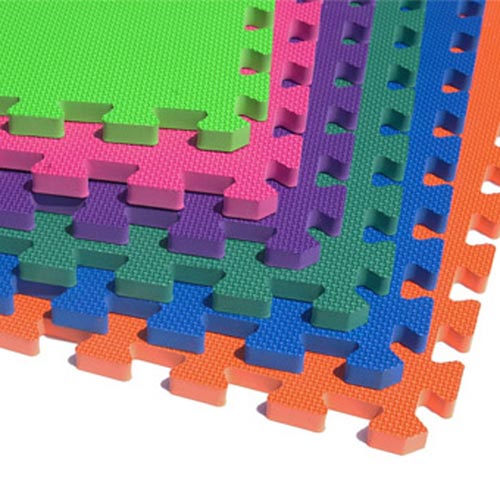 Both waterproof and stain resistant, the Foam Kids and Gym Mats ⅝ Premium tiles are an excellent choice for your laundry room. They're available in 12 brilliant colors, so you can choose the shade that's just right for your room's decor.
These foam tiles are comfortable underfoot, and they add plenty of impact absorption to your floor. They're even backed by a one-year limited warranty.