Theatrical No Glare Floor Full Bolt 2 mm x 6x60 Ft.
Custom cut lengths available
No glare theatre flooring
Great for stage and black box spaces
Handling Time Estimate: 4-6 Working Days

Black
How Much Flooring Do I Need?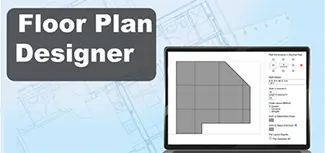 Custom cut lengths available
No glare theatre flooring
Great for stage and black box spaces
Durable marley vinyl flooring
Can be used for many dance types
Theater Flooring, Dance Floors, Modern Dance, Jazz Dance, Ballet Dance
NOTE: This item is a custom order and is not returnable.
60 Foot Vinyl Theater Flooring Roll, No Glare Theater Flooring Roll
When you need a type of rolled flooring that has no glare, our Theatrical No Glare Floor Full Bolt 2 mm x 6x60 Ft. option is going to give you great performance. This flooring provides a nice level of durability and can be used again and again for theater flooring, as long as you care for it properly.
Ordering a Roll

Our theater stage flooring is available in 6-foot wide rolls that are 60 feet in length. This gives you 360 square feet of coverage area, which is going to meet the needs of many theater stages. Additionally, our theater flooring material is available in custom cut lengths; just contact our customer service team for more information.

The vinyl rolls each weigh 360 pounds, so you will probably want to have equipment available, such as a forklift, to carry the rolls at delivery and to move them around from place to place. Once you have the stage flooring material in place, you will need several people available to help roll out the floor, due to its weight.
If you need any help picking out your theatre flooring, contact our customer service team, who can help you figure out how much flooring you need and how to accept delivery.
For current installation documents from Lonseal, please visit the
Lonseal website, click here
.
For General Lonseal Installation Information
click here
.
Use Types
Our vinyl flooring material is designed to provide a no glare theater flooring option. This type of flooring is an excellent choice for theatre productions and video shoots, and can be used for nearly all dance types as well. This no glare flooring works for wedding walkways, graduation walkways, or any type of runway where you don't want to have a shine on the floor. A shiny floor could detract from certain types of lighting you're using in the room, for example. Or a floor with a shine could cause problems with certain types of photography or video recording.
Stage flooring material can be used for nearly all dance types with hard or soft shoes, and it is a durable option as a vinyl dance floor surface in professional theatre settings. You may want to make use of this type of flooring if you're having a dance recital in a traditional theater, for example, where the harsh theater lights could cause a glare on the floor that could disrupt the view of the audience or even focus of the dancers.
If you plan to have tap shoes in use on the theater stage flooring, we'd instead recommend our Adagio dance floor a tap dancing program, as our Adagio dance flooring material is specifically designed for tap shoes.
The most common use for this stage flooring material is in a theater setting, whether it's at a high school auditorium, at a community theater organization, or at a college theater setting. Inside a theater, the lighting can be extremely bright, potentially causing glare on the floor. But our black theater flooring material is going to put an end to any worries over glare from the floor during a play or musical.
Easy Removal and Storage
You might choose to roll up this floor after using it if the stage will be used for other purposes that could damage this vinyl flooring.
When rolling up the flooring, start with the center post that shipped with the vinyl flooring and ensure that it's perfectly straight before starting to roll the floor onto the center post. You don't want the vinyl flooring to roll onto the center post crooked, or you could cause damage to the floor during storage.
Keep in mind the high weight the flooring will have after you have it rolled back onto the post. You may need to have a forklift or other heavy equipment available to help move the roll once it's back onto the post. If you choose to move the roll by hand, you will need to have multiple people available. It also helps to have multiple people available to roll the flooring up, to ensure the roll is going onto the post as straight as possible.
If you've cut the flooring into pieces or if you no longer have the center post that shipped with the roll of flooring, you can use a piece of PVC pipe that's the same 6-foot width of the vinyl flooring. Roll the flooring as tightly as you can on the post for the best longevity during storage.
These types of theater flooring material rolls should never be stored in a horizontal position, as this will cause the rolls to flatten. The high weight of the entire roll will cause the roll to almost collapse on itself, which may cause a rippling in the material when it is unrolled the next time. This stage flooring material should always be stored in a vertical position with the material rolled up tight on the center post roll.
Again, if you need help to determine whether you have the equipment and storage space available to handle one of these heavy rolls of theater flooring material, just contact our knowledgeable customer service team to help you figure out what you need.
Cleaning and Maintenance
Even though vinyl flooring is a sturdy type of flooring that requires less maintenance than other types of flooring, you do still have to do some maintenance tasks on the flooring to ensure it lasts as long as possible. We recommend regular cleaning of this theater stage flooring.
If you're going to leave the theater flooring material in place for several days, we recommend sweeping and mopping the floor at least every other day. If the stage flooring material will receive heavy traffic or will be exposed to dirt and soiling regularly, you may want to clean the floor more often, especially sweeping debris and dirt off the surface of the floor. If you've had the flooring in storage for a long time, you may want to clean it after unrolling it before allowing anyone to use it.
As a basic cleaning process, you can use a soft bristle push broom or similar type of broom on the floor. Using a stiff bristle broom on the surface of the floor could cause scratches on the surface of the floor, so choose your broom carefully.
After removing all dirt and debris from the surface of the theater stage flooring, you can then mop it. We recommend Rosco All-Purpose Cleaning solution as the best option. Do not use a cleaning solution that has ammonia, as this could damage the surface of the floor, potentially causing staining. Dilute the cleaning solution as directed on the bottle with warm water, rather than hot water. After mopping the floor, allow it to air dry before people walk on the floor.
You can remove sticky residue from tape on the floor with the cleaning solution and a rag. Try to remove as much residue as you can before attempting to roll up the floor, as leaving a sticky substance on the floor while it's tightly rolled up might cause damage over time.
By keeping the theater stage flooring clean, you'll ensure a long lifespan for it. Vinyl flooring offers a nice level of durability, and our stage flooring options carry a limited 5-year manufacturer's warranty.
No specific welding tread exists for this product. The thread listed is the closest match possible, but some color variation may be noticeable.
Maintenance
Use Rosco brand vinyl floor cleaner.
Shipping
Ships via freight delivery shrink wrapped on pallets.
This Product Ships Freight Only.
Please review our shipping disclaimer.
| | |
| --- | --- |
| SKU# | LS-LonStage-MT-Bolt |
| In Stock | Yes |
| Product Type | Roll |
| Material Type | Vinyl |
| Product Edging | Straight |
| Thickness | 2 mm |
| Width | 6.00 feet |
| Length | 60.00 feet |
| SF per Item | 360.00 |
| Weight | 240.00 lbs |
| Packaging | Shrink Wrapped on Pallets |
| Number of Pieces per Package Type | 9 |
| Non Absorbent | Yes |
| Special Adhesives | Yes |
| Interlock Loss | 0.00 feet |
| Interlocking Connections | No |
| Made In | Japan |
| Surface Finish | Matte finish smooth |
| Surface Design | Solid color |
| Installation Method | Tape down or glue down |
| UV Treated | No |
| Reversible | No |
| Border Strips Included | No |
| LEED Points | Yes |
| Floor Score | Yes |
| Manufacturer Warranty | 5 year limited |
Product Questions:
Q: What shape does the stage floor need to be in for this be installed? Does the floor need to completely level and sanded before time?
A: The floor should be fairly smooth if possible. Variations in the floor surface could translate up through the vinyl.
Q: We are building a new stage and have used tongue and groove plywood to finish before the Marley. Some of the joints are not completely smooth possibly 3/32 '' off, the knot holes in some of the plywood are showing, the screws are approximately 1/16'' below the surface. We are planning to tape the Marley down. How smooth do we need to make the plywood before installing the Marley over plywood?
A: Please reach out to speak with a member of our dance floor sales team regarding installation questions. They can be reached at 877-822-6622.
Q: How much would a 13'x15' piece cost?
A: Please reach out our sales rep Angie either by calling 877-822-6622 ext. 109 or emailing angie@greatmats.com to obtain a price quote.
RELATED PRODUCTS