Soft Outdoor Patio Flooring for Kids
By Paige Cerulli Created: February, 2018 - Modified: August, 2022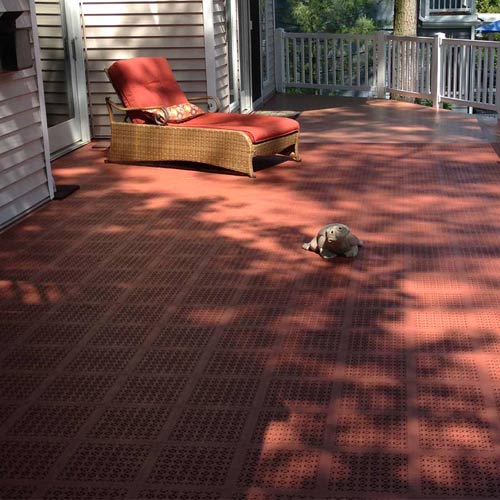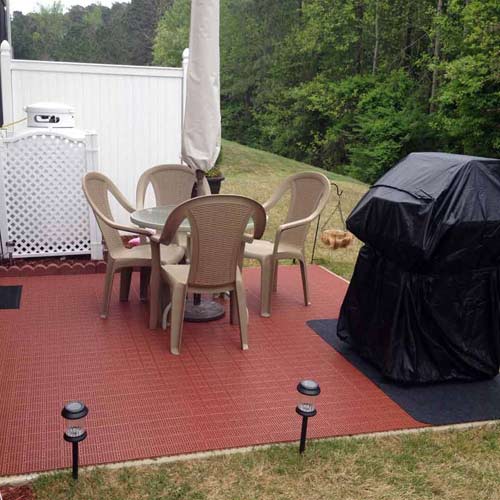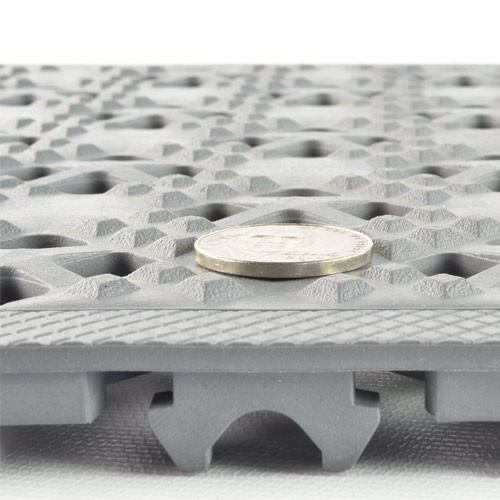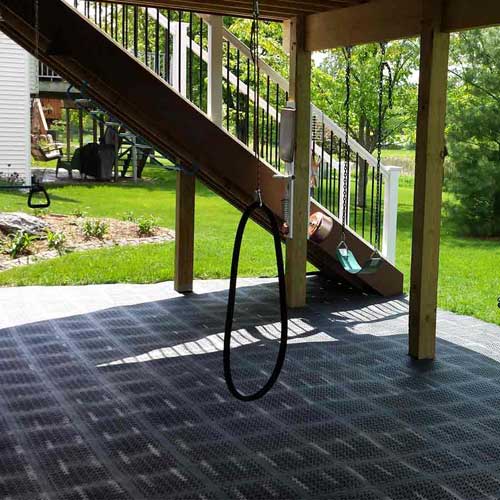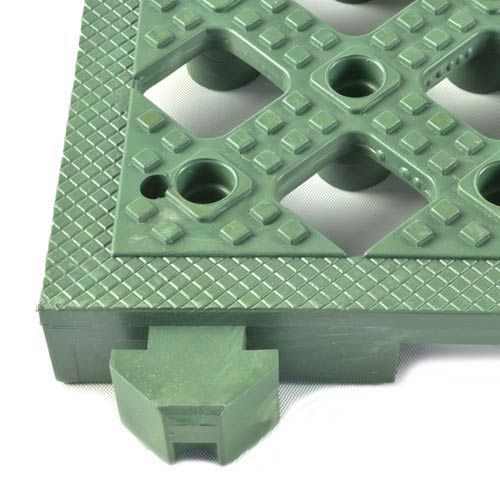 When you have kids, you quickly realize how many hazards your average house contains. Hard surfaces can be dangerous, especially for young children, and a slip or a fall can result in an injury. Patio flooring is one area where this issue often occurs.
Many patios have stone tiles or are made of concrete. Not only are these surfaces hard and unforgiving, but they can also get slick when they're wet. Combine this with energetic kids, and accidents are bound to happen.
Luckily, you don't have to settle for a stone or concrete patio, even if that's what you currently have. There are plenty of kid friendly patio tiles that can make the area safer, softer, and more forgiving.
Qualities to Look for in Soft Patio Flooring for Children
There are a few qualities that you should look for in all kid friendly patio tiles:
- Shock absorption - Safe patio floor tiles should be soft, forgiving, and able to absorb the shock of a fall. Not only are these tiles safer, but they're also more comfortable underfoot, and you'll find that the whole family will appreciate the cushioned patio decking.
- Fall height rating - Patio tiles that offer a fall height rating have been proven to help absorb impact and minimize the potential injuries that might result from a fall. Patio tiles offer various fall height ratings, ranging from inches to multiple feet. The greater the fall height rating, the greater the amount of protection a tile can potentially offer.
- Traction - An ideal patio safety surface will be designed to provide maximum traction, even when the surface gets wet. You'll find that there are many different surface designs that help to maximize traction.
- Drainage - Good drainage is essential for patio flooring for kids. Standing water will make tiles slick, so look for a tile with plenty of drainage to quickly move water off of the surface. When a tile is designed to maximize drainage, you can start using the surface again soon after a rainfall.
You'll find that most of our patio flooring options consist of individual patio tiles. There are many advantages to opting for patio tiles over a larger flooring roll or flooring mats. Patio tiles are conveniently sized, so you can easily handle and carry them. Because the tiles are smaller than rolled flooring, you can work with them in smaller spaces, and won't waste as much product as you would with a larger piece.
Many of our patio tiles have interlocking systems that serve to fasten the tiles together. In most cases, you can remove the tiles and reinstall them if needed. This makes the tiles a highly versatile option. If a single tile is damaged, you can replace that one tile, rather than having to replace an entire section of flooring. And if you ever decide to redesign or add to the flooring, you can do so by repositioning or adding on new tiles.
At Greatmats, we offer many kid friendly patio tiles that are equipped with the above qualities, and more. These tiles can be placed on top of your existing patio flooring to make it a safer, more enjoyable space for your whole family.
Here are a few of our favorite options when it comes to soft patio flooring for children.
StayLock Perforated Tiles
StayLock Perforated tiles
are a great choice if you're looking for safe, forgiving patio flooring. The tiles have a cushioned non-slip surface, and a 20-inch ASTM fall height rating. They're ideal for use on patios, but because they're also waterproof and perforated. They can be used around pools, spas, and decks. An anti-fatigue additive in the tile makes for a comfortable surface, and a raised base design allows air and water to freely circulate beneath the tile. This helps to prevent mold and mildew growth, making for a safer, healthier space for your family.
Patio Outdoor Tiles
Our
Patio Outdoor Tiles
are made of a flexible PVC material that is comfortable underfoot. The tiles are perforated, so water quickly drains through them. This helps to avoid mold and mildew growth. The tiles are UV stable, so they can be used outdoors without fading or degrading. They're comfortable underfoot, and snap together for a fast and easy DIY installation without
any adhesive required.
Ergo Matta Perforated Outdoor Tiles
Ergo Matta Perforated Outdoor Tiles
are designed to make for a safe surface, and are excellent for use with younger children. These tiles have a 20-inch fall height rating and are made of a forgiving PVC plastic, making them popular for use in both preschools and playgrounds.
These tiles are available in brilliant colors that children are sure to love. They can be installed directly on your existing patio, and their perforated design offers excellent drainage. The tiles interlock for a fast and easy installation. They're suitable for use in an impressively wide range of temperatures from -22 degrees F to +194 degrees F. Versatile and durable, these tiles are a great way to add comfort and safety to your patio.
Safety Matta Perforated Tiles
To maximize traction on your patio and help prevent kids from falling, consider our
Safety Matta Perforated Tiles
. These tiles have a non-slip diamond shield tread design to maximize traction. Additionally, because the tiles are built on a raised base, their perforations quickly drain water away from the surface, preventing standing water from collecting. The raised base means that water and air can circulate beneath the tiles, and helps to prevent mold and mildew growth.
These tiles are also comfortable underfoot, and offer ergonomic and anti fatigue qualities. They're made from recycled materials, and can be easily installed, thanks to their interlocking lug system. These tiles can be installed right on top of your existing patio, making it a safer surface for kids.
How to Choose the Right Patio Flooring For Kids
As you see, Greatmats offers a variety of kid friendly patio tiles. Wondering which tile is right for you? Here are some points that can help you to make your decision.
- How likely is it that a kid will fall on the flooring? If your kids are younger or more prone to a fall, then you'll want a tile with significant fall height protection.
- Will you be using the patio during or right after a rain? If so, finding a tile that maximizes drainage is important.
- What is the existing surface in your patio now? Most tiles can be installed directly over any hard, flat surface.
- Will you be installing the tiles yourself, or hiring someone to do the project?
- Will the tiles be left in place year-round? If so, then you will want a product that can be used in a wide temperature range.
- Is it important to you that the tiles are modular and can be removed, or are you willing to purchase a product that must be permanently installed?
- What is the overall look that you want your finished patio to have? Do you want brightly colored tiles, or something more reserved?
- Is it important to you that the tiles be made out of recycled materials?
- What is your budget for the project?
If you're still wondering about which kid friendly patio tiles are right for your needs, please contact our excellent customer service team. Our flooring experts can help you find the right soft patio flooring for children, and can also provide product samples and quotes.
With our wide selection of soft patio flooring for children, you're sure to find the right product for your needs here at Greatmats. These patio tile options are designed with safety and comfort in mind, and can transform your existing patio into an ideal space for your entire family to enjoy.