Outdoor Tent Flooring Ideas
By Kyle Schurman Created: May, 2021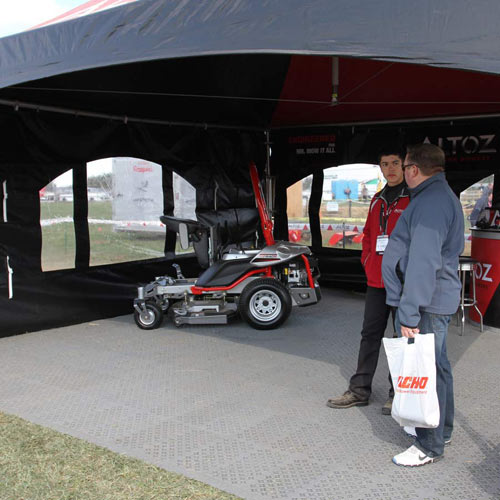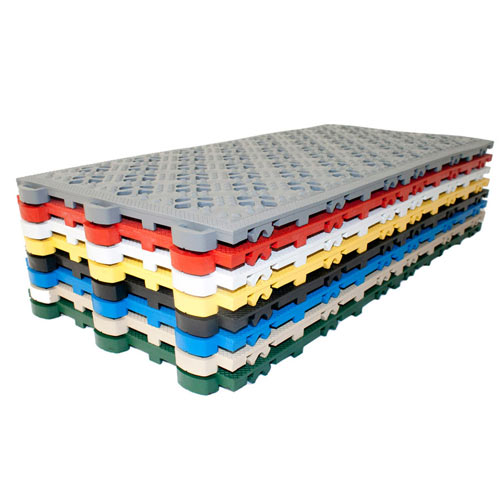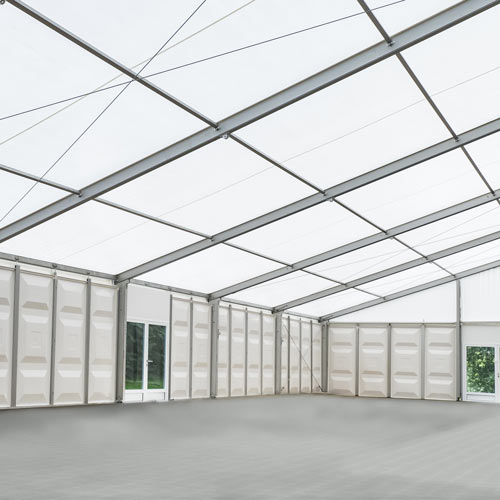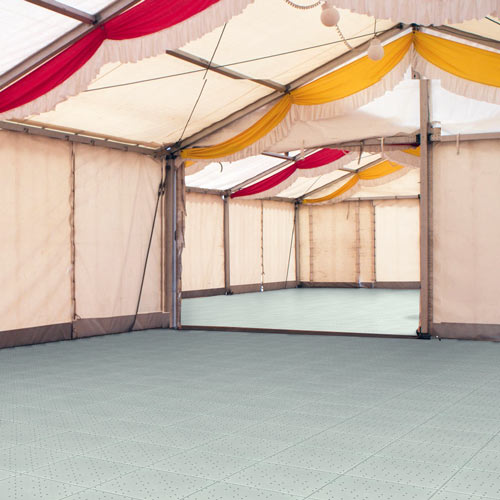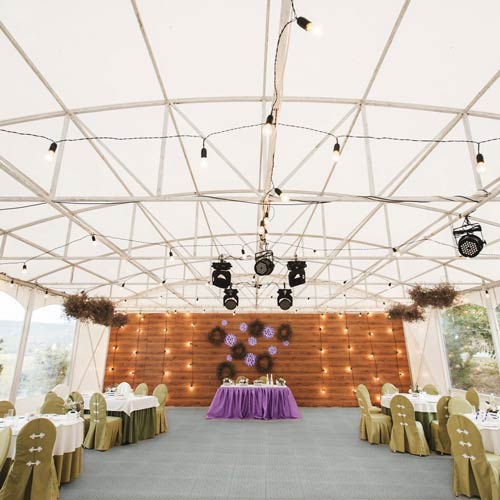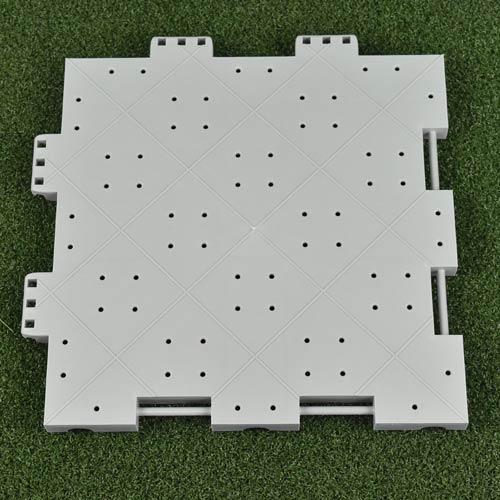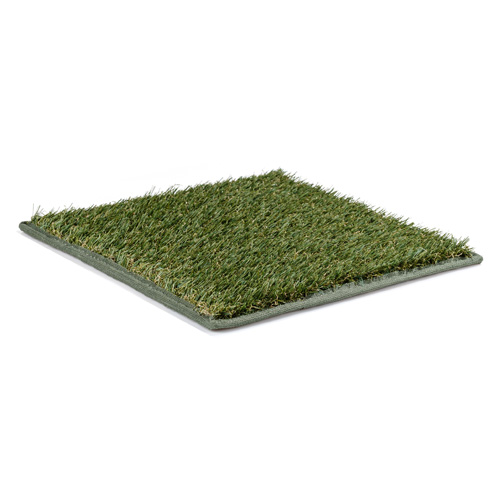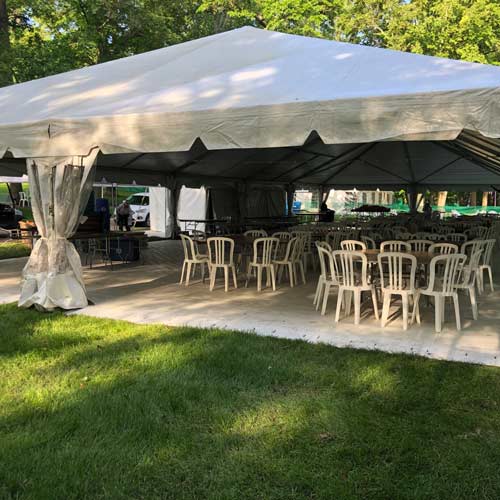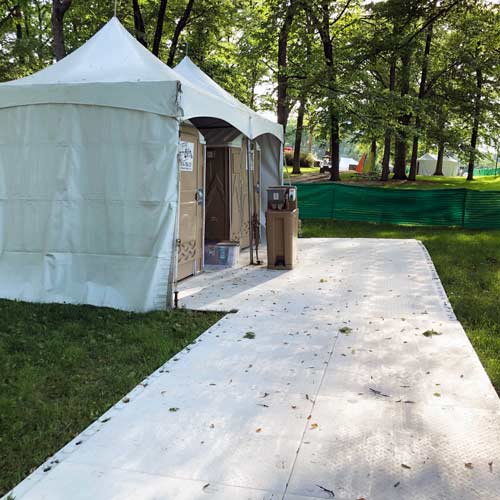 Having the right outdoor tent flooring available can make the experience of hosting an event or party more enjoyable. Sturdy mats can go over damp and uneven ground, protecting people from mud and rocks, while often consisting of weather protected materials too.
Some of the best outdoor tent flooring options include:
Portable Outdoor Tile

Matrax Light Duty Pedestrian Composite Mat

Matrax Heavy Duty Drivable Composite Mat

Go Mat Artificial Grass Mat

Basement and Portable Event Floor Tile

Ergo Matta Perforated Outdoor Tile
What Are Benefits of Outdoor Flooring?
Setting up camp with a sturdy outdoor tent flooring can be a smart choice in a remote location. The firm flooring allows for creating a seating area at the camp, where chair legs will not sink into the ground. Set the flooring up under an awning or canopy tent for some shade, or use it in a fully exposed location, as long as it has sun protection built into it.
These outdoor floors have a dual purpose, as they work for encampments and for setting up a temporary party area outdoors. Some of the options for parties include:
Kids backyard birthday party

Outdoor wedding

Reception and dance

Anniversary party

Graduation party

Retirement party
Because these tiles have a portable design, allowing installers to pick them up after the event, they shouldn't damage the lawn. Assembling and disassembling them is an easy process, creating a DIY job and saving money versus hiring a professional.
With individual tiles in the outdoor tent flooring, the installer can create any coverage size desired, whether it's 10x10, 20x40, 30x100, or something else. No matter what the plan, products are available to match the coverage size.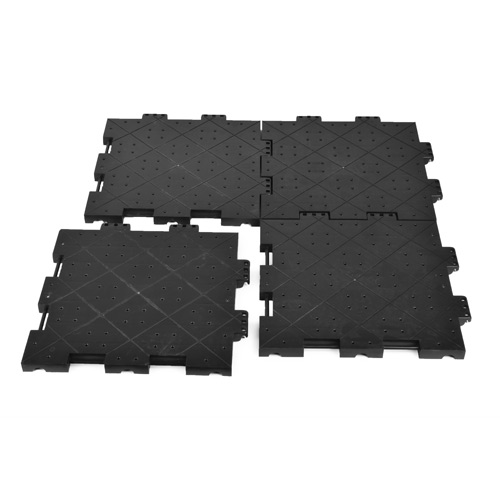 For one of the firmest styles of floor to go over uneven ground, the interlocking Portable Outdoor Tile product is a perfect choice. It works over almost any surface you could find either on location or in a backyard setting, including grass, gravel, dirt, and sand.
These outdoor tent flooring tiles clip together securely, so they can hold a large amount of weight and can survive regular foot traffic. The polypropylene plastic will not break when placed under pressure. It has perforations through the entire 3/4-inch thickness of the tile, allowing spills or rainwater to drain through to the ground underneath.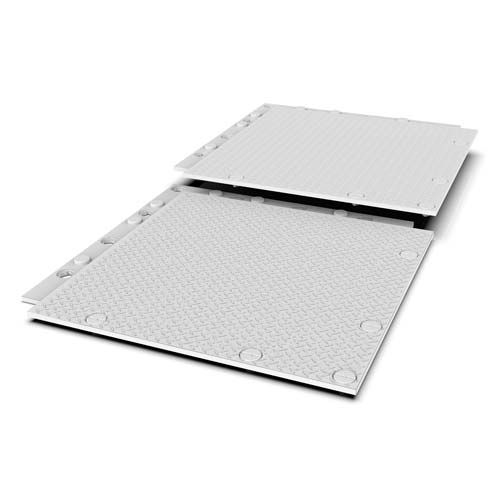 When needing to cover a huge space quickly, the Matrax Light Duty Pedestrian Composite Mat offers a coverage area of 4 by 4 feet per tile. This is a long lasting polyethylene plastic tile that's made in the United States, so installers can trust the quality they're receiving.
The 1.5-inch thick tiles will support large amounts of weight. They connect to each other using a cam lock system that holds them together, even under extensive stress from significant foot traffic. Perforated holes in the tiles allow rain to drain through, rather than pooling on top.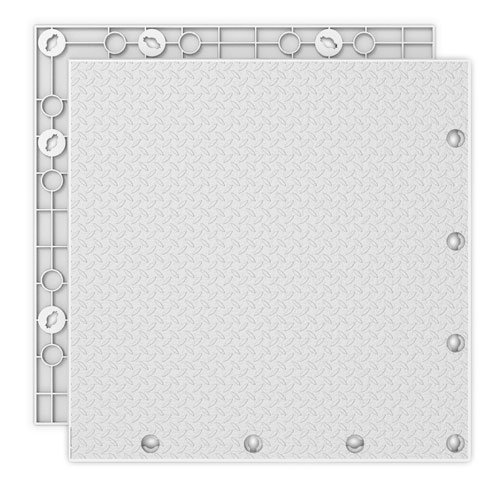 For areas where installers need to provide a temporary driveway to move around anything from four-wheelers and golf carts to tractor trailers and staging platforms. Create a driveway for an RV or SUV to reach a very remote campsite or move around planes at an aircraft hangar with the Matrax Heavy Duty Drivable Composite Mat. These mats consist of polyethylene plastic materials, and the manufacturer makes them in the United States.
The cam lock system keeps these 4x4-foot tiles tightly connected for vehicles going across them or for significant foot traffic. For those who need to create ADA compliant flooring for an outdoor event, these tiles have ramps available for an extra purchase that provide this capability.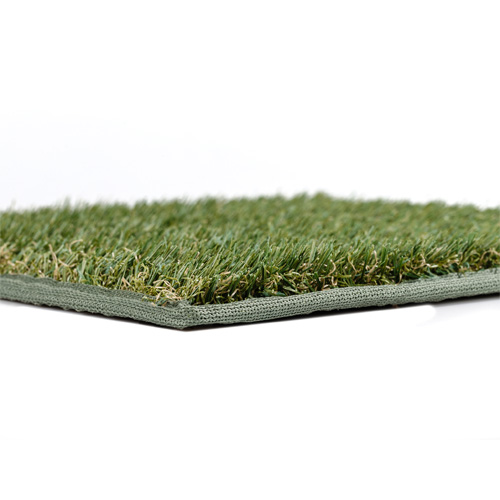 Sometimes when setting up camp, you don't need a collection of firm plastic tiles to create a large seating area. That's where the Go Mat Artificial Grass Mat may be the perfect selection.
This mat consists of a deep green artificial turf surface that will look fresh and natural when placed outside an RV or trailers for actors at a filming site. This mat does not fade in direct sunlight. It's firm enough to support camping or director's chairs, yet it's also soft enough for kids and pets to sit on and play.
What Are Some Good Flooring Options to Use Inside a Tent?
When putting your event tent in an area where the ground underneath the tent is too hard and uneven, placing a lightweight flooring in the base of the tent can create a better option to reduce fatigue and add comfort.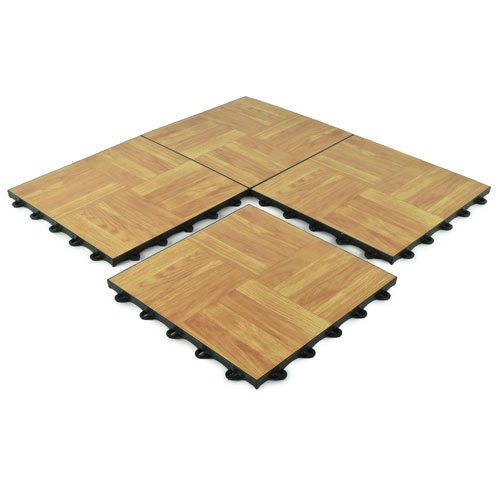 The Basement and Portable Event Floor Tile is a durable material, featuring a vinyl top layer over a plastic base that contains interlocking tabs and loops to secure adjacent tiles to each other.
These tiles are ideal for event flooring inside a large tent too, as they have a stylish faux wood grain finish in the vinyl layer. These are waterproof tiles, so they will withstand spills and damp conditions. However, they do not have UV protection for usage in direct sunlight so they should be kept under canopies or other shaded areas.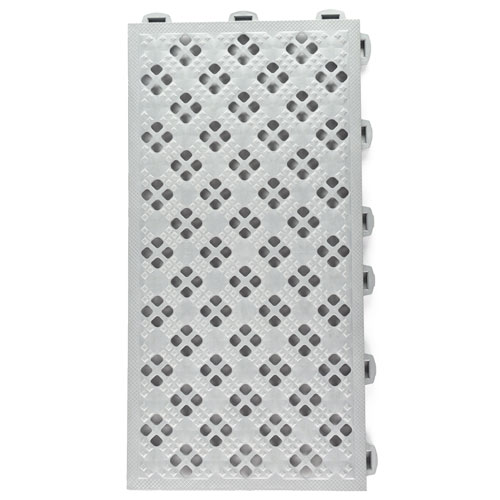 The Ergo Matta Perforated Outdoor Tile is another comfortable tent flooring, as it consists of interlocking flexible PVC plastic tiles. These colorful tiles have a 20-inch fall rating.
Use them indoors or outdoors and with or without a tent for shade, as they have UV protection built into them, and they have perforations to drain away rain.