No Grass Backyard Ideas For Dogs - Outdoor Flooring
By Paige Cerulli Created: August, 2022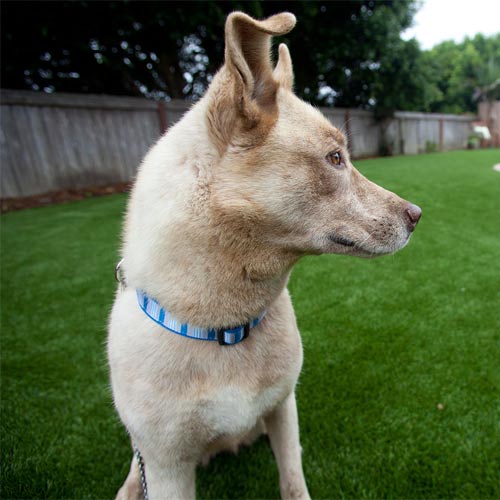 While a grass backyard is a picturesque retreat for your dog, it isn't always practical or possible. Grass often requires maintenance, and if you have a small property, you might not have access to any grass. With these no grass backyard ideas for dogs, though, you can create a space that still works well for your best friend.
Qualities to Look for in Flooring for Dogs
If you want to install a flooring product in your yard for your dog, it's important to choose a product with certain qualities.
Waterproof Design
A waterproof product is a must-have, especially for outdoor use. When you choose a waterproof product, you can usually just hose it off for easy cleaning.
Durability
The product that you choose needs to be durable enough to withstand the outdoor elements, including temperature extremes. It's also a good idea to choose a UV-resistant product, which can help to prevent color fading.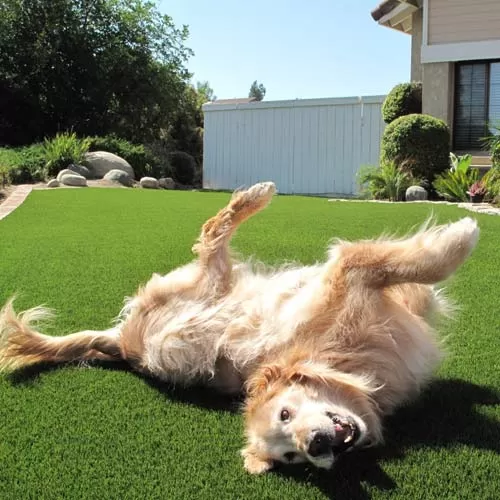 Don't forget that the flooring also needs to be able to withstand your dog. Dogs who dig or chew at the flooring can damage some products, so opt for a more durable flooring product that will last.
Comfort
Firm surfaces aren't super comfortable, and if your dog will be spending lots of time in the yard, you'll want a product that he can lie down and roll around on. Additionally, look for a product that offers some shock absorption, which will be helpful when your dog plays and runs around.
No Grass Backyard Ideas for Dogs
If grass isn't in your backyard's future, you can still create a special space for your dog using other materials. You will need a little creativity, but there are still plenty of options to explore, even if you're on a budget.
Artificial Turf
If you want the look and feel of grass without the hassle of maintaining the real thing, then a synthetic turf can be an excellent choice. Synthetic turf is a dog-friendly material that also creates an attractive look in your run or kennel.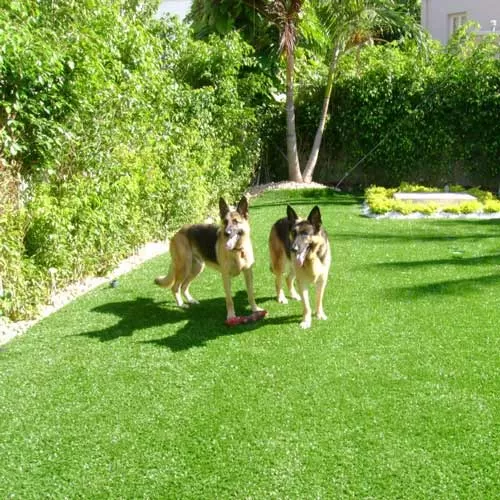 Synthetic turf is usable year-round, and it never loses its green color or develops urine stained areas, like traditional grass would. There is no need to worry about mud or ruts, and you also won't waste time mowing, fertilizing, and watering the turf.
As a result, synthetic turf requires minimal maintenance, which can save you money. That perk makes it a popular choice not only for home use, but also in larger kennels and boarding facilities.
While artificial turf is designed for a long-lasting, attractive look, you can easily clean it off by flushing it with a hose. The turf is available in both rolls and mats, so you can cover an entire yard or just lay down a mat in the area that your dog will use as a potty.
StayLock Tile Perforated Colors
The StayLock Tile Perforated Colors is another excellent choice for a backyard space for your dog. The tiles feature a non-slip surface and are comfortable to stand on, so they can make a playspace or a lounge area for your dog.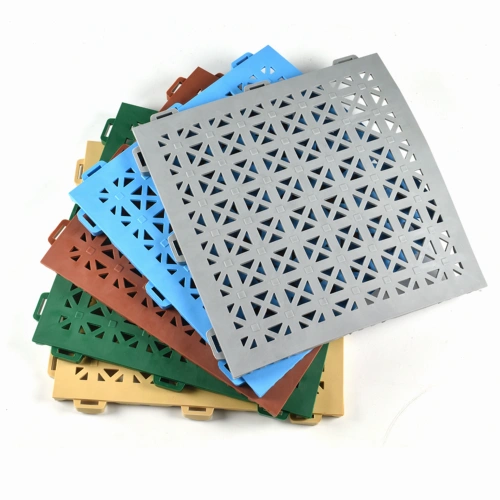 The tiles are ASTM fall height rated to 20 inches, meaning they help to prevent injuries in the event of a fall. They're ideal for not only your dog, but also for any family members who may enjoy and play in the backyard.
The tiles are highly durable and waterproof. They are perforated to quickly drain water away, keeping puddles from forming and keeping your pup's paws up and out of the water.
This feature also means you can hose the tiles down if you need to clean them off. Rain water will also help to keep the tiles looking clean.
Thanks to their active locking connector system, the tiles offer a DIY-friendly installation. They're available in many different eye-catching colors, so you can choose the tiles that look best with your fence, gate, shed, and other background elements.
StayLock Tile Perforated Black
The StayLock Tile Perforated Black is a cheap backyard flooring idea that's also dog-friendly. The tiles feature a non slip surface and make a comfortable addition to your yard.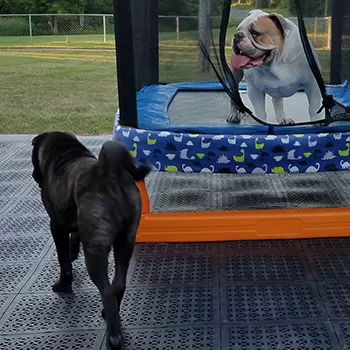 Their flexible design and 20-inch fall height rating helps to maximize safety for your whole family and for your dog. They are a popular choice for playground surfaces, so they can serve multiple purposes in your backyard.
These perforated tiles quickly drain water away, so your yard stays accessible and usable even during inclement weather. By keeping your dog up and out of the water, they can also prevent muddy paws, so your pup doesn't make tracks when he comes back into your home.
These tiles are made of durable recycled PVC plastic, making them an eco-friendly choice. They connect together securely, so you can install them yourself.
You can install these tiles over hard surfaces, like concrete patios that become too hot and abrasive for your dog's paws in the summer. You can also install the tiles over dirt or gravel, making your yard a cleaner space where your dog can potty or play.