Folding Martial Arts Mats for Fall Training and Ground Fighting
By Kyle Schurman Created: June, 2017 - Modified: July, 2021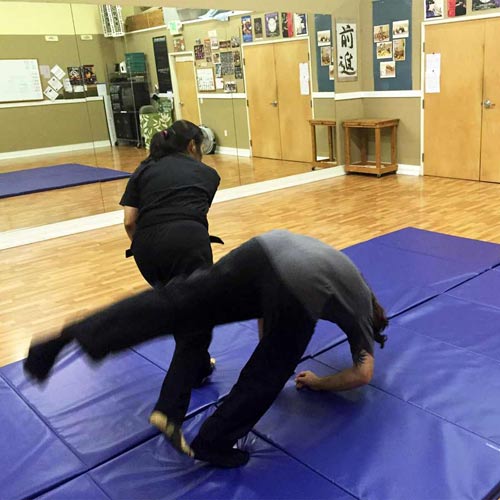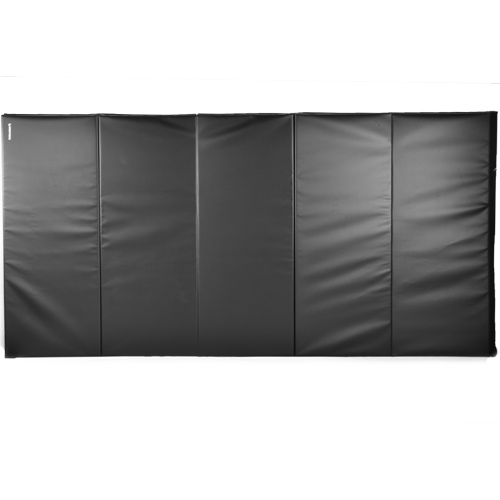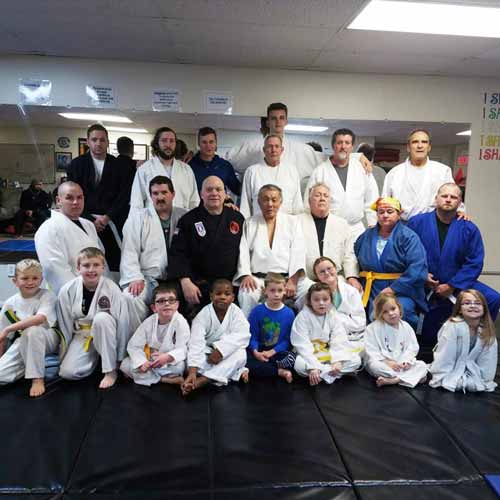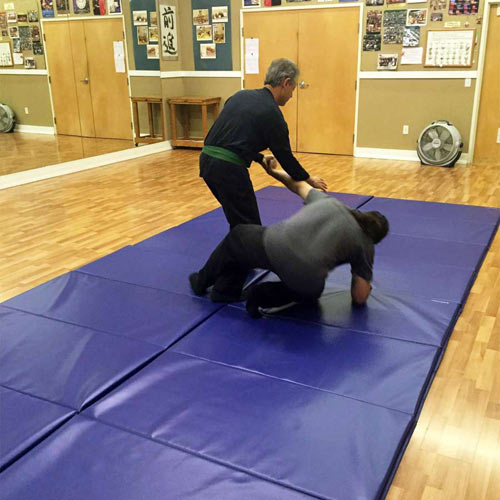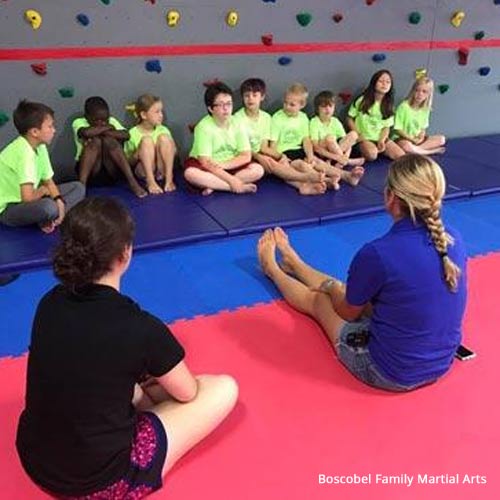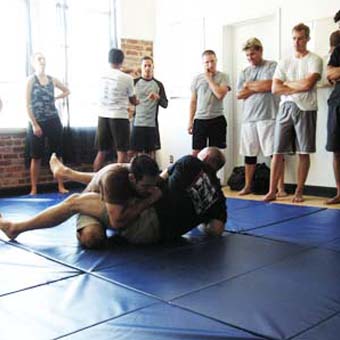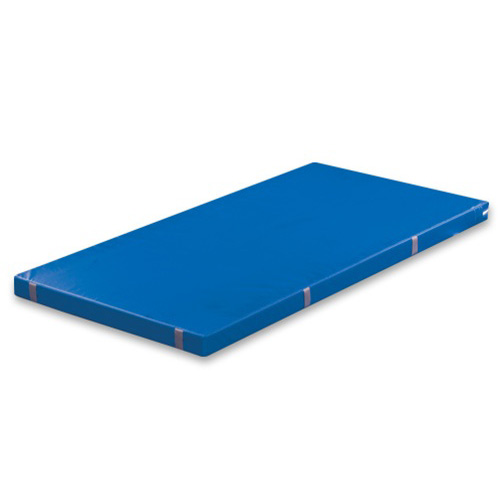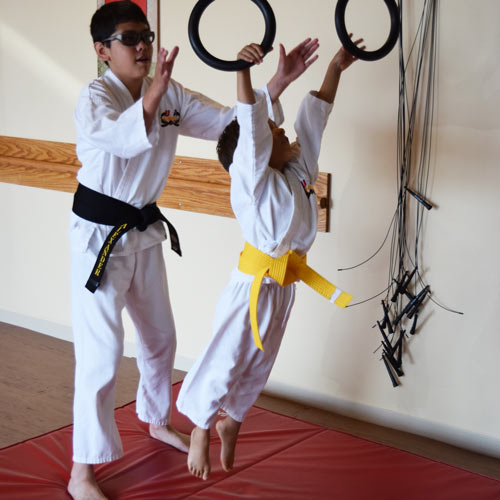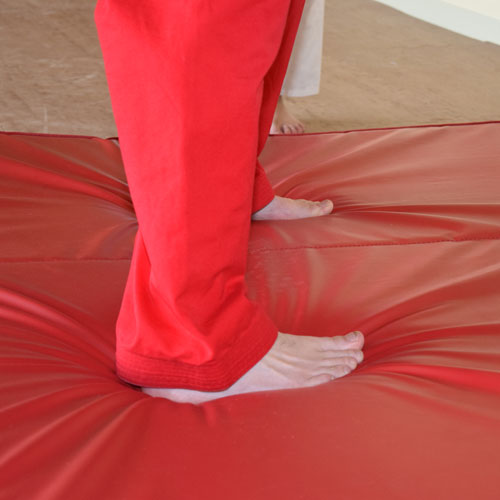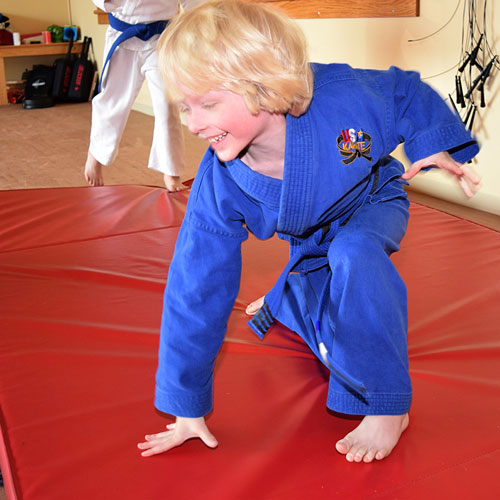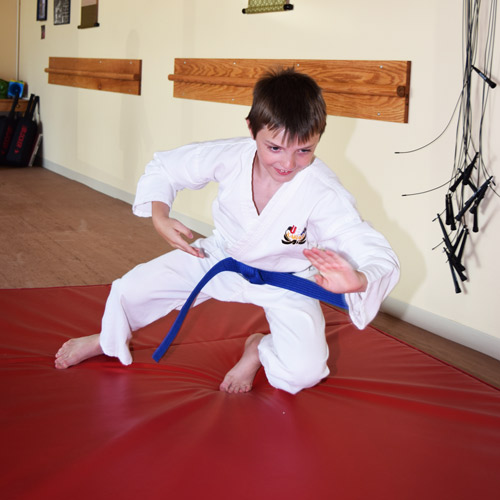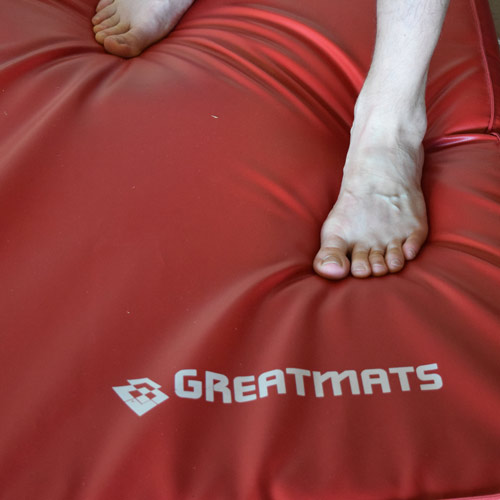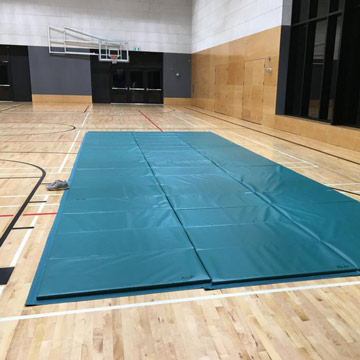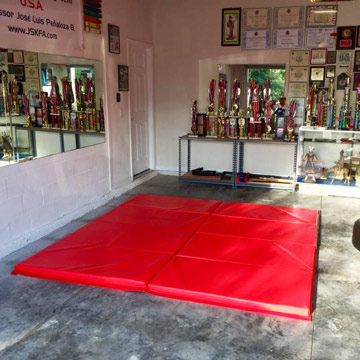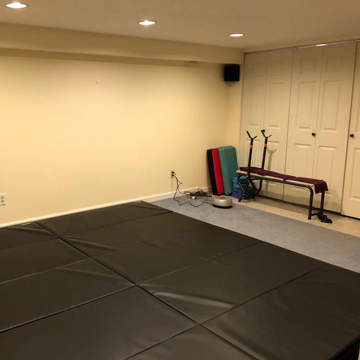 Folding martial arts mats provide shock absorption for athletes when working on learning to fall safely and working on ground-based moves, reducing the chance of injuries.
Whether training for grappling, MMA, BJJ, wrestling, or other forms of martial arts, folding martial arts mats are convenient to use.
The fold up design helps with storage. When it's time for the workout, just pull them out of storage, lay them out flat, and receive plenty of coverage area in a hurry.
The
Folding Gym Mats 5x10 Foot
product is one of the most popular foldable mats on the market. It has 2 inches of thickness, featuring a foam core with a tough vinyl exterior cover.
This fold out mat will stand up to repeated exercise sessions, but it also has high levels of cushion. Attach two mats together and you've got a simple to install 10x10 training space.
How Do Folding Martial Arts Mats Compare to Roll Out Mats?
Fold up mats have a similar coverage size and thickness in the foam to what's found with home roll up mats.
Both types of mats have a design made for ease of storage. The Gym Mats product mentioned earlier will go from its full coverage 5x10 size to a 5x2 foot size that is roughly 10 inches thick for storage.
With a roll up mat, such as the
Roll Out Vinyl Mats
product, the mat consists of a 2-inch foam layer with a tough vinyl layer attached to the top of the foam.
The foam base layer has slits in it. This allows the foam to pull apart and "hinge" when rolling up the mat, which creates a tight roll and takes up less storage space.
When the installer rolls out this type of mat, the slits become irrelevant. The slits press tightly together, providing the stability in the foam layer that athletes need when using the mat.
The biggest difference between the roll up and fold up mats is the appearance of seams in the top vinyl layer. Folding martial arts mats are also typically easier to store as they can stand up on end or lay flat. Other training gear can even be stored on top of them. Rolled mats generally will be stored upright on end.
With the roll out mat, the vinyl layer will not have any visible seams - aside from where multiple mats may be attached together. With the fold out mat, there will be slight seams every couple of feet along the surface of the mat.
Attaching multiple roll out mats requires taping on the surface, while connecting multiple folding mats together is as simple as pushing the built-in hook and loop connector flaps together.
Another potential difference is the material used in the top layer. Foldable foam mats will always consist of a vinyl covering. Some rollable foam mats will have a carpet top layer, instead of vinyl.
Even the vinyl will differentiate between the two styles as folding mats are wrapped in smooth vinyl. The vinyl bonded to the top of the roll out mats generally is offered in either smooth or tatami textures.
The carpet top provides excellent traction for gymnasts and cheerleaders preparing a tumbling run and eliminates the "slap" of skin against the vinyl during a fall. It also produces are more consistent surface temperature.
The 1-3/8-inch thick
Home Cheer Mat
is a popular choice for this use case with a carpet layer.
How Do Folding Mats Compare to Martial Arts Puzzle Mats?
Generally, the folding mats will carry a greater level of thickness than the puzzle style foam mats. This means these mats can give athletes improved cushioning to guard against falls.
Additionally, the roll up mats often make use of a cross-linked polyethylene foam. Some even include an open-cell polyurethane foam layer. When the athlete falls on it, it compresses and bounces back to the original shape quickly, absorbing the energy of the fall.
Puzzle style foam mats, such as the
Grappling MMA Mats
product, use a denser type of foam, such as EVA. EVA foam delivers cushioning, but it also has a firmness that ensures athletes have a sure footing as they make quick moves.
The EVA foam tiles also may contain a leather, thatch or tatami texture on the top layer. These different surface textures are designed for specific purposes, such as scuff resistance, traction and skin burn resistance when the athlete slides across the mat. A vinyl or carpet top on a roll up mat are known for causing skin burns during martial arts workouts.
When seeking to place the mats in storage, a roll up or fold up mat will compress to a small size and go into storage faster than disassembling the puzzle mats. Puzzle mats offer more options for storage - especially for larger installations - as they can be stacked to varying heights. Martial arts puzzle mats are available in either 2x2 or 3.3x3.3 foot dimensions and range from around ¾ inch to 1 ½ inch in thickness.
Are Folding Martial Arts Mats the Same Thing You See in Gymnastics Gyms?
Yes. These folding martial arts mats are the same design and quality as some of the gym mats you'll find in gymnastics, cheerleading and fitness gyms.
A gymnastics studio may use larger mats that aren't foldable when the padded flooring will remain in place the majority of the time. Gymnasts also have a larger variety of mat styles ranging from tumbling mats to landing mats and skill training mats that are shaped as octagons or cheese wedges.
The fold up floors work better for those locations that need to store them between uses.
An academy owner may only use these folding martial arts mats in areas where gymnasts will be making landings or where martial arts athletes may fall to the ground regularly. The studio then can use other, less expensive floorings elsewhere.
This style of foldable mat has a professional level of build quality. This gives it the ability to work equally well in a cheerleading or gymnastics studio or in a martial arts studio.
It will stand up to repeated tumbling runs from gymnasts or cheerleaders and for martial arts tricking. The vinyl will endure the wear of long, intense workouts without suffering damage - assuming sharp objects or weapons are not coming into contact with the mats.
When seeking to provide cushioning for martial arts workouts, Greatmats has a wide range of mats. Count on our customer service team to help find the best products for any use case, delivering them at a reasonable price.