FlexiPath Covid-19 Matting 1.6 x 84 Ft Roll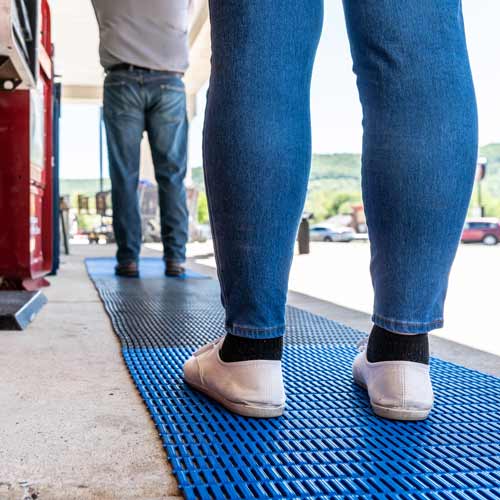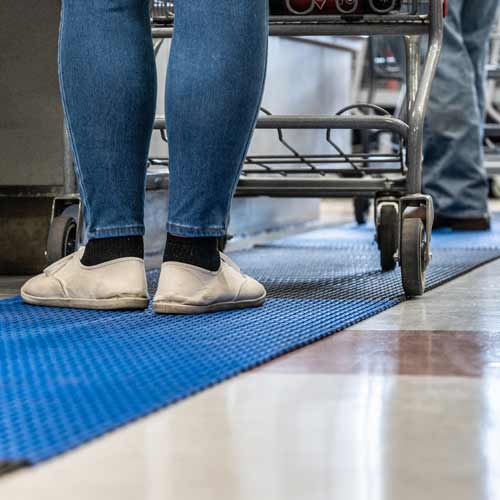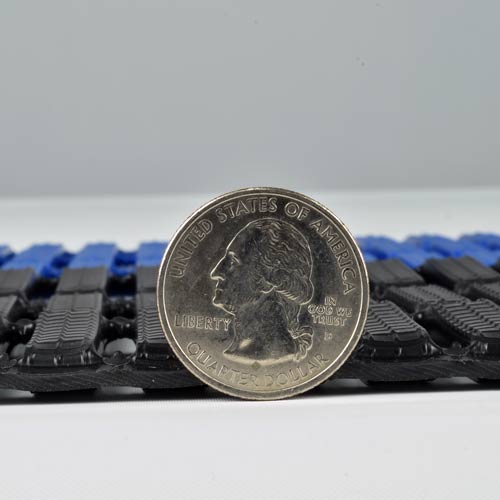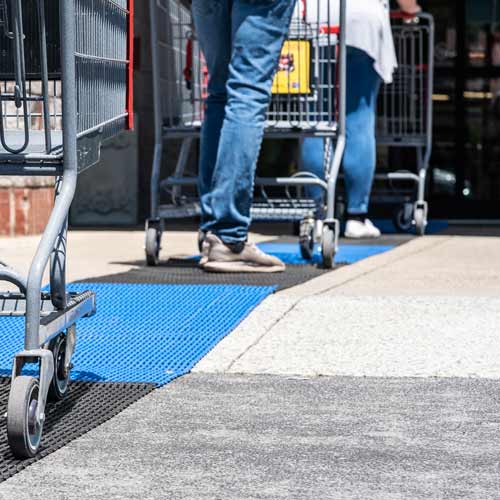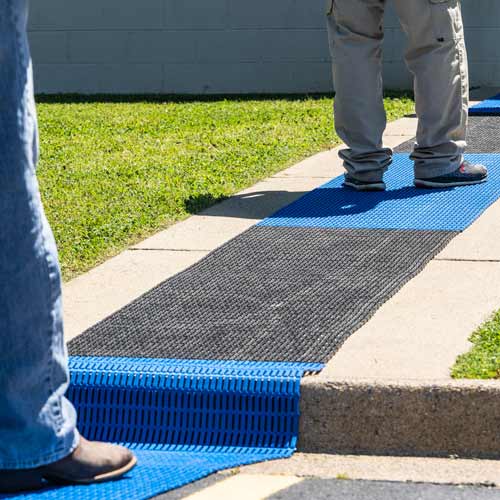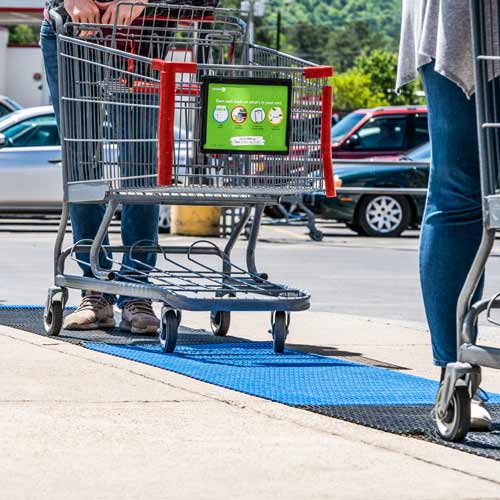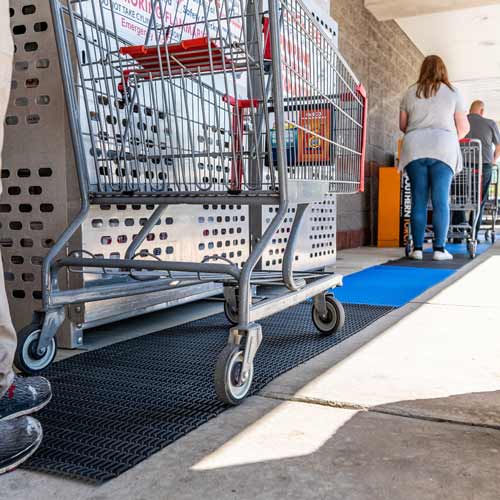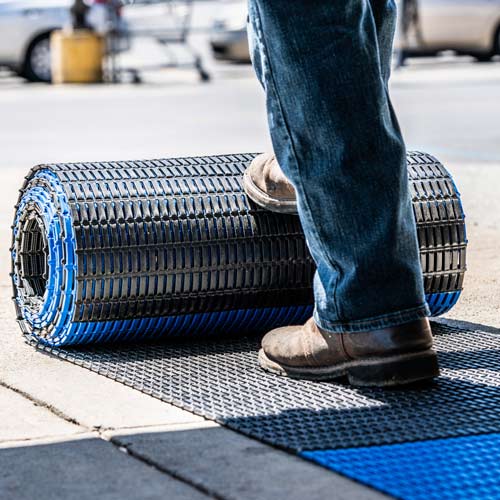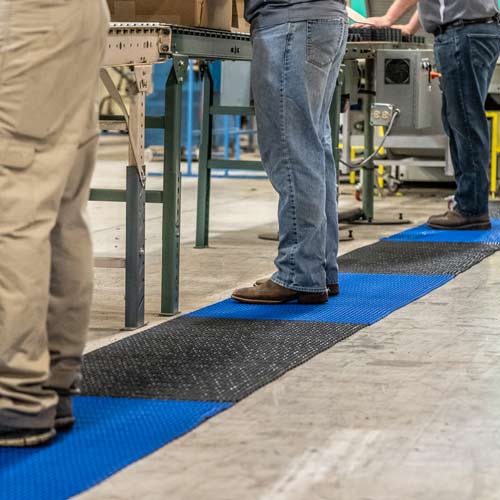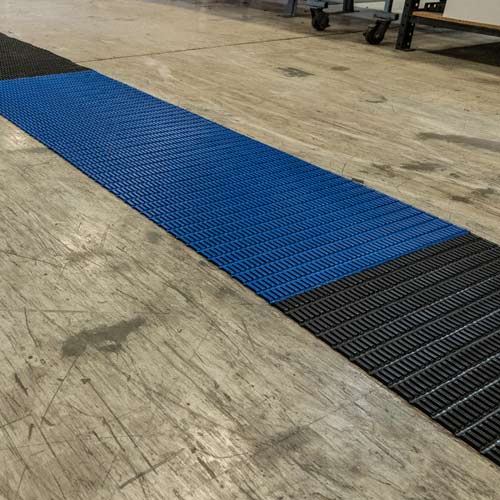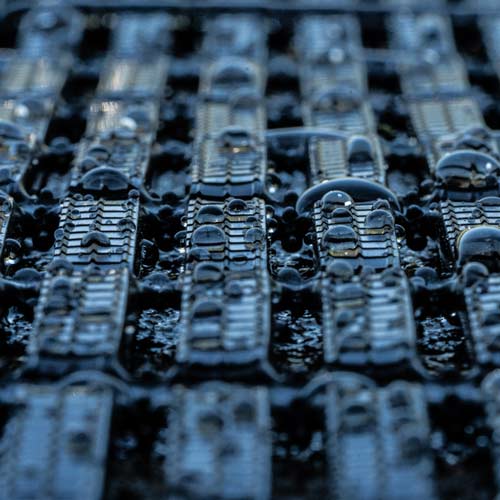 Etched Surface
Slip resistant
Single layer, light weight
Handling Time Estimate: 3-4 Weeks on Average
Etched Surface
Slip resistant
Single layer, light weight
Easy to clean
Fast to install and move
Non porous PVC, naturally resists bacteria growth
Open grid construction
Resistant to most acids, alkali and oils
Retail, Factory, Commercial, Warehouse, Supermarket, Convenience Store, Bar Areas, Restaurants, Catering, Poolside, Spas, Airports, Assembly Lines, Maintenance Areas
NOTE: This item is a custom order and is not returnable.
FlexiPath Covid-19 Matting 1.6 ft x 84 ft Roll- Social Distancing
FlexiPath Covid-19 Matting 1.6 ft x 84 ft Roll has colored areas of blue for standing and black for the distance. FlexiPath matting will provide designated spacing to comply with social distancing guidelines.
Achieving social distancing along a factory production line or food preparation area becomes a far easier process using the FlexiPath Covid-19 assembly line mats from Greatmats.


In addition to clearly marking the space in which each person should stand to maintain the desired distance from other people, this roll of matting delivers anti fatigue and anti slip properties to keep everyone safer. It is a highly durable material as well, giving customers a good value.


Size and Shape Options

By using a roll of matting for this purpose, it simplifies the process of installing it. Customers can determine the exact length of roll they want, as they can cut the thin PVC easily with a utility knife.

These rolls measure 84 feet in length, and this particular model measures 1.6 feet in width. Some customers prefer wider assembly line mats, and we at Greatmats do offer wider rolls in this product family for those who need them.

These assembly line mats measure 1/4 inches in thickness, which reduces the overall weight for the roll. The 84-foot long roll weighs only 94 pounds, so it is a little easier to move in and out of storage when you need it than some other options.
Material Options
PVC (polyvinyl chloride) plastic is one of the most popular selections for those who need temporary flooring to create a space with social distance in mind.
PVC is highly versatile, meaning it works equally well in an industrial or retail location. Our customers can use this type of flooring in places where dampness is persistent, as PVC does not soak up water or encourage the formation of mold and mildew.
This type of flooring works in areas that receive exposure to oil, gas, and other liquid chemicals too. PVC does not break down when exposed to a tough situation.
PVC provides a little bit of cushioning for those who are standing on it and using it for a full day of work, delivering a more comfortable space than standing on hard concrete.
Pattern and Texture Options
The marked color areas on our assembly line mats represent the primary design element. These mats use alternating sections of black and blue.
The manufacturer spaces the color sections an equal distance apart, ensuring that those standing and working have a clear view of where they can safely work without moving too close to others during times of social distancing requirements.
These mats make use of an etched surface, which enhances the anti-slip properties of the PVC plastic. The roll features a grid pattern, which allows liquid spills and powdery spills to fall through to the subfloor without remaining on top of the matting.
This is a single layer design, which allows it to weigh less and to carry a thinner measurement than other rolls of PVC plastic that use a two-layer design.
Common Use Options
When working at a packing station, on an assembly line, in a restaurant kitchen, in a warehouse where people must work in close proximity, or in a similar type of workplace, this social distancing mat is a perfect choice when local health regulations require remaining 6 feet apart.
In areas where it can be difficult to know whether you are maintaining the proper distance from others, the markings on this roll of flooring will make it obvious.
This mat is better than painting or marking the subfloor and risk having the material rub away, leaving employees unsure where they should stand. The colors on this roll will not fade or wear away, even with significant foot traffic.
Installation Options
Because our assembly line mats are in a roll format, the installation process is extremely easy. Just place the end of the roll at the starting point for the installation. Then roll the matting in the direction where you want the flooring mat to go.
If you need a shorter length of flooring, you can cut the PVC to create the exact length you want. Should you need a longer roll of the PVC flooring, just add the start of a new roll against the ending place of the first roll to lengthen the coverage.
Installers do not need to glue the PVC roll to the subfloor, as its size and weight should hold it in place. You can use vinyl tape or carpet tape to keep the roll tight to the subfloor, if desired.
Cleaning and Maintenance Requirements
Flooring consisting of PVC plastic is one of the easiest models to clean. You will not need to deploy complex cleaning techniques with PVC flooring products.
Remove any dust or other dry particles with a broom or leaf blower. If you have a floor drain available, you may prefer to power wash or use a garden hose and a power nozzle to rinse the assembly line mats.
After washing the floor, allow it to dry naturally in the air or use fans in the area to speed up the drying process. We would recommend allowing the mat to dry before rolling it up for storage.
Maintenance
Sweep off or hose off as needed.
Shipping
Ships via ground delivery. Larger orders may ship via freight.
This Product Ships UPS Ground and/or Freight.
Please review our shipping disclaimer.
| | |
| --- | --- |
| SKU# | FLP-1.6x84 |
| In Stock | Yes |
| Product Type | Roll |
| Material Type | PVC Plastic |
| Product Edging | Straight |
| Thickness | 1/4 inch |
| Width | 1.60 feet |
| Length | 84.00 feet |
| SF per Item | 126.00 |
| Weight | 94.00 lbs |
| Packaging | Cartons |
| Number of Pieces per Package Type | 1 |
| Non Absorbent | Yes |
| Special Adhesives | No |
| Interlock Loss | 0.00 feet |
| Interlocking Connections | No |
| Made In | UK |
| Surface Finish | Etched |
| Surface Design | Open grid |
| Installation Method | Dry lay |
| UV Treated | No |
| Reversible | No |
| Border Strips Included | No |
| Floor Score | No |
| Green Label | No |
| Manufacturer Warranty | 1 Year Limited Manufacturer's |
RELATED PRODUCTS