What makes rubber the best ice arena floor covering?
By Kyle Schurman Created: December, 2019 - Modified: January, 2020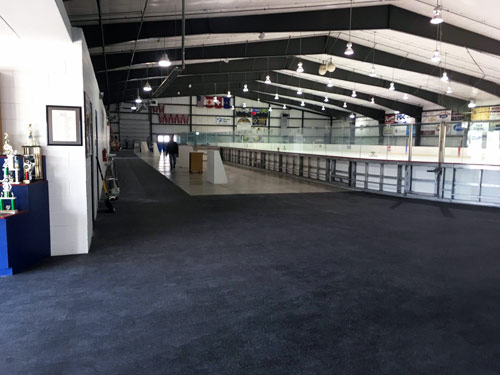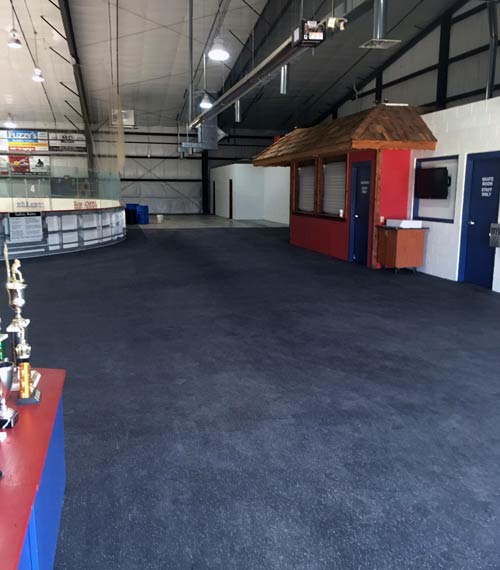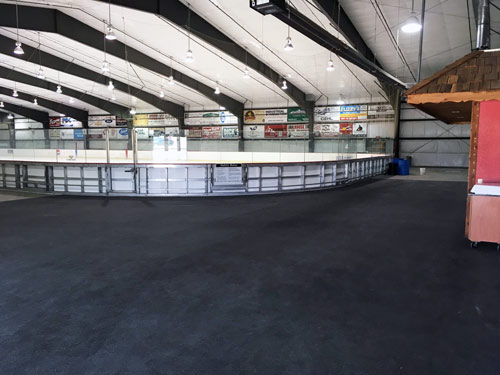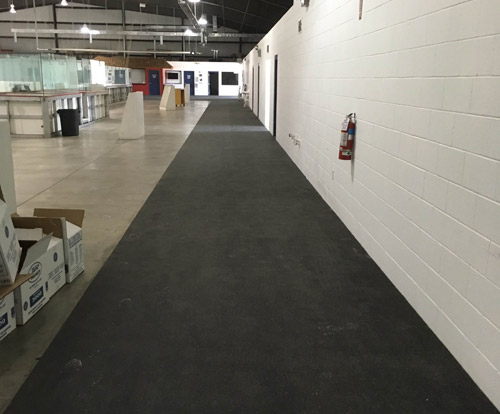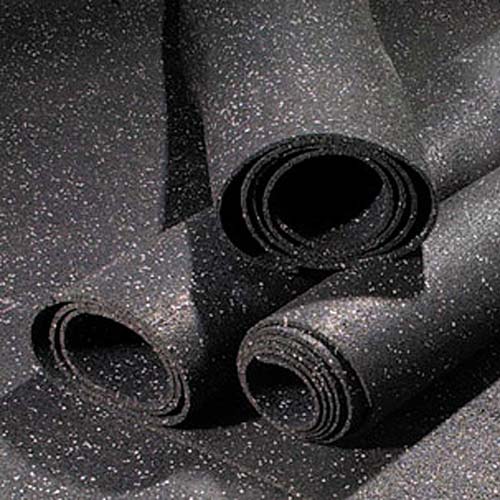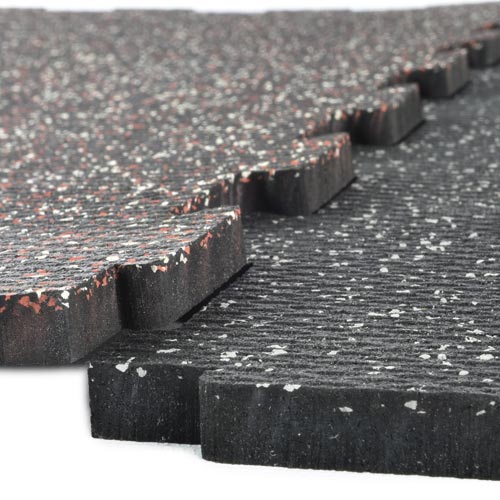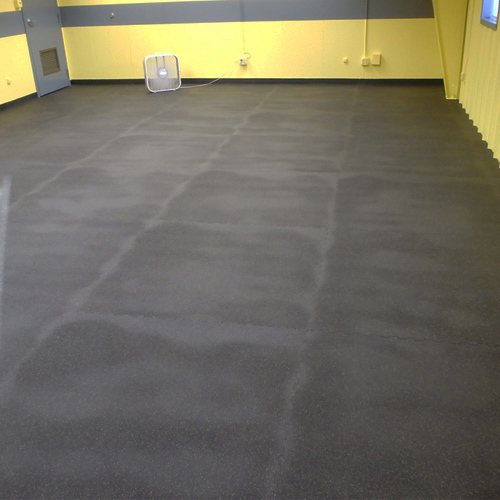 Ice arena floor covering
is important to have on hand for multi-use facilities. Rubber mats can be used to provide a thermal barrier between the cold concrete surrounding the ice and people walking on it whether the arena is being used for winter activities such skating, curling or hockey or non-ice related activities.
And for areas of the arena where hockey players will be walking on their skates from the locker room to the ice, creating a path with the right ice arena floor covering in place will reduce the possibility of players slipping or damaging their skates. You even can use covering in the bench area, where it has benefits for players wearing their blades and coaches and trainers wearing regular shoes.
When you want a high quality flooring system around your hockey rink or figure skating area, you have quite a few options. When searching for the best products, it's tough to beat rubber.
Rubber delivers a slip resistant surface for skaters wearing their blades while walking to the ice surface. If skaters try to walk on cement with the bottoms of their skates, they'll
damage the steel
in the blade, resulting in the need for constant sharpening or replacement.
With the right rubber ice arena floor covering, you'll reduce the risk of slippery floors surrounding the ice, due to the temperature and moisture levels in the arena.
Here are some of the options you have when selecting rubber products to use as ice arena floor covering surrounding ice rinks used for hockey, curling, speed skating or figure skating.
Rolls of Rubber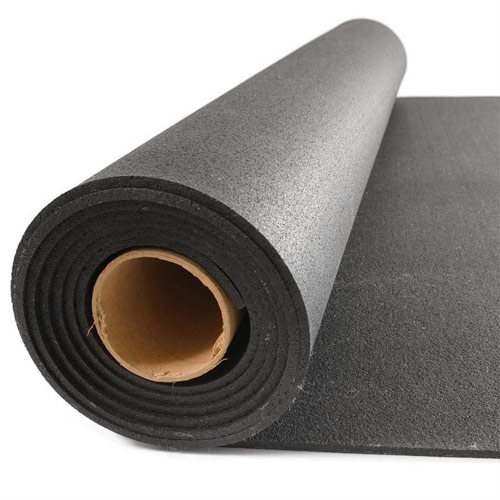 One of the biggest advantages of using rubber rolls as an ice arena floor covering is how quickly customers can cover a huge area with the rolls.
A standard sized hockey rink can have roughly 15,000 to 20,000 square feet of ice, meaning there is a significant circumference area in which you would need skate safe nonslip flooring for both spectators and athletes. Using hundreds of rubber tiles to try to cover this space can take a long time and require a lot of manpower.
Rolls that measure 4 feet in width and 50 or 100 feet in length will complete the job in a hurry. The
Monroe Youth Hockey Association
in Wisconsin chose rubber rolls for its arena for this reason.
Using rolls of rubber to cover the spectator area has a few other advantages too.
Versus tiles or mats, rolls of rubber will have fewer seams in the final layout, reducing tripping hazards.


Multiple thickness options are available, helping you match your needs perfectly.


You can order specific lengths of rubber rolls, limiting your wasted material.


Rubber rolls have a more economical cost per square foot than puzzle style tiles or straight edge mats.
The
Rolled Rubber 1/2 Inch Black Pacific
product is a popular choice as an ice arena floor covering. With 0.5 inches of thickness, it is a durable choice for skaters walking on the rubber while wearing their blades between the locker room and the ice.
To save a bit of money, the
Rubber Flooring Rolls 3/8 Inch Black Geneva
product is a little thinner. With 0.375 inches in thickness, it works nicely to roll over walking surface to provide a non-slip when the arena is being used for meetings, receptions, and more.
Straight Edge Rubber Mats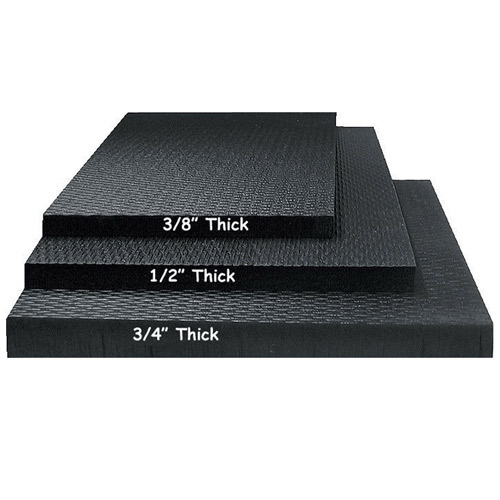 When you need a bit more thickness in your ice arena floor covering, straight edge mats are a smart choice. These are available in thickness measurements up to 3/4 inches, so they provide a maximum amount of separation between the skates and what will likely be a concrete floor below.
Some arena managers will choose to use these mats in the bench areas for hockey, where the thick mats can stand up to a lot of foot and skate traffic without showing wear and tear. The thickness in the rubber gives coaches wearing dress shoes or sneakers some thermal protection against the chill of the cold concrete as well.
Quality thick rectangular mats will not curl at the edges, greatly reducing the possibility of tripping. The
4x6 Ft Rubber Floor Mat Diamond Black
is a great option for this use case. It has a textured surface on the top of the mat, which ensures those walking on the rubber in regular shoes will have a good footing.
Puzzle Style Edge Rubber Tiles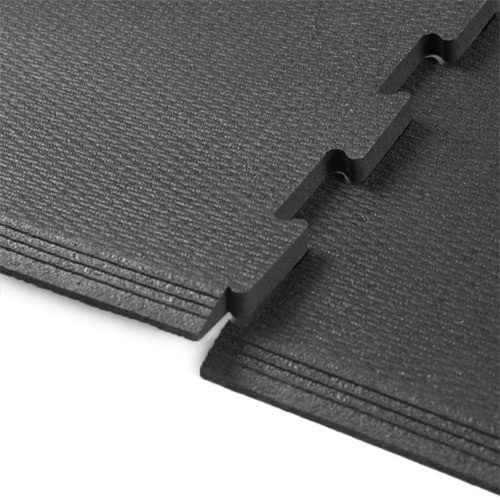 For a secure installation, where lighter weight sections are desired, but you don't want the mats to pull apart when placed under the stress of heavy equipment rolling across the surface, interlocking tiles are a smart choice as an ice arena floor covering.
Interlocking mats can be laid out quickly, and they can be pulled up and stored just as quickly. The
Rubber Tile Diamond Black
product works nicely in bench areas or as a path or hallway to the locker room.