How to Make a Temporary Pool Deck
By Paige Cerulli Created: April, 2022 - Modified: April, 2023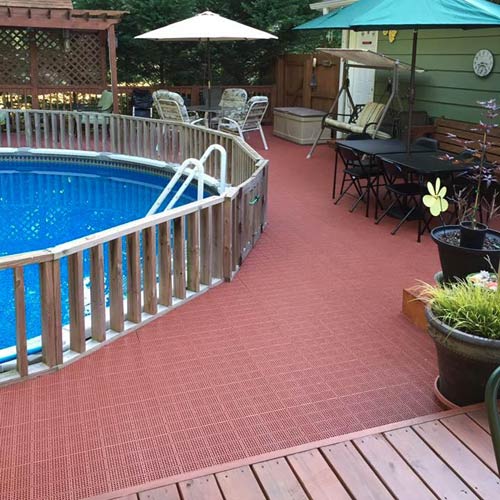 Pool decks serve multiple purposes, including providing a safe entry into and out of a pool and helping to keep dirt and grass out of the pool. Installing a temporary pool deck can give you these benefits without requiring you to commit to construction that will remain in your yard long-term.
How to Make a Temporary Pool Deck
There are several instances where you might want the convenience of a temporary pool deck. If you have an above ground swimming pool that you take down in the winter, creating a temporary deck means you can remove the structure when you remove the pool.
A temporary deck is also ideal for anyone who rents and who may need to disassemble the pool and deck when they move into a new rental. The deck is removable and portable,
Making a temporary pool deck isn't difficult, and it can help you to fully enjoy your pool while minimizing the amount of time that you have to spend cleaning the pool.
The following steps will guide you through the process.
Choose Your Pool Deck Tiles
You'll need to start by buying modular pool deck tiles for your pool surround. These tiles need to be safe for use around pools and in wet areas.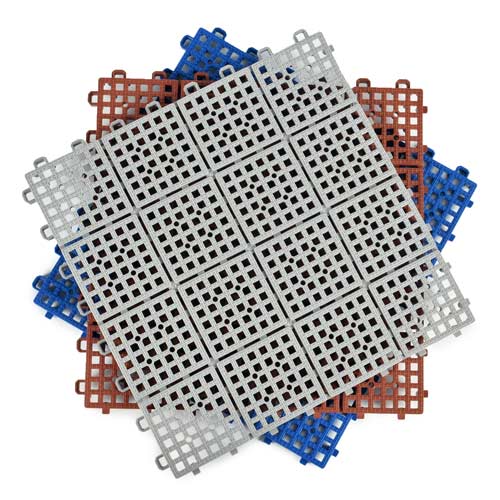 When shopping for tiles, look for tiles that you can use outside. Although StayLock Perforated Tiles are not UV-treated, many tiles are UV treated, so they can withstand use in direct sunlight without fading or being damaged.
The tiles also need to allow water to drain through or around them. Many tiles are perforated and feature raised bases that let water flow underneath them, helping to prevent dangerous puddles from forming.
The texture of the tiles also contributes to swimmer safety. Look for tiles with a non-slip texture that's effective when they're both dry and wet.
You'll find that many pool tiles are built of a PVC that offers some flex and cushion. This not only creates a comfortable surface underneath bare feet, but can also help to reduce injuries in the chance of a fall.
Finally, make sure that the tiles feature a connector system that's easy to use. Tiles should connect and disconnect easily, which will allow for a DIY installation.
That locking mechanism in the tiles is critical if you have to lay them over an uneven surface, like grass. Locking the tiles together will help to keep them from rising up or pulling apart, creating a smooth surface.
We've included some deck tile ideas below to help you get started.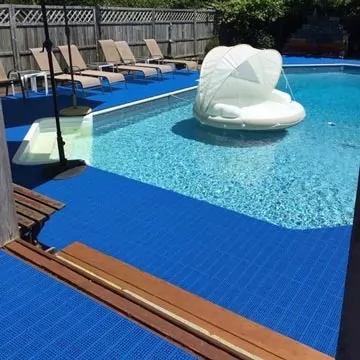 Prepare Your Site
Once you've selected your pool tiles, you'll need to prepare the site. If you're installing the tiles over a surface like gravel or sand, try to smooth out that surface as much as possible for an easier installation process.
Whether you're installing the tiles over dirt, grass, gravel, or sand, it's important to put down a weed barrier or landscaping cloth first. This cloth serves several purposes.
The cloth will cover the ground and can help to prevent vegetation from growing up through the holes in the tiles. It also prevents the tiles from sinking into the ground, which is especially important when you're installing the tiles over a softer, uneven surface.
Install Your Tiles
Finally, it's time to install your tiles. It's easiest to start in one corner and work your way around the pool, installing one tile at a time.
Follow the manufacturer's instructions when it comes to aligning the tiles and connecting them together. Many pool deck tiles can be cut with a sharp utility knife if you need to get them right up against the edge of your pool.
When you're done using the pool for the season, you can simply disconnect the tiles, hose them off, let them dry, and store them away until next summer.
Temporary Pool Deck Tiles for Sale
We offer several tiles for sale at Greatmats that are ideal for temporary pool decks.
StayLock Tile Perforated Colors 9/16 Inch x 1x1 Ft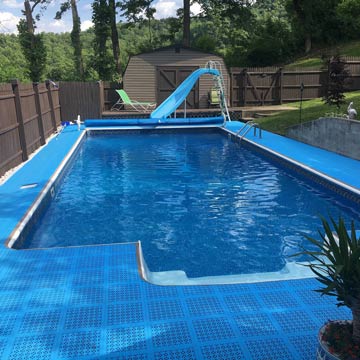 The StayLock Tile Perforated Colors are waterproof tiles suitable for outdoor use and for pool surrounds. The tiles feature a non-slip surface that quickly drains water away.
The tiles have a 20-inch ASTM fall height rating, so they can contribute to a safe pool deck. Their active locking connector system won't separate during use, but you can disconnect the tiles when you're done using the deck.
Patio Outdoor Tile ½ Inch x 1x1 Ft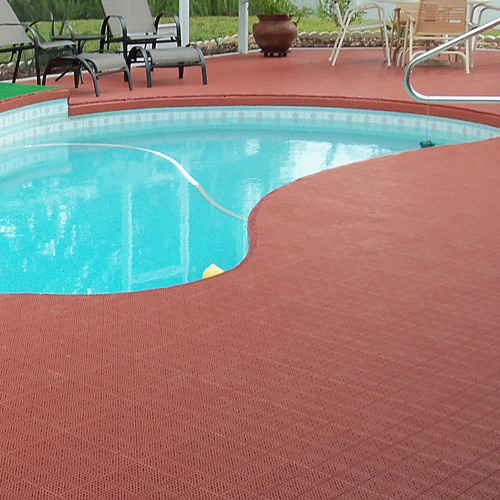 The Patio Outdoor Tiles are made of a flexible PVC, so they're comfortable underfoot. The tiles have a non-slip texture and are designed to quickly drain water away.
Tab and loop connectors make for a quick and easy installation, and you can place these tiles over concrete, wood, brick, and other compacted surfaces. They're suitable for indoor and outdoor use.
Ergo Matta Perforated Outdoor Tile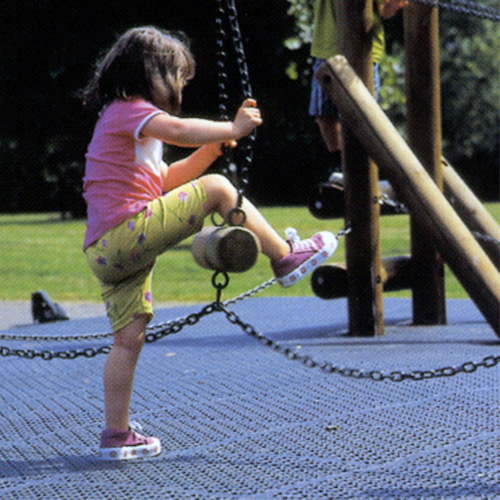 The Ergo Matta Perforated Outdoor Tiles can be installed on a hard, flat surface. Their interlocking design makes for an easy installation, and optional border ramps are available if you'd like clean, finished edges for your deck.
These tiles are ASTM fall height rated, and they provide excellent drainage. They're made from recycled materials and are available in many different colors.
Safety Matta Perforated Tiles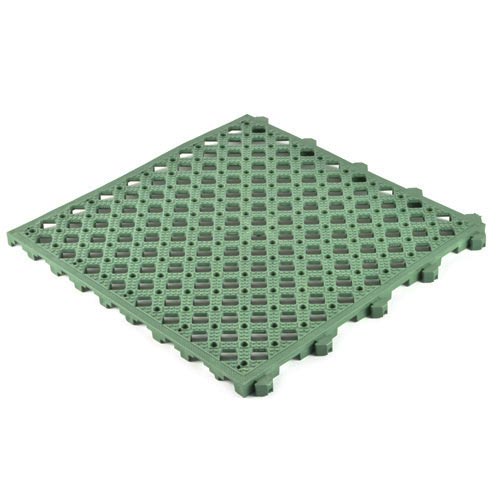 The Safety Matta Perforated Tiles feature a diamond shield tread design that maximizes traction and helps to prevent slips and falls. The tiles are raised to maximize damage, and they offer anti fatigue benefits that make your pool deck a comfortable surface to stand on.
These tiles are made of recycled materials, and you can purchase borders if you'd like clean edges on your deck. You can trim the tiles to fit around your pool, and their interlocking lug system makes for an easy installation.