How Do You Maintain 2x2 Interlocking Rubber Flooring?
By Kyle Schurman Created: March, 2021 - Modified: March, 2021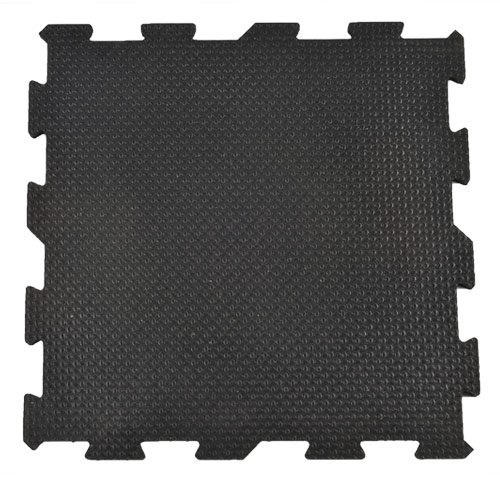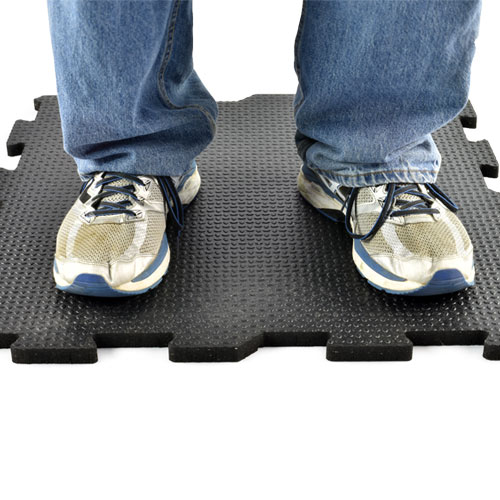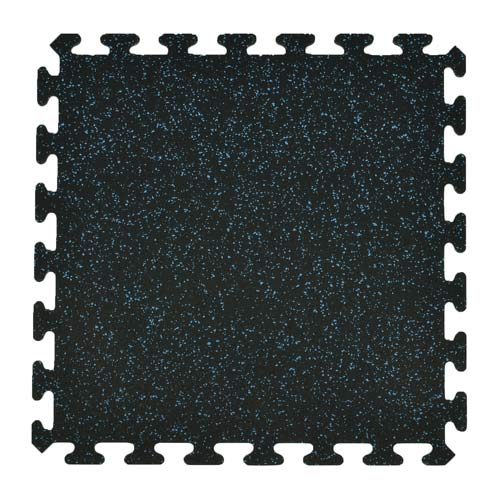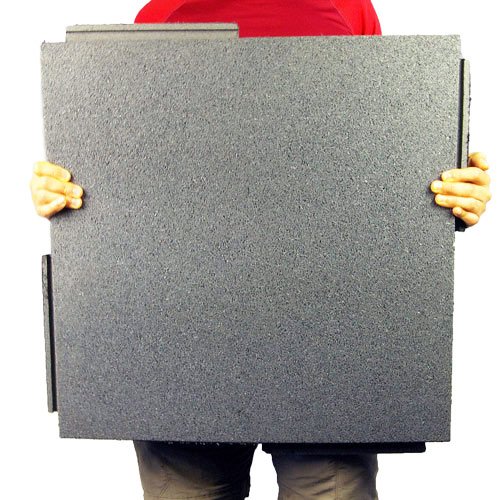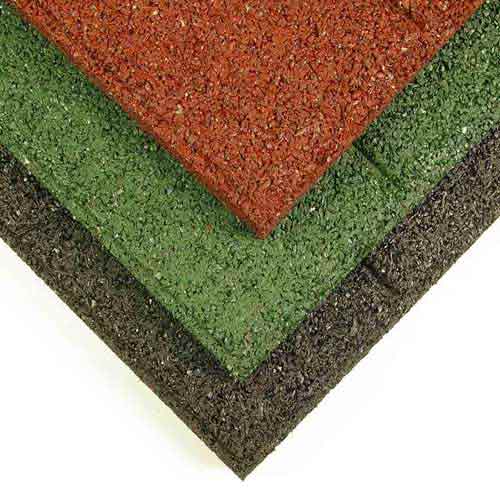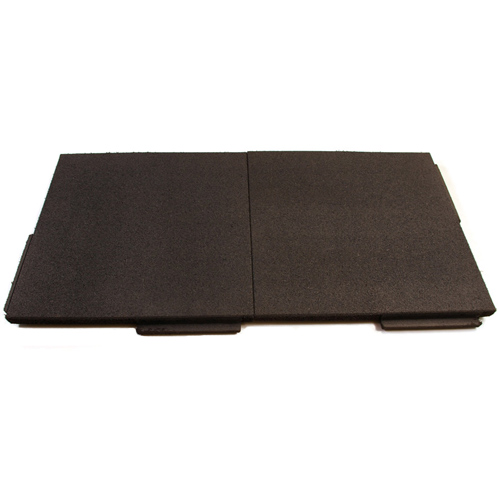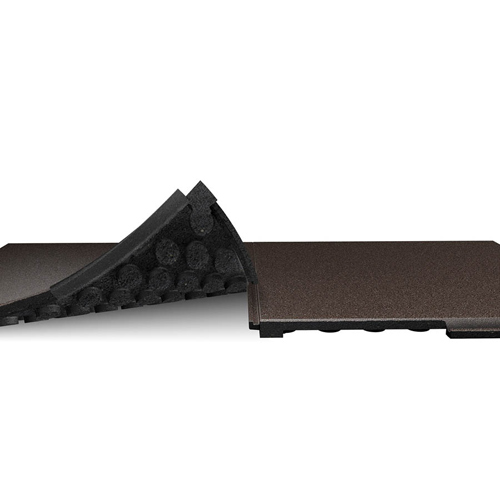 Properly maintaining 2x2 interlocking rubber flooring and 2x2 rubber pavers allows these tiles to last as long as possible, while continuing to look like new. Keeping the rubber tiles clean just requires a little bit of work on a regular basis.
We will give you some basic tips for maintaining and cleaning 2x2 interlocking rubber flooring. Just remember, these are basic tips. Before undertaking these instructions, always follow any specific cleaning instructions with the particular model of floor tile in use at home or in a gym.
Preparing the Floor for Cleaning
Start the process by removing any dry debris from the surface of the rubber flooring system. Most of the time, a simple broom or a vacuum will remove dirt, gravel, and other types of dry soils.
Before using a vacuum on interlocking rubber floor tiles, always test the power of the vacuum on a portion of the installation where any damage from the vacuum is not going to be noticeable. Rarely will a vacuum cause damage, but it does happen occasionally.
Use a Neutral pH Cleaner
It is important to use a safe cleaning solution on the rubber flooring to prevent any damage to the material finish. Using a neutral pH type of cleaner should remove any soils without damaging the 2x2 rubber tiles and without leaving a slippery film behind.
Additionally, any cleaner in use must not cause discoloration to the black color of the rubber mat. Unapproved cleaners may stain the rubber, resting an undesirable look. Waxy or petroleum-based cleansing products may cause these problems, for example.
Another option is to create a safe cleaning solution at home. With most types of 2x2 interlocking rubber flooring, mixing 1 cup of white vinegar or mild dishwashing soap with 1 gallon of warm water will create a safe and efficient cleanser.
With the liquid cleaner, use a mop or sponge to apply it to the rubber floor. Rinse it later with clean water using a mop or sponge. Don't saturate the floor with a cleaning solution or with rinse water. This will help prevent liquids from leaking through the flooring system at the seams or permeating non-vulcanized rubber.
Allow the flooring to air dry after the cleaning.
Removing Stubborn Stains
For a stain that does not come up with regular mopping, use a rag or hand brush with nylon bristles and the cleaning solution. Don't scrub too hard, as this could gouge or scratch the rubber.
If there is ever a question about how to clean a certain model of 2x2 interlocking rubber flooring, please contact Greatmats customer service or visit the website to learn about more of the options for maintaining this type of flooring.
What Are Some of the Best Interlocking Rubber Tiles?
For indoor installations in gymnasium or weight room locations or outdoor installations over patios or in horse stalls, 2-by-2-foot interlocking rubber tiles are a great choice. They're easy to connect together with the puzzle style edging, and the overall install process will go quickly.
Additionally, when used in wet locations, they don't become slippery, while resisting the formation of mold or mildew. Installers do not need to add a pad layer underneath them, which saves time and cost.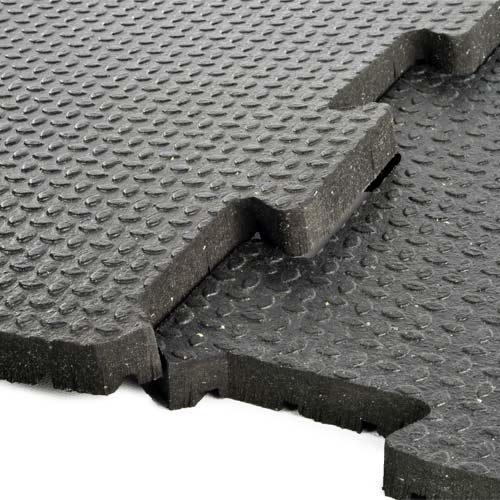 A popular selection is the Sundance Mats 2x2 Foot Interlocking Tile. It measures 3/4 inches in thickness to provide plenty of slip resistant surfacing over concrete, creating a safer and more comfortable surface in a gym or horse stall.
It has a pebble top surface texture, which provides a good footing for athletes working out on it with free weights or weightlifting machines.
Inside a barn for horses, the 3/4-inch thickness stands up to the punishment horses can deliver and provides an easy-to-clean surface.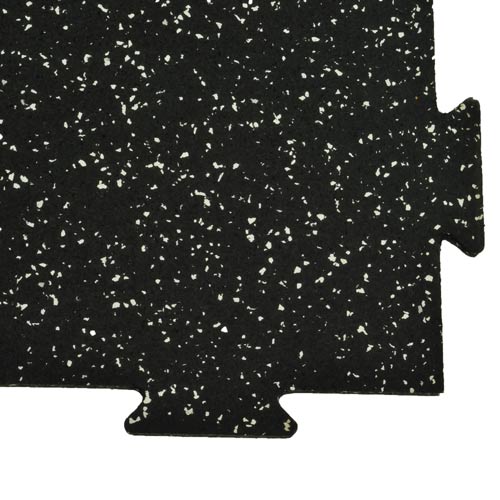 For a rubber tile with a bit of a color pattern on it to create a stylish look versus basic black tiles, consider the Pacific Color Rubber Interlocking Tile, which measures 1/2 inches in thickness. Select among all-black, 10% color fleck, and 20% color fleck options in this model. It's suitable for home gyms, locker rooms, weight rooms, and factory production lines.
Greatmats also offers the Pacific model of rubber tile in a thickness of 1/4 inches and with a 20% color fleck pattern over the black base. With this thin design, each tile only weighs 6 pounds, creating an easy-to-install, cost effective selection for use at home or in a fitness center.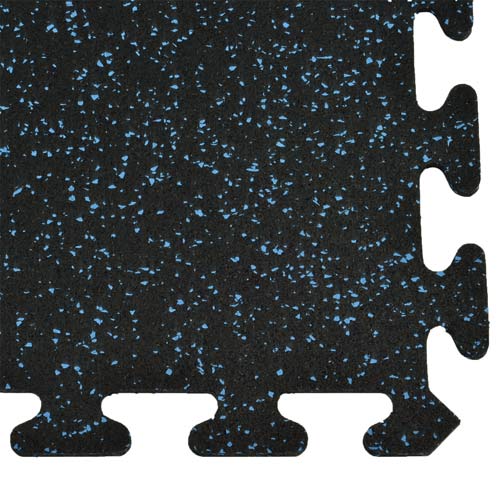 Another 2-by-2-foot interlocking rubber tile with color flecks in a slightly thinner format is the Interlocking Sport Rubber Tile. The 3/8-inch thick tile has a 10% blue color fleck against the black background. The interlocking puzzle edge system allows installers to dry lay these tiles, although they can use adhesive for a permanent install, if desired.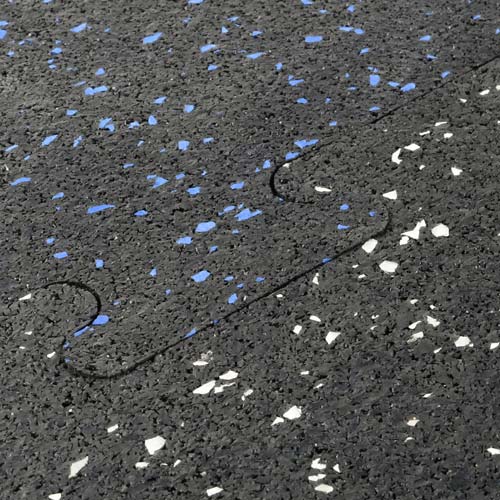 The Interlocking Color Rubber Floor Tile measures about 5/16 inches in thickness, while also including a color fleck pattern. Even though it is thinner than some of the others on this list, it still has the durability that customers expect from rubber materials. These thinner tiles weigh quite a bit less than thicker tiles, making them ideal for installation at home for a single person DIY job.
What 2x2 Rubber Pavers Does Greatmats Sell?
Greatmats has a wide range of 2x2 foot rubber pavers that work exceptionally well for creating a usable gathering space on a patio, roof, or deck. These are perfect options to increase the safety of an outdoor playground too. Some of the best 2x2 rubber pavers available from Greatmats include:
Max Playground Rubber Tile

Sterling Roof Top Tile

Sterling Athletic Rubber Tile

Equine Paver Tile
Adding rubber pavers to these spaces offers greater durability and comfort than bare concrete, gravel, mulch, grass, or some other materials, which may wear away when exposed to rough weather regularly, including frequent freeze-thaw conditions.
What Advantages do Thick Rubber Paver Tiles Provide?
Thick paver tiles have outstanding durability, while providing a bit more cushioning than thinner tiles. However, for installation, thicker pavers are quite a bit heavier than thinner units, which may complicate the process some.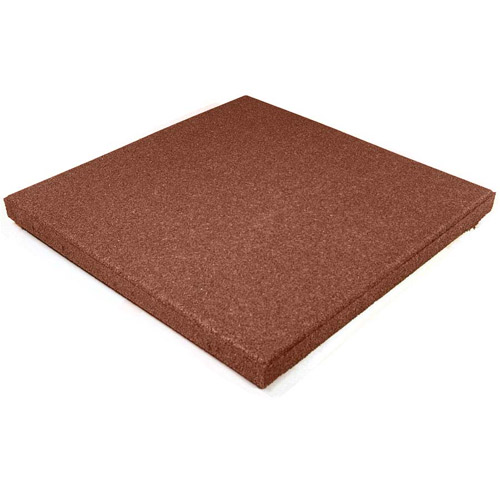 Although Greatmats offers thicker rubber pavers, many customers appreciate the combination of durability and ease of installation they find with the thick Max Playground Rubber Tile. Each paver measures 2.5 inches in thickness, providing an ASTM fall height rating of 6 feet.
This 2x2 foot paver tile carries a 15-year limited manufacturer warranty, providing an outstanding level of performance.
Multiple colors are available for the Max line of paver, and each unit has UV resistance built into it, ensuring the color will continue to look like new over time.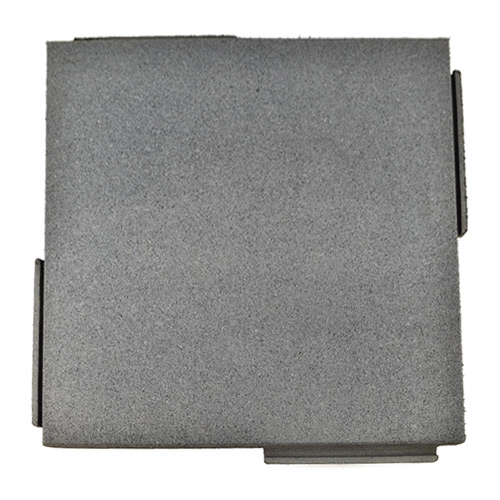 Another option for those seeking a thick paver for an outdoor installation is the Sterling Roof Top Tile. This paver measures 2 inches in thickness, yielding a limited lifetime warranty, ensuring the installer receives a great value. It is available in several color options, allowing customers to create the perfect look for a rooftop patio, a deck, or a backyard patio.
These 2x2 foot pavers use an interlocking design that simplifies the installation, but installers will want to apply adhesive to the interlocking edges of the pavers to ensure they remain in place when subjected to excessive stress. (Installers do not need to apply adhesive to the concrete base layer.)
In areas where installers need to reduce the effect of the lip of the flooring, this Sterling model has ramped border and corner pieces available that fit onto the existing pavers perfectly.
What Are the Best Low Profile 2x2 Rubber Pavers?
To simplify the installation process, some customers prefer thinner pavers, as they have a reduced weight versus thicker models. Thinner 2-by-2-foot pavers may weigh 15 to 20 pounds each, while thicker units can weigh 30 to 40 pounds apiece.
Even with a slightly thinner design, the durability of the pavers remains outstanding, giving users an excellent value and a product that will look great for years.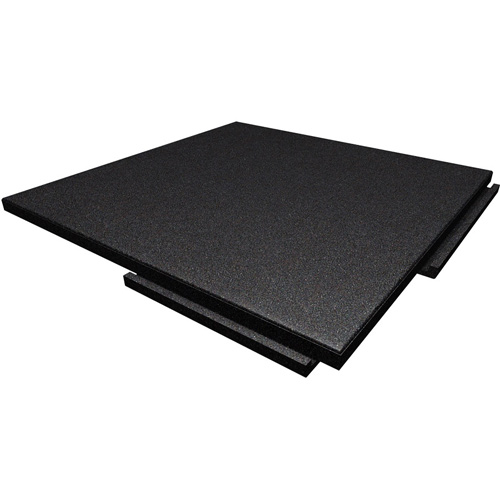 The Sterling Athletic Rubber Tile is a popular choice, measuring 1.25 inches in thickness. It has an interlocking edge that installers will want to glue together, ensuring a tight fit. Ramped border pieces are available as an accessory for a safer layout.
These Sterling pavers primarily work for patio and deck flooring pieces, but customers use them in locker rooms, weight rooms, and gymnasiums as well. They prove an excellent level of protection for the subfloor from dropped weights.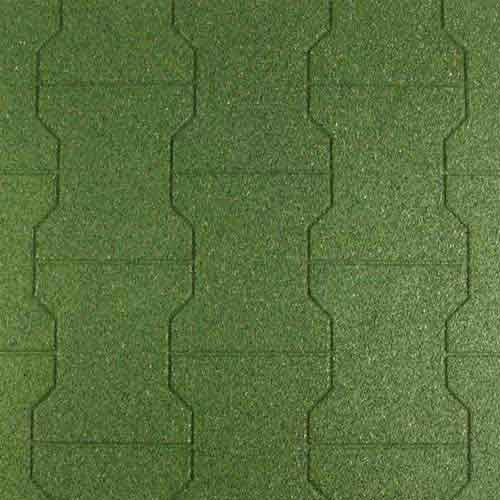 For those who want a more stylish look from the installation, the Equine Paver Tile has an interesting dog bone shape pattern. At 1.25 inches in thickness, these dog bone pavers are easier to handle than some thicker units. They create an interesting pattern in the flooring that almost resembles cobblestone. They frequently appear on horse farms, but anyone can use them, including on a patio or deck.
While the paver system appears to be made of dog bone shaped bricks, they are actually easy-to-install square rubber tiles.
Installers have the option of gluing down these pavers or dry laying them.
How Do You Maintain and Clean 2x2 Rubber Pavers?
For outdoor maintenance of 2x2 rubber pavers, remove dry debris from the surface with a push broom, wet/dry vacuum, or leaf blower. If the tiles are wet from rainwater, use a squeegee to remove as much water as possible before cleaning the dry debris.
After removing the dry debris, wash the tiles. With some outdoor pavers, such as the Max Playground Rubber Tile, using a pressure washer with a 40-degree nozzle will deliver acceptable results. Use water alone or add a neutral pH cleaning solution to the power washer.
For most rubber pavers, using a garden hose with a spray nozzle is the preferred method.
If using a safe neutral pH cleaning solution on the outdoor rubber pavers, always rinse them with clean water afterward.