How Big Of Weights Can You Drop On 3/8'' Rubber Flooring?
By Paige Cerulli Created: March, 2022 - Modified: August, 2023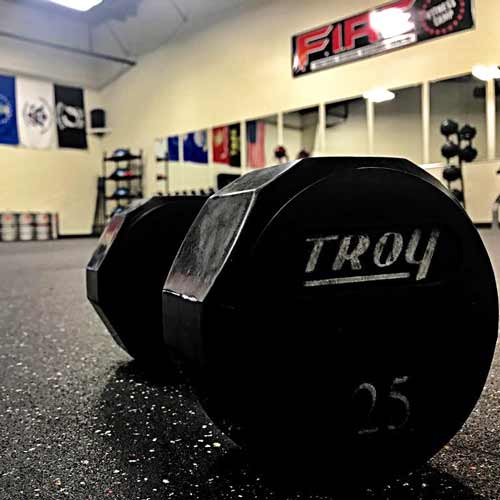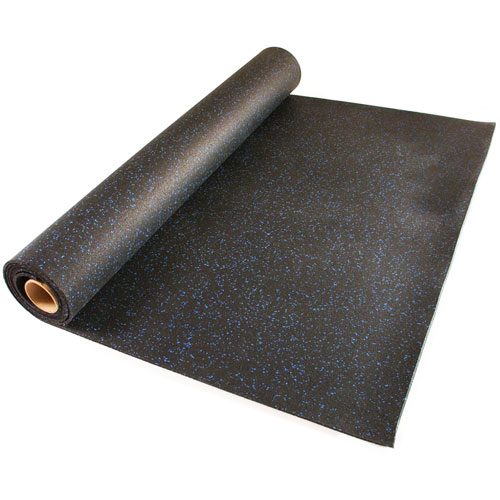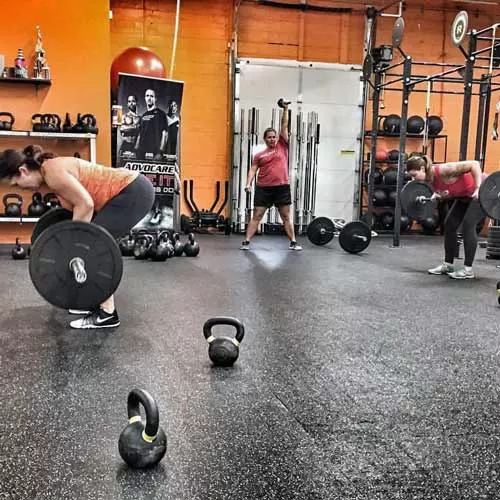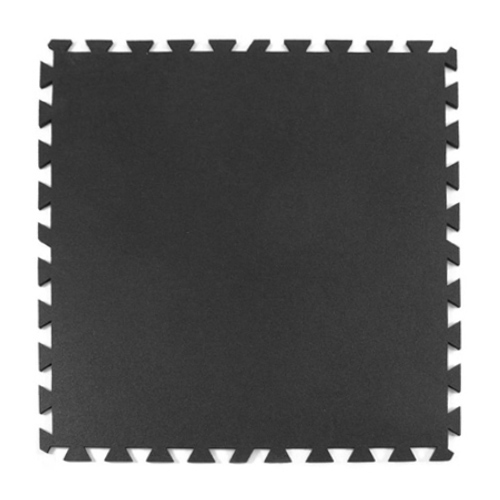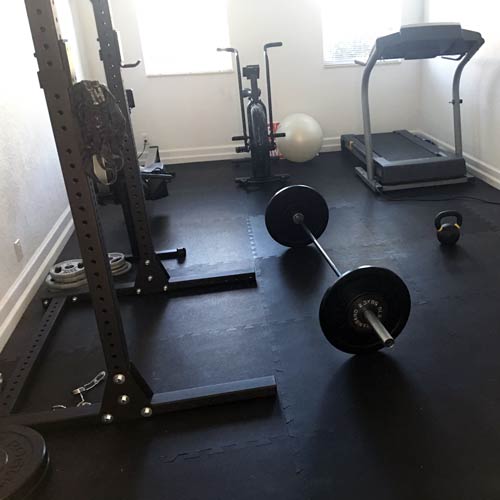 Whether you're planning a home or commercial gym, if you'll be dropping weights in the area, it's important to choose the right flooring. While ⅜ rubber flooring offers decent protection to your subfloor, you'll need to make sure that it's a suitable choice for how you plan to use your gym.
When ⅜ Rubber Flooring Makes Sense
Rubber flooring is known for being highly durable and strong. It's a popular choice for use in gyms, which see high amounts of traffic and wear and tear.
Rubber also offers shock absorption, and it can help to protect your subfloor against damage from dropped weights. However, it's important to choose a rubber product that's thick and strong enough to withstand the types of weights that will be dropped.
Thicker rubbers offer increased shock absorption and protection to your subfloor. In most instances, it's best to choose rubber that's at least ¾ inch thick for dropped-weight areas.
A ⅜ rubber flooring product is strong and durable, but it isn't the best choice for use where weights will be intentionally dropped. It doesn't offer your subfloor the protection a thicker rubber does, and you could see damage to that subfloor.
However, 9.5mm or ⅜ rubber flooring is an excellent choice for use underneath weight machines of any weight, when the weights won't be intentionally dropped on the floor. You can also use free weights of up to 75 pounds, as long as they'll be placed down on the floor, rather than dropped. It will even handle incidental drops of weights up to 75 pounds - just not repetitious slamming.
With ⅜ rubber flooring, you'll enjoy many of the same benefits, like durability and ease of cleaning, that thicker rubber products offer. However, the ⅜ rubber is lighter, easier to move, and more economical.
Top ⅜ Rubber Flooring Products
If you're looking for ⅜ rubber, Greatmats offers a variety of mats, rolls, and tiles, so you'll have plenty of choices for your gym. Whether you're looking for a 4x20 ft, 4ft x 6ft, or 50ft flooring length, we have products that will suit your needs.
Rubber Flooring Rolls ⅜ Inch Regrind Confetti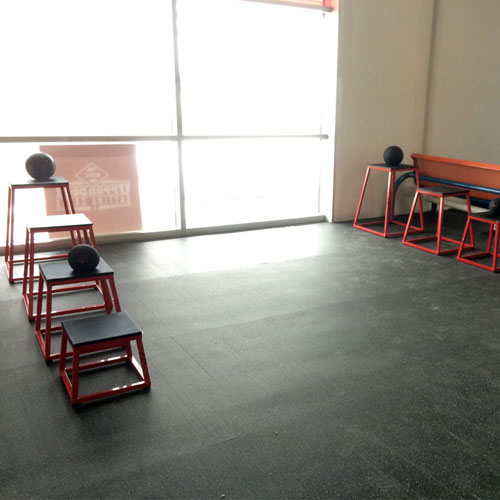 The Rubber Flooring Rolls ¾ Inch Regrind Confetti are economically priced rubber rolls. They're available in custom-cut lengths of 25 feet or longer, so they're ideal for covering larger areas or even entire rooms.
Measuring 4 feet wide, these rubber flooring rolls are ideal for gym flooring when you need to maximize your cost savings. They're manufactured from second-run material, so they're slightly more dense than standard rolled rubber.
The random confetti color adds a fun touch to this flooring, breaking up traditional black rubber flooring. The rolls are non-porous and can be damp mopped for easy cleaning.
Rubber Flooring Rolls ⅜ Inch 10% Color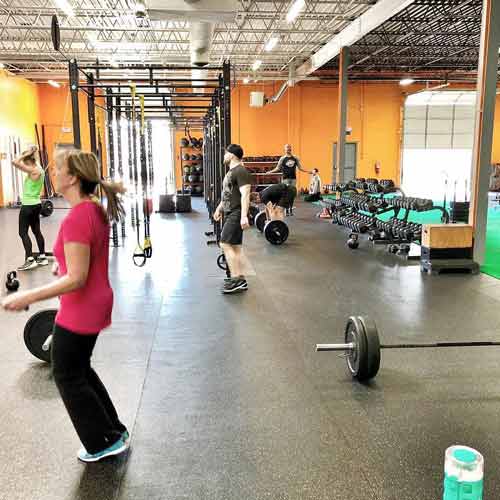 The Rubber Flooring Rolls ⅜ Inch 10% Color roll is a low-odor flooring that's ideal for indoor use in gyms and commercial athletic facilities when you want color fleck that will complement your decor. Made in the USA, this rubber can be purchased in custom lengths from 25 to 100 feet long.
This durable product acts as a sound dampener and helps to protect your floor. It can be taped down or even dry laid in smaller installations.
When the rubber is wet, it retains its non-slip surface, which can help to promote athlete safety. It's made of recycled rubber content, so it may contribute to LEED points for your construction project.
Plyometric Rubber Gym Roll ⅜ Inch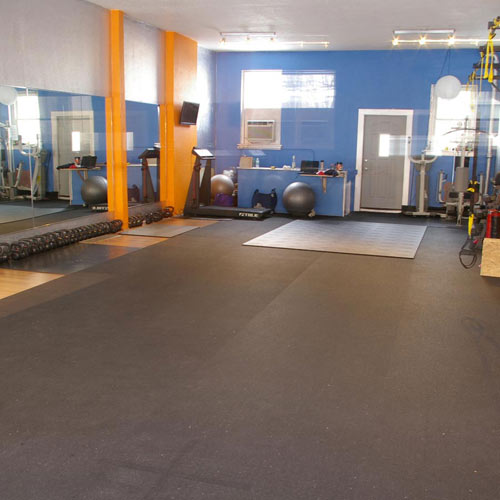 The Plyometric Rubber Gym Roll ⅜ Inch is a cushioned athletic flooring that can make your gym or workout space more comfortable. The lower-density rubber helps to absorb impact and potentially reduce leg injuries, making it ideal for exercises like jumping and running.
You can install this roll on a hard, smooth surface. You can use tape for a long-term installation, and the flooring is available in custom-cut lengths.
Maintaining the floor is easy, too. You can vacuum it as needed, or damp mop it for a more thorough cleaning.
Geneva Rubber Tile Black ⅜ Inch x 3x3 Feet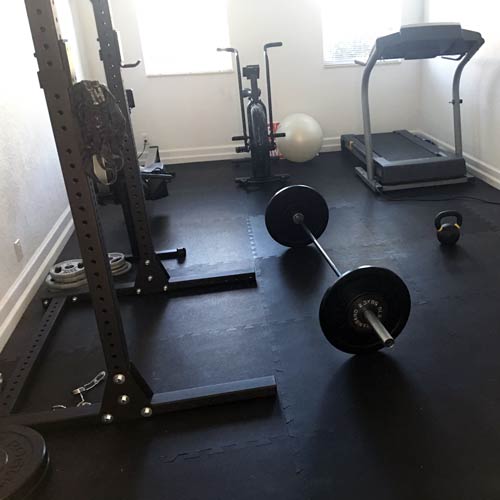 The Geneva Rubber Tile Black ⅜ Inch is a highly durable tile that features a lower rubber odor, making it an excellent choice for indoor use. The tile is ideal for both residential and commercial use.
Measuring 3x3 feet, these tiles will quickly cover larger areas, but they're also manageable and easy to handle. Their interlocking edges create a secure connection that won't separate during use.
You can install the tiles by pressing their seams together, and you can cut them to fit a space as needed. Border pieces are also available for purchase, allowing for a clean island installation.
Made of recycled rubber content, these tiles are an eco-friendly option. They're made in the USA.
Survivor Rubber Tile Interlocking Big Chip ⅜ Inch 20% Color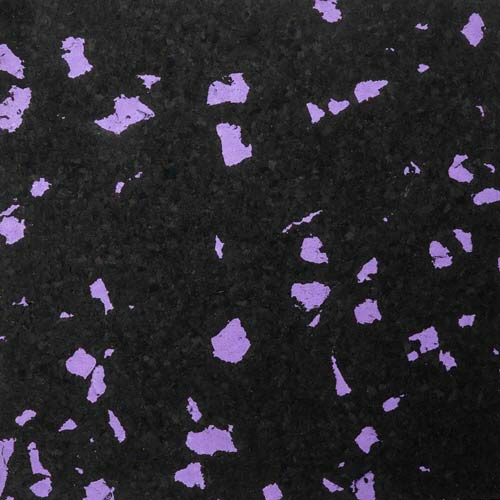 The Survivor Rubber Tile Interlocking ⅜ inch tiles are precisely engineered, allowing their interlocking connections to nearly disappear once the tiles are connected. The result is a floor that looks like it's a single piece of rubber, but that offers the convenience of interlocking tiles. Plus, this flooring offers a bit more color-fleck content than the previous options at 20%.
These tiles offer excellent sound and shock absorption properties, and they can help to buffer the vibrations of your gym equipment. They're also very comfortable underfoot, and they offer just the right amount of cushion.
You can easily clean the tiles with a broom, damp sponge mop, or vacuum. The tiles are made of premium recycled rubber content, so they're an eco-friendly choice.