Top 5 Horse Stall Mats on a Budget
By Cara Walters Created: August, 2017 - Modified: September, 2023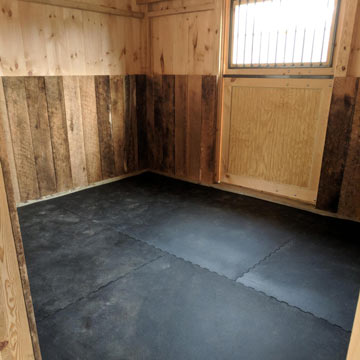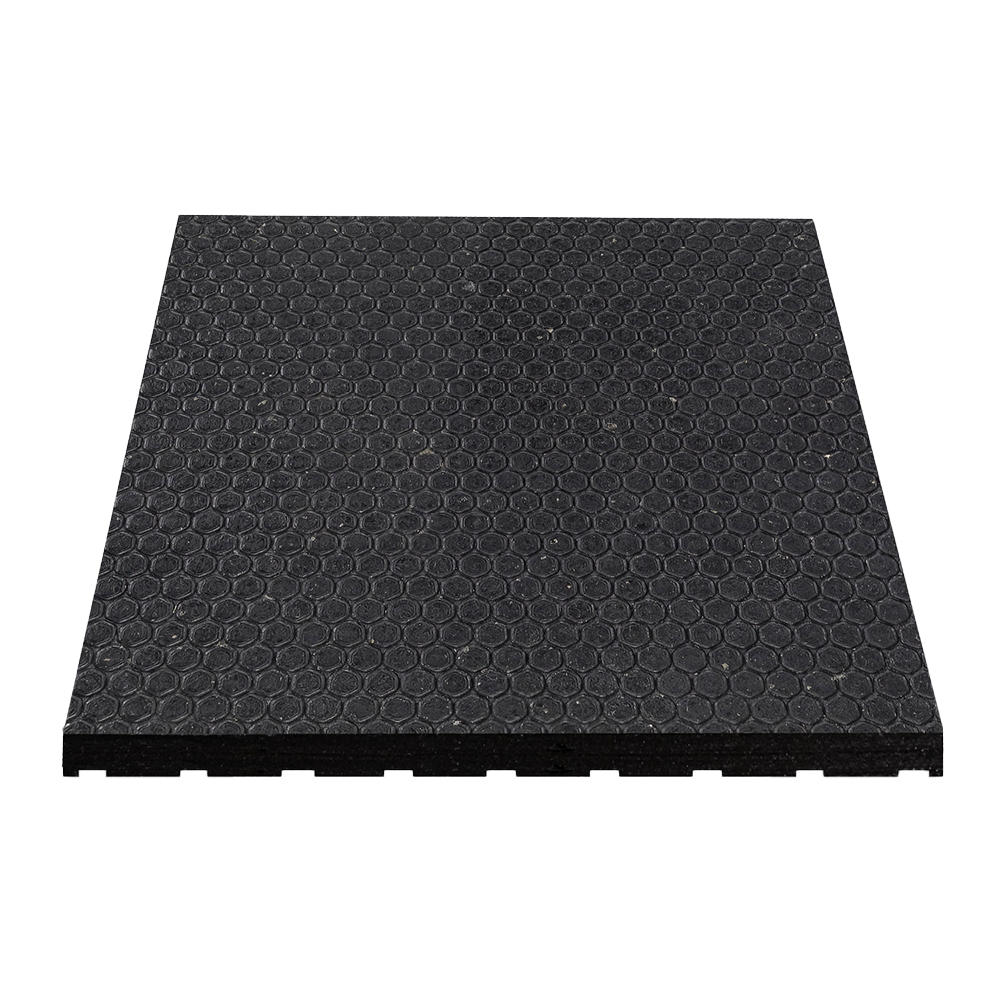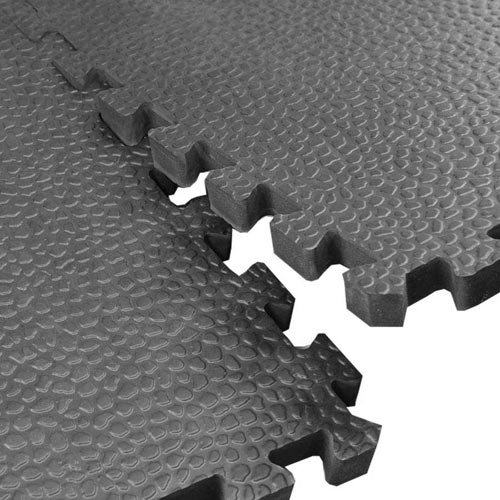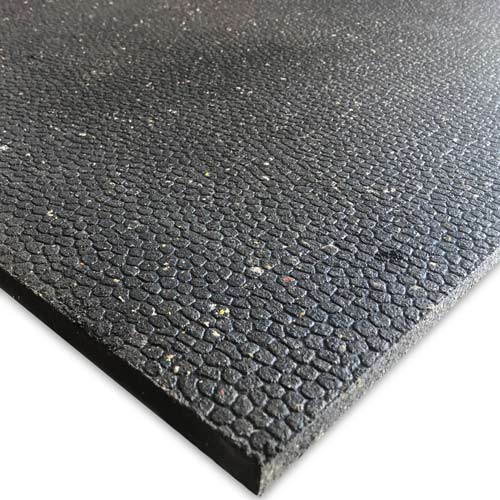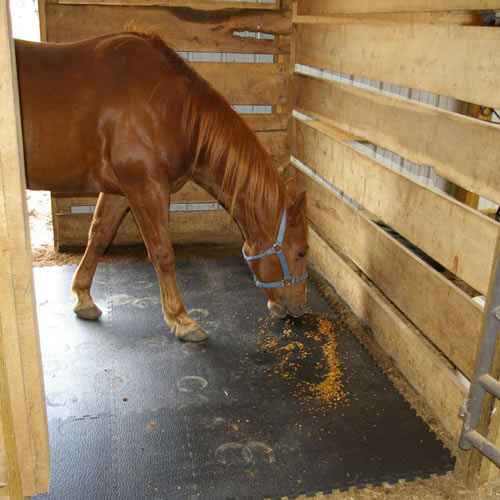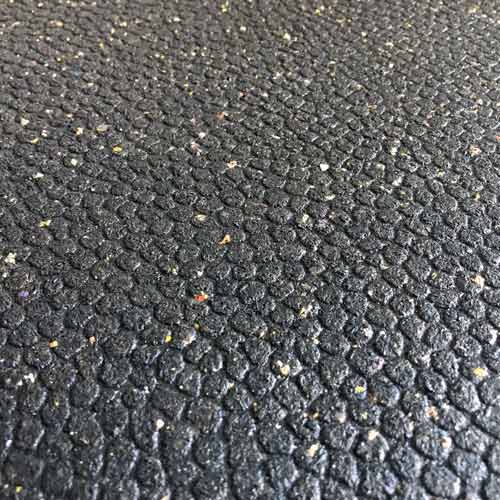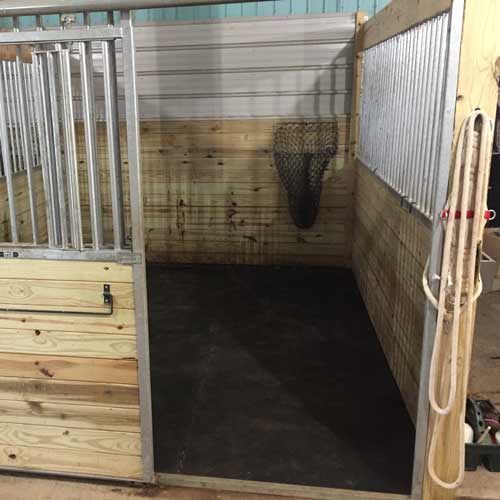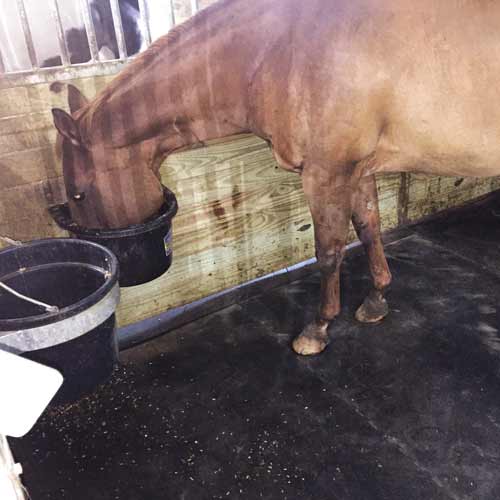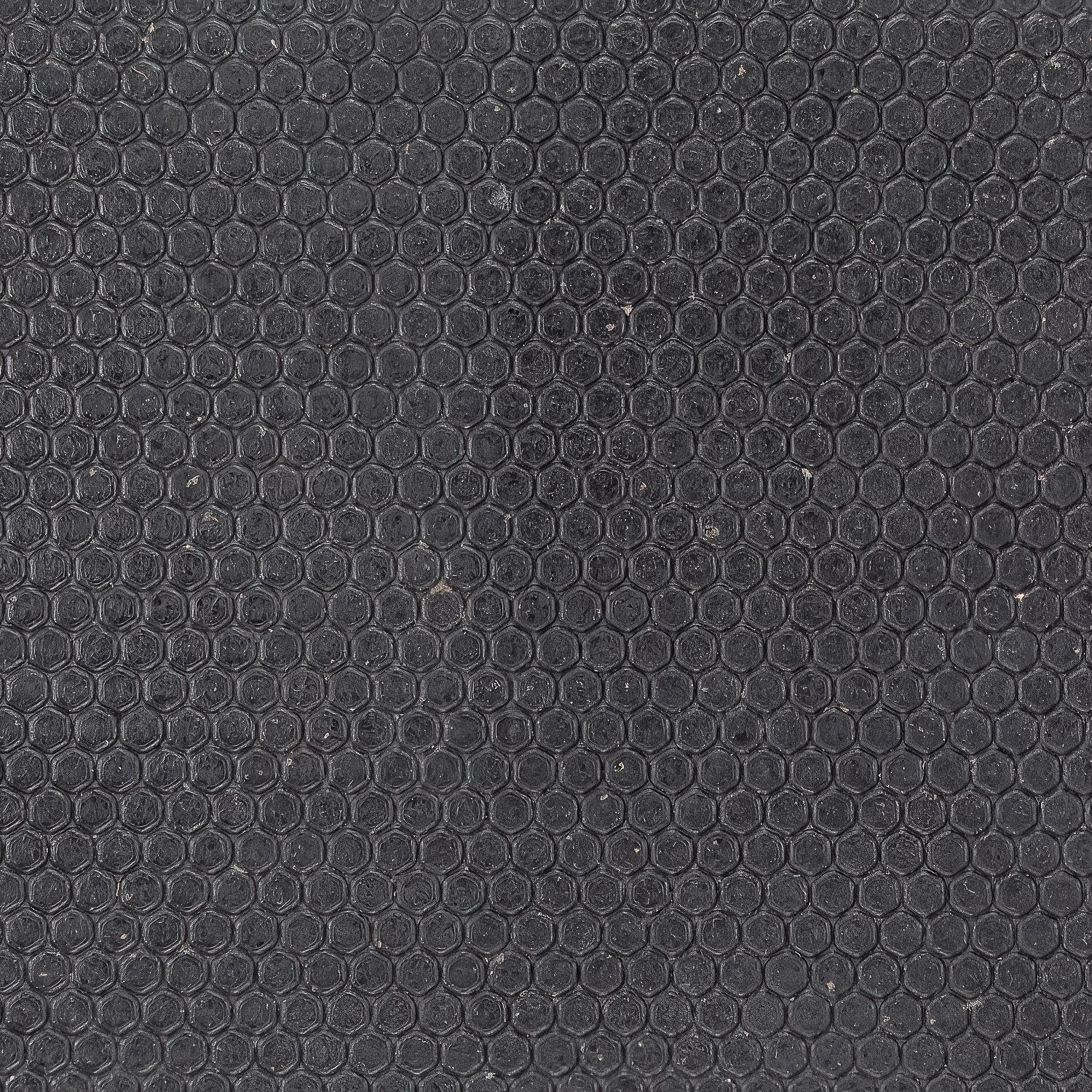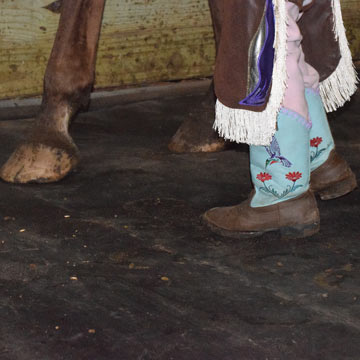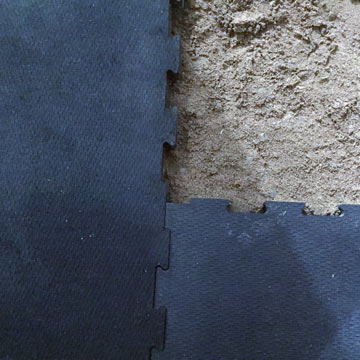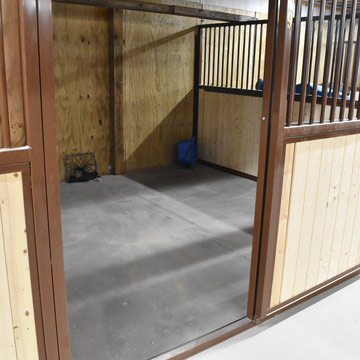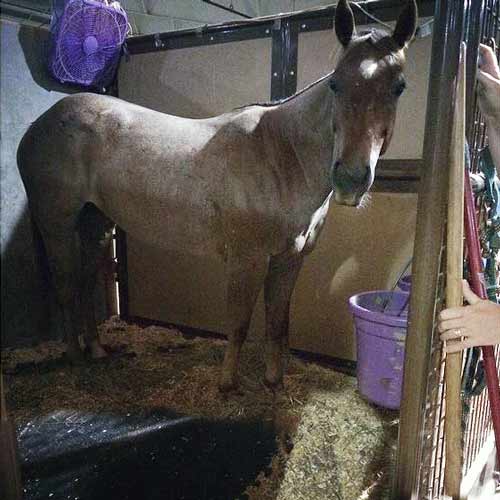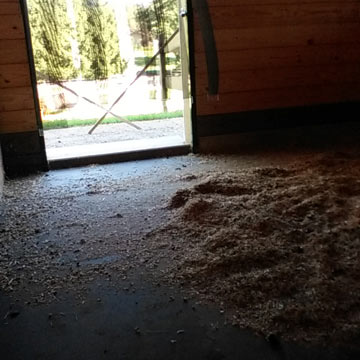 When deciding what type of flooring to use for horse stalls, it is important to consider comfort, safety and health. Investing in quality flooring can pay dividends when you consider the money saved on replacing bedding and the time saved on mucking dirt stalls. Poor flooring can result in a low quality of life for your horses as well as extra money and time for you. Whether you are outfitting a home farm, a small business or a commercial operation, Greatmats has rubber and high-density foam horse stall mats that come straight-edge or interlocking to fit within any range of budget.
Comfort
Adult horses can weigh anywhere from 1,000 to 1,500 pounds, meaning horse stall mats should have a little give, while still delivering strength and stability, to provide comfort for their legs, joints and tendons. Reduce hock sores and other arthritic issues with a durable, yet comfortable horse stall mat.
Safety
The slip-resistant surface of rubber stall mats can help prevent injuries from slipping and falling on any sort of accumulated moisture or urine. Waterproof rubber horse stall mats with proper bedding are great for keeping the surface area of the mats clean and free of moisture in many forms.
Health
Unless diligently cleaned, barns without horse stall mats could cause debilitating health issues from frequent dust and unsanitary conditions. Rubber horse stall mats are the most effective way to prevent dust build-up in the air and clean ammonia-rich urine residue, which could lead to respiratory issues such as pneumonia and heaves.
Here are 5 horse stall mats for those on a budget:
1. Sundance Mat Straight Edge Standard, 4x6 ft x 3/4 in, Black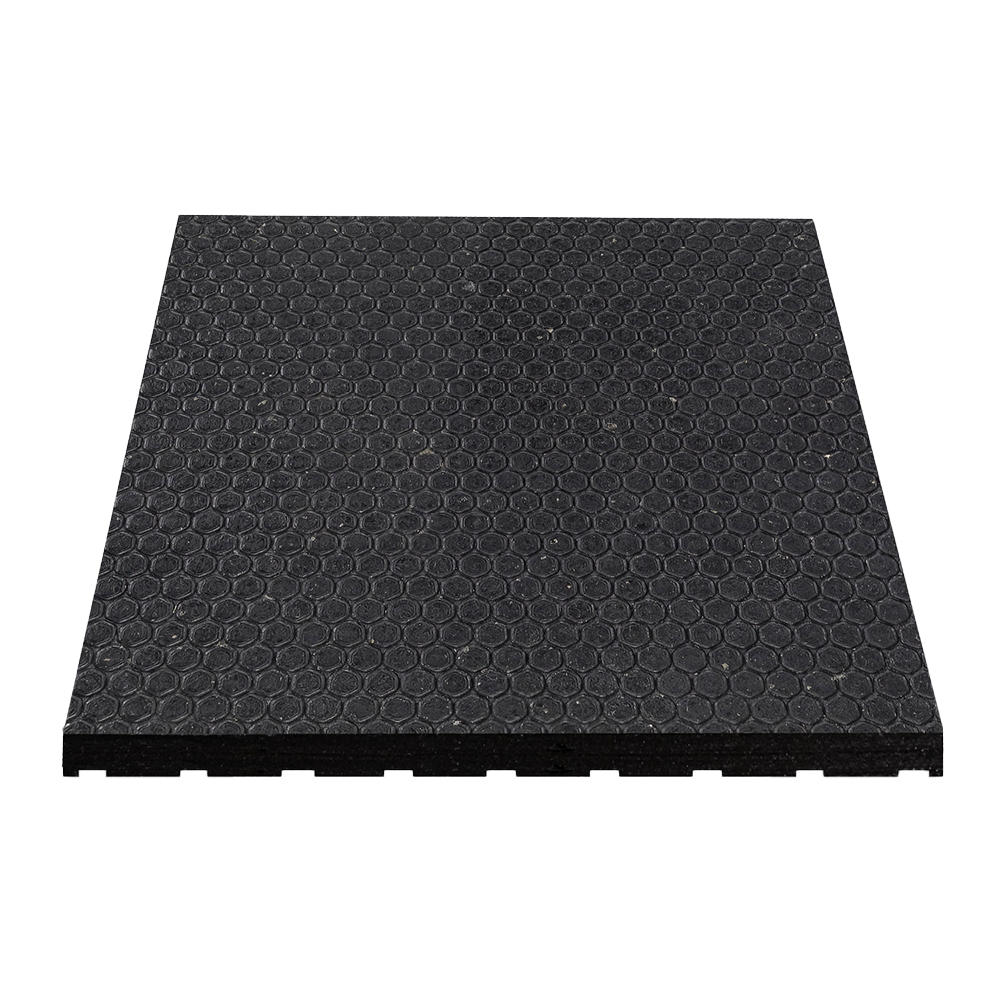 Greatmats'
rubber horse stall mats
are made from high-quality, recycled rubber. These anti-fungal, antibacterial and non-porous rubber horse stall mats provide a safe environment for your horses by being durable, flexible, and easy to clean. A neutral pH cleaner and a hose will remove any harmful ammonia residue.
The straight edge 4 foot by 6 foot x 3/4 inch rubber horse stall mats provide strength and stability under any size horse, providing the foundation needed to properly care for your horse's legs, joints and tendons. These mats work with any type of horseshoes and are resistant to abrasions caused by pawing and swaying. The hexagon surface provides the traction required for foaling stalls, wash bays and cross-ties. They are guaranteed not to roll, buckle or curl.
The installation is easy, and allows for growth and expansion when you need it and can be configured to cover any size area.
2. Rubber Horse Stall Mats, 4 x 6 ft x 3/4 in, Black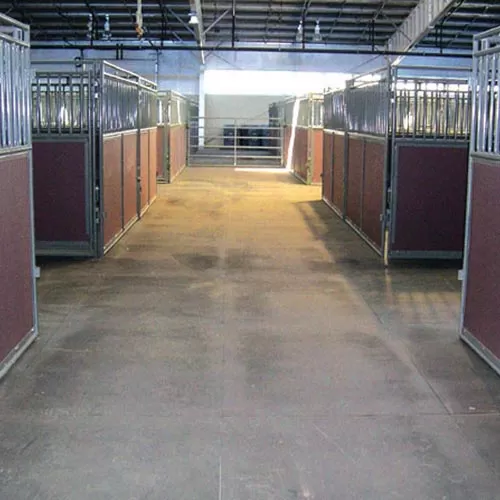 Rubber horse stall mats
have all of the benefits of the 1/2 inch rubber stall mats, but with more cushioning. This thickness is the most common for horse stall mats. They provide excellent traction with a USA-made recycled and re-vulcanized antibacterial and anti-fungal rubber.
3. Portable Horse Stall Mats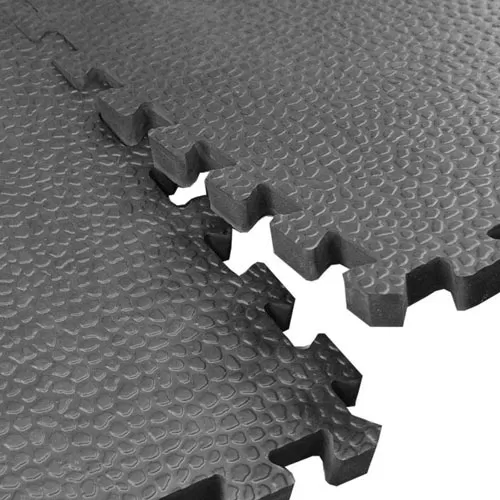 For on-the-road events, trailers, and temporary installations, the
high-density EVA foam horse stall mat
is an excellent alternative to heavier and thicker rubber mats. These portable horse stall mats are intended for use in temporary situations and are not recommended for permanent installations.
Greatmats portable stall mats are made of a waterproof and easy to clean dense foam material that makes the stall mats lightweight and portable. This durable foam floor tile is made of very high-density material and will withstand the weight of a horse. The tiles are easy to carry, install and then transport. When needed the tiles are easy to separate, lift and move. Although not recommend, if this product is used in horse stalls on a permanent basis, they will last a few years in most installations.
Please do not expose this product to direct sunlight for extended periods. Portable stall mats will expand and deform if exposed to direct sunlight over time. EVA foam tiles are subject to expansion with dramatic changes in heat and cold, related to exposure to direct sunlight and/or significant increases in humidity, or throughout an annual freeze/thaw cycle in outdoor environments.
4. Horse Stall Mats Kit - Natural 3/4 Inch x 10x10 Ft.
The
interlocking rubber horse stall mats with pebble texture
are made from 100 percent recycled rubber with 3/4 inch thickness, absorbing shock and reducing fatigue for your horses. This is a pre-sized kit that measures approximately 10x10 feet. The exact measurement is 9.5x9.5 feet. The non-slip top texture is designed to keep safety at the forefront by delivering unbeatable comfort and traction in horse stalls and barns.
Rubber interlocking horse stall mats are easy to move, configure and set with their puzzle-like edges. These horse stall mats also make expansion into aisle-ways or larger stalls more achievable.
The puzzle-like edges also allow for expansion and contraction within the configuration to prevent the horse stall flooring from shifting. These stall mats will deliver high-performance horse stall flooring and the ultimate in care and protection.
This durable top rubber horse stall mat also reduces horse stall bedding costs by insulating against cold and damp conditions, keeping your horses not only warm, but healthy as well.
These Horse Stall Mats - Natural Interlocking Kits are also available in other common stall sizes.
5. Rubber Mats Black Trued 25 Bundle Natural 3/4 Inch x 4x6 Ft.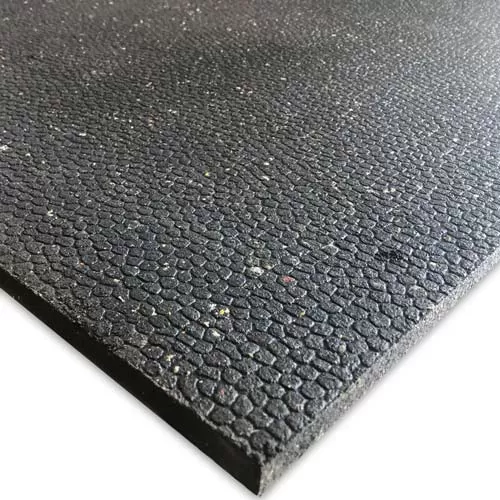 The
durable 3/4-inch thick rubber horse stall mats
with a textured surface are made from 100 percent recycled and vulcanized rubber from vehicle tires. The pebble top surface adds an extra layer of traction to provide a comfortable, non-slip surface. These horse stall mats reduce back and leg strains that can lead to animal injuries. Such rubber mats provide a healthy natural environment while insulating against cold and damp conditions.
Greatmats is your first choice for horse stall mats and flooring to optimize your horse's comfort, safety and health. Proper horse stall mats can ease joint discomfort, optimize cleaning processes and maintain a long and healthy life for both your horses and their stalls.
Give Greatmats a call today. Our flooring experts will discuss the best options for your horse stall and your budget to keep your horses comfortable, safe and healthy. From permanent to temporary, straight edge to interlocking, there are many options to creating the best flooring for your horse stalls and barns.
To learn more about outfitting your horse stall with the right mat, check out
''How Thick Should Horse Stall Mats Be?''
as well as
''Why the Fuss Over Horse Stall Flooring?''
.