Thickness Guide for Rubber Horse Stall Mats
By Kim Butler Created: June, 2017 - Modified: March, 2023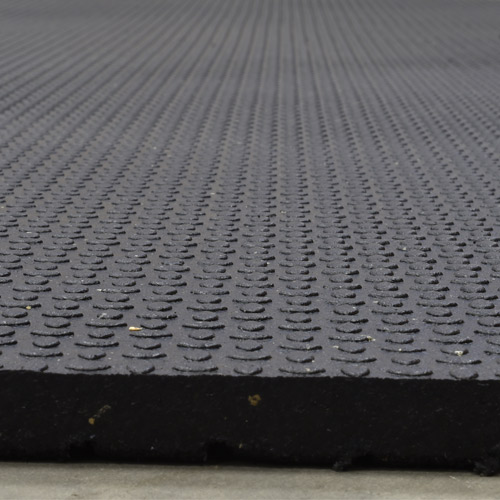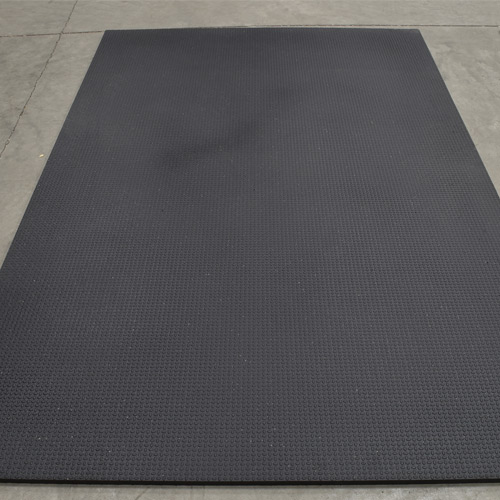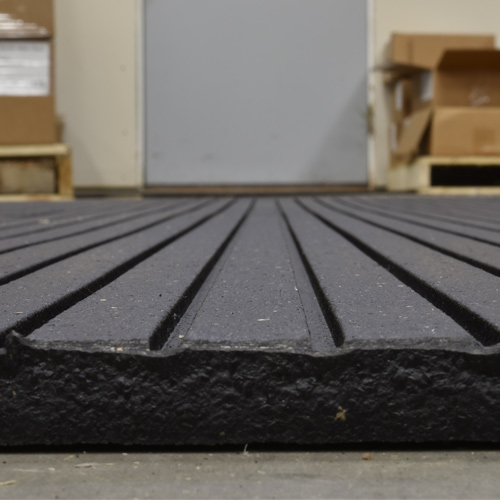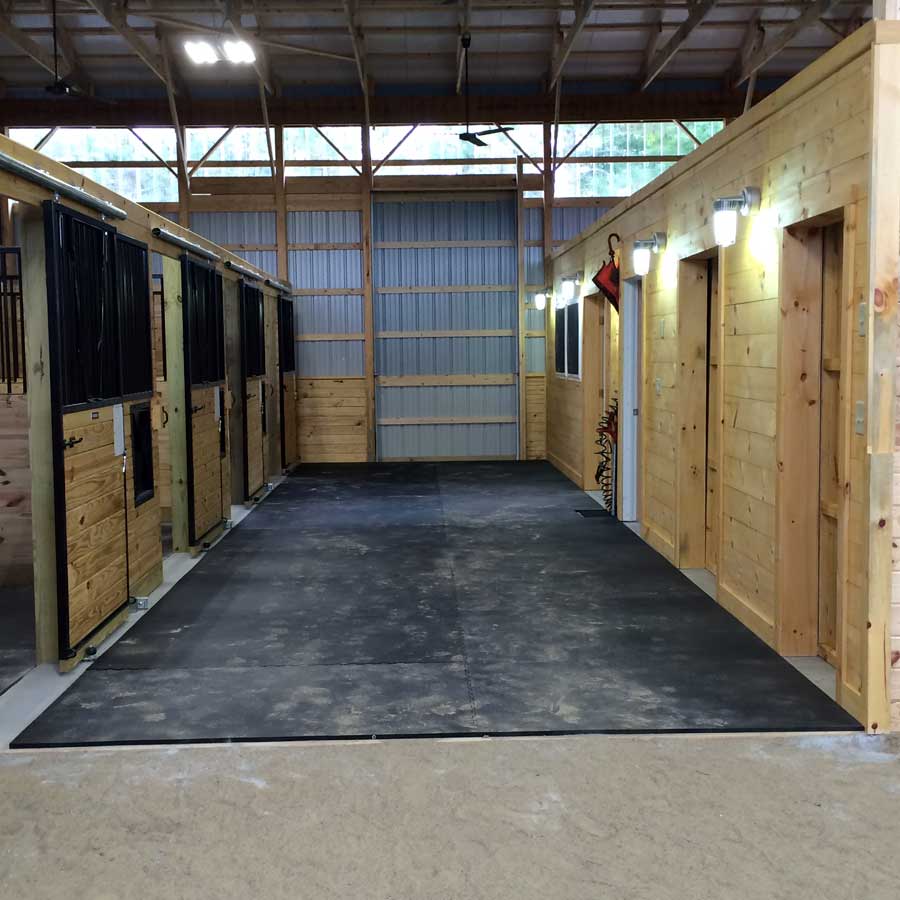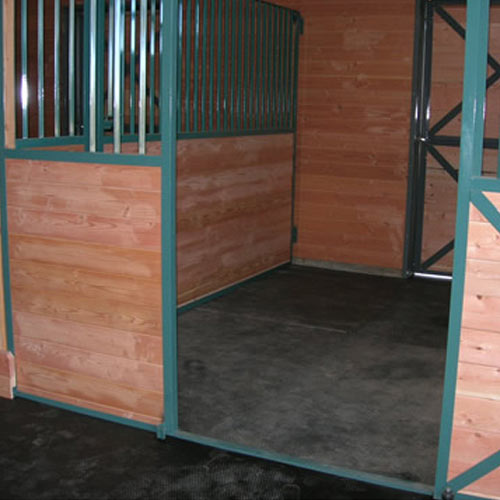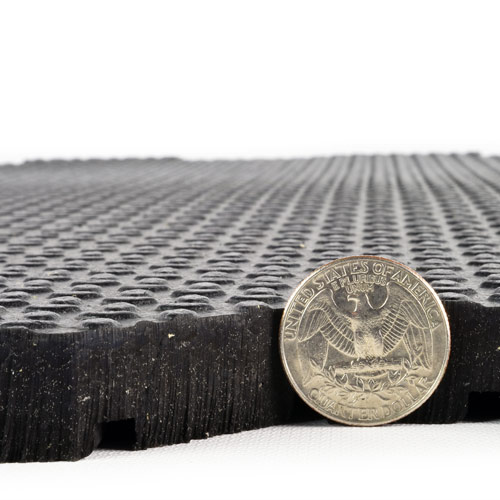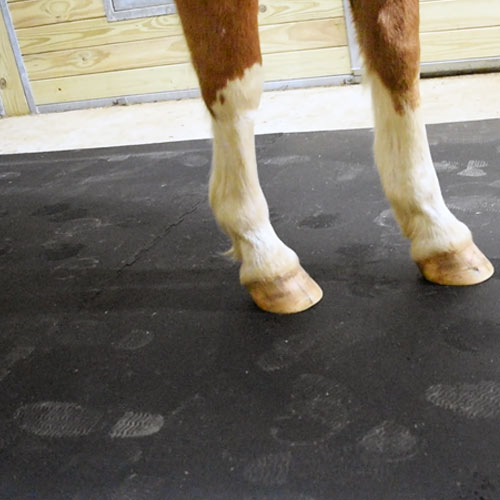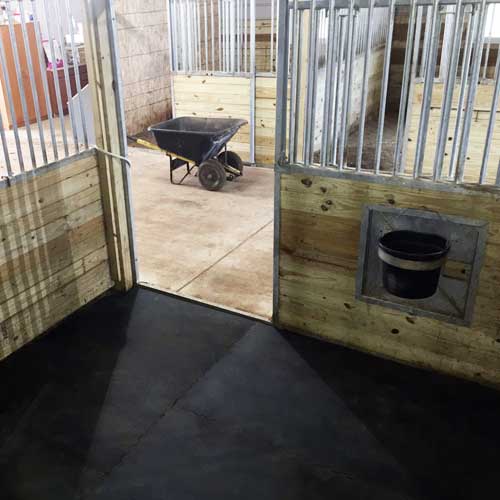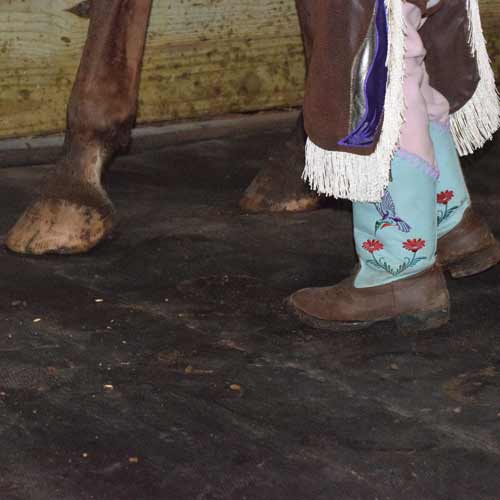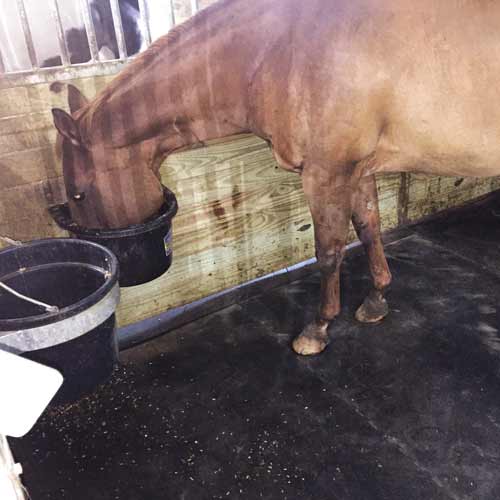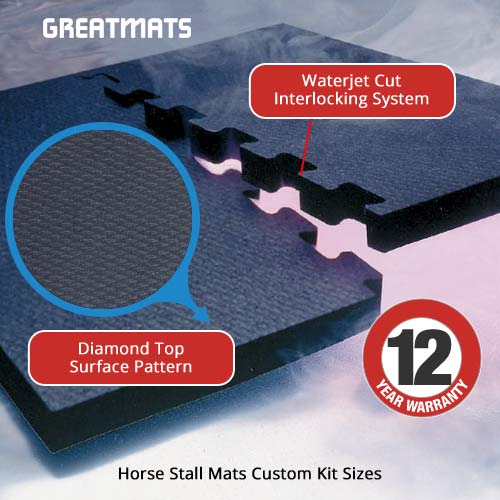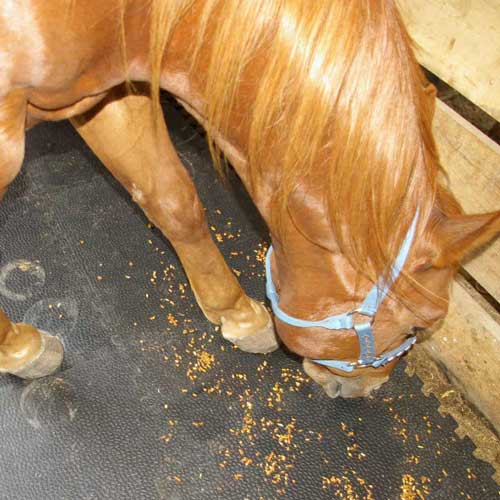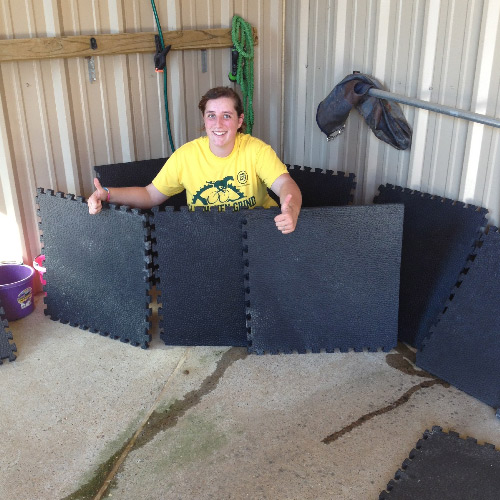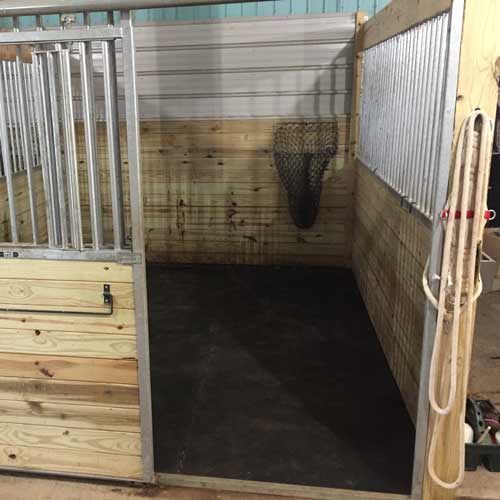 If you are a horse owner, or thinking of owning a horse, providing a safe and comfortable stall is a high priority. You want your beautiful investment to be protected from harm and stay healthy.
How thick should good quality rubber mats for horse stalls be?
3/4 inch is the standard thickness of horse stall mats
2 inch thick horse mats result in a denser, heavier material
The thicker the horse rubber mat, the greater the weight. This is a benefit, since heavier mats also prevent your horse from shifting them around. Better designs are textured on the top for traction, because wet rubber can still be slippery. Rubber mats for horse stalls with grooved or corrugated undersides help with drainage and prevent curling. Covering a sub floor will cost around $350 to $400 for a 12x12 foot stall when using a high quality mat.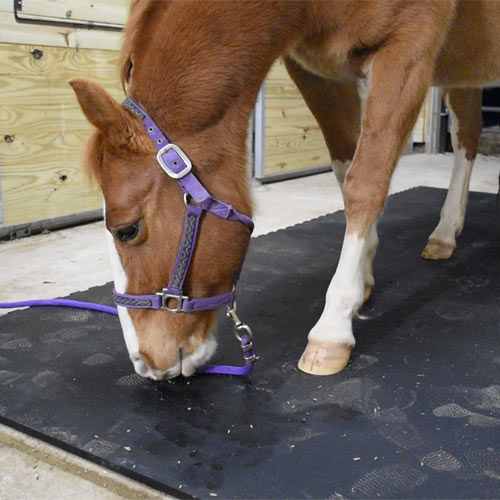 Evolution of Rubber Mats for Horse Stalls
For centuries, horses have been kept in dirt-floored stalls, with straw or shavings as bedding. Mucking the stall is a frequent chore for horse owners. While dirt is cheap, it gets muddy and dirt can get thrown up by your horse, into the bedding, making it hard to keep your horse clean. Urine can soak through the bedding, creating a wet spot that can take a long time to dry and can smell. Mold can also grow in the bedding. Since dirt is also easy to move, horses can create potentially dangerous ruts and puddles. And mucking dirt stalls can also be tough.
One alternative to dirt floors are concrete floors. But concrete alone is too hard on a horse's feet, legs and body. Wet concrete can be slippery, and slips and falls are dangerous for horses and their owners.
More recently, many horse owners have started to use
rubber mats for horse stalls
. Horse rubber mats solve a lot of the problems mentioned for both concrete and dirt stall floors. Horse stall mats are made of rubber, a natural material that is non-absorbent, easy to clean and durable. Rubber mats for horse stalls can also be disinfected. Horse rubber mats are placed on top of the dirt, gravel or concrete floor, and bedding is then placed on top, and replaced as needed.
Horse Rubber Mat Thicknesses
Buying good quality rubber mats for horse stalls is a smart investment for you and your horse. Thin or cheap mats can shift, and mounds of dirt will build up in the seams. Inexpensive horse rubber mats will tend to wear in the corners, in the center of the stall, causing the corners to bend back, which then break when the horse steps on it, leaving bare spots or divots.
Thick rubber mats for horse stalls save on bedding costs - sometimes as much as half or more. A thick mat also produces some cushioning, which is especially important for horses with laminitis or arthritis in their backs and hocks. Good traction prevent dips in the floor and mats are easier to clean and keep your horse cleaner. Horse rubber mats also provide a thermal layer, keeping your horse warmer on cold days, which increases the horse's comfort, and also lessens the effect of arthritis.
Recommendations for Rubber Mats for Horse Stalls
You want horse rubber mats that fit tightly together, otherwise they could shift and dirt could pile up in the seams or urine could pool underneath the mats, creating an unsanitary situation that could damage concrete. You want the urine to soak into the bedding, which you will muck out as usual.
Many retailers sell 4x6 foot rubber mats for horse stalls, which horse owners then cut to fit their standard 12x12 foot stall. You will need approximately 6 mats to cover a standard 12x12 foot stall. Cheaper mats may not be a uniform thickness, or even a full 3/4 inch thick. You will want to butt the edges together for a tight fit.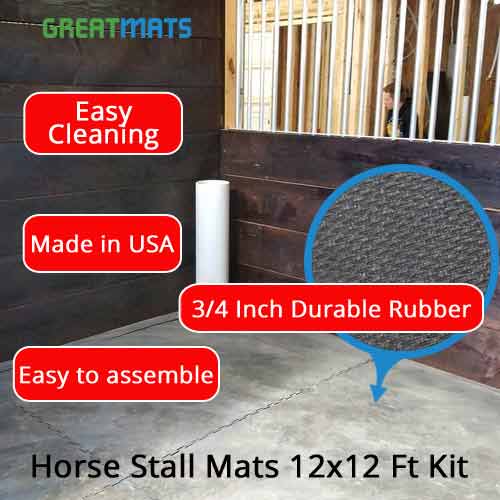 Another option is to purchase a
12x12 horse stall mat kit
. Greatmats carries kits in over 20 standard sizes and custom kits are also available. The kit contains 3/4 inch thick rubber mats for horse stalls that interlock for the tightest fitting mats possible. The interlocks are cut with a water jet. These kits have been rated to use some of the best quality mats on the market by a leading horse magazine. The mats are made in the USA from vulcanized, 100 percent recycled rubber content and feature a non-slip surface designed for durability. They feature a 12 year warranty.
If you prefer to stick with
4x6 foot mats
, you can also find high quality 4x6 rubber mats for horse stalls with 12 year warranties. This is a great choice if you might want to expand or change locations.
Diamond surface traction mats are guaranteed not to roll, buckle or curl, providing less stress on the leg joints of horses. Made by the same Wisconsin factory as Greatmats' horse stall kits, these mats are also made with vulcanized 100 percent recycled rubber which provides a waterproof barrier in regions where there are freeze and thaw conditions. The mats are also anti-fungal, anti-bacterial and non porous. These mats have been tested and approved by the American Farrier Association (AFA) to be used for all hot or cold shoeing processes and the AFA even uses our mats at all AFA competitions.
If cushioning a concrete floor is not an issue, another option is a one piece Tru Stall mat. Available in three sizes including the popular 12x12 foot size, this mat is 17mm thick and is the best solution to failed and leaky flooring seems. Tru Stall mats have the highest traction rating in the industry and are the solution when a watertight floor is required.
Save on Shipping
One thing to bear in mind when buying the best horse stall mats is shipping costs. Rubber is so durable and can withstand the weight of horses because it is dense and heavy. A kit for a 12 x12 foot stall of 3/4 inch rubber can weigh 600 pounds. Shipping can add up. Mid-USA and east coast residents can save money on shipping by ordering Humane mats as the mats are made in Wisconsin. West coast will get the best shipping rates on Cascade mats, which are a comparable high quality and come with a 15 year warranty.
Another option are punter top stall mats and kits. These 3/4 inch mats are shipped from 6 locations across the US and feature a 5 year warranty. The durable mats are an affordable choice when the smell of rubber is not an issue.
All of these mats are available from Greatmats, along with a variety of other equine mats and tiles for wash bays, foaling stalls, aisleways, and horse trailers.