Mat-Pak Ground Protection Black 1/2 Inch x 4x8 Ft.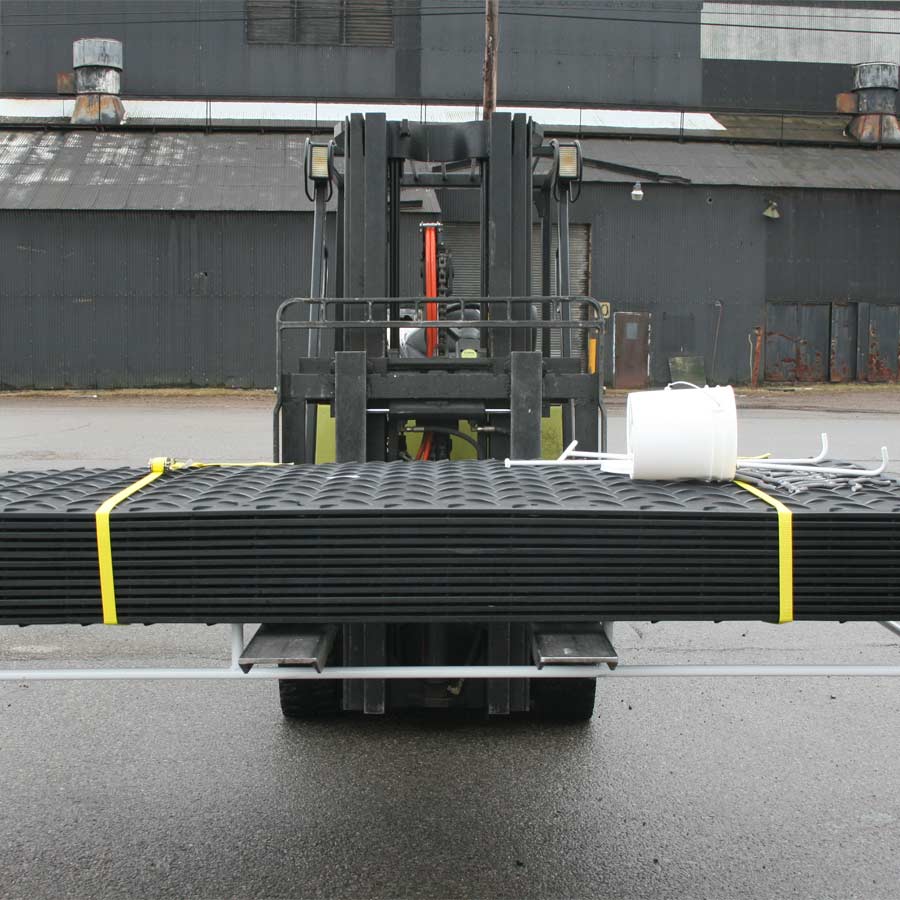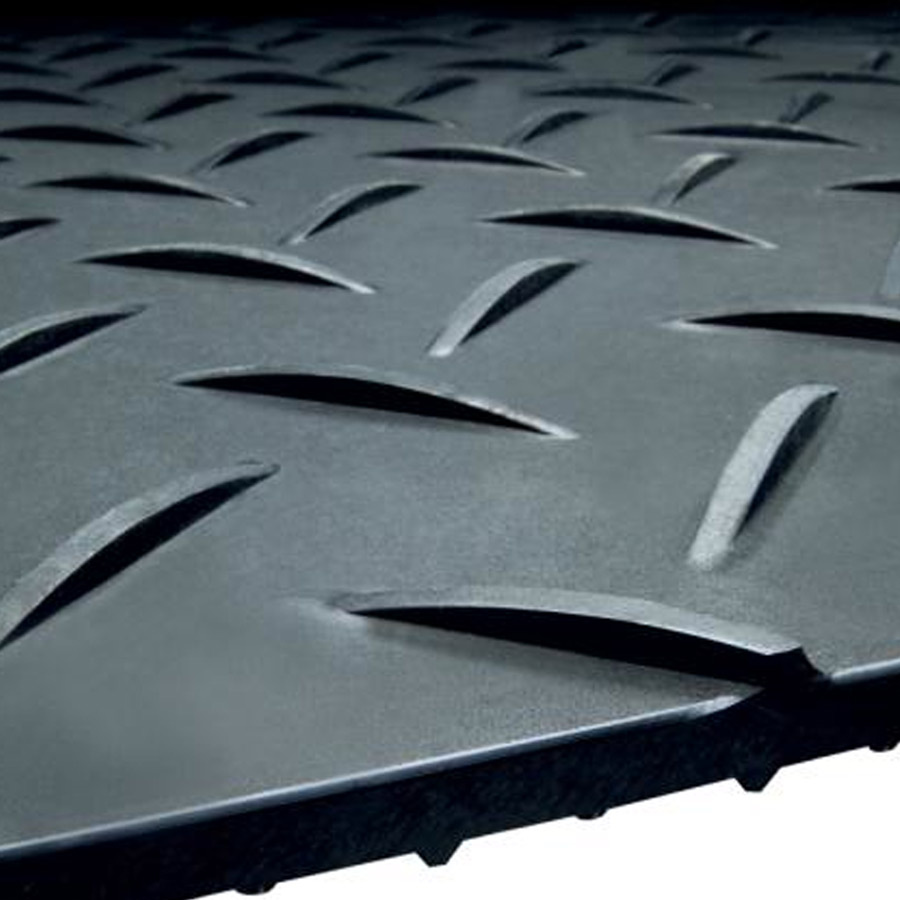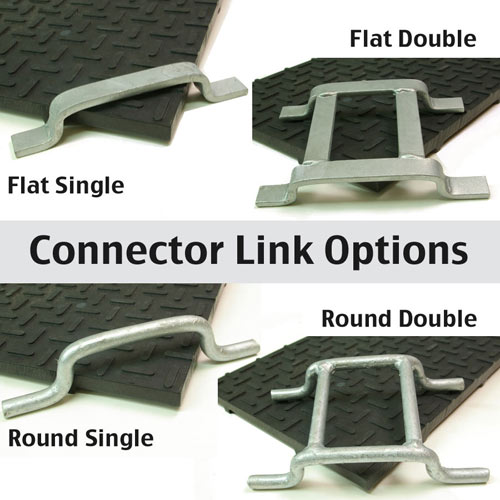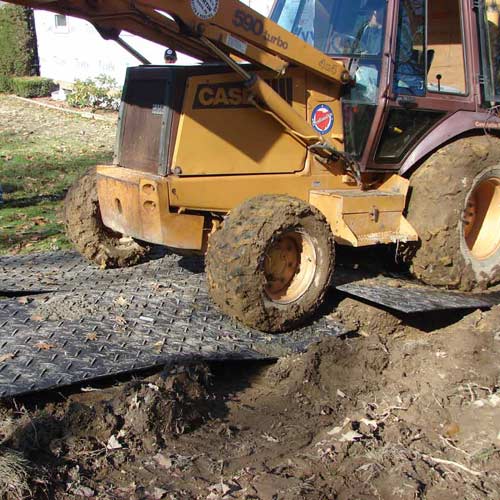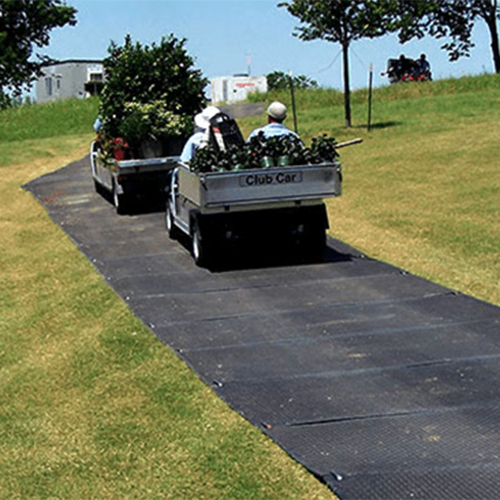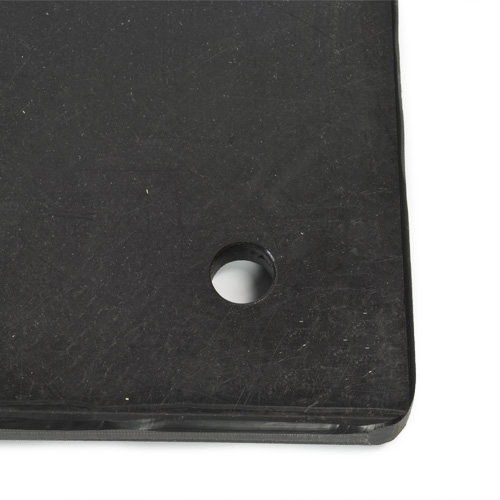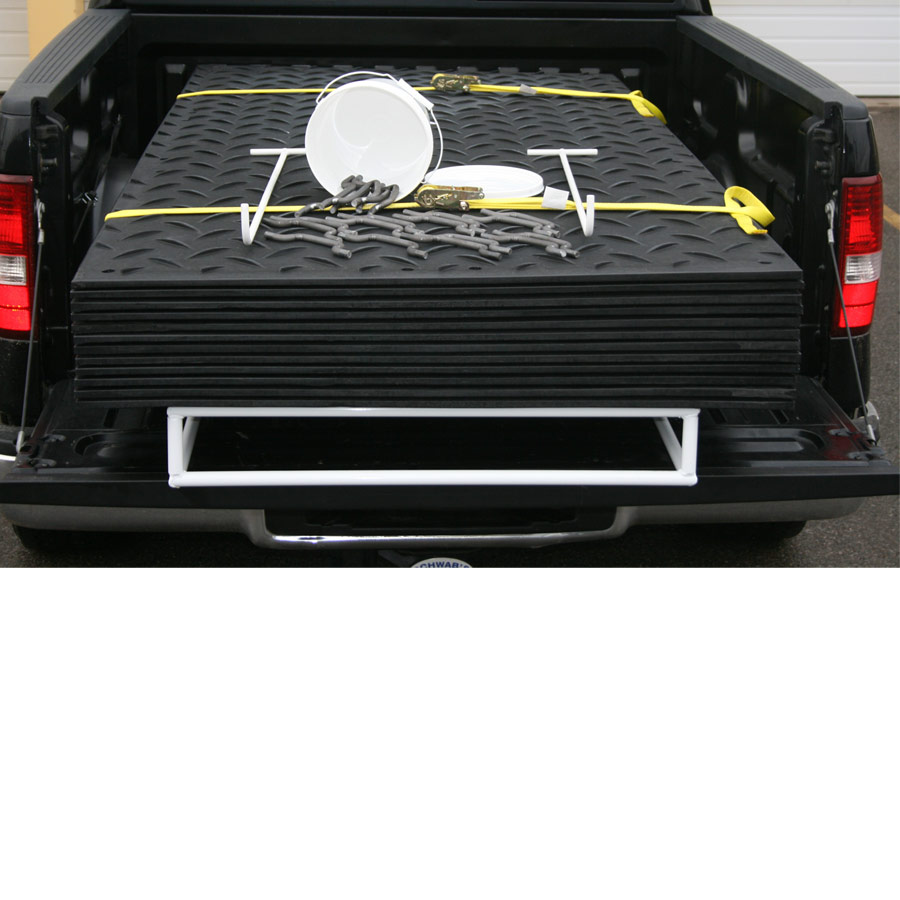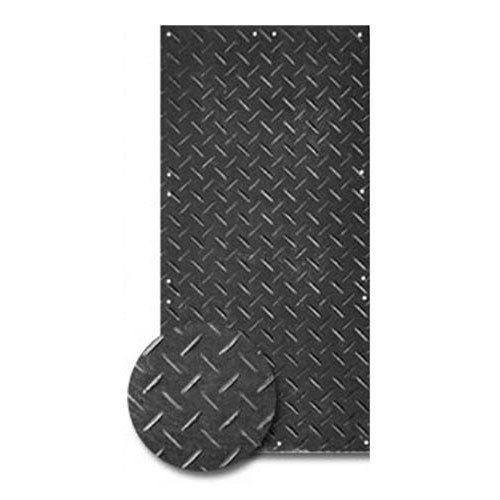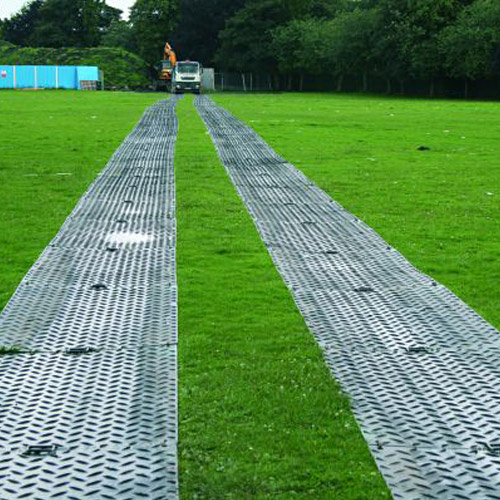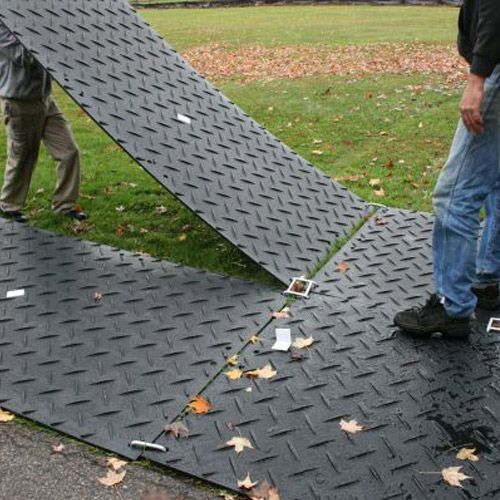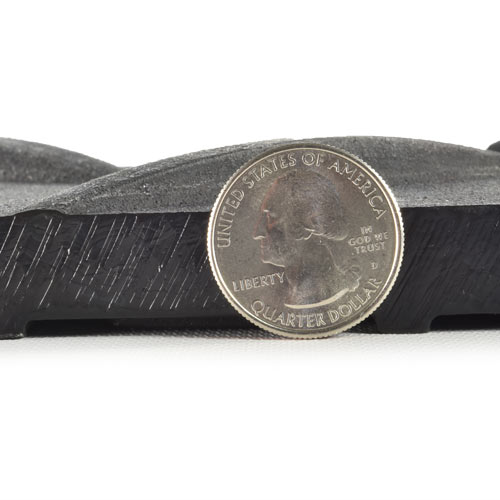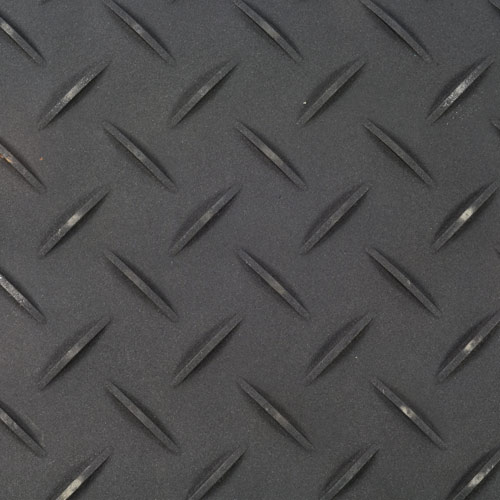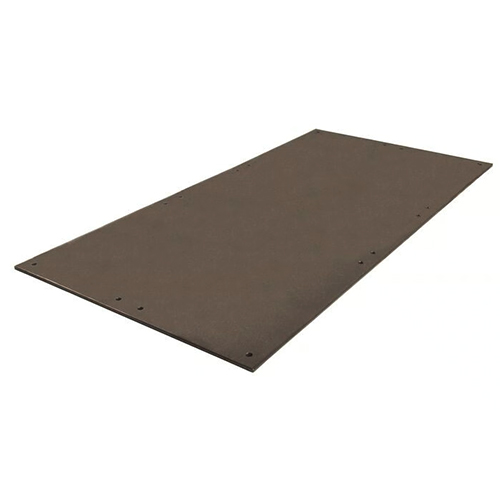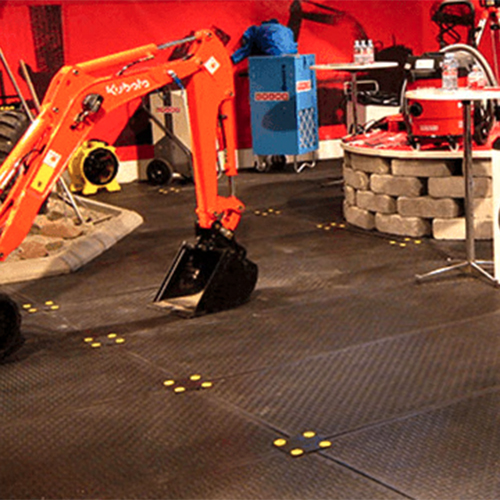 12 mat pack with rack, connectors and hooks
Rugged 1/2 inch thick recycled polyethylene
Easily supports 120-ton loads
Ships Out: Estimate Call for Availability of Lead Times

Diamond Black

Smooth Black
VIDEOS
TOP FEATURES
12 mat pack with rack, connectors and hooks
Rugged 1/2 inch thick recycled polyethylene
Easily supports 120-ton loads
Bold cleat design for great traction
Build a roadway or working platform in minutes
Leave turf smooth, even in soft conditions
No more splintered, warped, water logged plywood
Available in both black or clear mats in a variety of sizes
Use Types
Ground Protection, Heavy Equipment Mats, Skid Steer Mats, Grass Protection Mats, Temporary Roadways
NOTE: This item is a custom order and is not returnable.
Mat-Pak Ground Protection Black 1/2 Inch x 4x8 Ft.
The original Mat-Pak Ground Protection Black 1/2 Inch x 4x8 Ft. features maximum traction with a diamond plate tread or smooth surface mat design.
Mat-Pak Black Ground Protection Heavy Equipment Mats, 4x8 Feet
Rather than using unreliable plywood sheets to create a temporary road at a construction site or for a special event, count on the high quality of our Mat-Pak Black Ground Protection Heavy Equipment Mats to deliver the required level of performance.
These heavy equipment mats carry a limited lifetime warranty, meaning customers can use them repeatedly for the toughest jobs without worrying about having them fail. They can support up to 120 tons when installed properly, making them an invaluable tool to use in a wide range of applications, including:
Construction sites

Civil engineering work

Military bases

Temporary campsites

Landscaping work

Utility maintenance work

Infrastructure maintenance work

Park maintenance work

Tree trimming work

Wedding facilities and reception areas

Athletic field work at schools or stadiums

Golf course work

Residential exterior remodeling project work

Setting up trails at acreages
Even if the area where customers will install these ground mats will be frequently wet or muddy, they can deliver the desired level of support for pedestrians, vehicular traffic, or heavy power tools on trailers.
These mats are tough enough to protect the lawn or yard when it is soft from rain or watering. Vehicle tires will not sink into the yard, because the mats distribute the weight from the tires across the surface of the mat. This protects the grass, so it remains viable after the job comes to an end.
Additionally, our black mud mats will go over the top of muddy ground to create a safe roadway. Vehicles will not sink into the mud and become stuck when these mats are available to serve as a roadway.
Large Lawn Coverage Mats
When creating a temp driveway, customers appreciate the large size of these outdoor heavy equipment mats at 4x8 feet. Each mat has a coverage size of 32 square feet.
To create a long roadway, installers can use the included connector pins to secure multiple mats together. This is a good idea when going over slightly uneven or hilly ground or when heavy vehicles will be using the mats, creating extra stress on them.
Some customers will choose to use these mats in parallel rows of 4 feet in width, providing plenty of space for the tires to stay on top of the material. For a smaller vehicle roadway, a pedestrian path, or a golf cart path, the installer may be able to use one row of mats for a 4-foot wide layout.
Installing these mats is an easy process. Even though each mat weighs almost 100 pounds, two people can quickly maneuver them into place for the roadway.
High Traction Ground Mats
Our heavy equipment mats will help vehicles maintain their traction as they drive over the temp road. Customers can select from a mat that has a diamond texture raised pattern on one side of the mat and a smooth surface on the other side, or they can pick a mat with the diamond pattern on both sides.
The texture pattern is a good choice in areas where the vehicles' wheels may track mud and grass onto the surface of the mats. With mud on the mat, the tires could slip without the textured pattern.
However, when using the mats for a walkway or bicycle path in a primarily dry area, having the smooth side available is a better choice. The raised pattern could create a tripping hazard. Additionally, when mud and wet grass will not appear on the surface of the mats, the chance of a tire slipping will be lower.
Heavy Duty Ground Protection Mats Specifications
Width: 4 feet

Length: 8 feet

Thickness: 1/2 inch

Coverage: 32 square feet

Coverage per 12-pack: 384 square feet

Weight: 96.3 pounds

Weight per 12-pack: 1,156 pounds

Colors: Black

Texture: Diamond tread pattern or smooth
Maintenance and Care
Cleaning caked-on mud or grass from our heavy equipment mats is an easy process. Just use a garden hose with a spray nozzle or a power washer to rinse these mats.
Customers can wash the mats after they lay them out to create a temporary access road, or they can wash them when it's time to pick up the mats and return them to storage after using them.
Mud and damp conditions will not affect the integrity of these durable mats, so customers can clean them whenever desired. They do not have to clean the mats daily or weekly.
Even when left in place for extended periods of time, these 1/2-inch thick mats will not falter or break down, as long as they are in contact with the ground. Do not use these mats to create a span over a drainage ditch or a small creek. They are not able to support weight when they are not in contact with the ground.
These Mat-Pak mats carry a limited lifetime warranty, so customers can trust that they will receive a great value from them, using them over and over for multiple use cases.
Maintenance
Clean using a pressure washer or garden hose and non-metal scrub brush.
Shipping
Ships via freight delivery, shrink wrapped on pallets. Customer must unload at delivery location, Lift Gate service is not available for this product.
This Product Ships Freight Only.
Please review our shipping disclaimer.
WARNING: This product can expose you to chemicals including Lead and/or Phthalates, which are known to the State of California to cause cancer and birth defects or other reproductive harm. For more information go to www.P65Warnings.ca.gov.
ANSWERS
Product Questions:
Q: What is weight ratings
A: The weight rating is 60-ton loads.
Q: How much does each 4×8 sheet weigh? How many mats are in the package? Do they have holes for easy moving and placing?
A: Each 4x8 x 1/2 inch mat weighs 86 lbs. This pack contains 12 mats. Each mat does have 12 holes along the perimeter.
Q: What is the best price you can giv me on 14 4x8 black mats with out anything else
A: Call us for quotes on volume discounts.
SPECIFICATIONS
| | |
| --- | --- |
| SKU# | AMCP4 |
| In Stock | Yes |
| Product Type | Mat |
| Material Type | Polyethylene Plastic |
| Product Edging | Straight |
| Thickness | 1/2 inch |
| Width | 4.00 feet |
| Length | 8.00 feet |
| SF per Item | 384.00 |
| Weight | 1126.00 lbs |
| Packaging | Shrink Wrapped on Pallets |
| Number of Pieces per Package Type | 1 |
| Non Absorbent | Yes |
| Special Adhesives | No |
| Interlock Loss | 0.00 feet |
| Material Hardness | Shore A 100 |
| Interlocking Connections | No |
| Made In | USA |
| Surface Finish | Diamond or Smooth |
| Surface Design | Solid color |
| Installation Method | Dry lay, connector pins |
| UV Treated | Yes |
| Reversible | Yes |
| Border Strips Included | No |
| Manufacturer Warranty | Limited lifetime |
HOW TO'S
RELATED PRODUCTS
RELATED BLOGS