Motorcycle Garage Parking Mats and Flooring Ideas
By Paige Cerulli Created: April, 2018 - Modified: August, 2021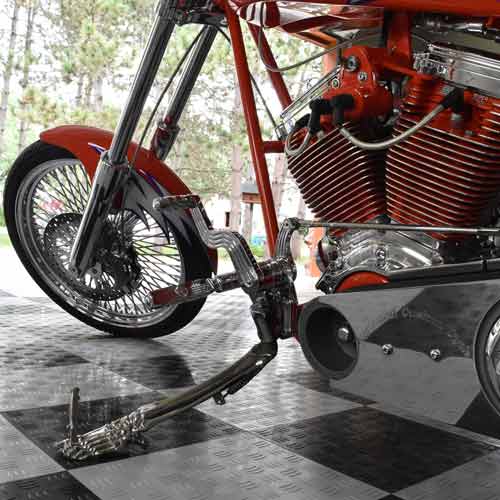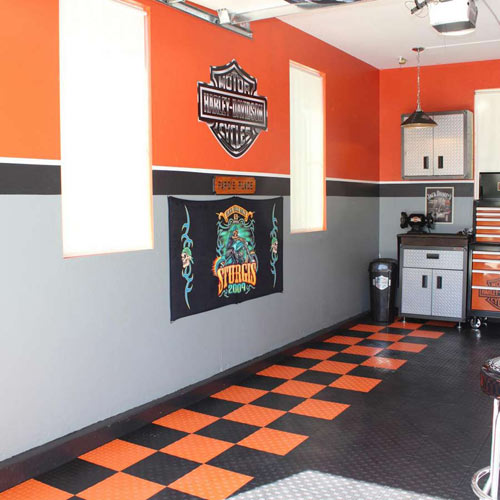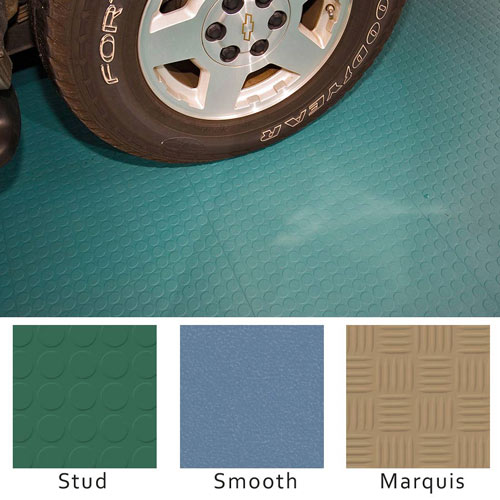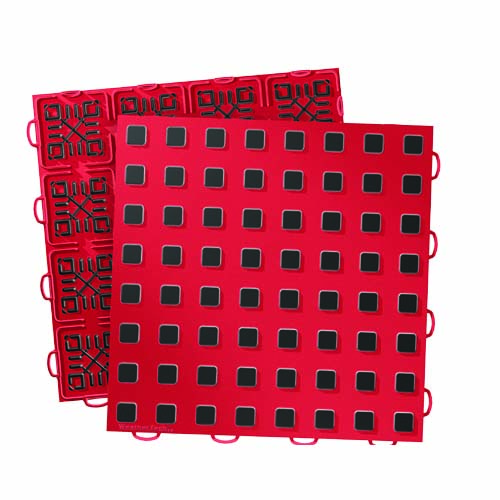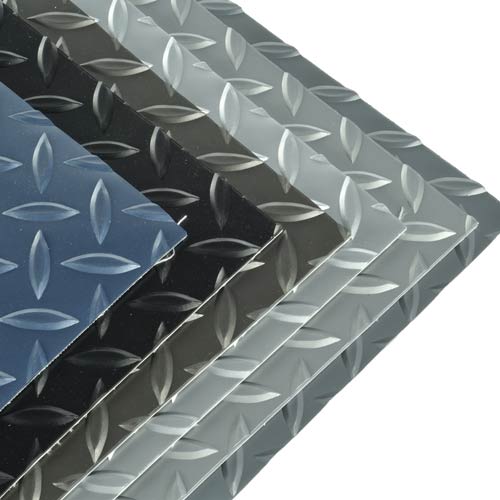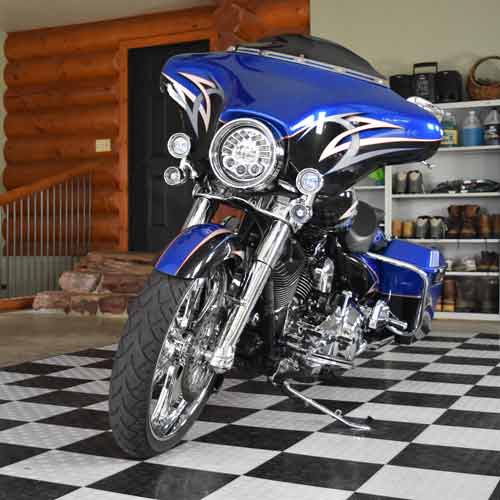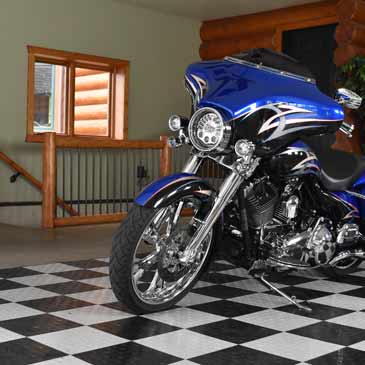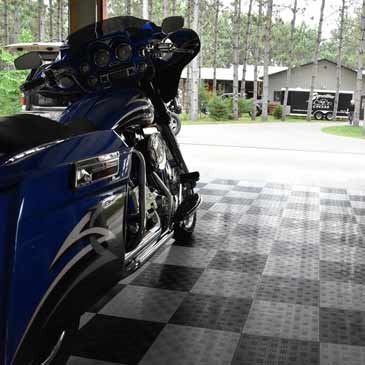 Your motorcycle is your prized possession. We understand the hours of work and dedication that go into its upkeep, so why would you want a motorcycle flooring that is anything less than great? Your flooring, whether you're using it in your garage or in a motorcycle showroom, needs to look great, perform great, and be long-lasting. Luckily, you've come to the right place for all of that and more.
Let's take a look at what you need in quality motorcycle mats, as well as some of the Greatmats products that may be right for you.
Qualities to Look for In Motorcycle Flooring
Your motorcycle mats need to offer a number of particular qualities in order to be a quality investment. Look for the following features in any flooring option that you consider.
Traction
Adequate traction is a must-have for any motorcycle garage pad. Not only is traction important to your safety as you work in the space, but it also provides valuable grip when you need to move the motorcycle about. You'll find that motorcycle parking mats are available with a wide variety of surface designs which offer different traction options.
Aesthetics
You'll also want to consider the overall appearance that you want your finished space to have. If you're creating a motorcycle showroom or other storage space where you can display your motorcycle, then you'll find plenty of eye-catching flooring options available. For a workspace where you'll be performing maintenance, a darker colored mat may be ideal, since it will help to conceal dirt and stains.
Strength
As you shop for motorcycle floor pads, keep in mind the strength of each product that you're considering. Motorcycles can be quite heavy, and some flooring may not be strong enough to support the weight of the vehicles long-term. Look for a product that is rated to support significant weight for the best results.
Installation Method
You'll find that, depending on the motorcycle floor pad that you're considering, different installation methods may be required. Many tiles can be easily cut to fit for a wall-to-wall installation. Think about the installation method that you would most prefer. Are you looking for tiles that interlock together, and that can be removed again in the future? Can you accommodate a glue-down long-term installation?
Water, Oil, and Chemical Resistance
If you're looking for a motorcycle floor pad to create a space where you can work on your motorcycle, then you'll likely need a product that is resistant to water, oil, and chemicals. These elements can degrade some types of flooring, such as rubber, so a resistant flooring is a must if you'll be performing any sort of maintenance on your motorcycle.
Comfort
If you have plans of using your space both to store and to work on your motorcycle, then you'll want a flooring product that is comfortable. Many of our products offer shock absorption, and some offer anti-fatigue properties, too.
Durability
When considering your options for motorcycle mats, make sure that you choose a product that is durable. At Greatmats, we offer many quality mat options that are backed by long warranties and that are designed to last.
Budget
Take some time to think about your budget for the project. Many of these tiles require no professional installation, which can save you money and allow you to purchase a higher quality product than you might otherwise be able to afford. At Greatmats, we offer mats and tiles at a variety of price points, so chances are we'll have a product that can accommodate your budget.
The right product will partially depend on your intended use and what you're looking for in terms of style, installation method, and more.
As you explore different products, you'll find that motorcycle mats tend to be made out of a few different materials.
Polypropylene
- Polypropylene mats are known for their impressive strength. They're highly durable flooring options that can withstand significant weight. At Greatmats, we offer polypropylene tiles with surface layers made out of vinyl or polypropylene.
PVC
- PVC mats are highly durable and can withstand significant weight without degrading. They're a great option for vehicle storage, and are available in many different colors and surface textures. Many of these tiles are oil and chemical resistant, and they create a comfortable flooring surface.
Motorcycle Floor Pad Options
Ready to get started? We've selected a few of our top motorcycle mats below.
Garage Floor Tile Diamond
Looking for a strong, durable flooring that offers excellent traction and is available in a wide range of colors?
Garage Floor Tile Diamond
meet all of those requirements. These durable polypropylene tiles are rated for 10,000 pounds, and they snap together quickly and easily for a simple assembly. In addition to the diamond tred surface pattern they're available with flat top surface patterns, and you can choose from eight brilliant colors. Ramped border and corner edging is available for a smooth and safe transition onto and off of the flooring.
- 10,000 pound load rated, these tiles can easily accommodate any motorcycle
- With eight brilliant colors and three surface patterns to choose from, you can choose a tile that offers the exact aesthetic you're after
- Tab and loop connector system creates a strong connection while keeping the tiles easy to install
- Tiles can be assembled and dis-assembled repeatedly, if needed
- Backed by a 5-year limited warranty
Snap Diamond Garage Tile
Long-lasting, strong, and available in a wide assortment of eye-catching colors,
Snap Diamond Garage Tiles
are a great option for motorcycle flooring. These snap-together polypropylene tiles are easy to install, and can be removed if needed. They're lightweight, easy to transport, yet strong enough to support significant vehicle weight. The diamond surface texture offers plenty of traction, and the tiles are resistant to oils and solvents, so they're suitable for workspaces.
- Choose from 10 brilliant colors that will look great in any space
- Tiles support rolling loads of more than 50,000 pounds
- Chemical-resistant and weather-resistant
- Diamond pattern top helps to maximize traction
- Backed by an impressive 10-year limited warranty
TechFloor Premium Tile
Another top quality polypropylene garage flooring product designed for use as a motorcycle parking mat is the
TechFloor Premium Tile with Traction Top
. Sold in cartons of 10 1x1 foot tiles, these American-made tiles snap together for a free floating floor with superior non-slip qualities and are available in seven color options.
- Interlocking tiles fit together tightly, with no need for adhesive
- Tiles offer excellent traction
- Backed by a limited lifetime warranty
- Seven colors to choose from
- Lightweight design for easy transportation
Tuff Seal Floor Tiles
If you'll be using your space not just to store your motorcycle, but also to work on it, then consider our
Tuff Seal Floor Tiles
. These PVC tiles don't just look great, but they also offer anti-fatigue relief to keep you more comfortable during maintenance and rebuilds. These tiles are both stain and chemical resistant, and a hidden interlock design makes installing them easy and fast. Choose from three surface textures, and a wide range of 15 different colors.
- Choose from 15 beautiful colors and three different surface textures
- Stain and chemical resistant
- Tiles provide fatigue relief, making for a great workspace
- Hidden interlock design allows for an easy installation with no adhesive required
- Backed by a 10-year limited warranty
LonPlate Commercial Vinyl Rolls
Looking for something that will truly turn heads?
LonPlate Commercial Vinyl Rolls
make the perfect motorcycle show floor. Equipped with a steel plate surface design, this tough vinyl is skid-resistant and perfect for interior heavy-duty applications. Its surface texture helps to camouflage scuffing and wear, and the flooring is even microbial-resistant.
- Choose from six striking colors
- Steel plate design surface maximizes traction and camouflages wear
- Commercial grade and highly durable, this vinyl flooring is backed by a 10-year limited warranty
- Microbial resistant
Ordering Your Motorcycle Floor Pads
As you narrow down your choices, you may still have some questions or may be unsure of which product is right for your use. Please contact our customer service team. Our highly knowledgeable team members will be happy to help you choose the product that's right for your project and your needs.