Garage Dance Flooring - Josie Stewart Testimonial
By Brett Hart Created: June, 2020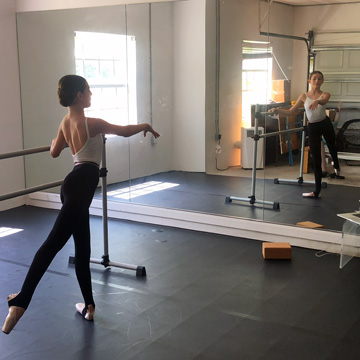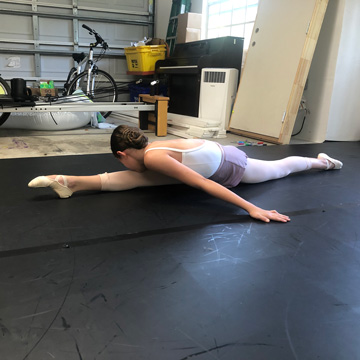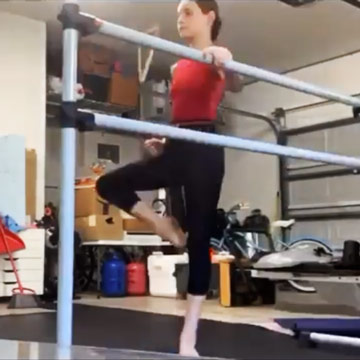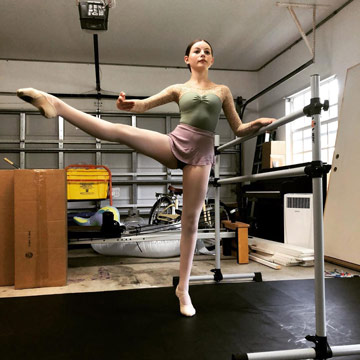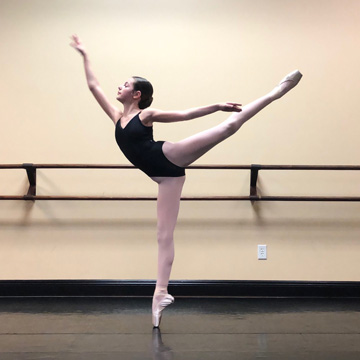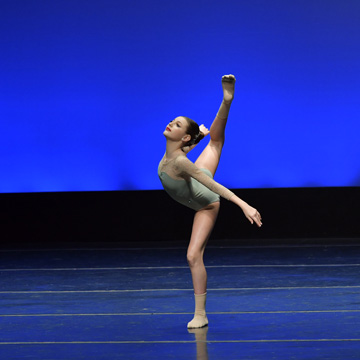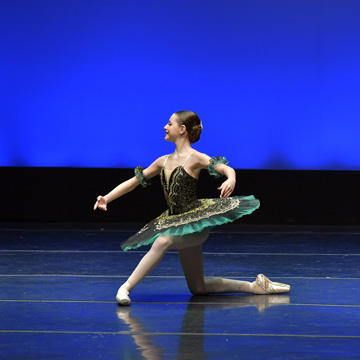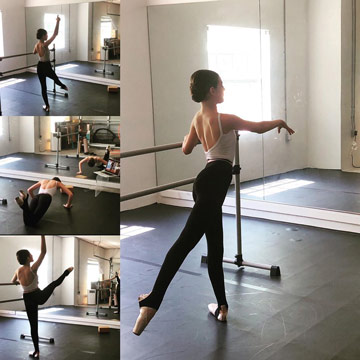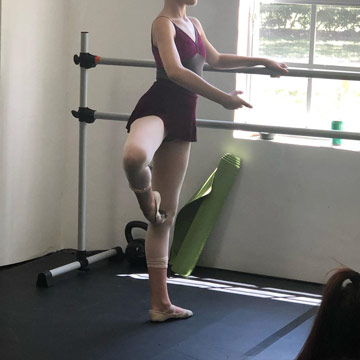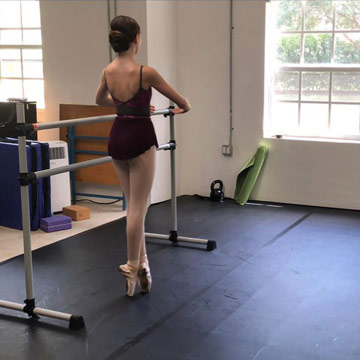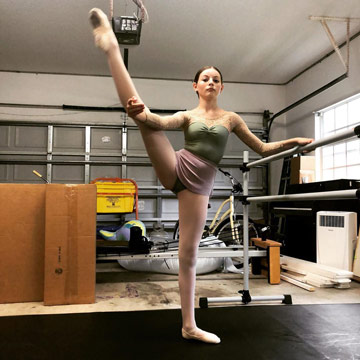 Twelve-year-old
Josie Stewart
has been dancing for 10 years, so when COVID-19 social distancing began in 2020 she found she had to change how she trains drastically. Without being able to train at the large beautiful studio at The Florida School For Dance Education, she had to break her routines into specific parts and train in her garage.
Fortunately, about 2 1/2 years prior, her mother, Emily, had purchased a home dance flooring system from Greatmats and had set it up in her garage, so she already had a place to train in place.
"There were two driving factors that went into choosing this flooring," Emily said. "Being aware of the injuries that can occur to dancers from dancing on improper flooring, we wanted to make sure that we got a flooring system that would protect our girls' bodies as they train. Also, living in South Florida means that we contend with hurricanes. It was important to know that we could pull up the floor if we needed for hurricane prep. We have only had to do that once, thank goodness."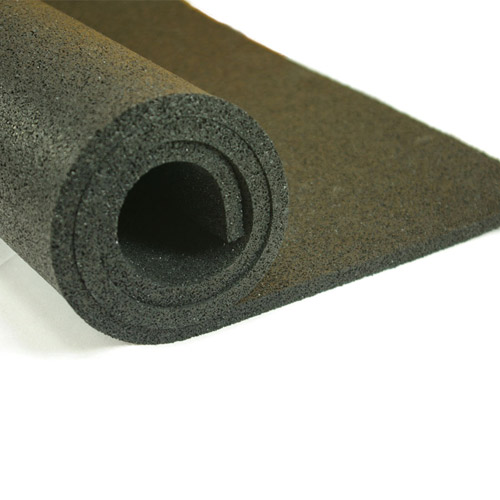 The flooring system they chose consisted of a layer of
plyometric rubber
(to add some "spring" to the concrete garage floor), topped by a layer of
flat top court floor tiles
(for maintained stability), and finished with a layer of
Rosco Reversible Dance Floor marley
.
"Dancing on concrete or an inadequate surface over concrete could give me shin splints, damage my knees and my back," Josie said. "I do a lot of pointe work and enjoy working on my jumps in all styles. The floor gives me support in my dancing. I can keep myself safe while I continue to work really hard on my training.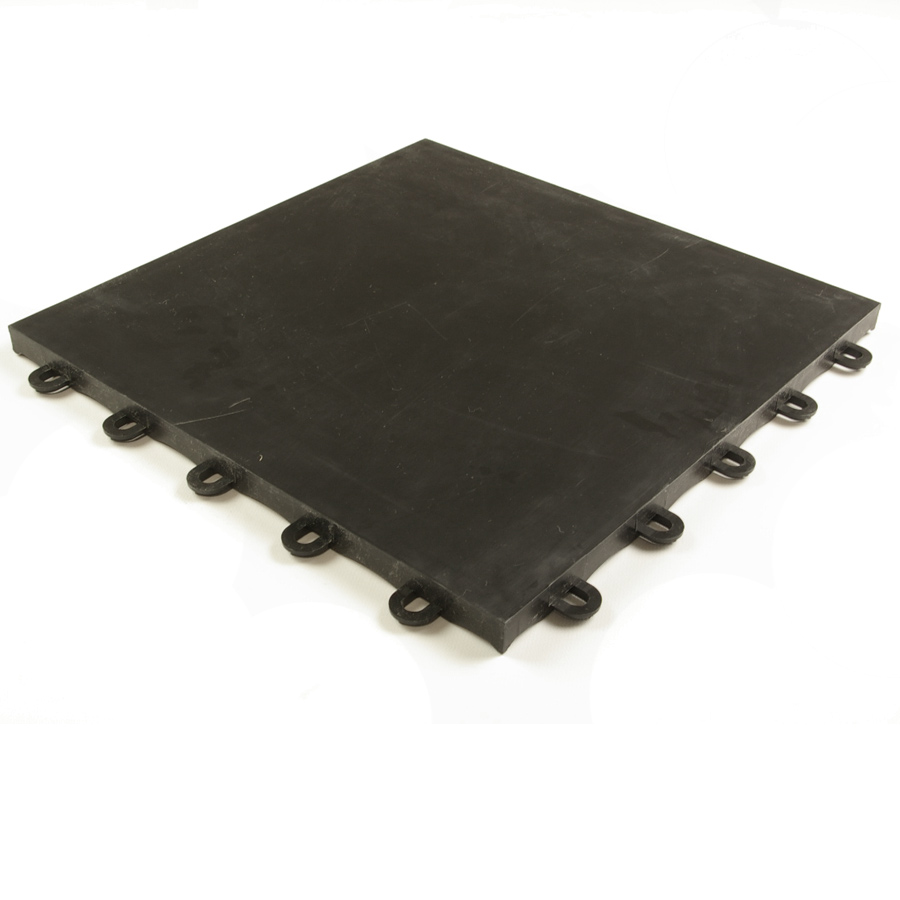 "In quarantine, I am able to focus on things that I need to improve personally. I have also been able to train virtually with teachers that I would not have been able to work with this much before Covid-19. That has been really fun."
Fortunately, it's her personal growth that is most satisfying for Josie, even more than her performances, so she has been able to continue that process at home. Josie trains in ballet, point, contemporary, lyrical, jazz and Horton styles, making this versatile dance flooring a must.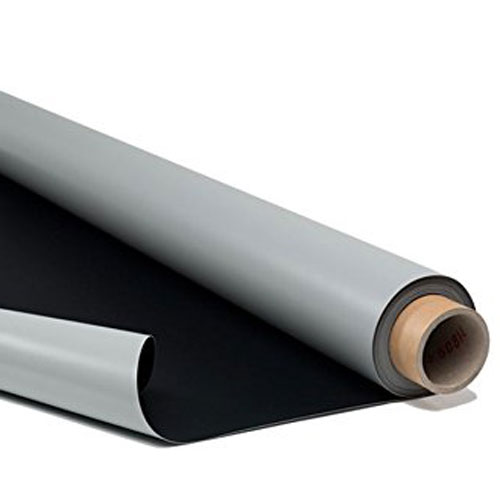 "I do share the space with my sister. We both have classes during the day and, sometimes, have to share the Greatmats floor. But we don't mind, we give each other space when we need to and do stuff together when we can."
"Due to the flooring being in our garage, the girls can use the space without being in the living space for us and their brother," Emily said. "It also works great as a stage when they want to share, which we love. It is hard to know how much they have missed their friends, but at least they have the space to stay busy training. We are thinking of extending our Greatmats floor a bit more. It's great to know that with the click in place tiles it will not be a full replacement - we can just add on."
"I really couldn't imagine going through Covid-19 times without such an amazing dance floor," Josie added. "I am really lucky to have the space and the protection that the floor gives my body during training. Before all of this, my dance floor was really nice to have, and I felt really lucky to have it, but now it is really a necessity."
Josie and Emily Stewart
Jupiter FL 33458