When To Use Foam VS Rubber Flooring For Dogs
By Paige Cerulli Created: December, 2022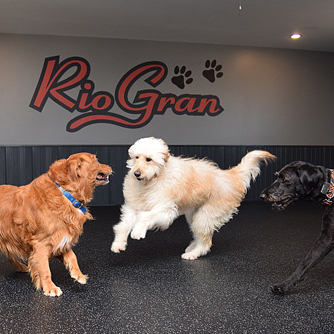 Both foam and rubber flooring are popular options for dog facilities. While both products offer some distinct benefits, it's important to understand which is best for your dog kennel flooring, agility course, or other facility needs.
Understanding Foam and Rubber Dog Kennel Flooring
While foam and rubber offer highly desirable qualities for dog facilities, they are best used in very different situations.
Foam Flooring
Foam flooring is often best used as a flooring for training and competition facilities. It's an ideal choice for agility and other dog performance sports, as well as for facilities that house training classes.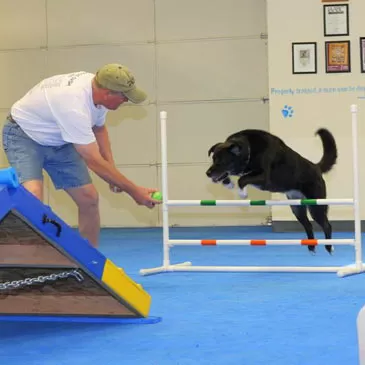 The major benefit of foam flooring is that it offers valuable shock absorption. That shock absorption makes it comfortable to stand on, which allows handlers and trainers to spend longer periods training their dogs.
That shock absorption can also minimize the impact to both dogs' and handlers' joints when they're running, such as when competing in agility. If either a dog or handler falls, the foam can help to absorb some of that impact, minimizing any injuries that result.
Foam's shock absorption is also valuable in promoting a dog's joint health. By reducing the impact those joints sustain during training and competition, a foam floor is an excellent investment in a dog's comfort.
While foam offers shock absorption, it also provides enough firmness to support trainers and dogs as they stand and run on the flooring. It's a safe high-traction surface for running and executing quick turns.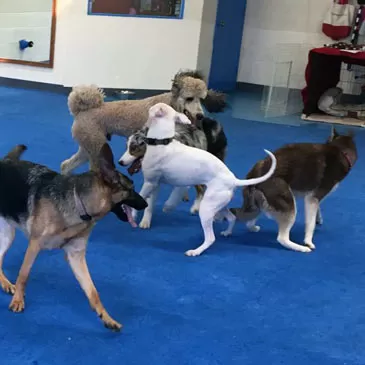 The texture of foam is gentle on dogs' paw pads and nails, but it's also durable enough to withstand heavy use. Additionally, many foam products are waterproof, so spills and accidents are no big deal.
Foam tiles
are ideal for dog sports because they tend to be lightweight and easy to install. Foam tiles feature puzzle-style interlocking edges that fit together securely, so the product won't separate while in use.
If you have a facility that serves multiple purposes, you can install foam tiles over your existing flooring for training sessions, then remove those tiles again once the sessions are done. These tiles can be an excellent way to customize the feel and performance of a space, while still retaining that space for other uses.
Rubber Flooring
Rubber flooring is an ideal choice for dog kennel flooring, boarding, and daycare facilities where dogs may be left unattended. Rubber is more rugged and durable than foam, making it a practical choice for areas that see heavy, daily use, and that a dog might chew or scratch at.
One of the major benefits of rubber flooring is that while it is durable, it also offers some shock absorption. As a result, rubber is a comfortable surface for humans and dogs to walk and stand on.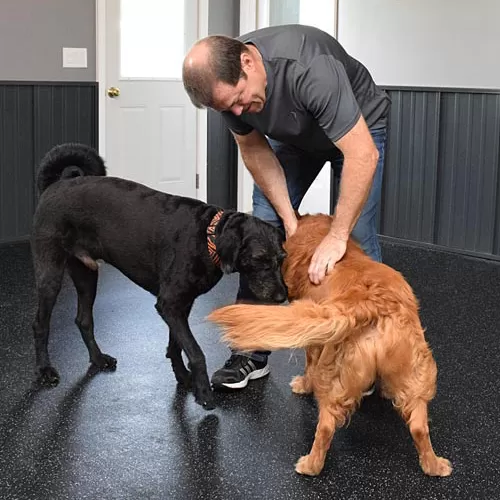 Rubber offers valuable traction, and it can help to prevent slips and falls. If a human or dog does fall, rubber's shock absorption can help to minimize any resulting injuries.
You'll also find that rubber's temperature buffering qualities can make a kennel a more comfortable environment. Laid on a cold subfloor, rubber can help to insulate the dogs from the cold that would otherwise seep up from the floor.
Rubber also offers sound dampening properties that are ideal in a kennel setting. By dampening sound, your flooring choice can help to make the kennel a quieter, more enjoyable environment for both dogs and staff.
Cleaning is a frequent activity in kennels. Some rubber is waterproof, so urine won't be absorbed into the flooring.
Additionally, you can clean up pee and poop with a household cleanser or even a hose to help keep the kennel free of unpleasant smells. Hair can be swept up or washed away with a thorough hose-down, and you can even disinfect rubber flooring as needed.
Since rubber is so durable, it's a long-lasting investment in your facility. Many rubber products are backed by multi-year warranties.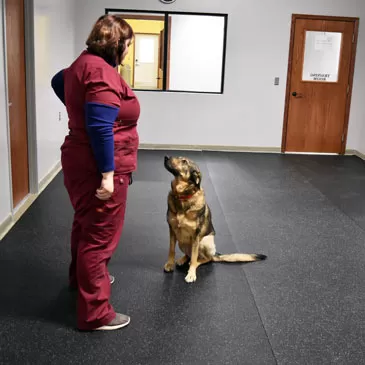 If you decide that rubber flooring is right for your kennel or doggy daycare, you'll have multiple products to choose from. Rubber mats tend to be thick, large pieces that you can dry lay and then move as needed for cleaning.
Rolled rubber
can be a good choice if you want to floor a whole room, like an indoor playroom. Rolled rubber tends to be one of the more economical choices, and it's ideal for areas with a large square footage.
Rubber tiles
are a versatile option that you can often use both indoors and out. These tiles feature interlocking edges, so you can connect them together to create a cohesive surface.
Some rubber tiles can be permanently installed using adhesive, while others can be dry laid and then removed and reinstalled if needed. The tiles are a great choice for smaller areas, like a smaller room or individual kennels, and you can often perform the installation yourself to save money.
Choosing the Right Flooring for Your Dog Facility
Both rubber and foam have their uses in dog facilities, but the materials perform differently and are best used for different situations. You may find that a combination of the two works best for your facility's needs.
As a rule of thumb, choose foam flooring for athletic applications where dogs will be supervised, and rubber for general purpose settings where dogs won't be supervised. You can also call us at Greatmats, and our customer support team will be happy to help you to determine which product is right for your project.